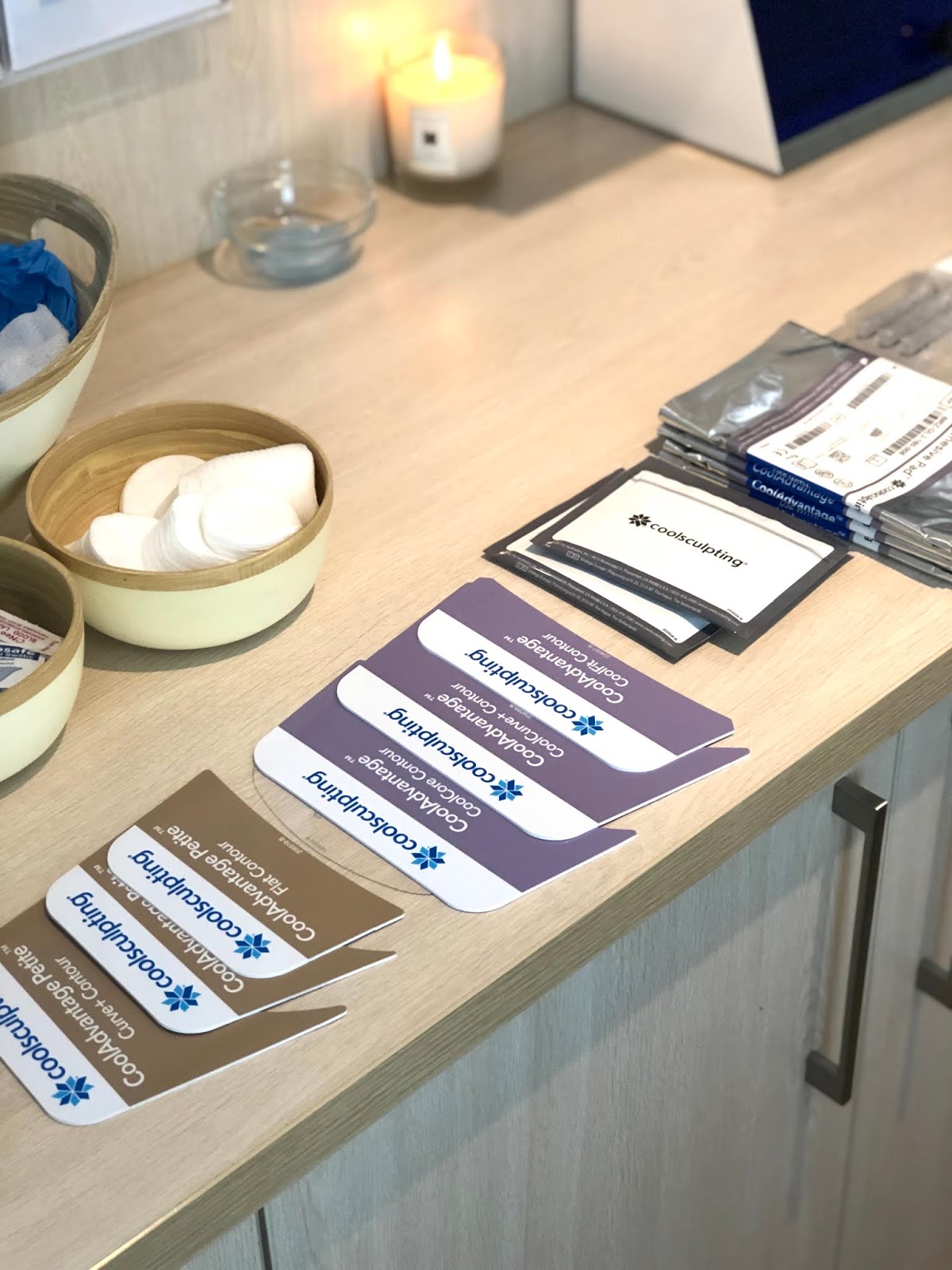 I have been SO excited to get this review up but, whew, I know I have taken my sweet time. Sorry about that. I just wanted to give the treatment time to properly show results, and this can be 3 months post-treatment.
Anyway, here we are… I hope this answers your questions on the treatment and give you a better understanding of what CoolScuplting is all about.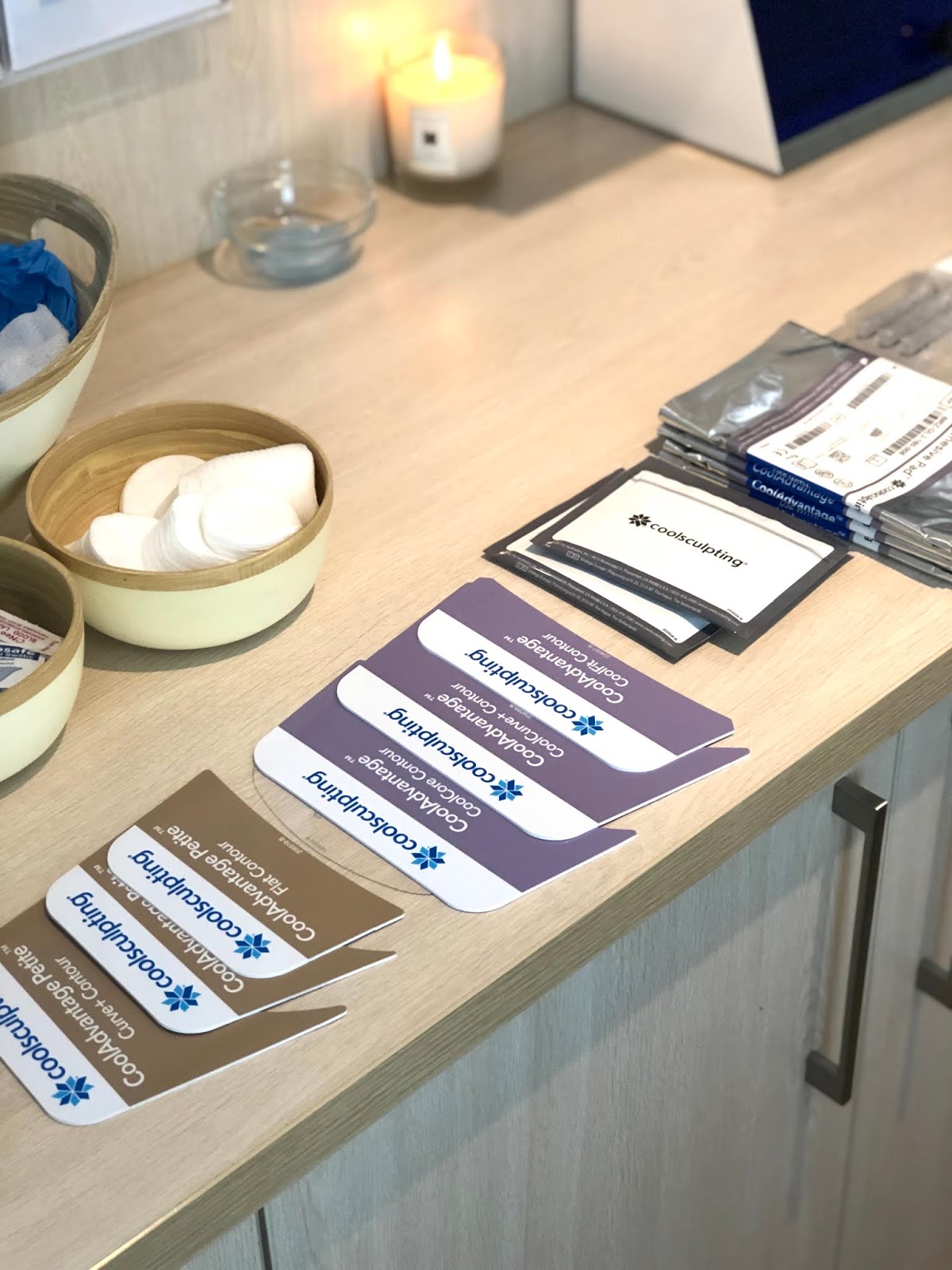 What is Coolsculpting?
It's a body shaping treatment that is best known as 'fat freezing'. It all sounds rather terrifying, right? The machine uses cryolipolysis (known as cryo) to essentially freeze the fat cells, and kill them. This is done by causing irreversible damage to the cells which, in turn, kills them off (and you urinate them out). The promise isn't for 100% fat reduction in the treated areas, but for a 20-30% reduction in fat cells.
A quick note from me while we here…
I will be the first to say that I heard all of this and thought that it's a gimmick and an unhealthy type of treatment to undergo. However, with all treatments that I come across, I did thorough research. There are many 'fat freezing' machines out there, some that even claim the name 'Coolsculpting' but please don't be fooled into thinking these are the FDA approved official Coolsculpting machines. The official Coolsculpting machine has done over 3,5 million treatments and is currently one of the top treatments in the US, thanks to the results you can get. Aesthetics on 5th (Hyde Park) have the official machine and are my personal Aesthetic clinic of choice. I trust them wholeheartedly. I also know that the official CoolScuplting machines are hard to come by in SA, there are a few but most of these are knock offs either claiming the name or simple cryo machines.
Who is this best suited for?
This is not a treatment for someone who wants to shed a huge amount of weight. In fact, it is not a weight-loss treatment at all. It is a body sculpting treatment so it is ideal for people who are within 3-5kg's of their ideal weight but possibly battle with stubborn areas of fat – for example: saddlebags, bingo wing arms, flabby stomach pocket or back fat that bulges over the bra strap. This person would ideally be living an active lifestyle, eating well, and exercising, yet still battling to shift the fat in specific areas.
So, how is the treatment performed?
This obviously differs from person to person in terms of the area being treated and the amount that is needing to be reduced. I am going to speak to my own experience here:
Consultation:
I started off with a consultation at Aesthetics on 5th where we spoke about the areas that bug me. For me this was my lower stomach area which, no matter how much weight I lose, always is there. It's totally fine when I am standing up, but it's a pocket that just annoys me. The second was my love handles which make me look wider than I want to look. Yes, all very vain but anyhoo. We then booked in the sessions and decided we only needed one session for each area (one for abdomen and one for flanks/love handles). Each session was about 3 hours long, so it does need some dedicated time off, but the treatments are a lot of sitting around whilst the freezing happens, so take your laptop along, or a good book.
The below are the various shapes of the suction pads so they use these stencils to decide how to best target the area according to your body shape.
Day of treatment:
We took official before photos, did a weigh-in, and did measurements. They then drew on the areas where the suction pads would be placed with the stencils (pictured above). We were then ready to go!
First a gel pad is applied onto the skin which basically feels like a sheet mask – this is done to prevent frostbite when the freezing happens. The hand-piece is then placed onto the area and an intense suction takes place that 'lifts up' the fat' and attaches itself.
This then sits in place for 30 minutes and you can relax. The first 5 minutes of this is a tad umcomfy as the cells are busy being frozen, but after this time passes you are numb and feel absolutely nothing. So much so that you could nod off.
Once the 30 minutes is up, the therapist switched off the suction, removed the hand-piece and gel pad, and massaged the area to break down the fat cells and stimulate circulation. This massaging part was the most uncomfortable for me. I found it really painful at times but it is shortlived.
Things to note:
Following the treatment you will feel slightly bruised and there will be a weird itching sensation. Everyone reacts to varying degrees. I was absolutely fine and was able to attend Sweat 1000 sessions the very next day, however, others are known to need pain killers and find it more uncomfortable. Most are fine though.
My results:
Now, for the important part. Did I see results? YES. I absolutely did. I was following a strict exercise routine and eating well (especially since it was leading up to my wedding), but that is not the difference I saw. I saw a change in my shape that I have never been able to achieve with exercise. My stomach looks totally different. In total I lost 10cm on my stomach and my pocket of fat that concerned me has gone down substantially – it hasn't disappeared but I wasn't expecting that after one session. Results also aren't immediate – you can expect to start seeing results at 2 months (90% of your results will be apparent) and the final 10% will happen in the last month.
It is probably the single most impressive body treatment I have ever tried and one that I hope to be able to do again.
*This treatment was gifted to me as a media treatment. I was not paid for this post and this review is based on my personal experience which may differ from person to person. It is important to note that some respond really well to CoolScuplting, others less so. Pain also differs in all people.
See the Coolscuplting site for more info
https://kissblushandtell.co.za/wp-content/uploads/2020/04/IMG_2918.jpg
1600
1200
Victoria
/wp-content/uploads/2020/03/logo.png
Victoria
2020-04-27 15:02:00
2020-07-02 14:22:00
My REVIEW ON COOLSCULPTING