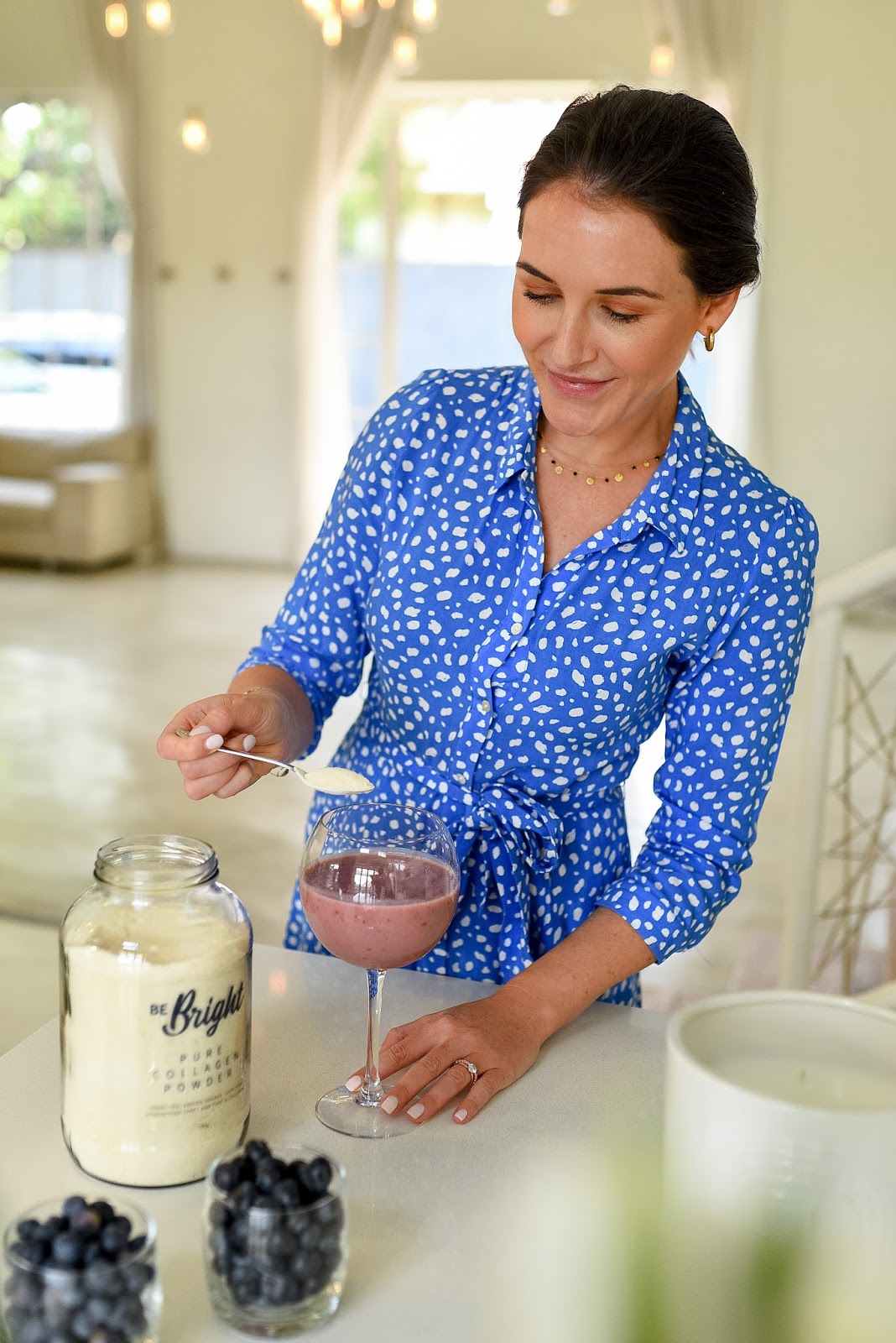 You would pretty much have to have been living under a rock if you haven't heard about supplementing with collagen. It's all the rage, and for good reason. The benefits are endless and there is no one who wouldn't benefit from including it in their routine; man or woman, young or old. Oh, and dogs
and cats
included 🙂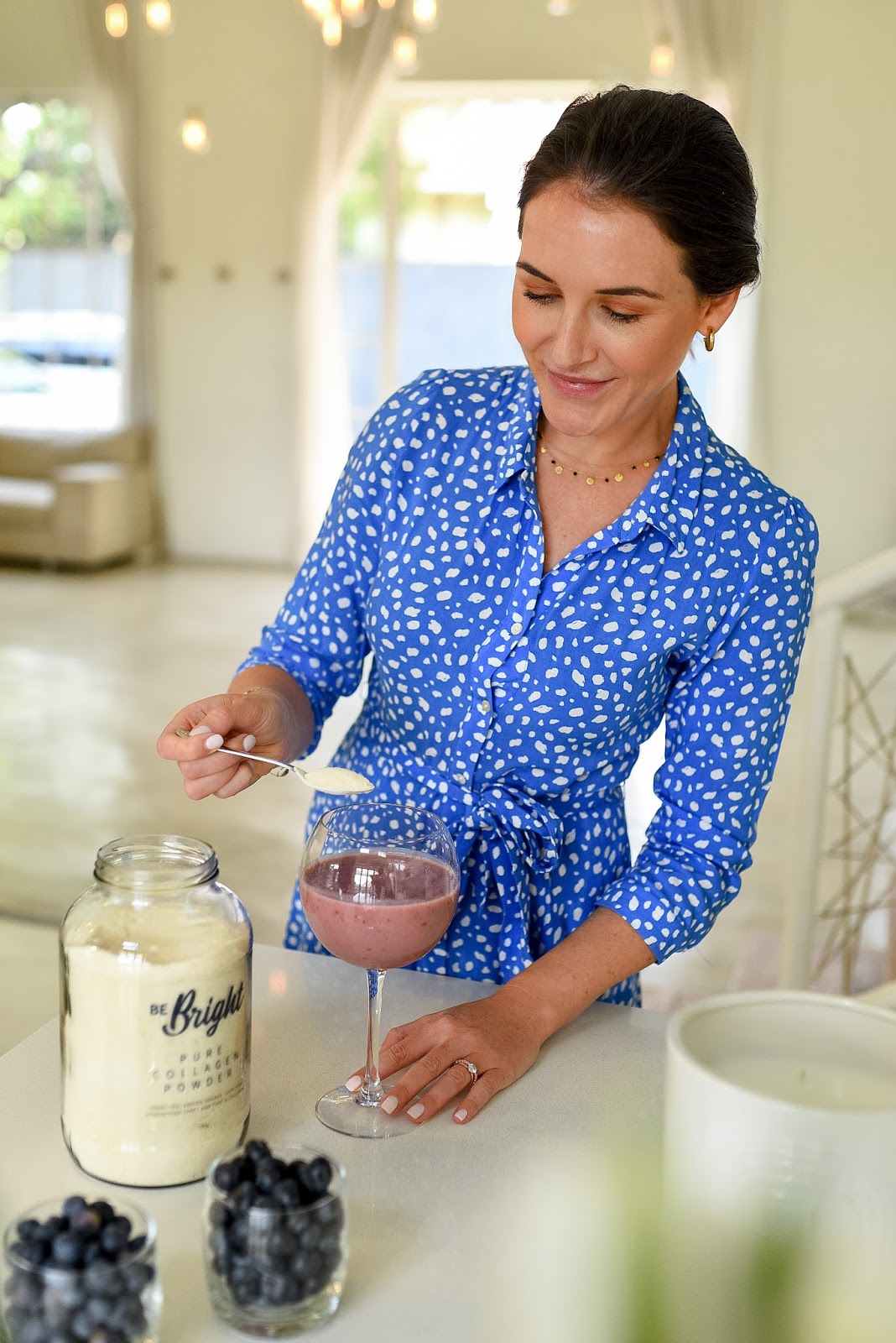 My personal choice of collagen is Be Bright for multiple reasons, which I will get into soon. In this post I want to detail my personal experience, how I take it and some FAQ's that might help you out as it can all be quite an information overload. I want to keep this as straight forward as possible, as it can get quite technical, but you are welcome to hop on over to the Be Bright's website if you want more technical info.
WHY BE BRIGHT?
First and foremost, I believe Be Bright is fantastic value for money for such a great quality product. It is pure hydrolysed bovine collagen (so not combined with any hidden carbs and sugars that I really don't want disguised in a product I am using daily). The brand is local (born and bred in Durban, my home turf) and I love supporting small, local businesses. The packaging is all re-usable and recyclable (aside from the sticker on the jar). It's unflavoured and GMO and hormone free.
WHY COLLAGEN?
Collagen is the single most abundant naturally occurring protein in the human body. There is nothing synthetic about this. Unfortunately, with age, collagen depletes in our body and this is why supplementing it is important. Being such an important protein, taking it as a supplement will help your body function at its optimum. You can see the many benefits below.
WHAT ARE THE BENEFITS?
It increases skin hydration, collagen density and skins elasticity – this all helps with fine lines and wrinkles and general skin plumpness and health
Supports and repairs the digestive tract
Strengthens hair and nail and promotes healthy growth
Helps with joint inflammation and those aches and pains
Helps with pain relief for arthritic patients
Helps with injury recovery time
Helps with healing of scarring
WHAT I'VE NOTICED & THINGS TO NOTE:
It is important to note that benefits are only seen after consistent use for 2 to 3 months. This is the same for all supplements, so know I am stating the obvious, however, I think some people expect an overnight miracle. It should also be noted that no two people will see the exact same benefits, we all respond differently. You can, however, be rest assured that you will see some of the benefits listed. The main one's I noticed were joint pain after intense exercise, muscle recovery and growth in my hair and nails. My skin has always been very well looked after, so I'm very happy with how it's looking, but can't pin that down to one single thing.
ANYTHING ELSE…
If you have a dog who battles with any aches and pains, just sprinkle a TBSP over his/her food each morning.
DOSAGE & USAGE
Consistency is key! Take 10-20g per day. (*10g's is equal to 1 heaped TBSP.)
You can mix it into juice, tea, coffee, yoghurt, smoothies, shakes or soups. The most popular ways of getting your daily dose is mixed into your tea or coffee, or blended into your smoothie, but as long as you get your daily serving in, do whatever works for you.
You can also bake with collagen as it is heat stable. Nutrient dense protein muffins, coconut muffins, homemade protein bars and collagen infused banana bread are just some of the goods you can add collagen to. The list is endless and you can find tons of recipes for baking with collagen online.
There are two jar sizes. The large one is 700g (R800) and lasts just over 2 months. The small one is 350g (R470) and lasts just over a month. Depending on which bottle size you choose, you are paying between R11.40 and R13.45 for your daily dose of collagen. There are also refills available.
I personally enjoy mine in a juice shot, cup of coffee, in my smoothie or with a small yoghurt.
Be Bright deliver nationwide and are currently offering 15% off to you guys with the code KBT15. See terms below my latest Instagram post. You can shop online here.
This post was done in collaboration with Be Bright
https://kissblushandtell.co.za/wp-content/uploads/2020/04/A715861B-DF31-4C19-80C7-37A086CC0A9D.jpeg
1600
1068
Victoria
/wp-content/uploads/2020/03/logo.png
Victoria
2020-04-07 12:50:00
2020-07-02 14:22:08
LET'S TALK ABOUT COLLAGEN WITH BE BRIGHT