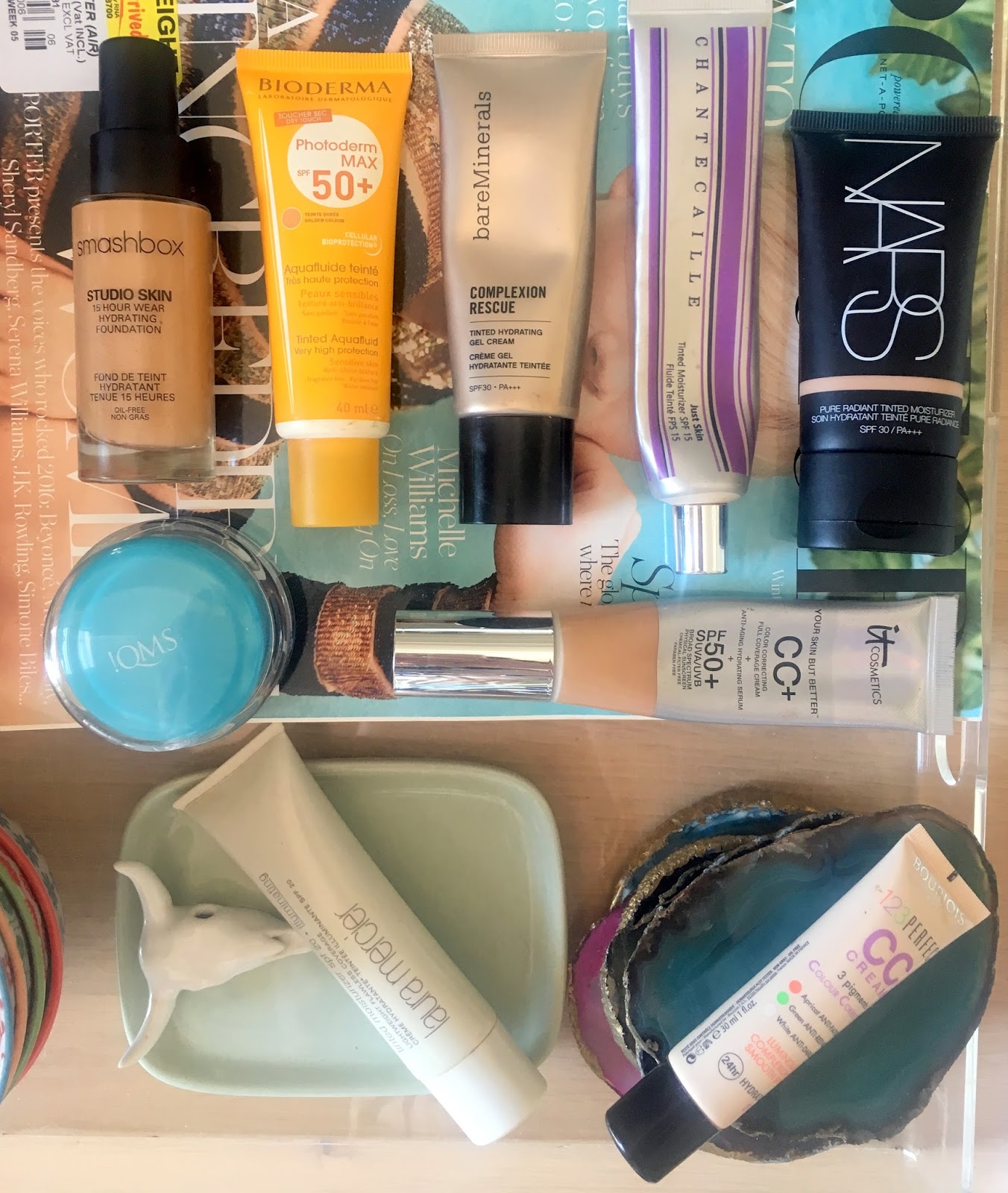 I am a die-hard tinted moisturiser gal. Always have been, always will be. As you know, a huge amount of effort goes into my skincare routine, so this would be wasted if I was plastering on thick foundation to cover this all up. I also feel heavy, full-coverage foundation ages me. Don't get me wrong, I own a HEAP of foundations and love them and definitely wear them if I need more coverage or have a wedding or big event but the options I go for are still super-light and dewy. I don't opt for anything full coverage. Concealer is your BFF for that – my ethos is go light on the foundation and conceal where necessary, rather than hiding everything with a thick film.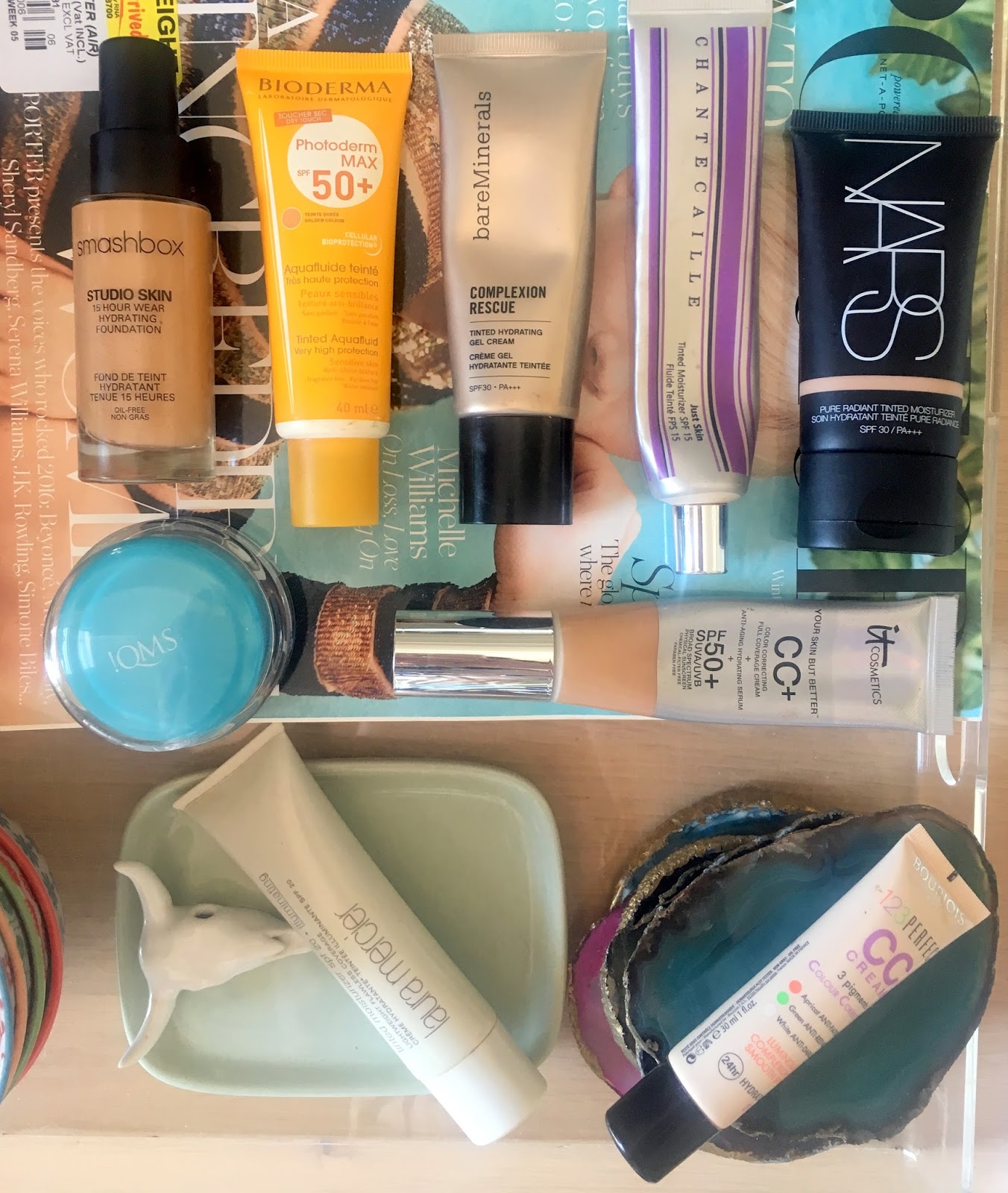 These are a few of my go-to products I reach for when I just want a light tint to my skin. Believe me, I have been around the block in terms of testing out tinted moisturisers and am SUPER fussy about what I am looking for. There are so many options out there, but not that many good ones that address all my needs. Here's my round up. Oh, and let me know what you swear by as always open to try more! The top few are overseas buys, the second half of the post is more affordable, local options. I always include overseas options as they are so easy to get your hands on with online shopping these days. Prices and stockists all at the bottom of the post.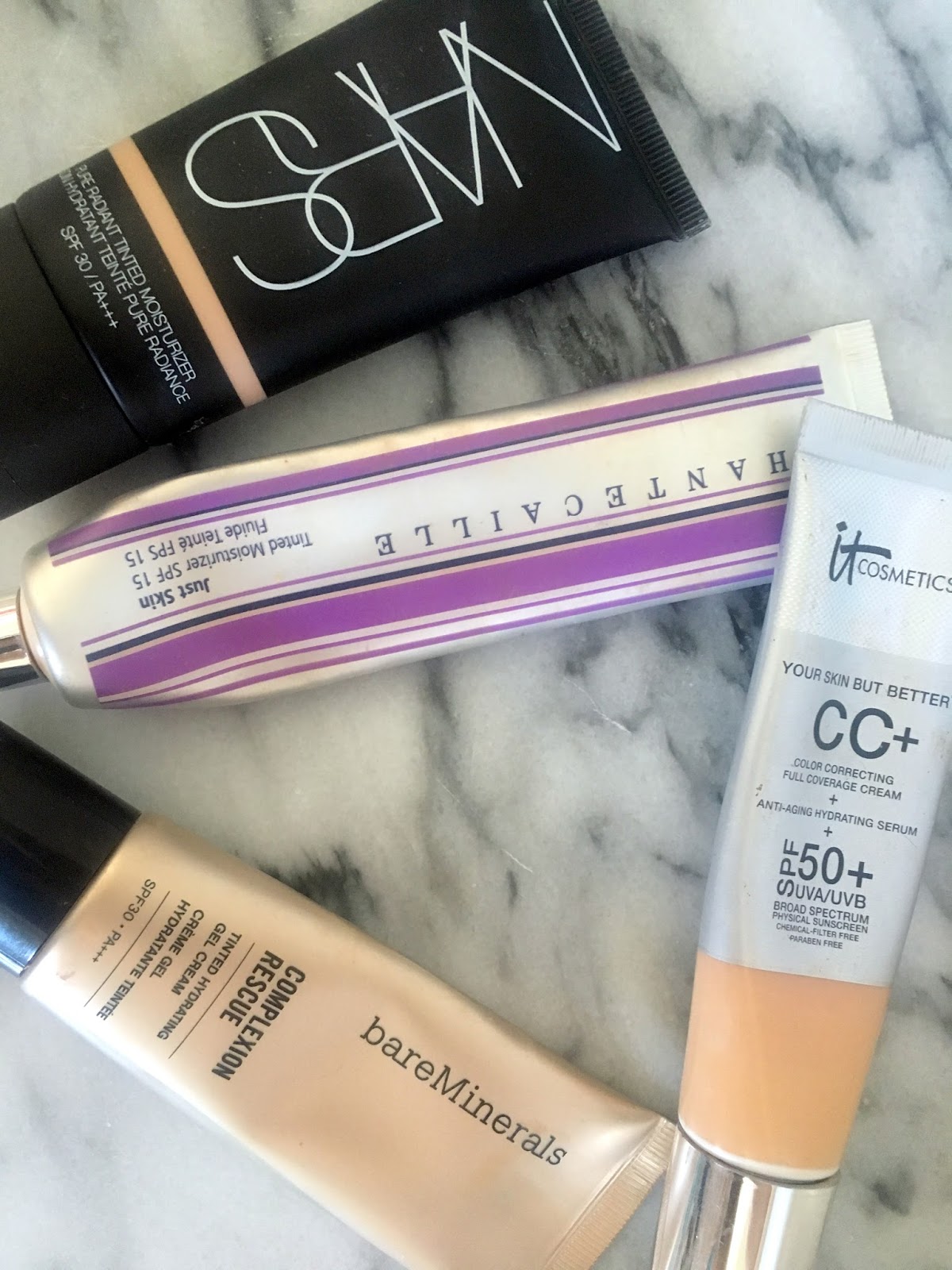 NARS Radiant Tinted Moisturiser
My holy grail, as you will know. I have used this for YEARS now. I buy it every time I go overseas and have a few back-ups so my stash never runs dry. This product just works wonders for me. The coverage isn't particular good so it's for my good-skin-days, but it gives me the glow factor that I look for. The shades I wear (St Moritz in summer and Groenland in Winter) are also just amazing for my skin tone and finding a good shade match in any product means you're half way there. Out of all of these options, this is my favourite.
Chantecaille Just Skin Tinted Moisturiser
Ah, I always forget just how much I adore this product. Jeepers, it's brilliant. The formula is all about enhancing beautiful skin so the coverage is sheer, glowey and makes you look so fresh and put together. It costs a bomb and I only have one back up left, therefore I use it sparingly! To be honest, as much as I ADORE this stuff, it's pretty hard to justify the price when there some other ones that I love just as much for a fraction of the price. I wanted to mention it though as Chantecaille is one of my best high-end brands and if you want a spoil then you won't be disappointed.
IT Cosmetics CC Cream
I wanted to mention the IT Cosmetics CC cream as I have had quite a love/hate relationship with this. I am still unsure whether I would buy it over my NARS Tinted Moisturiser but it is a great option as the coverage is much better than NARS. I also really love the fact that it's spf 50. A con here is that IT Cosmetics is pretty hard to get your hands on and the shade range is quite limited but there are many, many die-hard fans of this product so, if you can, check it out. I would call it more of a foundation than a CC cream, to be honest.
Bare Minerals Complexion Rescue Tinted Hydrating Gel
A mousse-meets-gel formula that gives you ALL the glow. The shade match isn't SPOT ON for me, which is why I tend to only use it in summer. It has a pinky undertone rather than a yellow undertone which is the part I don't like, but that's very personal to my tone and preference. I took this on my 2 week holiday to Barcelona a while back and didn't need anything else – I loved it! It has an spf of 30 which is great too.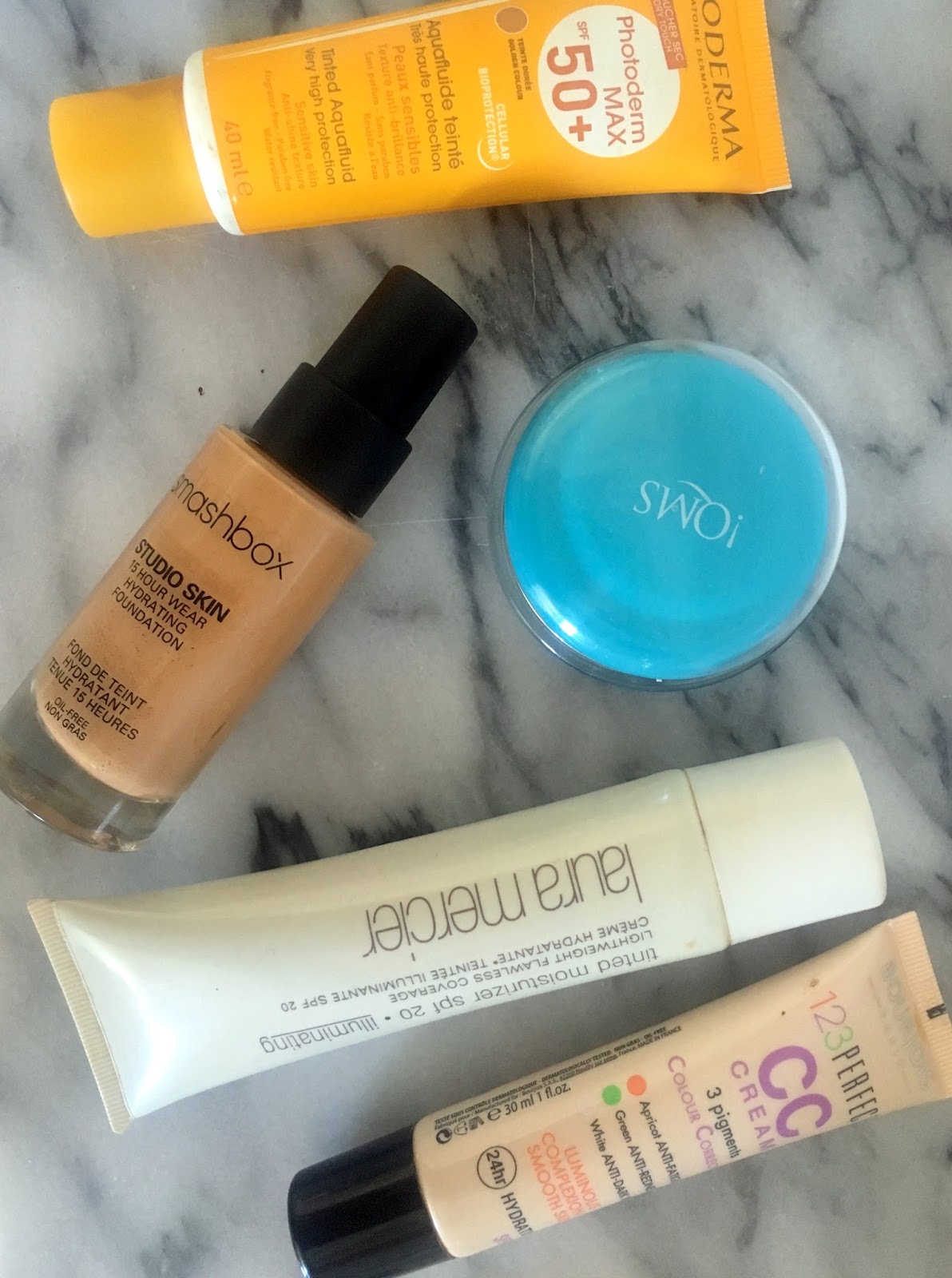 Bourjois CC Cream
This is a great affordable option and I recommend this begrudgingly as it's never ever got my shade in stock at Clicks. I reckon this is probably my 'most recommended' product on the blog and for good reason. It costs R200 and a little goes a long way. The coverage is higher than my NARS one, and the shade match is really good for me (I use Light Beige). Only con here is that the shade range is really limited (I think there about 5 shades in total) so if you don't find your perfect match, then this won't work for you. Of all the readers that have bought this over the years, I've maybe had 2 or 3 who actually didn't love it like I do. It's dewy and just a trusty old fave. Now just to try and get my hands on a new tube, the hunt continues (eye roll). Side note: Apparently this stock issue will be resolved as Bourjois have been bought by Coty. This is on their priority list to get sorted ASAP.
Smashbox Studio Skin Hydrating Foundation
This is a new addition to my collection and, yes, it is a foundation but this stuff actually has pretty light coverage, which is buildable to your preference. I LOVE it – it is quite sheer (with a thin application) but provides the perfect tint I am looking for as makes you look radiant and glowey all day long (15 hour wear). It also helps with the skins hydration which is an added benefit. This formula really is gorgeous. I love Smashbox foundations and this edition is no different. I would highly recommend checking it out as the shade range is also very good. I know, through Instagram, I have recommended this to a few of you already and you LOVE it. Really gorgeous product. Tip: If I want to sheer this out I mix it with a touch of my moisturiser or serum. Works a treat!
Laura Mercier Tinted Moisturiser
I couldn't write a post and not mention the Laura Mercier version as I still deem this one the Queen of all tinted moisturisers. Laura Mercier was one of the first brands to release a product like this and she became pretty famous for it (still one of her best sellers). This was the first one I ever owned and I still have a tube or two left. They are pretty faultless so you can't go wrong here. Only issue is they, like NARS, aren't available in SA. I did see the Skin Cosmetics store at Sandton City stocks Laura Mercier but assume the prices will be quite steep. If you travel, be sure to try hers out, she has an oil-free and non oil-free formula. Brilliant product and good shade range!
QMS Sports Active
This isn't really a tinted moisturiser, as such, but more of a skin tint. I first came across the Sports Active from QMS when my facialist would apply it post-treatment to make me not look too red. I remember always admiring the glow and have since owned two jars and really enjoy the product. I wouldn't wear it day-to-day (even though you could) but would highly recommend it for active people who may want something to make them look a bit more presentable but also protect their skin at the same time. It's great for Sundays at home when you don't want a full face of make-up. The product comes in one shade only which miraculously adjusts to your skin tone. This may not work for everyone though.
Bioderma spf 50 Photoderm MAX Aquafluide
The next two recommendations are more suncare than make up item but fab options for a light tint and great sun protection! This Bioderma Aquafluide is pretty much all you need for summer holidays as it gives the face a sun-kissed bit of colour and protects you like no other. I also like that it dries down to a non-greasy feel, so doesn't feel like a oily sunblock on your face. I use the 'Golden Colour' shade and, even though it doesn't conceal anything, it makes me look like I have been on an all-year-round summer vacay. I don't tan my face at all (and not even my bod really haha) so this helps me look like I am bronzed when, in fact, I am a ghost all year round.
La Roche-Posay Anthelios XL BB Cream SPF50+
I have only used this for the past week and am really enjoying it. The coverage is very sheer, but gives the skin a beautiful tint and, most importantly, a whole lot of sun protection (with spf 50). I love how it makes my skin glow and evens out my skin tone, I just pop concealer on problem areas if I need some extra help. For those of you who don't have a problem skin and want something for daily wear with sun protection, this is worth looking into. I see they only have one shade that adapts to your skin tone (much like the QMS version). If this shade won't work for you then rather look at the Bioderma one which has some (still limited) shade options.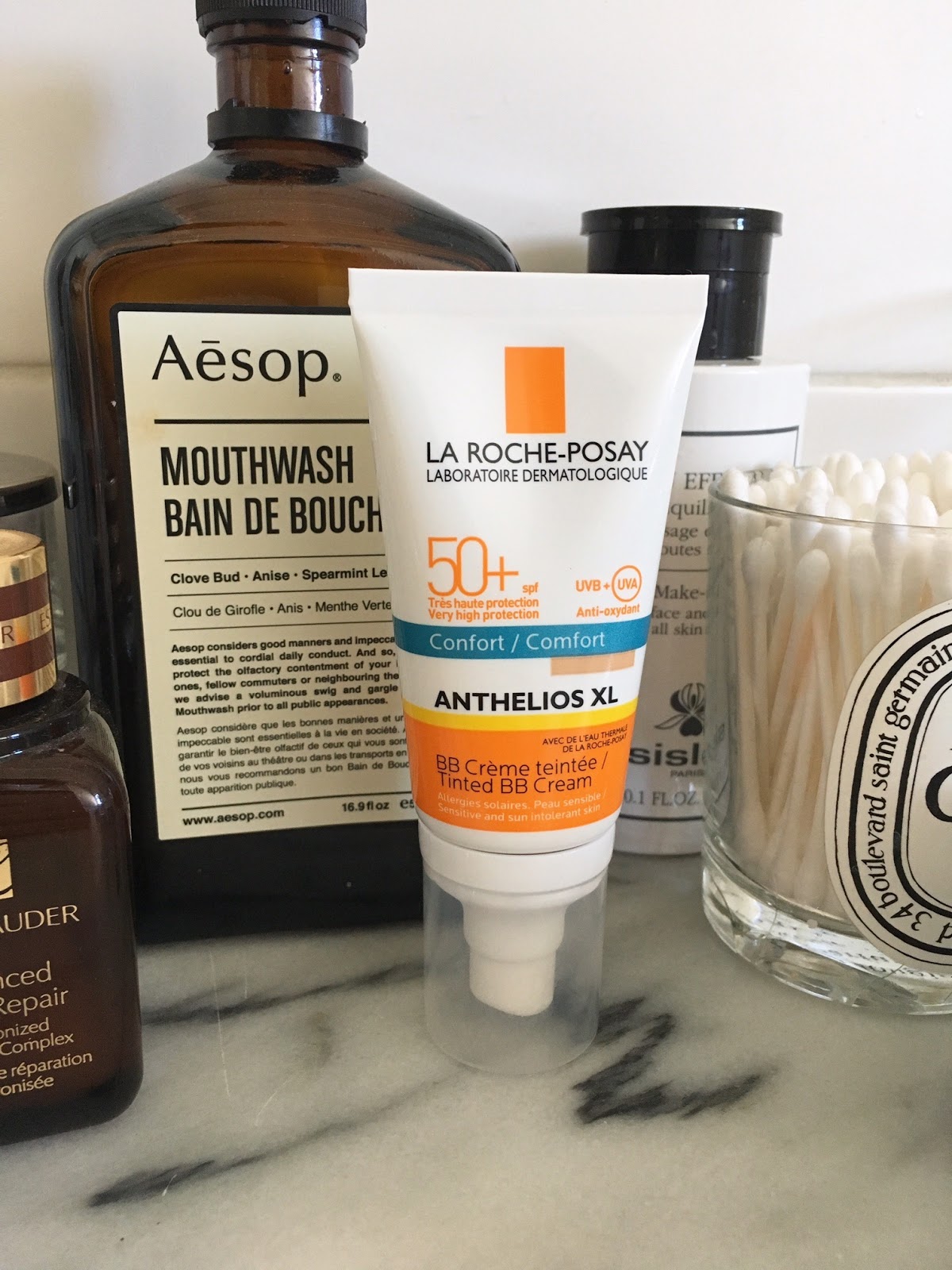 Pricing and stockists:
NARS Tinted Moisturiser: R540 (link) – only available internationally Chantecaille Just Skin: R914 (link) – only available internationally IT Cosmetics CC Cream: R550 (link) – only available internationally Bare Minerals Complexion Rescue: R510 (link) – only available internationally Bourjois CC Cream: R209 (link) Smashbox Hydrating Foundation: Laura Mercier Tinted Moisturiser: R615 (link) – only available internationally QMS Sports Active: R835 (link) Bioderma spf 50: R228 (link) La Roche-Posay Anthelios XL BB Cream SPF50+: R240 (link)
https://kissblushandtell.co.za/wp-content/uploads/2017/10/IMG_2568.jpg
1600
1352
Victoria
/wp-content/uploads/2020/03/logo.png
Victoria
2017-10-09 11:13:00
2020-06-24 15:33:16
My favourite Light Base products to give you all the glow