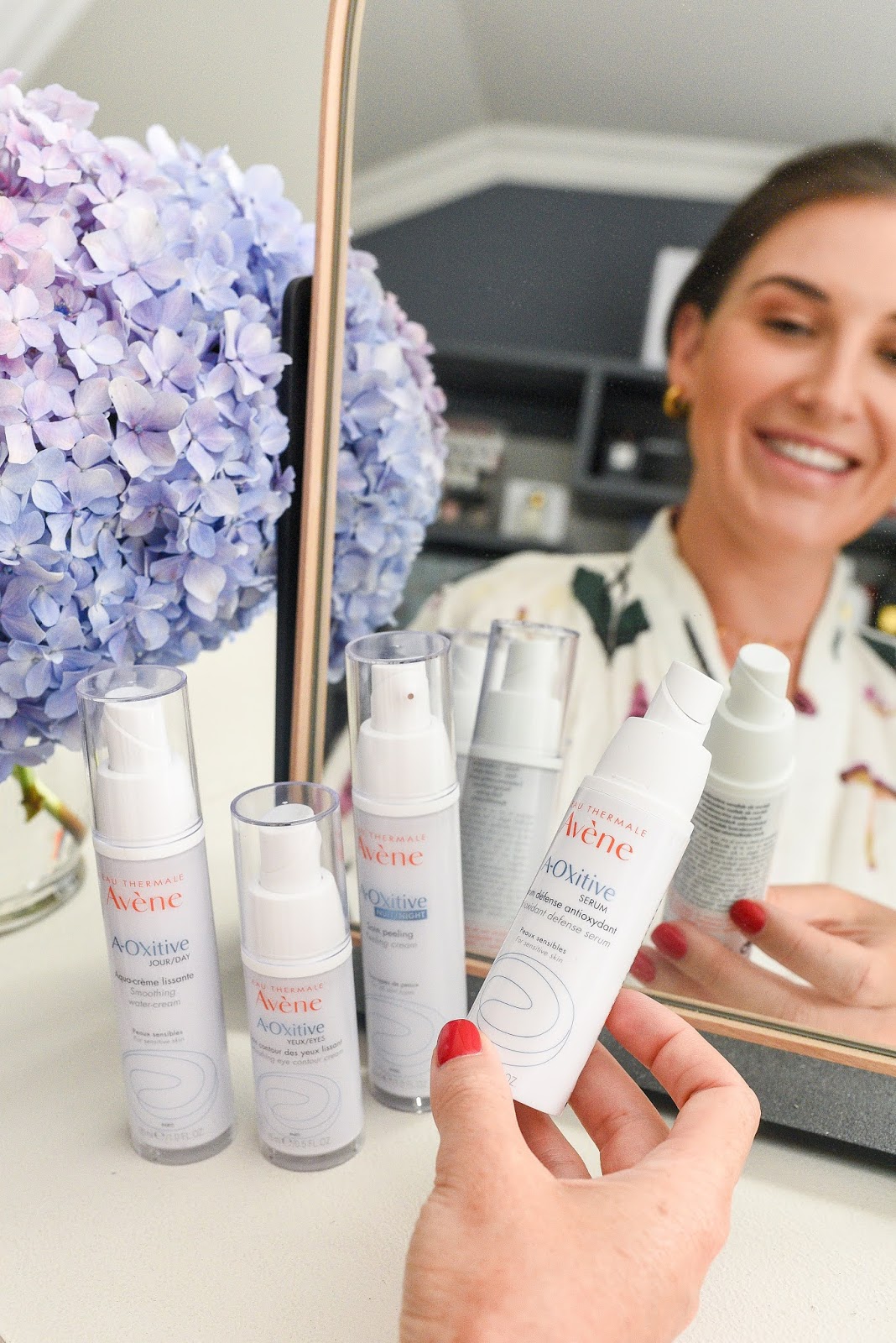 One of my all-time favourite brands to use, and to recommend to you guys, has launched a very up-my-alley range. Meet the Avene A-Oxitive Range; an anti-oxidant-rich, anti-aging range that aims to target oxidative stress, pollution and the early signs of ageing.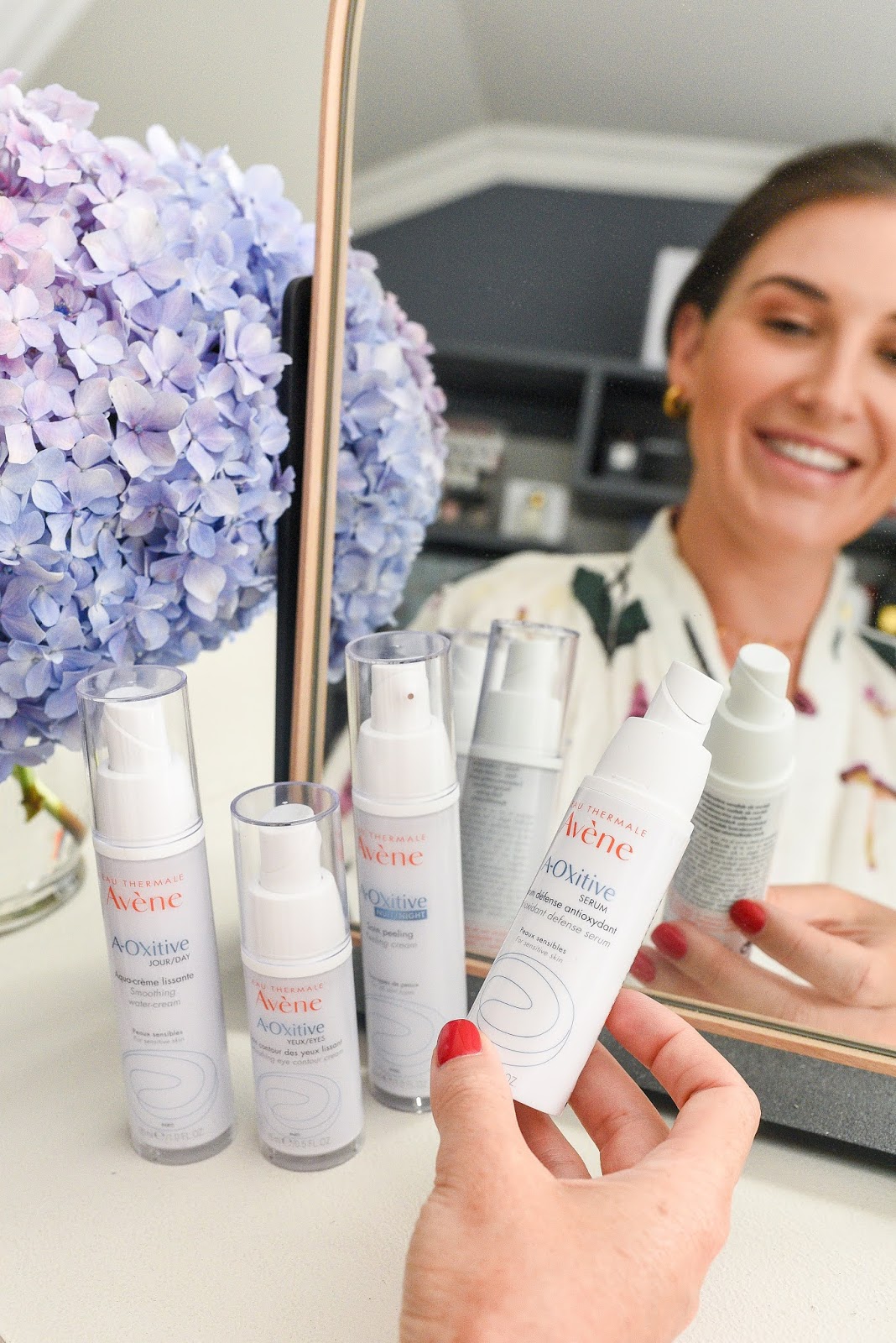 The reality for many of us (92% of us, in fact) is that we live a stressful lifestyle and live in cities where pollution effects our skin daily, oftentimes without us even realising the impact this has on it. This is why you will always hear me harp on about anti-oxidants in your routine (the first of three must-have ingredients, always). This is the only way to assist in protecting our skins from these external factors; one's that we can't escape but can certainly curb the effects of. The second ingredient I always speak to, and I mean ALWAYS, is Vitamin A (this range uses Retinaldehyde which is a precursor to Vitamin A, releasing it according it to the skin's needs, not pure Vitamin A – which means it is more stable, and more tolerated for sensitive skins).The Pro Vitamin A is found in their Peeling Night Cream and their Soothing Eye Cream. Last, and certainly not least, you will find my third most-harped-on-about ingredient: hyaluronic acid. This is a much-loved hydrating ingredient that occurs naturally in our skins, but sadly depletes with age. Therefore it is imperative that we supplement this by using it in our skincare routines.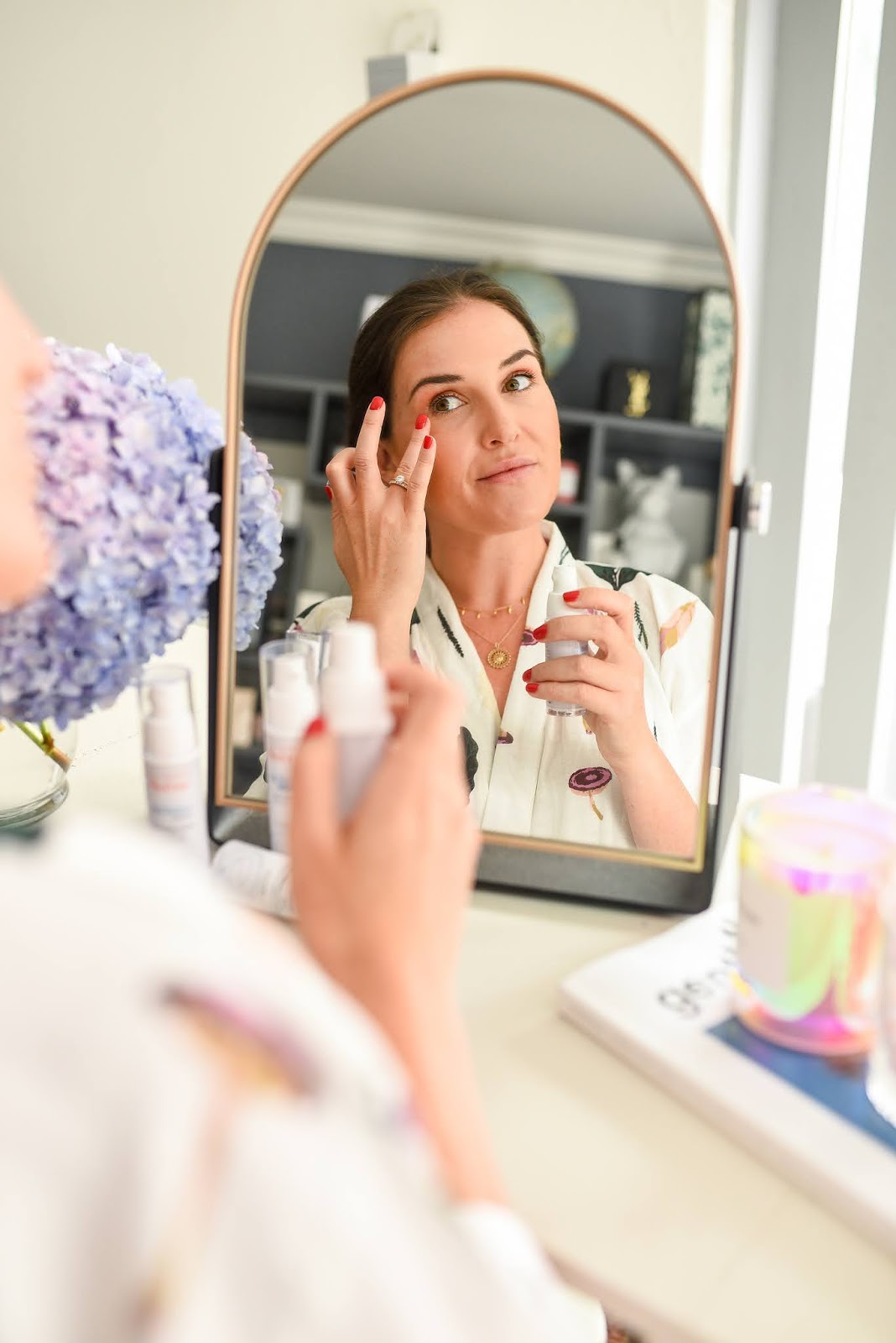 So, what is the range all about?
Avene's A-Oxitive range aims at combatting the free-radicals that we are exposed to in our everyday life with an anti-oxidant-rich dose of powerful Pro Vitamins. The range is simple with a day and night treatment that can be used along-side your current cleansing routine. Let's see what the four products are all about: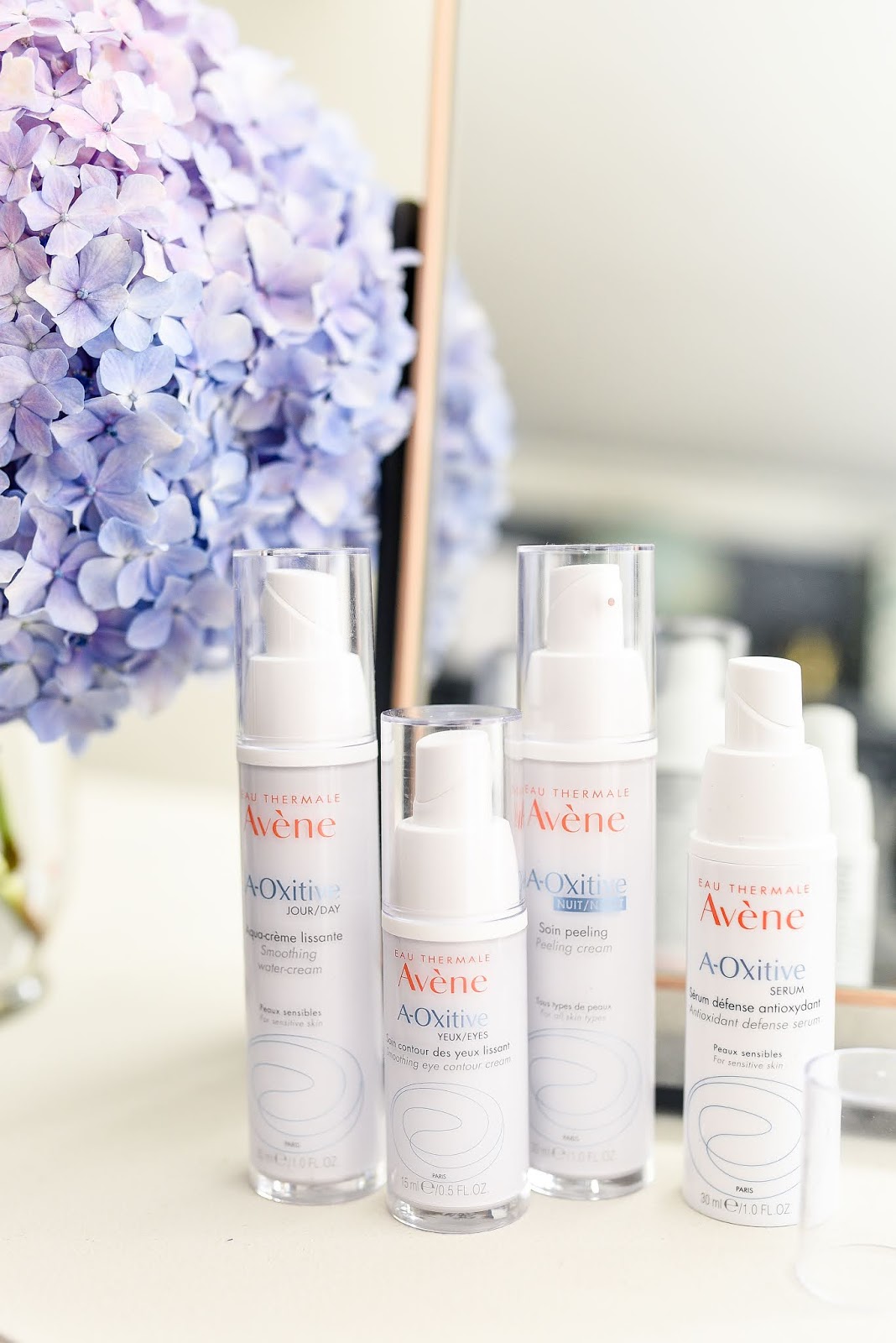 DAY
ANTIOXIDANT DEFENSE SERUM This can be used both day and night. It is a light-weight serum packed with Pro-Vitamins C and E as well as an energising ingredient to boost cells which is called GP4G. Hydration is also addressed with a much-loved KBT ingredient, Hyaluronic Acid and the skin is left soothed thanks to Avene's signature Thermal Spring Water. Consistency-wise you are looking at a liquidy, light formula that penetrates the skin beautifully and wears well underneath make up. SMOOTHING WATER-CREAM The day cream will follow your Defense Serum each morning. The moisturiser is a beautiful balmy texture that doesn't feel too heavy on the skin, however, is enough to leave the skin feeling super moisturised. Ingredients wise you will find your same Pro-Vitamin C and E (keeping with their antioxidant-rich theme of the range), you will also find a Pearlesant agent to make the skin appear more illuminated and glowey on application. It is finished off with the same above ingredients of Hyaluronic Acid for hydration and Thermal Spring Water to keep the skin calm and redness at bay. You would then finish off with your spf of choice.
NIGHT
SMOOTHING EYE CONTOUR CREAM This is a serum-like eye product that feels very light on the skin. It has your retinaldehyde (their Pro Vitamin A), as well as fatty agents and Vitamin E to ensure the skin around the eye area is kept plump and hydrated. Finishing off with the signature Thermal Spring Water to soothe and calm. This should used at night only thanks to the Pro Vitamin A.
PEELING CREAM Finishing off with my favourite product from the range; the Peeling Night Cream. This, as the name would suggest, gets the skin peeling gently thanks to Retinalehyde which is a Vitamin A derivative. You also have your Evening Primrose Oil to ensure the skin is balanced. Again, you have Pro Vitamin E and Thermal Spring Water to ensure the skin is still kept in-tact with a protected barrier. I have already had a number of question on this product so wanted to answer the two most commonly asked ones: Can I use this if I already have a retinol? I wouldn't. I don't think you need doubling up. This is a great starter point for someone who wants to start incorporating retinol but do not suggest using this alongside your medical-grade retinol. Remember, any Vitamin A products cannot be used if you are pregnant or breastfeeding. Can I use it every night? Yes, you can. You will experience peeling for the first while but push through. This will improve. You could alternatively use it every three nights (like other Retinols) and use your day cream in-between. Just read your skin, we all respond differently so this is very important.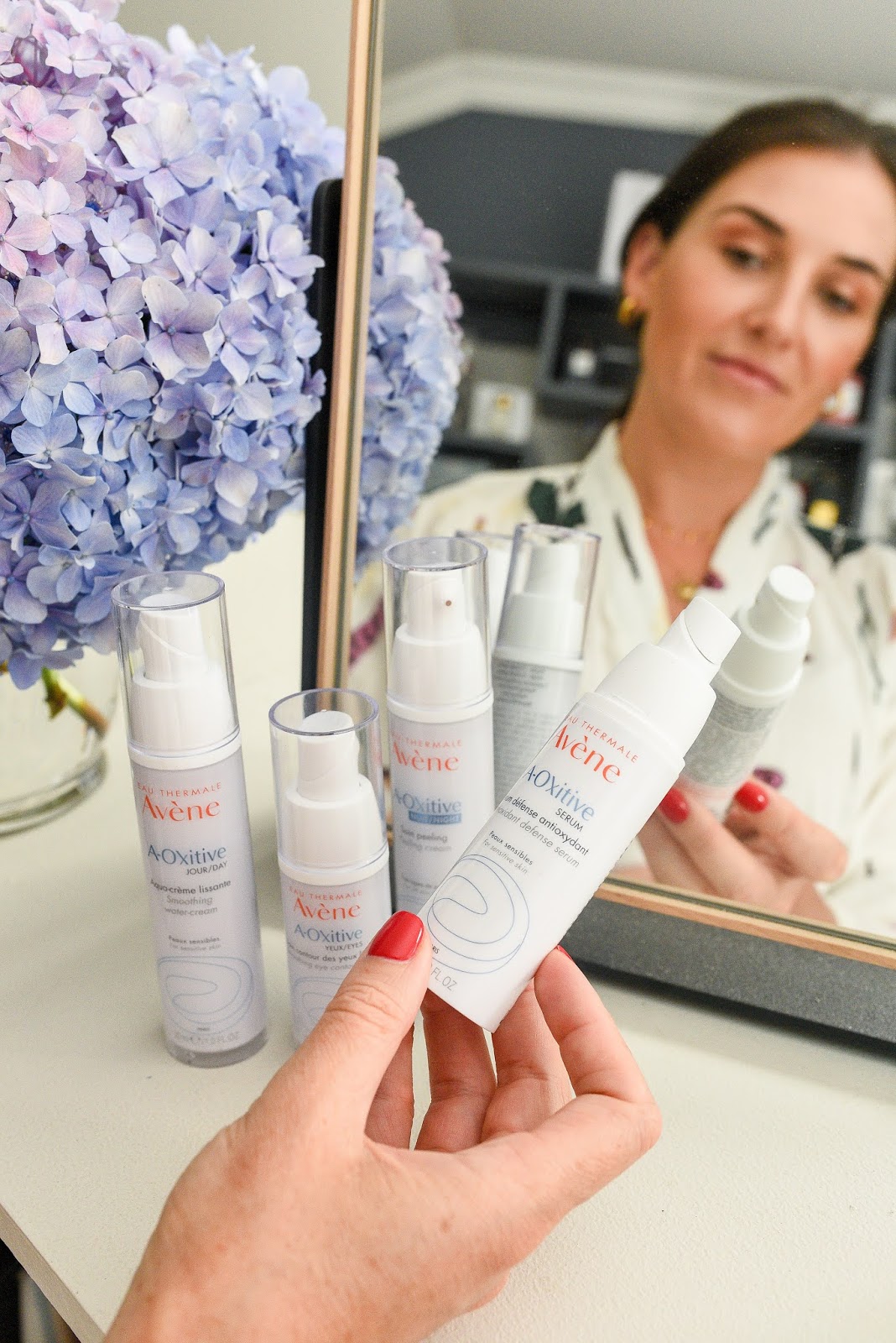 Prices and purchasing:
This range is exclusively available on Dermastore at the moment – see link here. Prices are below: Smoothing Eye Contour Cream – R369 Antioxidant Defense Serum – R419 Smoothing Water Cream (Day) – R399 Peeling Cream (Night) – R409
What order do I apply it in?
If you are unsure about the general rule of when to apply what, then have a look at this blog post. For this particular range I use it as follows: Day: Cleanse Serum Day Cream Spf Night: Cleanse Eye Cream Serum Night Cream This post was done in collaboration with Avene.
https://kissblushandtell.co.za/wp-content/uploads/2020/01/84E54CCA-007F-400F-B292-8CAB3F27CCD2.jpeg
1600
1068
Victoria
/wp-content/uploads/2020/03/logo.png
Victoria
2020-01-19 08:28:00
2020-06-24 15:08:26
New: Avene A-Oxitive Range