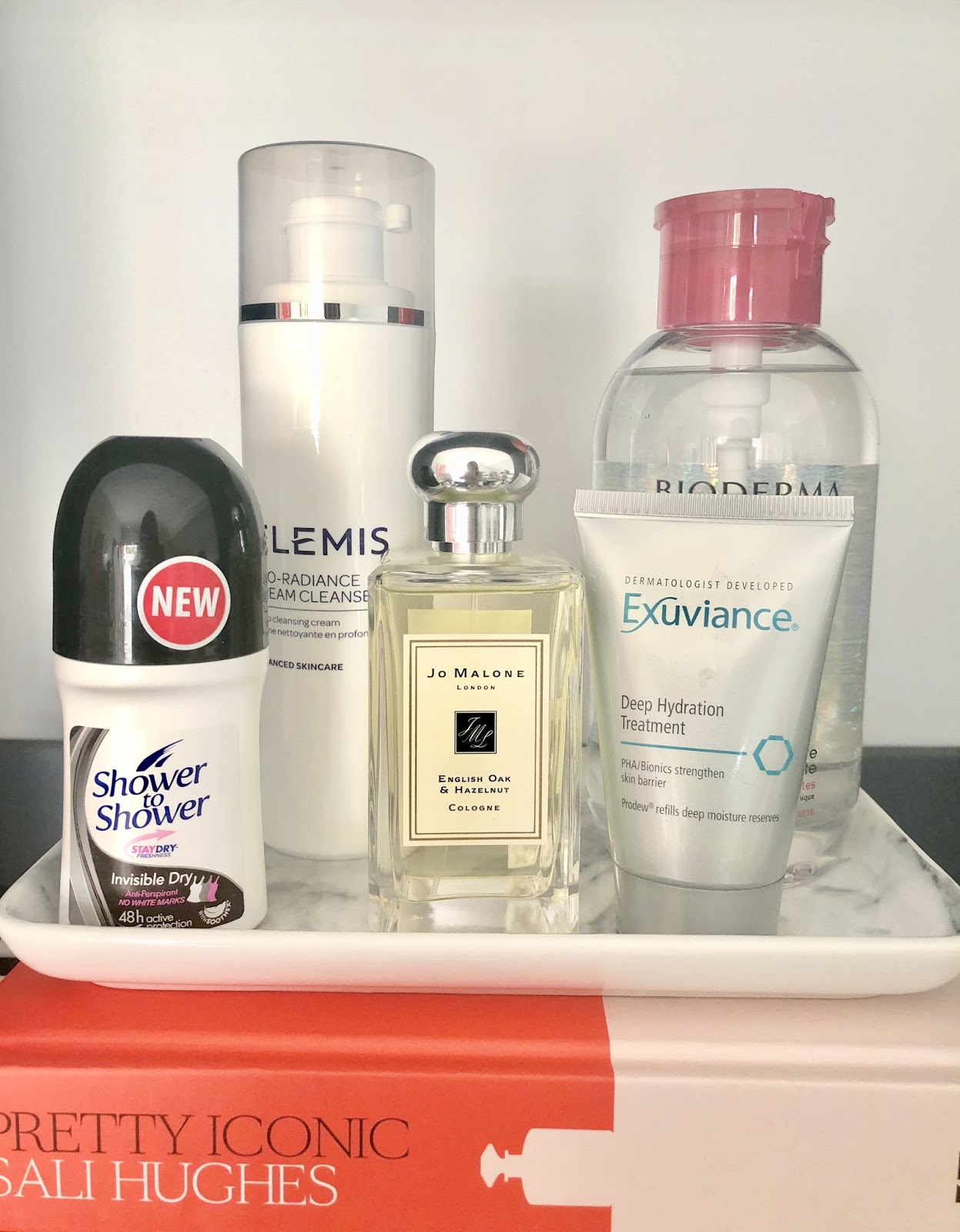 Would you be shocked if I told you that my bathroom counter is a CONSTANT cluttered mess? Organised mess, that is. But a mess none-the-less. It drives Marc mad, but any product junkie will relate (and I'm sure you are FAR from shocked). The one issue I have with my new home (and not living alone anymore), is bathroom counter space. My Cape Town home had a bathroom of dreams and, because it was just me, this would basically look like a mini-Sephora store AKA my heaven. Anyway, my JHB home (combined with living with an incredibly OCD man) means I have to keep my select few faves on my counter. These products do shuffle every now and again, when I want to switch in some new products to try, but, for the most part, I have my staples that I love and trust. Let's have a squiz.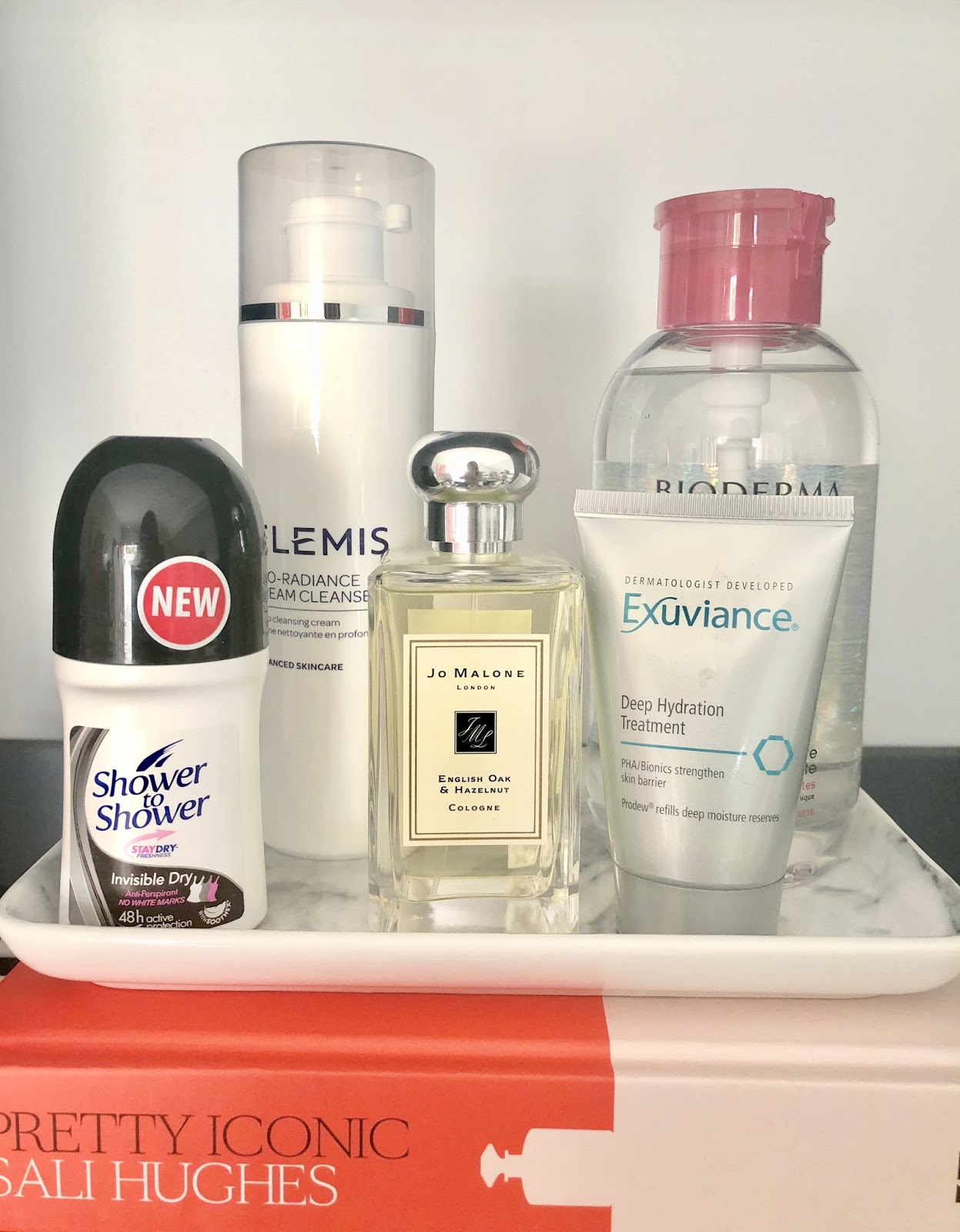 DEO: SHOWER TO SHOWER ROLL-ON INVISIBLE DRY (R15.99)
I love this deodorant for many reasons, the main one being that it's invisible and doesn't damage my clothes, so no marks are left behind (and we all know how deodorant marks can ruin your favourite pieces of clothing). I also love how soothing it is on my underarms – it causes zero irritation thanks to the ingredient Soothex®. The protection lasts all day (well actually up to 48 hours) and smells really lovely; nothing over fragranced so it doesn't interfere with the perfume I choose to wear that day, but a scent that still smells really lovely and clean. In fact, it's probably the best scent I have come across deodorant wise. Not cheap smelling, just like a light floral soapy scent. It's beautiful. I am particularly fond of the 'invisible' factor, as during the cooler months I tend to wear fitted polo-necks or long-sleeve tops, and found my previous deodorant was leaving marks behind.
CLEANSER: Elemis Pro-Radiance Cream Cleanser (R500)
I have a dry skin, therefore, cream cleansers are what I need to be using. I do, however, find it quite challenging to find a cream cleanser that leaves my skin feeling properly cleansed. This one does the trick for me and doesn't leave my skin feeling stripped or dry. It also removes my make up with one cleanse and one pump is more than enough to massage into my skin. Side note: it's the perfect massage medium for a quick facial massage (which you should all be doing when you have a few minutes to spare).
Scent: Jo Malone English Oak & Hazelnut (R1795)
I treated myself to this scent in anticipation of our upcoming New York trip. The trip is still in a while so, naturally, the self-restraint to wait until September has been kind-of impossible. I have been using this non-stop since I bought it and don't have enough good things to say about it. It's woody, masculine, fresh and nutty all in one. Not sweet at all. Goodness, I adore it. Now to put it back in its box and wait until our holiday! Side note: I love buying scents pre-holidays. It's a nice way to remind you of that trip and I feel like this scent is perfect for New York (she says having never been there in her life!)
Night Treatment: Exuviance Deep Hydration Treatment (R867)
This product is your ultimate pick-me-up skincare-wise to restore your skin barrier and pack in the hydration. I have been using it pretty much every night and wake up with perfectly plump, hydrated skin. I don't really have enough good things to say about this product and a Deep hydration Treatment is music to my ears with the upcoming Winter months in JHB. Not much more to say here, as you have heard me banging on about it over on my Instagram. I got mine from Dermastore, as usual.
Make Up Remover: Bioderma Sensibo Micellar Water (R230)
This is, without fail, always on my bathroom counter. It's an old-faithful and one that I have repurchased for years. It's just so darn good. I haven't ever swayed from it. Sure, I've tried other options, yet always return to this (pretty quickly). I use it morning and night to remove excess make up and love it as it does the job quickly without leaving an oily film on the skin. It's great for sensitive skins and a best seller for good reason. PS – this pump bottle version is not available in SA, I bought this one in France. Shop online here.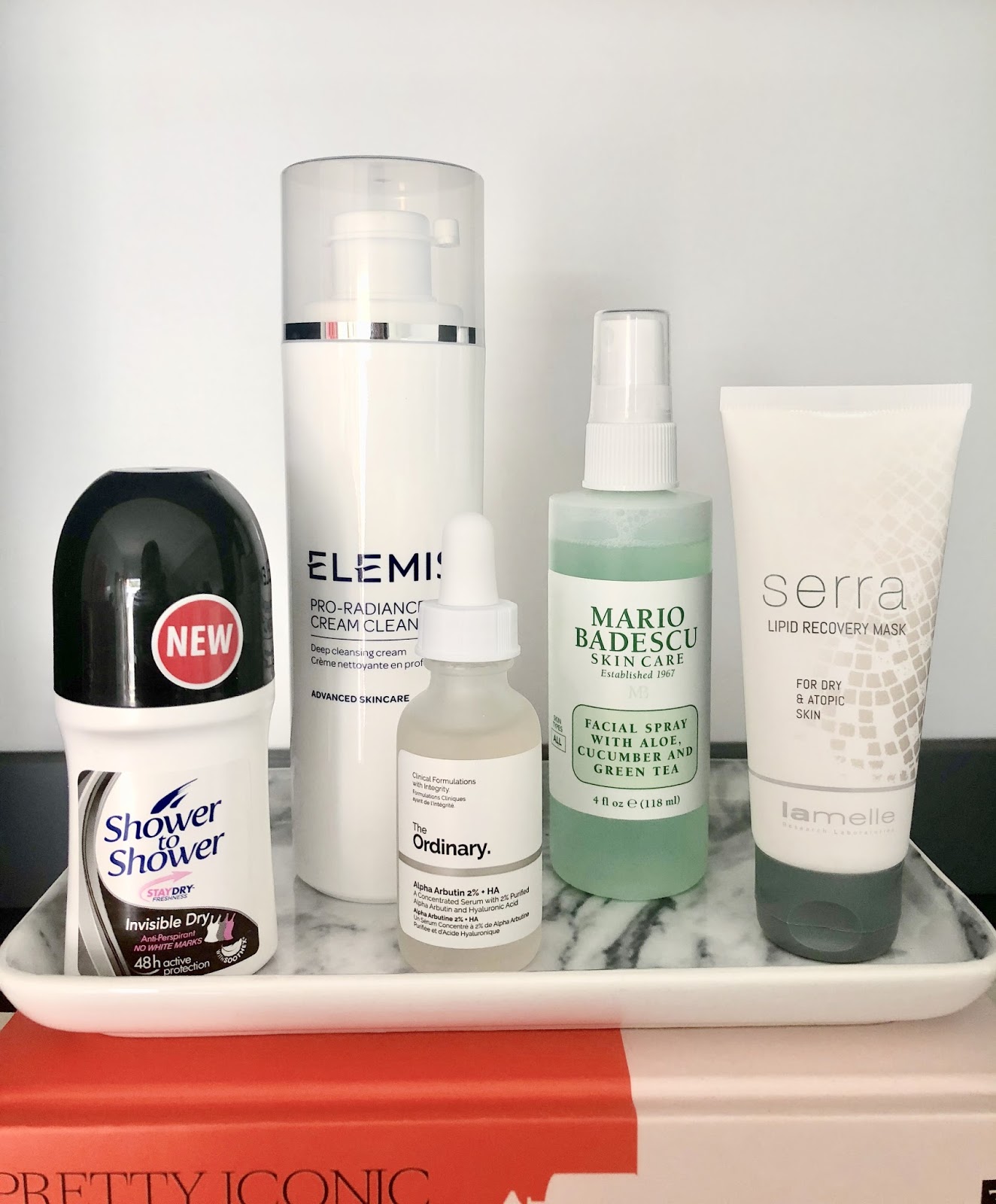 Treatment: The Ordinary Alpha Arbutin 2% + HA (R270)
I have been using this product morning and night straight after cleansing and adore it for evening out my skins tone and texture. I have seen good improvement in pigmentation and it's fab to help fast recovery post a breakout. My skin takes ages to repair after a pimple (I tend to have redness on that area for a while). This little bottle is my go-to to reduce redness, even out the texture and speed up recovery. I got my The Ordinary products from Muse Beauty.
Facial Spray: Mario Badescu Aloe, Cucumber & Green Tea (R250)
Oh, but I adore a good facial spray, and I power through them. Honestly, at any given chance I reach for a facial mist to top up my hydration and just make me feel relaxed and refreshed. This is a new launch from Mario Badescu (who have a South Africanonline storeFYI) – I have used their Rose version for ages and adore this one just as much. On clean skin, under make up, over make up, as a touch-up throughout the day; you name it!
Mask: Lamelle Serra Lipid Recovery Mask (R455)
When I see anything from the Serra range from Lamelle my ears prick up. The Restore cream from this range is one I have harped on about for years and will always have in my routine. This is a new launch from them, and I am chuffed to have it in my routine. It's a creamy/gel like mask that does literally feel like you are applying all the good fats to your skin (in the best way possible). It restores balance and has been my go-to in the attempt of balancing and restoring my skin (my skin has been acting out lately). You can't go wrong with this. I've been applying it some evenings and then using a tissue to press off the excess before bed – I then go to sleep with the remaining product on my face. I just feel like I am piling the goodness into my skin with this one! Shop online here.
Thanks to Shower to Shower for collaborating with me on this post.
https://kissblushandtell.co.za/wp-content/uploads/2018/04/IMG_1910.jpg
1600
1247
Victoria
/wp-content/uploads/2020/03/logo.png
Victoria
2018-04-10 07:47:00
2020-06-24 15:26:38
CURRENTLY ON MY BATHROOM COUNTER