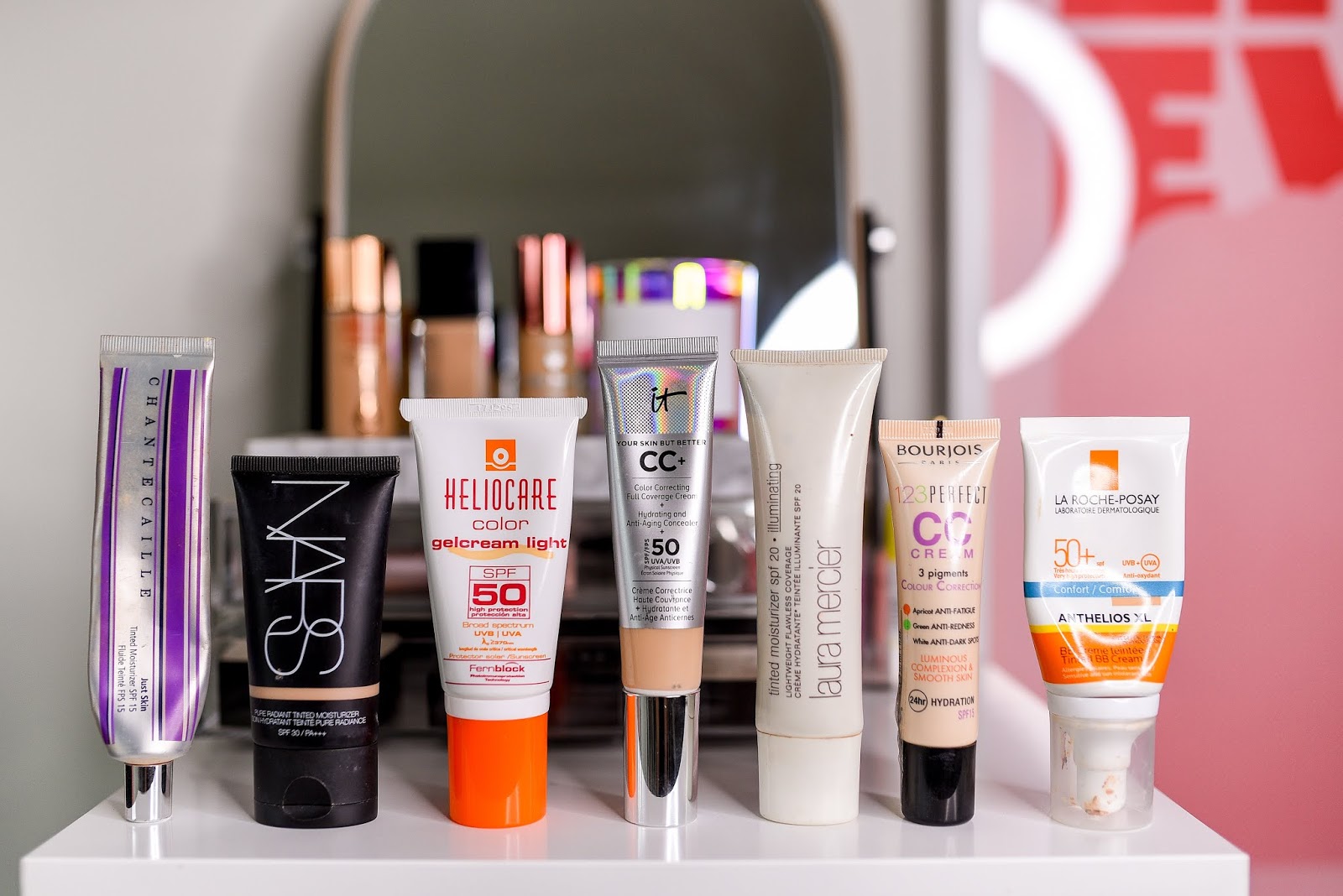 I have been meaning to put 'pen to paper' on this topic for an age. Truth is, I sometimes dither about it as it feels so 'final' writing down your faves. There are always so many newbies on the Beauty scene and, oftentimes, you think you have found your ride-or-die, and then, BAM, there's a new launch (and it blows all the others out the water – is that even how that saying goes?!)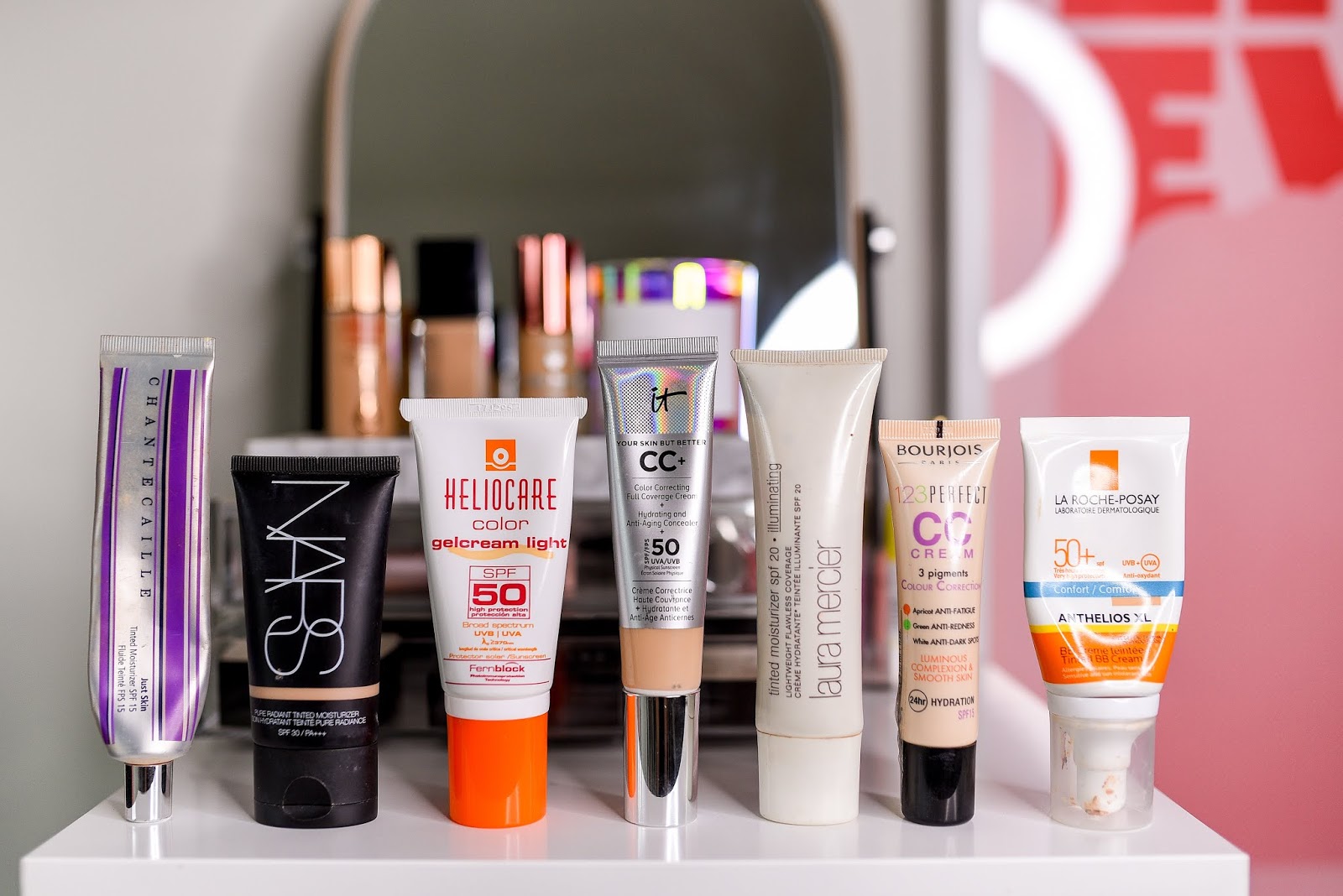 Anyway, I can always update this but, for now, these are my faves. As always, I am featuring some that you may not be able to get in SA but where there's a will, there's a way and, you asked for my faves, so this is it. 90% of the below product was purchased myself, in fact all but the Benefit and the Dior foundations (although I have bought a replacement Dior one with my own money already). OK, disclosures out the way, let's talk about my best glowey, barely there, fresh skinned faves. I forgot to feature 2 in these photos, but I will speak to them below:
Tinted Moisturisers
Chantecaille Just Skin
It's high-end, and costs a fair-amount BUT I adore it. I've repurchased it time and time again and if you are on the older end of the spectrum and want a light tint, this is a great option. It applies like a light-foundation and has beautiful skincare benefits too. A light spf 15 is a nice addition, but don't rely on this for your sun protection. Available at SPACE NK and loads of other international retailers, just give it a Google.
NARS Pure Radiant Tinted Moisturiser
This is such an old favourite of mine. It gives a beautiful glow and just the right amount of coverage. It is probably the one I have used for the longest time. Added bonus of spf 30 but, again, you don't apply enough of the product to rely solely on this. A great all-rounder and the perfect complexion product for your everyday look. Pretty much available at all duty frees, most international retailers who have a beauty hall, online and in Sephora.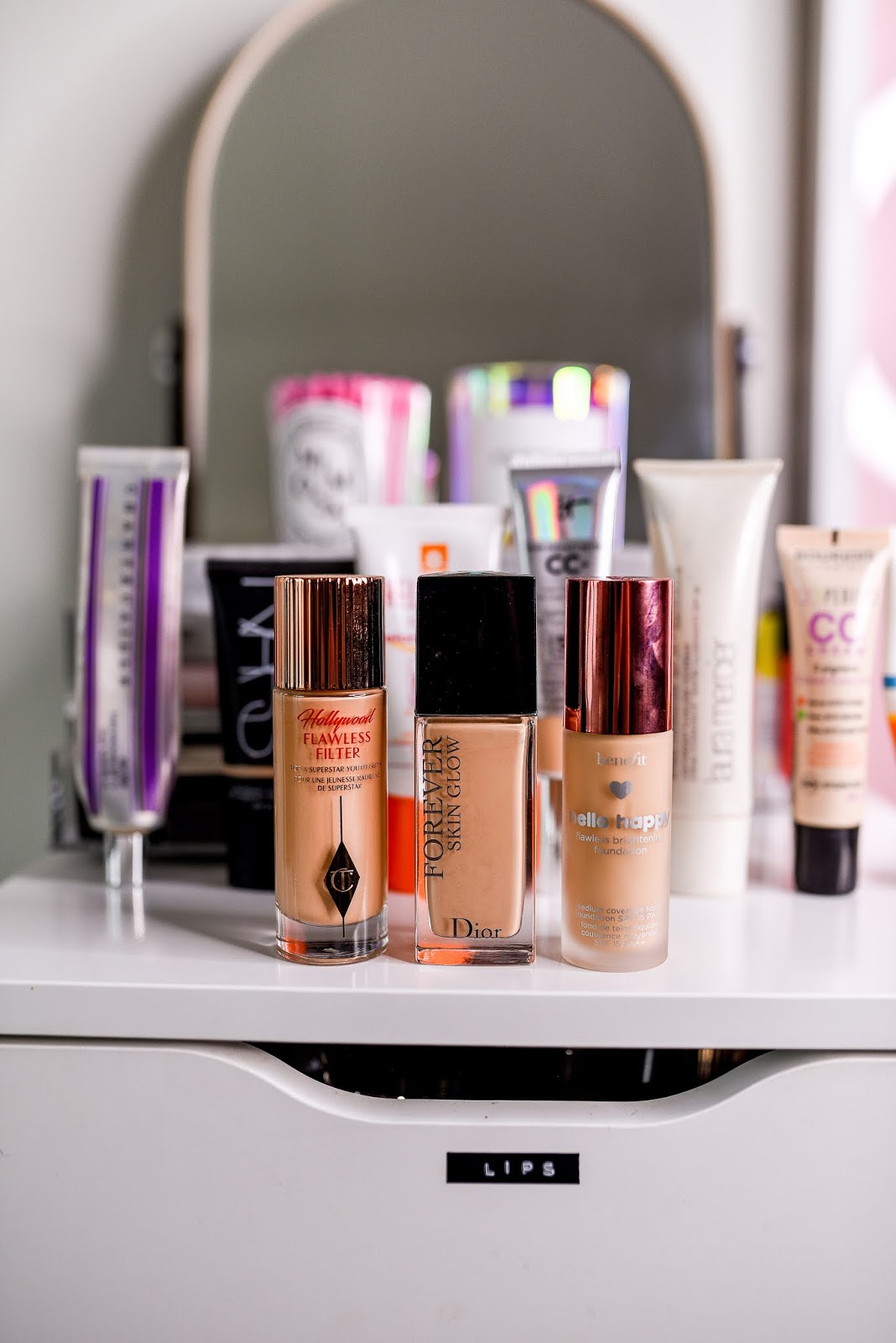 Heliocare GelCream Light & Brown
This is your spf with a tint, so perfectly adequate for sun protection too. It's a 50, so does the job well. As I say, this is first and foremost an spf so doesn't feel as make-up-like as, say, the above two, but that doesn't bother me. The only thing that does bother me is the shade options. It comes in Light and Brown. Light being too pale for me and Brown too dark, but I usually mix the two or just use Brown and mix it with my normal Heliocare non-tinted spf, which 'waters down' the colour. Available in South Africa in selected Sorbet salons, Urban Escape salon, Dermastore online and loads of other Heliocare stockists.
IT Cosmetic CC Cream
This is a real favourite for me because it takes the make up qualities of the tinted spf's I love and adds in the high-tech spf that I look for. It's got an spf 50, the ultimate glow and feels beautiful to use. It really is well worth every cent. It doesn't come cheap and can be a hack to find but Selfridges have a counter now and it's available at Sephora and online at Cult Beauty. I am shade Light. One thing to note: it is by no means a light coverage and very much a dewy foundation, but exquisite. A real top pick for me!
Laura Mercier Tinted Moisturiser
This is the old version and I don't own the new version yet (and have finished my original) but point being Laura Mercier always owned this sector in the make up world; her tinted moisturiser has always been iconic and recently got an upgrade. Get the original version, it's available at Skins Cosmetics stores in Sandton and V&A. I am shade Sand.
Bourjois CC Cream
My absolute #1 affordable light foundation/CC cream and, sadly, was recently discontinued in SA. It can, however, be tracked down. I hear the brand is leaving the UK too though, so Amazon is your best bet. It's a good medium coverage and gives a beautiful glow, I would easily say this is in the Top 3 fave products that KBT readers have bought and loved 🙂
La Roche Posay Anthelios Tinted BB
You all remember this product which I couldn't not mention. It was such a fave of mine and a lot of yours. LRP proceeded to discontinue it and replaced it with a Senstive Eyes version which I just don't love as much (but this is because the shade doesn't work for me). It might work for you, which is why I mention it here. I stock-piled on the old version and so I'll be using the original for a while (until it goes off, at least).
Bobbi Brown BB Cream
I didn't picture this as it was somewhere in my downstairs bathroom, however, it's really lovely. I am shade medium, so the tough part may be finding a good match (as the shade range isn't extensive). It gives a good amount of coverage though and evens out any blotchiness in a flash.
Products to Amp up the Glow
These products aren't primers, however, they could be applied pre-tinted moisturiser/foundation. They can also simply be added to your tinted moisturiser or foundation, so one pump of each (you will work out the mix that works well for you – else check out my IGTV for more on this).
By Terry CC Serum (not pictured)
This is one of my all-time favourite products. I bought mine overseas but it is now available at Metropolitan Cosmetics which is such a win. It's a super luxourious skin tint that brings all the glow, with added skincare benefits. I use the shade Sunny Flash, which can seem quite dark when applied but it settles down beautifully. There is a lighter shade too called Apricot Glow.
CHANEL Water Tint
My word, this product was ALL I used on honeymoon and it really is perfect for just that; a summer holiday barely-there skin tint. Don't expect any coverage what-so-ever, but it doesn't claim this and that is why it is so unique. It just makes the skin look juicy and hydrated. Use it alone or under your foundation product. I use shade Medium and choose to apply it with my hands. If you are into coverage then this won't be for you.
Charlotte Tilbury Hollywood Flawless Filter
The name says it is, it gives you a flawless filter Hollywood glow. You can use this as you would a liquid highlighter (on the high points of the face) or simple apply it all over, depending what result you want. It's an exquisite product and a great mixing-in option if any foundation you own feels a tad too heavy or matte.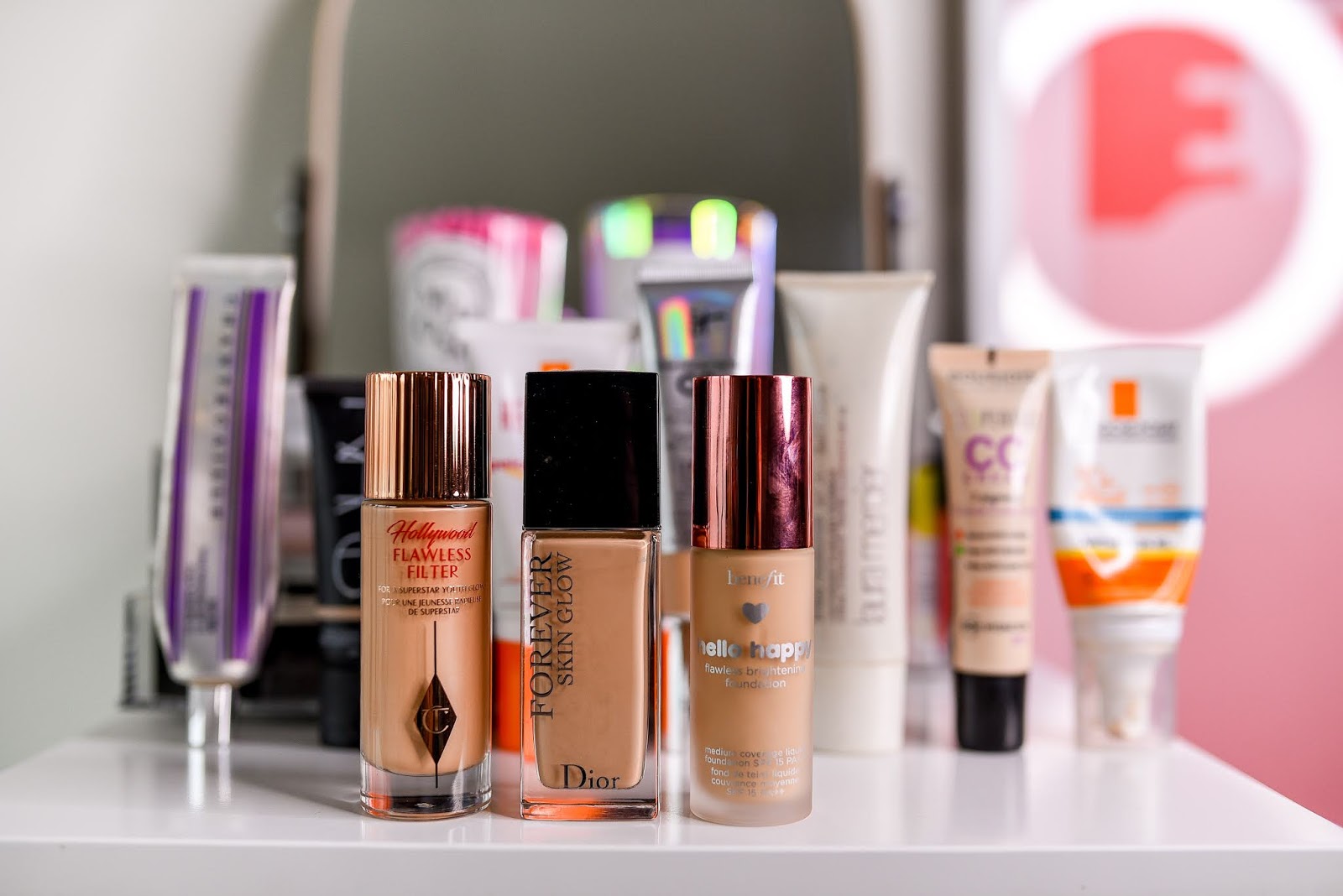 Super-light Foundations
Side note: don't get too caught up in whether a product is a BB/CC cream, tinted moisturiser or foundation. A lot of them actually do the same thing and the coverage differs with all of them. For example, some CC creams have higher, more foundation-like coverage than some of the below products. Rather test them out to decide which suits you. Also note, these are all light coverage and for a natural make up look. They can all be paired-back by adding some moisturiser or any of the above 'Amp up the Glow' products I mentioned.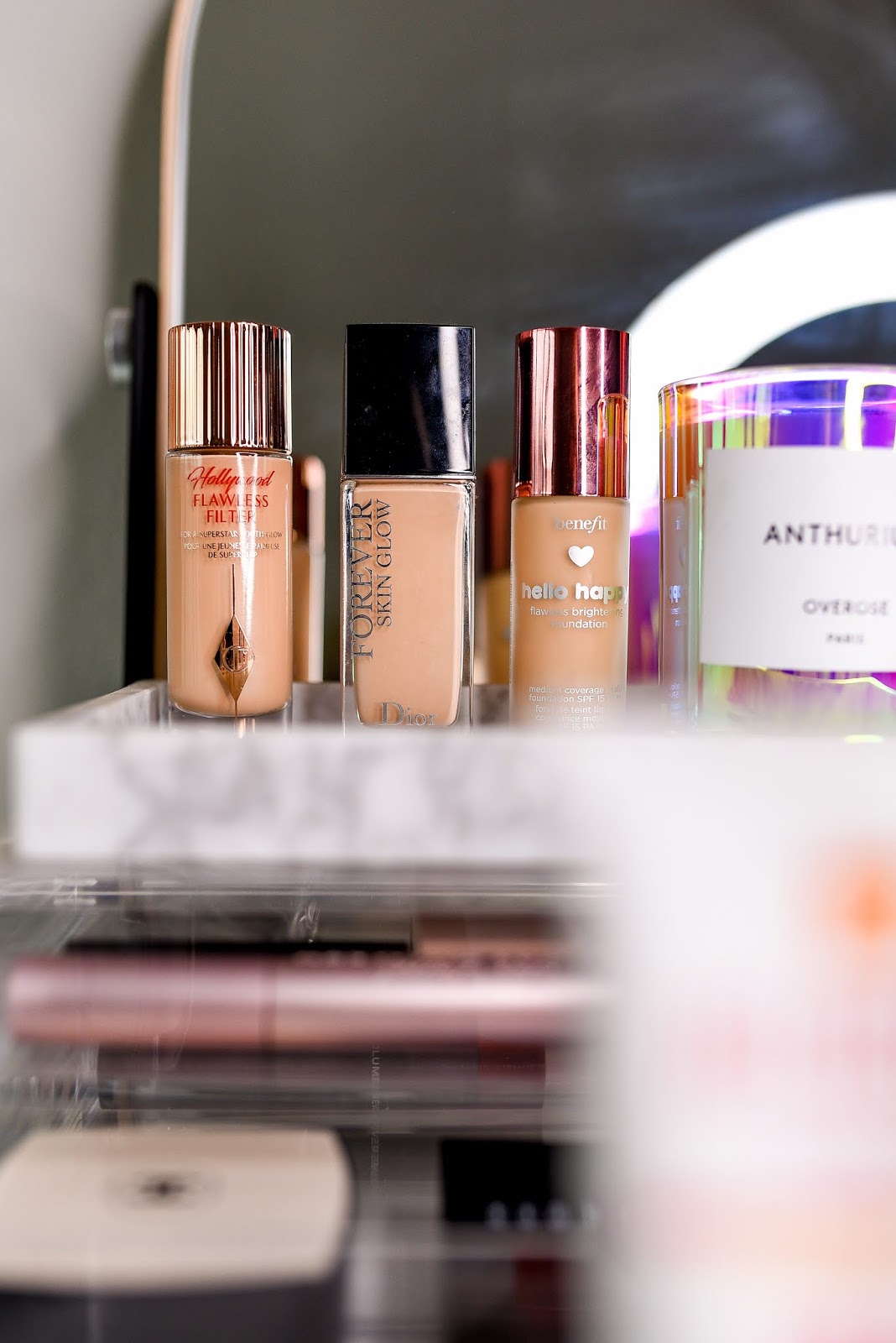 Dior Forever Glow
This is such a light, dewy foundation and gives you glow like no other. I would actually liken it more to a tinted moisturiser, although it does cover what needs covering. This is a great option for dry-skinned gals, not so much if you have an oily skin already. It's also a great one to mix into a more full coverage foundation to sheer it out. I often mix my original Dior Forver with this for a night out.
Benefit Hello Happy
This is a new launch from Benefit and much more of a Medium coverage but it still brings the glow. Again, I love adding a dollop of one of my 'amp up the glow' products as I personally prefer less coverage. I am shade 3.
https://kissblushandtell.co.za/wp-content/uploads/2020/01/RobynDaviePhotography-TORIT-nov2019-9.jpg
1068
1600
Victoria
/wp-content/uploads/2020/03/logo.png
Victoria
2020-01-28 07:51:00
2020-06-18 16:25:52
Tinted moisturisers, glowey foundations and my general 'barely there' complexion faves...