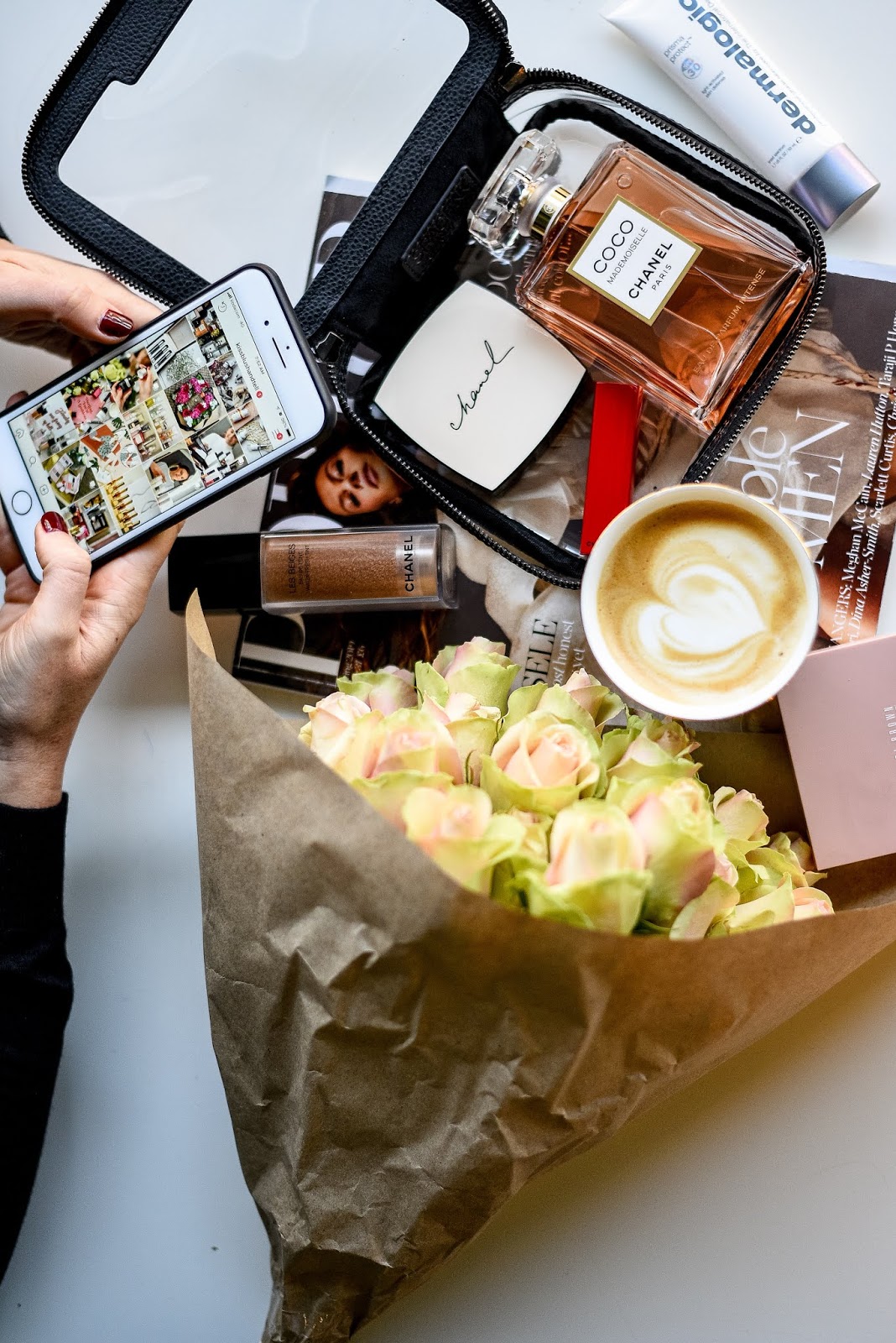 There is nothing I get quite as excited about as travel. It sounds cheesy, but it's truly what feeds my soul. So planning and packing for a trip is my ultimate (not so much the unpacking part, but oh well). Here are some tips for travel that I use. The below guide is aimed at long-haul travel but can definitely be applied and adapted to any sort of trip.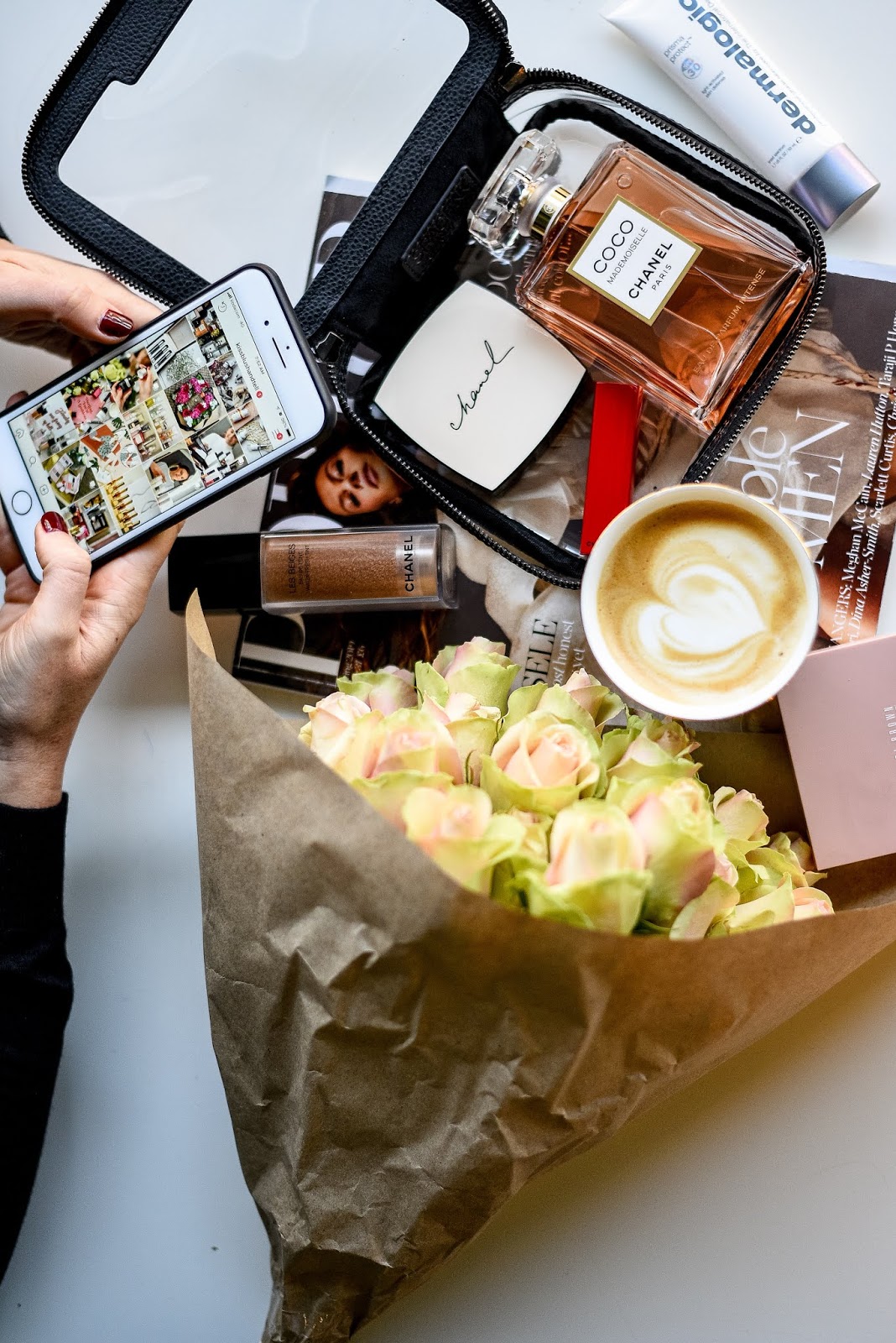 PACKING
I take my packing pretty seriously and will start creating a list on my phone (I use the Evernote app) with items I want to pack way in advance. I recommend this as that way you don't forget any favourite pieces, you are reminded of good outfit combo's and you don't over-pack. My list will look something like the below. I will take the amount of days I am going away for and generally pack outfits for just over the half the amount of time. We always use Airbnb (you can message me to get a code for R600 off your first Aibnb booking FYI) and I book a place with a washing machine, so that way I only need outfits for half the trip and wash them as I go. More shopping space! I then pair outfits together i.e. one skirt but 2 tops would be 2 outfits (those are the little numbers I put next to the item to remind myself how many outfits I will have).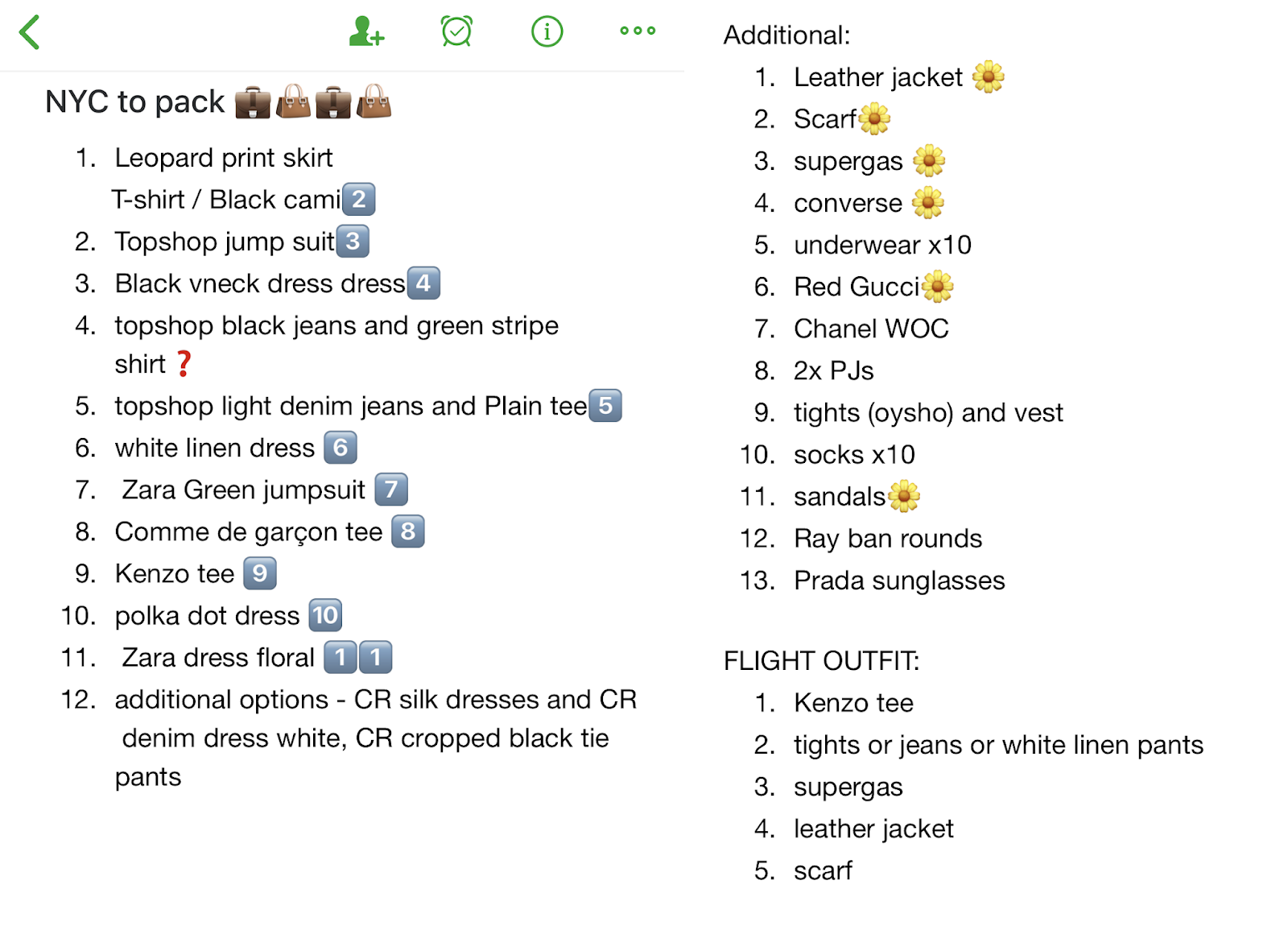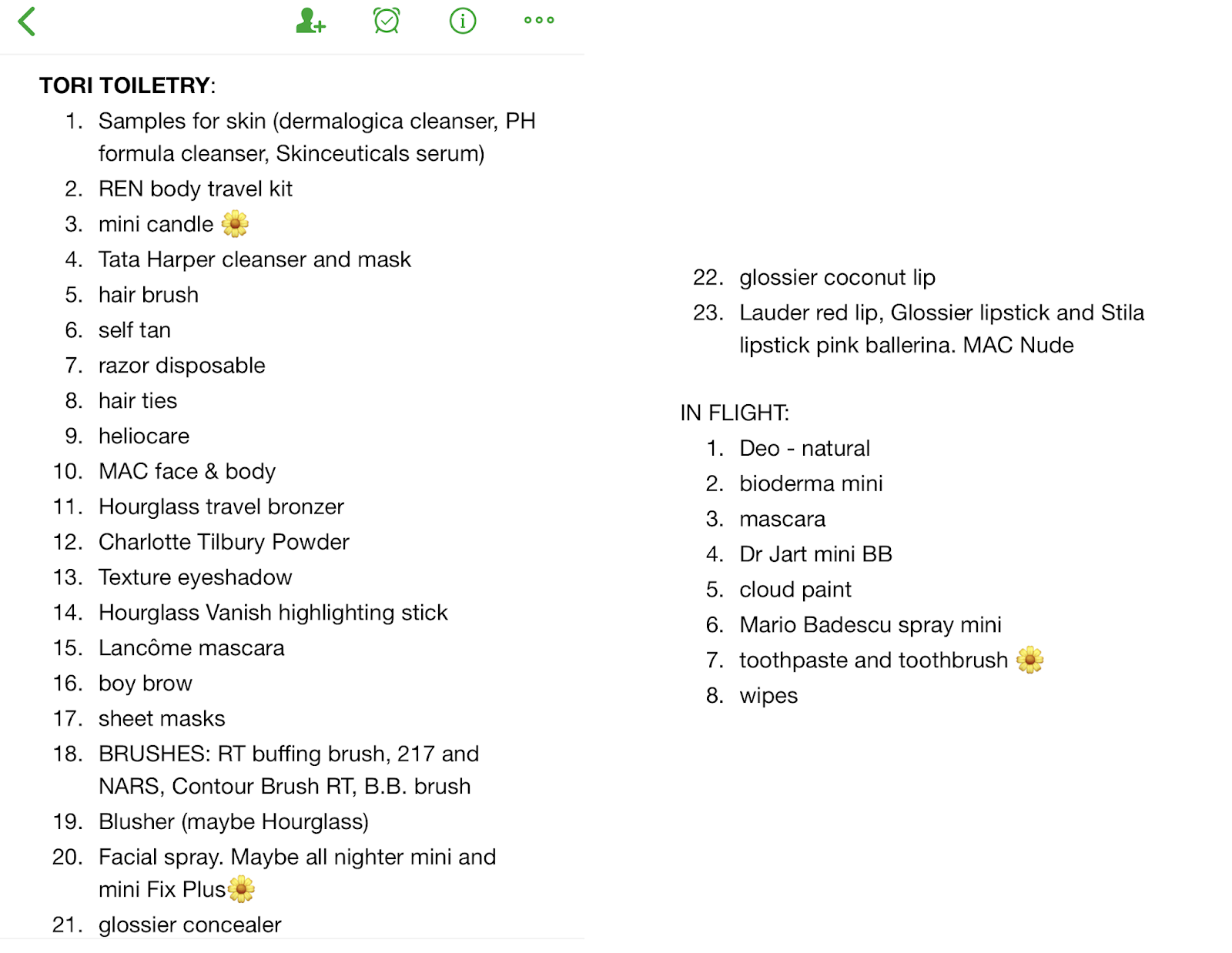 Toiletries-wise – I pack a larger toiletry bag in my check-in luggage and this bag is always made up of travel-sized things. I either decant my larger products (ie body cream, shampoo etc) into smaller containers (you can get these at Dischem) or load up on samples. I shop beauty a lot so always ask for samples and store these away for my travels. Brands like Dermalogica and Dermaceutic also do fab trial size kits.
IN-FLIGHT BEAUTY
I pack a smaller toiletry bag for the actual flight and tend to keep this pretty simple (well, simple for me). My in-flight bag is made up of: Cotton pads (face wipes if you really have to) A mini Bioderma Micellar water A hydrating sheet mask A facial mist A rich balm or facial oil A tinted moisturiser Mascara Mini spf Toothbrush and toothpaste
My routine in-flight is as follows:
1) I cleanse my face as I board the plane and tend to never travel with make up on so the micellar water on a cotton pad just ensures any dirt or spf is removed. You want a clean canvas. 2) I then go in with my rich moisturiser or oil and leave this on for the first few hours. I top up with my hydrating mist as needed 3) Mid-flight I cleanse my skin again and apply my sheet mask. I leave this on for a good 15 min and massage in the excess serum left over in the sachet. Again, I top up with my facial mist and balm. 4) When I am about to land I cleanse again, apply moisturiser and spf and a touch of make up It's more important, in my opinion, what you do to your skin when you arrive at your destination. So I always ensure I do a deep exfoliation and another great hydrating mask (sheet masks are nice and easy to travel with). It goes without saying that you should drink loads of water (I set a timer) and steer clear of alcohol in flight. A lot of what I choose to do in flight is to make the time go faster. I enjoy the little ritual, but if that all sounds a bit much for you then, by all means, simplify it to what is manageable for you.
OTHER TIPS AND TRICKS
Laundry Bag:
I always pack a draw-string laundry bag. These are light, take up no space and allow me to keep my dirty things separate during my trip. That way I can easily know what needs to be tossed into the washing machine without any of my clean clothes being effected.
Packing Cubes
These are great for keeping your packing compact and avoid your clothes being creased when your bag is tossed around.
Save Your Empties
If I am nearing the end of a larger toiletry item like my shampoo, body wash or body cream, I set them aside for my trip. That way I can just pack for full bottle and ensure that I finish it whilst I am away. Therefore no decanting and the space is freed up on the way home (which is generally the space I need).
Mini Medicine Stash
It's become a standard for us on a trip as, without this little stash, you may end up wasting time and money hunting down a pharmacy. I usually pack a sleeve of Myprodol's, Anti-Histimine's and some plasters.
In flight outfit
I always pack a few comfy bits for in-flight. I will always ensure I am wearing comfy pants and a Woolies Heat Gen vest (the best). I then throw some warm socks and a change of underwear into my handbag which is also vital.
Emergency kit
If, God forbid, your luggage is lost then you will thank yourself for packing at least one extra tee-shirt and additional pair of underwear. The rest can be bought at your destination, but I always have enough in my hand luggage to keep my feeling half-decent on landing.
Keep those germs at bay
Well, why not finish off with the oddest tip! However, I swear by putting a bit of the Bactroban cream/gel in my nostrils as I board the flight. There are SO many dreadful germs and this way I am pretty safe from picking up flu as I start my holiday! I also always have the Dettol wet wipes in my handbag and wipe down my entire seat/table/arm rest area. It sounds pedantic but we have had some holidays where we have picked up germs in-flight and in ruins everything so rather be safe than sorry.
Other odds and ends
I try and keep this quite minimal as hate my handbag being too full and cluttered. I use another toiletry bag to put the following bits into (which are all absolute essentials): Apple Airpods (or any earphones) Phone charging cable (to charge my phone in-flight) Gum Passport (should probably be at the top of any list!) A pen (to fill out the arrival forms you will get on the plane) A book – I am actually never really a good reader in-flight, but pack on in case there are any delays (and a a few others in my main luggage as LOVE a good book on holiday) If there are any essentials I am missing out on, then please do share as always keen on hearing other peoples tips. Travel safely!
https://kissblushandtell.co.za/wp-content/uploads/2019/07/RobynDaviePhotography-TORIT-may2019-54.jpg
1600
1068
Victoria
/wp-content/uploads/2020/03/logo.png
Victoria
2019-07-14 13:04:00
2020-06-24 15:09:43
My travel packing tips