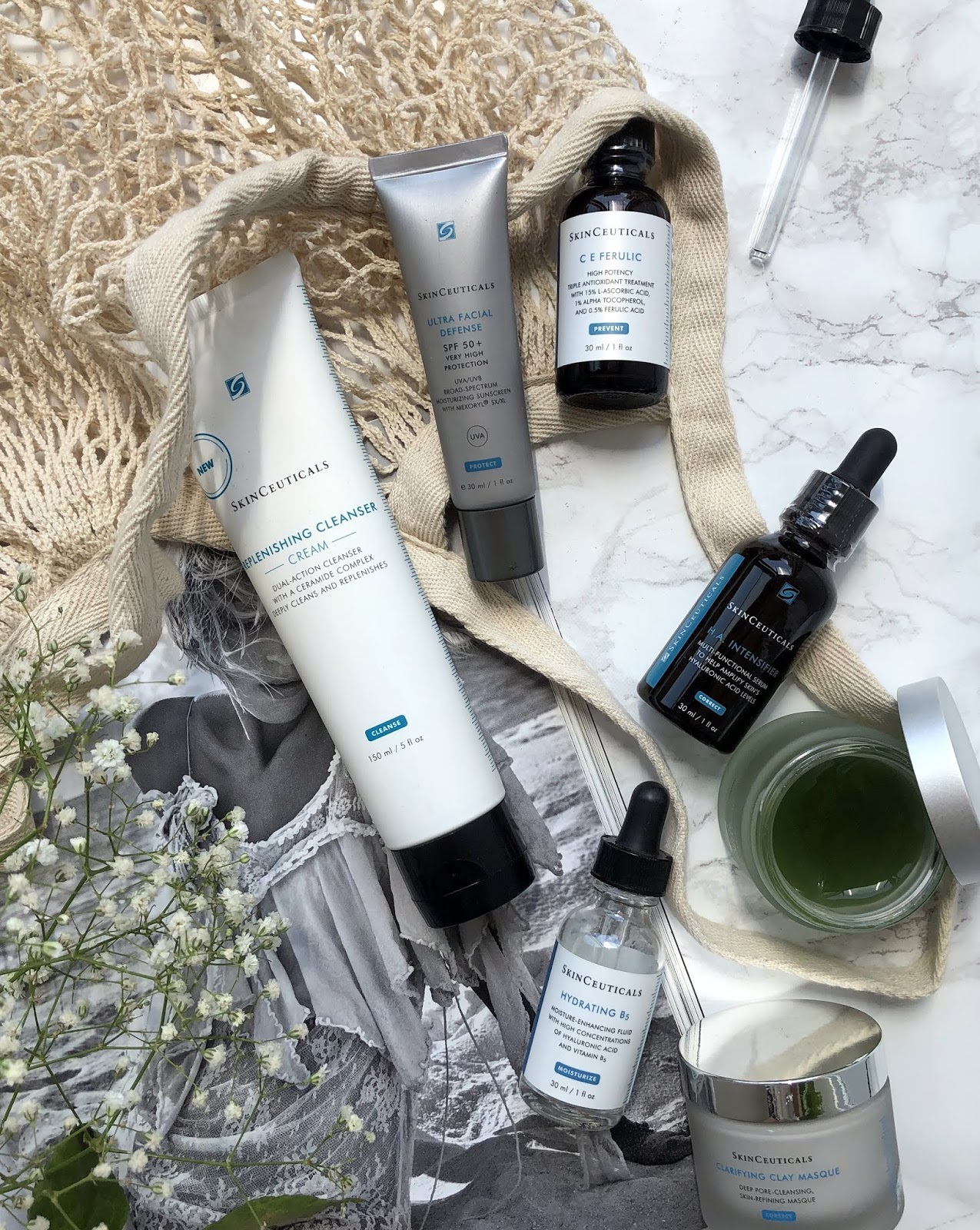 I have wanted to do this post for a while as this brand is nothing new around here. In fact, it's my go-to in my recommendations to loads of you on a daily basis. As an avid skincare-nut, it's so important to me that when you guys want to make changes in your skincare routine, you are incorporating products that will give you the results you are after.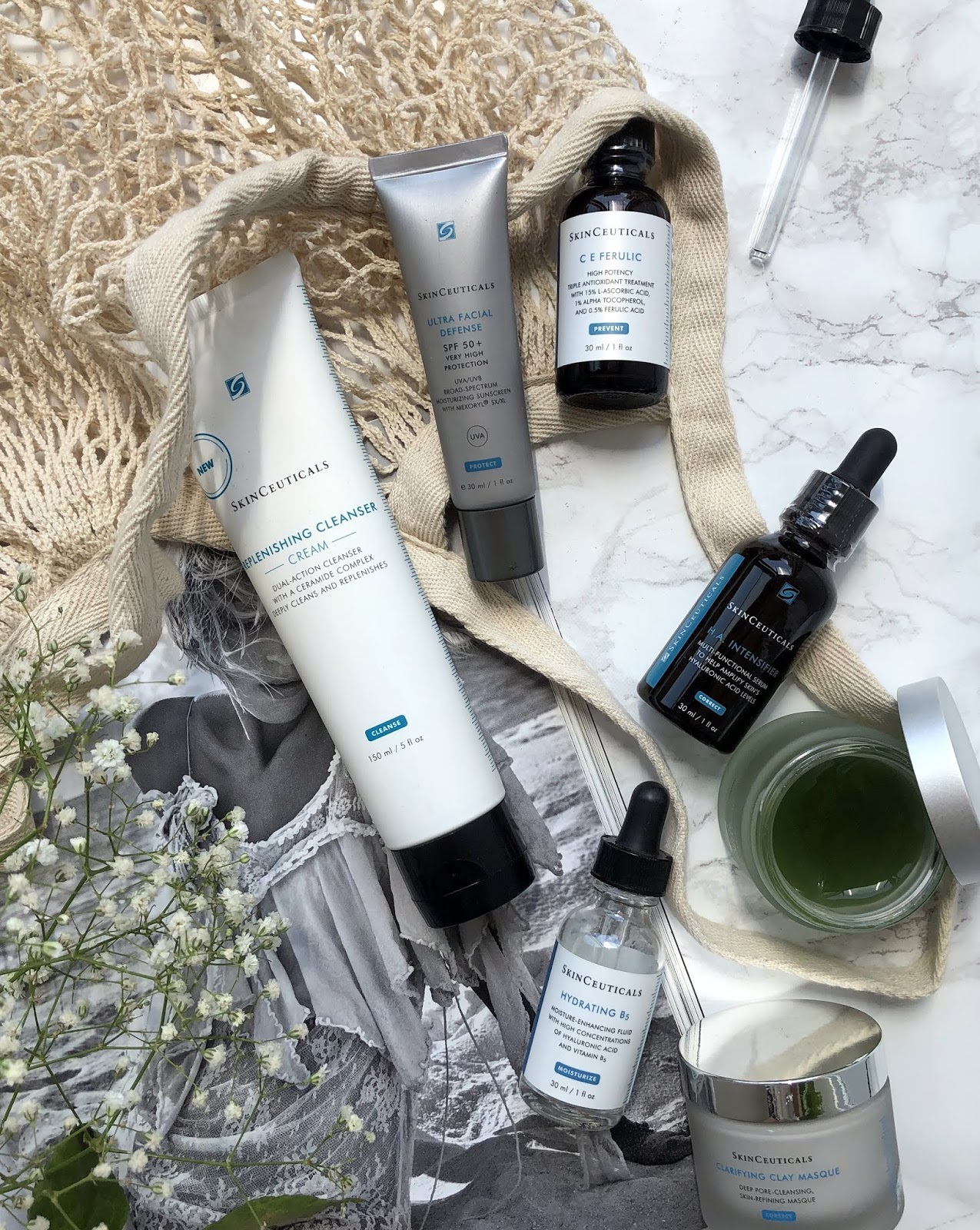 I know how over-whelming this beauty industry is for all of you (and me, at times), so you will note that I tend to repeatedly recommend certain products to you guys. This is because these are products that I have seen results on myself, and on many of you. SkinCeuticals is a high-end medical grade skincare line, and with that comes a high price tag thanks to the potent and super-advanced ingredients. I have used their products for years, and it's hard to imagine my skincare routine without many of the below favourites that I wanted to tell you about (again). I hope this helps with any confusion you may have.
CE FERULIC
CE Ferulic is SkinCeuticals' answer to the ultimate Vitamin C serum. I use this every morning, post cleansing. See this post if you are unsure where this would go in your routine. It's packed with: 15% Vitamin C – this helps neutralize free radicals and protects against oxidative stress while providing visible anti-aging benefits. It's the star ingredient for brighter, more glowey skin and a more even complexion. Be gone dark spots and pigmentation! 1% Vitamin E – this ingredient works in synergy with the Vitamin C to neutralizes free radicals and replenish skin lipids, ensuring the skin remains moisturised and the barrier remains happy. 0.5% Ferulic Acid – this is also an anti-oxidant that assists in stabilising the above Vitamins C and E. Best suited for? Well, everyone needs a good Vitamin C in their life. In fact, if all of you guys just used a good Vitamin C every morning and a good Vitamin A (retinol) every night, then I would sleep easy 🙂 Read this post about the benefits of Vitamin C (and where I refer to this product). It's great for a dry skin that needs a boost of radiance, needs brightening and has the tendency to be sensitive. Side note: I am often asked what the difference between CE Ferulic and Phloretin CF is (that's another Vitamin C serum from Skinceuticals which I have used before, and really love). CE Ferulic is best for Normal to dry skins with sensitivity. The concentration of Vitamin C is 5% higher than Phloretin CF. Phloretin CF is best for Normal to oily skin with hyper-pigmentation. PRICE: R2225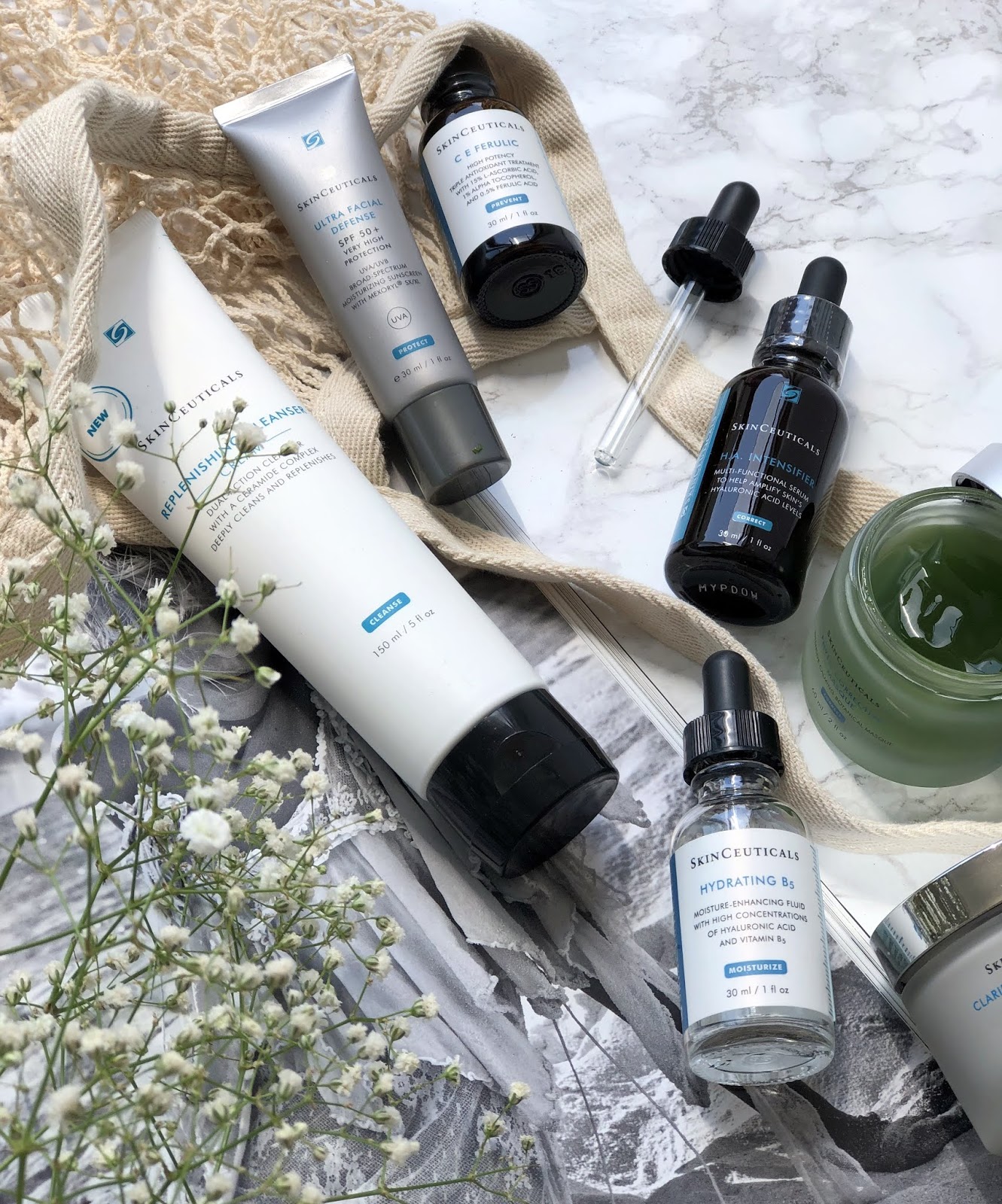 HA INTENSIFIER AND HYDRATING B5 GEL
I am speaking to these two together and you don't need both. Either or, as they are both essentially your hydrating serum that is packed with hylouronic acid. Again, I have used both of these and I would probably say that the Hydrating B5 Gel is the one that works best for my skin, but I am back on the HA Intensifier, this is a brand new bottle. Your HA Intensifier is (as the name suggests) your super hyaluronic acid serum – the ingredient that ensures your skin stays hydrated. I have a full review on this product over here. It's for your dehydrated and aging skins. In terms of use, this goes on after your Vitamin C and before your spf. The Hydrating B5 Gel is an oil-free hydrating gel (more like a serum texture). It;s great for dehydrated, sensitive, acne-prone or aging skins. I honestly can't say that you should go for one over the other, both are equally brilliant, it;s down to your skin-type and your preference. Whichever one you go for, your skin won't ever feel as good after your incorporate one of these in your routine. PRICE: R1150 (HA Intensifier) & R1325 (Hydrating B5)
CLARIFYING CLAY MASK
This is nothing new around here. This mask is my go-to when recommending to you lot who are after something to help with breakouts. I have never ever come across a mask that is clay-based, targets stubborn acne and breakouts yet provides the skin with so much comfort and calms the irritation down. It's absolutely phenomenal, and definitely one of my all-time fave masks! It's non-drying, so not a mission to remove and no pulling and tugging on the skin. It contains kaolin and bentonite clays to decongest, lift impurities and detoxify the skin as well as aloe and chamomile to help calm and soothe the skin. Lastly, it also has your hydroxy acid to gently exfoliate the skin. Best suited for? Anyone really, unless of course you are blessed with never battling a break-out. It would ordinarily be for people who suffer from acne, but I don't and it's a favourite in my routine. It's my go-to come my monthly period breakout. I sometimes just use it on my problem areas. It's fab! PRICE: R1330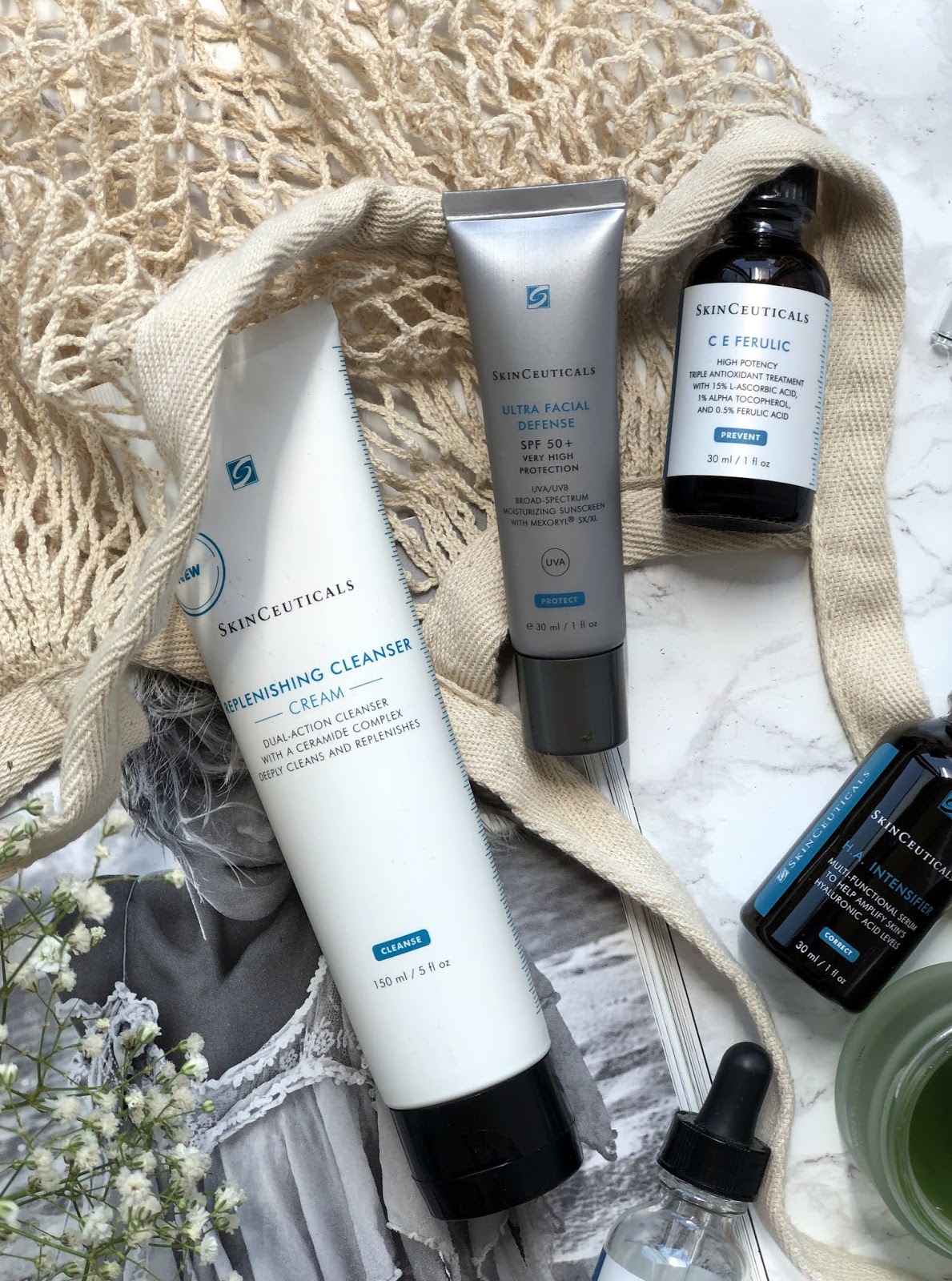 TRIPLE LIPID RESTORE 2:4:2
Again, this isn't news to you. Goodness, this moisturiser would probably be my desert island product of choice. It doesn't come cheap, but is your ultimate anti-aging, lipid-packed balmy moisturiser. The part of the name '2:4:2' is 2% pure ceramides, 4% natural cholesterol, and 2% fatty acids. Basically music to your skin barriers ears 🙂 This texture is light-weight, yet provides the skin with a level of hydration that is pretty incomparable to other products. It's a fab product to use in-between your retinol, which is how I like using it. Best suited for?
Dehydrated or aging skins. (ummmm, me!). Pretty much any skin types can use this from around thirty years old. PRICE: R2650
Phyto Corrective Mask
This is a must-have mask if you are into doing things like laser, peels or Dermapen to your face. Anything, in fact, that causes post-treatment inflammation or redness. Slap a layer of this on after any treatment and you can thank me later. It soothes, calms and hydrates like nothing you will ever use. I even use this if I am red post-workout and need to head out for a dinner. It's a little miracle worker and your sensitive, red skin will be so relieved to have this in your life. Best suited for? Those who do active skin treatments, anyone prone to redness or inflammation, sensitive skins and those needing a dose of hydration. PRICE: R1150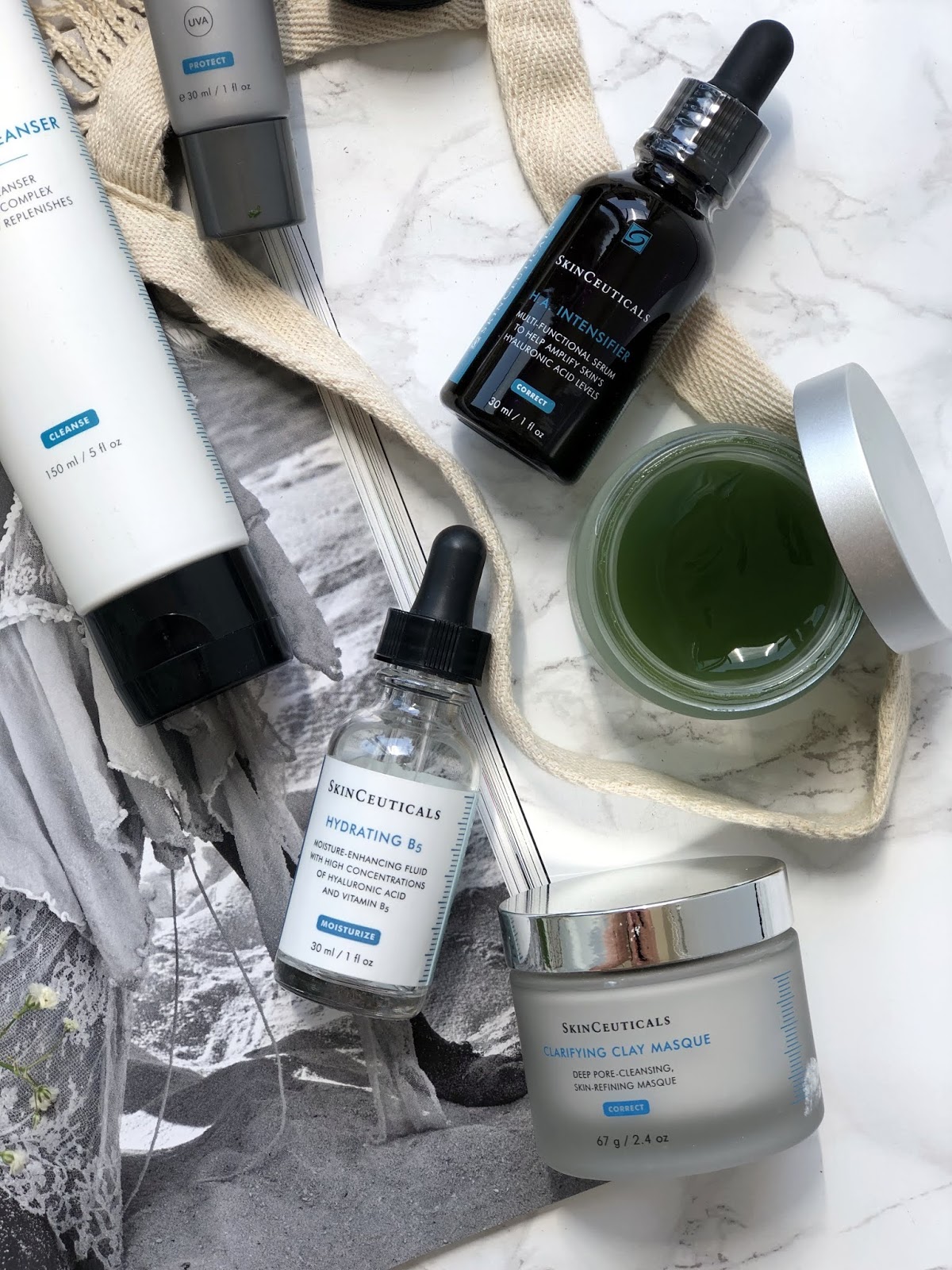 REPLENISHING CLEANSER
This is a newbie from Skinceuticals, but I'm already about to move onto my second tube. It's a rich foamy face wash full of amino acids and ceramides, glycerin and essential oils. Essentially there to cleanse your skin thoroughly, but never sapping the hydration. I love how well it removes make up and preps my skin for my evening routine. It also works a treat with my Foreo (read full review here). Best suited for? Dehydrated, aging skin (be warned, this will sting your eyes, so go gently on that area) PRICE: R710
ULTRA FACIAL DEFENSE SPF 50
This spf is just a great all-rounder. The texture is light and gels well with make up that will follow. There's no white case left on the skin and it works a treat on dry skins, never feeling too chalky or harsh. It really is lovely. Best suited for? Dry, aging skin. It can, however, be used on non-aging skins and then can be good on its own as a moisturiser, which is a win. My skin still needs the moisture below it, though. PRICE: R490
BLEMISH & AGE DEFENSE SERUM
I am recommending this one, however, it is not one I use in my routine. The reason is that it is not exactly suited to my skin needs but I did want to mention it as I often speak to this. Best suited for? For those who are 1) ageing and 2) blemish-prone, then this one is an absolute godsend. Iit tackles both these concerns in one product, and these two are often quite hard to tackle together. Acne related skincare can generally be quite drying, which is the last thing you want when you are in your late-twenties and older! Many preggy gals have also used this and it's fab if you are battling pregnancy breakouts. PRICE: R1415
You can shop all SkinCeuticals products online with Dermastore or at selected stockists.
https://kissblushandtell.co.za/wp-content/uploads/2019/02/IMG_4127.jpg
1600
1275
Victoria
/wp-content/uploads/2020/03/logo.png
Victoria
2019-02-11 09:09:00
2020-06-24 15:12:02
My favourites from Skinceuticals