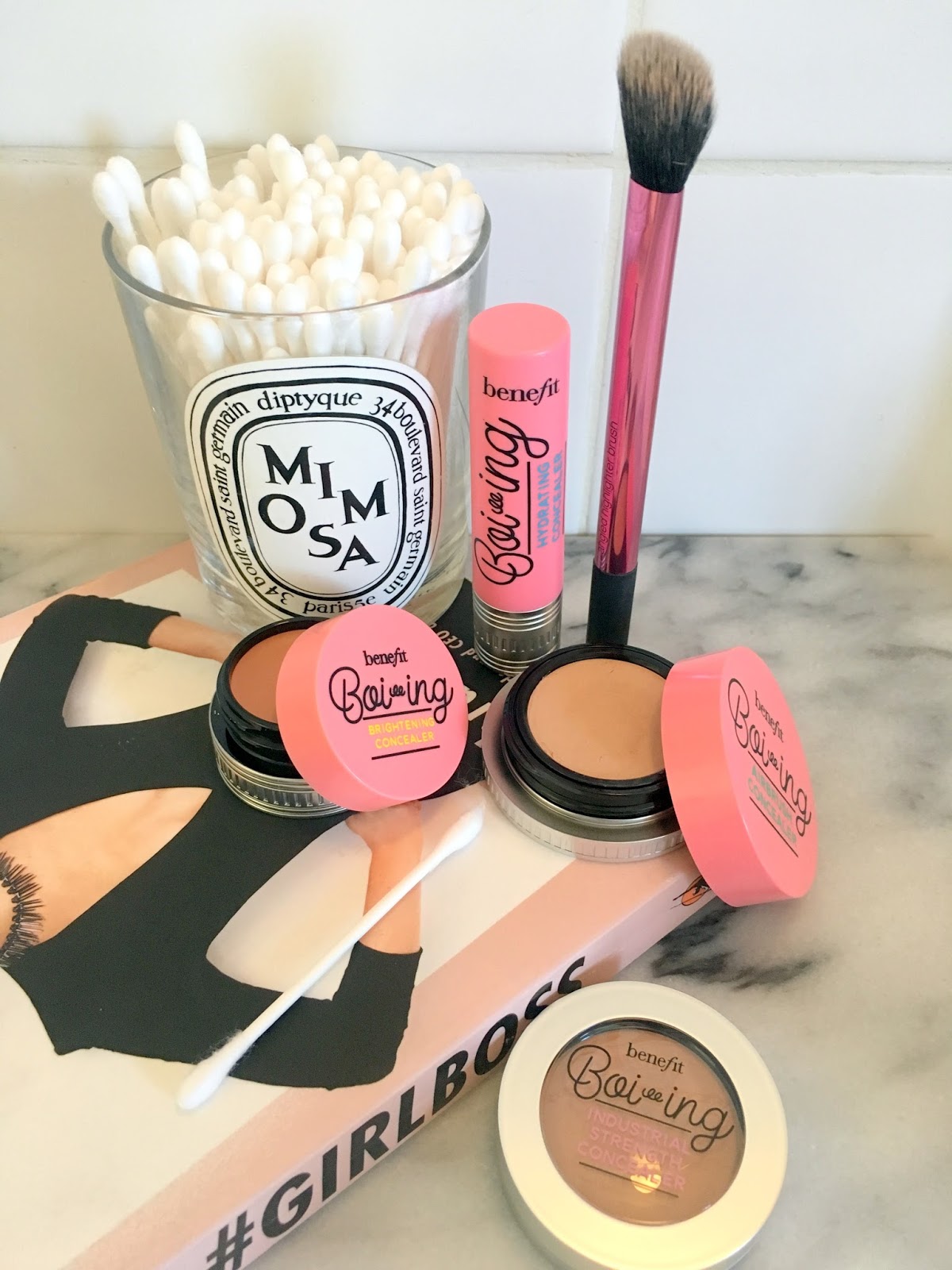 So, this was an exciting review to do for a number of reasons. 1) I get really excited by Benefit products (the products I have used are amazing) 2) their packaging just makes me happy, I know it's not for everyone, but for me it's girly and fun, like make-up should be! And 3) well, what's not to love about a bunch of new, revamped concealers because lord knows I need all the help I can get to hide this nearly-the-end-of-a-long-year dark circles.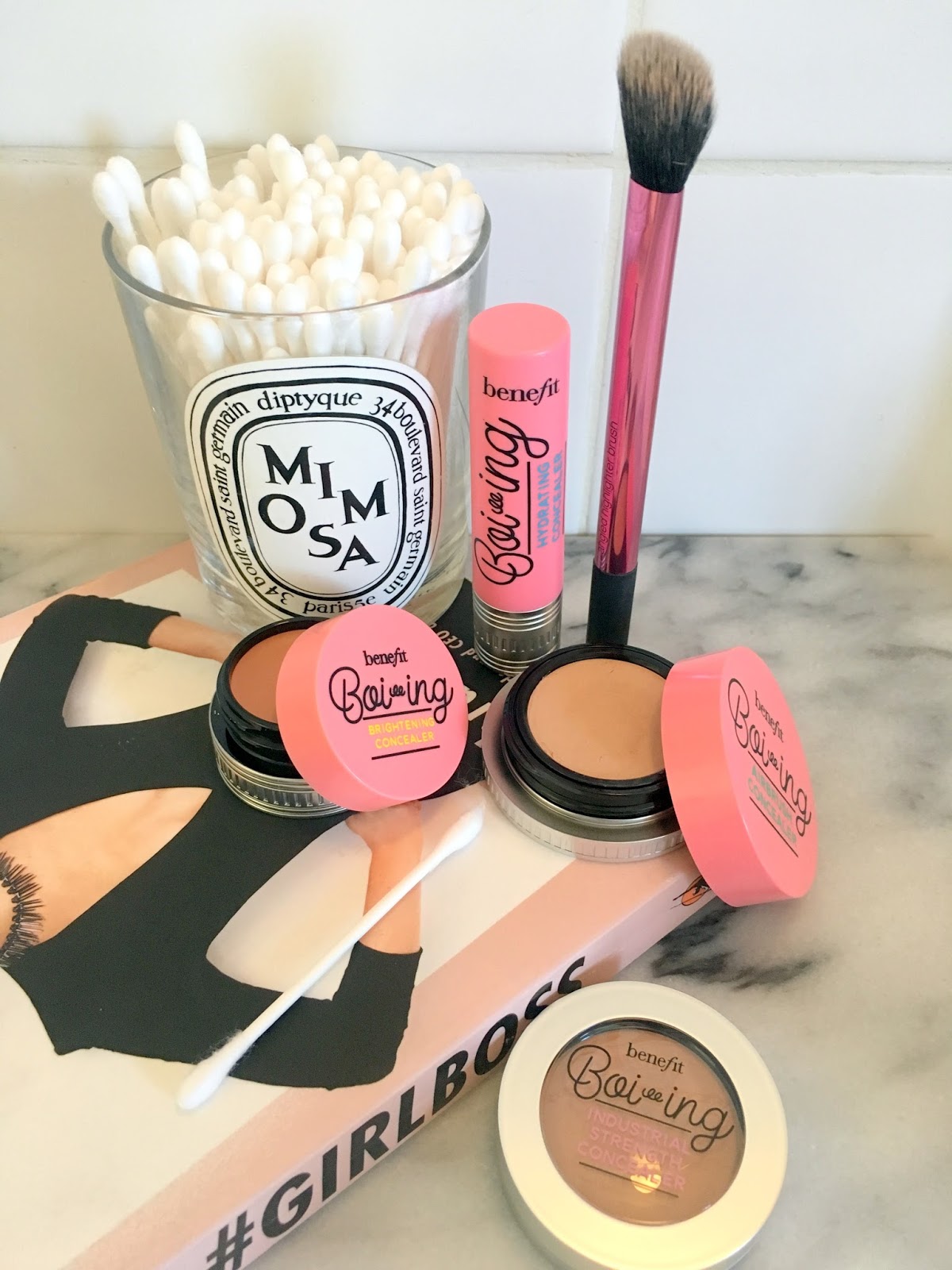 This is a combination of a new launch and some newly revamped concealers from Benefit; expanding on their well-known Boi-ing concealer that is super popular. They launched four variants all under the Boi-ing family, so there is pretty much a concealer for every need now.
Each of the below four variants come in three different shades: Light (1), Medium (2) and Dark (3). I got all of mine in Medium (2) which is a great shade match for me. Here's the breakdown, they all retail for R295 each:
Boi-ing Airbrush Concealer
Boi-ing Brightening Concealer
Boi-ing Hydrating Concealer
Boi-ing Industrial Strength Concealer (the original family member)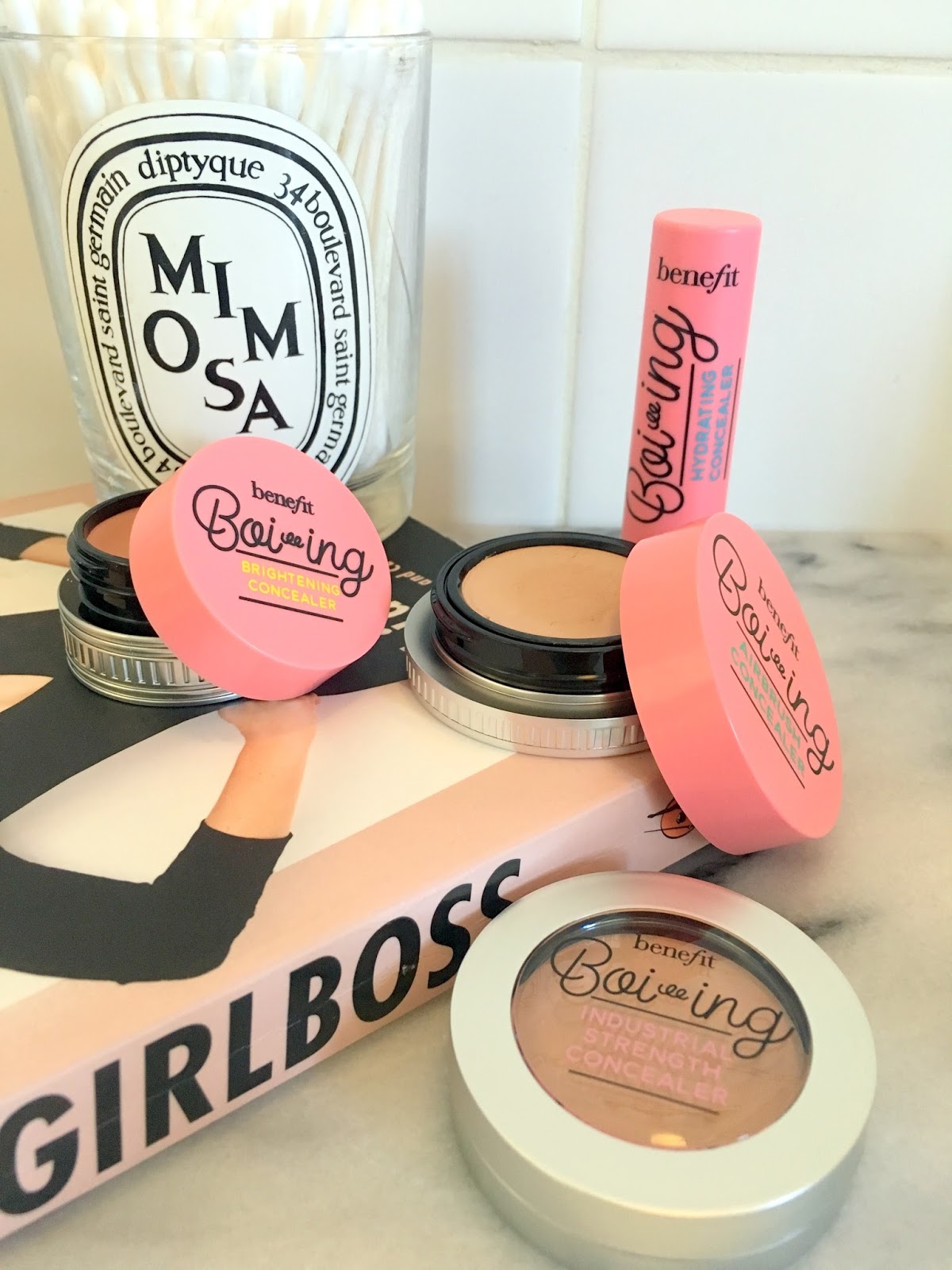 My thoughts
Boi-ing Airbrush Concealer – R295
This (and the Brightening variant) are my personal favourites. It's a creamy consistency that provides medium to full coverage. I find it non-drying and also find that less is more here if you want to avoid creasing. I have been using this on top of the Brightening concealer and it works wonders. This concealer definitely requires setting so I go over with a VERY light swipe of Charlotte Tilbury's Airbrush Flawless Finish Powder in Medium.
Application wise I dot (pressing with my finger) three lots of this product around my eye area and buff out with my Real Techniques Setting Brush. For spots or redness I do the same, again, less is more and the coverage lasts really well too. Buy here.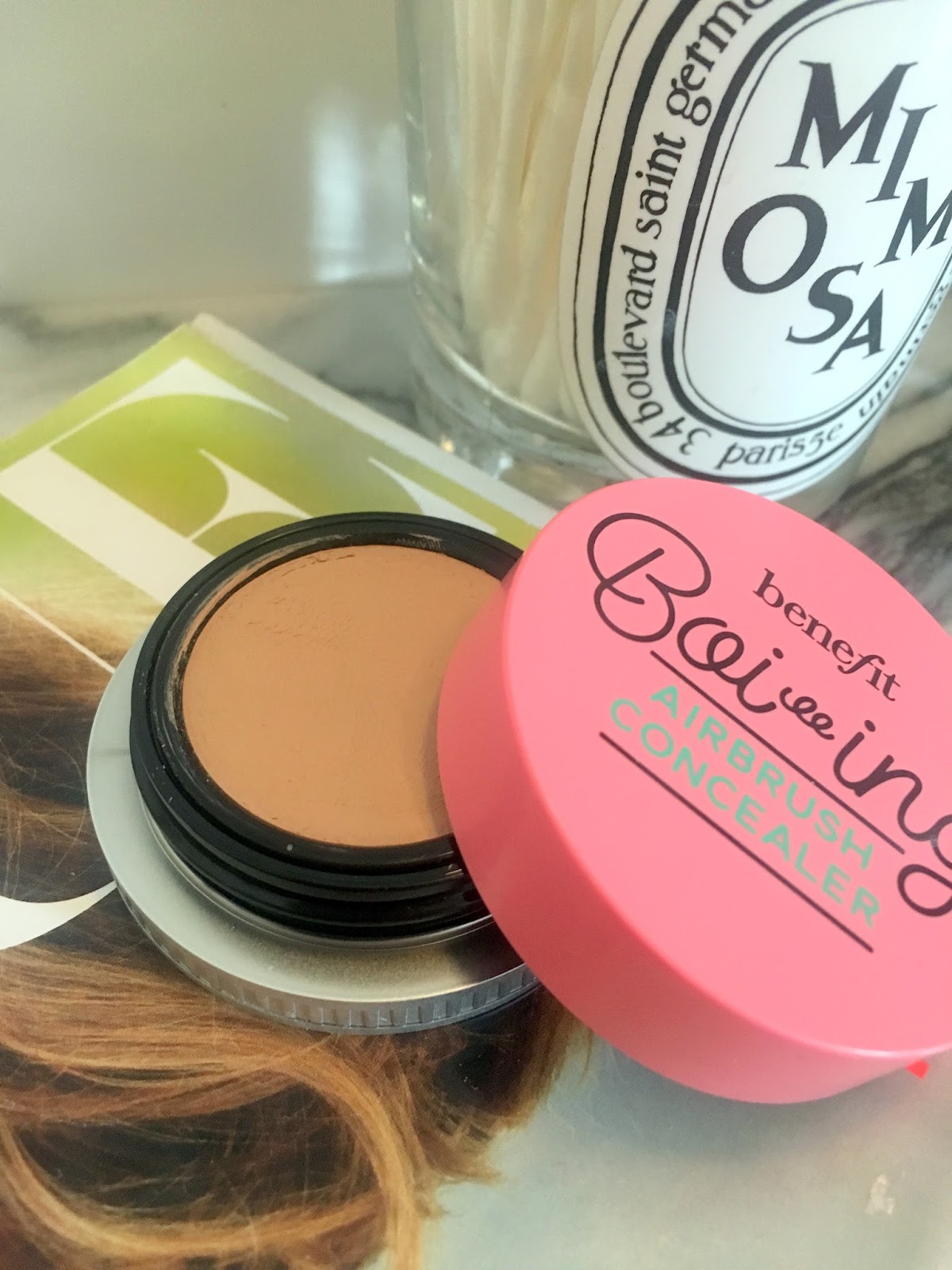 Boi-ing Brightening Concealer – R295
As mentioned above, this one is also in my top two. Goodness this stuff works magic at concealing those dark rings. I only use this under my eyes (as it's brightening qualities are for this area). The product is a pinky/peachy tone to colour-correct dark rings and I love the results. I apply it like I apply the aforementioned Airbrush concealer. I also ensure I use this on the inner eye area to brighten the whole eye.
I have previously used the Bobbi Brown Corrector which is great, however, this is way better value for money as the pot is a generous 4.4g for R295 and Bobbi's is 1.4 g (!!) for R405. Only difference is the BB one is less creamy which may work better for you if you err on the oily side. Buy here.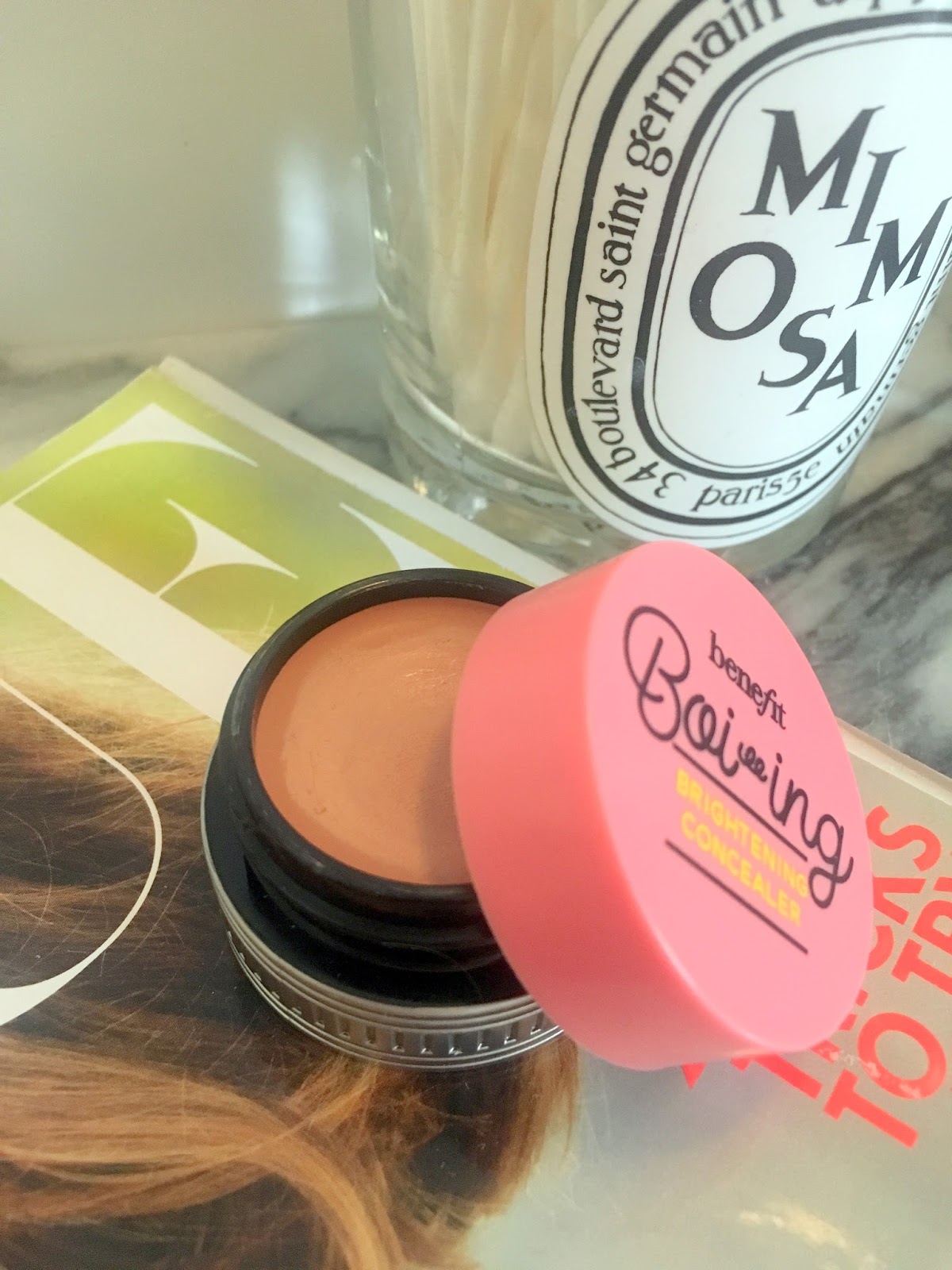 Boi-ing Hydrating Concealer – R295
I was excited about this one as I always love a bit of hydration, however, I don't feel I need to get this from my concealer. This comes in a lip-balm like applicator so handy for on-the-go application. The concealer is in the centre with hydrating Vitamin E and Apple Seed Extract on the outside. I personally prefer a straight up concealer as I ensure I hydrate adequately in my skincare routine. If you are looking for something more sheer and glowey this may be for you. Funnily enough, I love this hydrating factor when I am wearing no foundation as it glides on a treat and conceals well, but with my foundation in place, I prefer the Airbrush concealer. Buy here.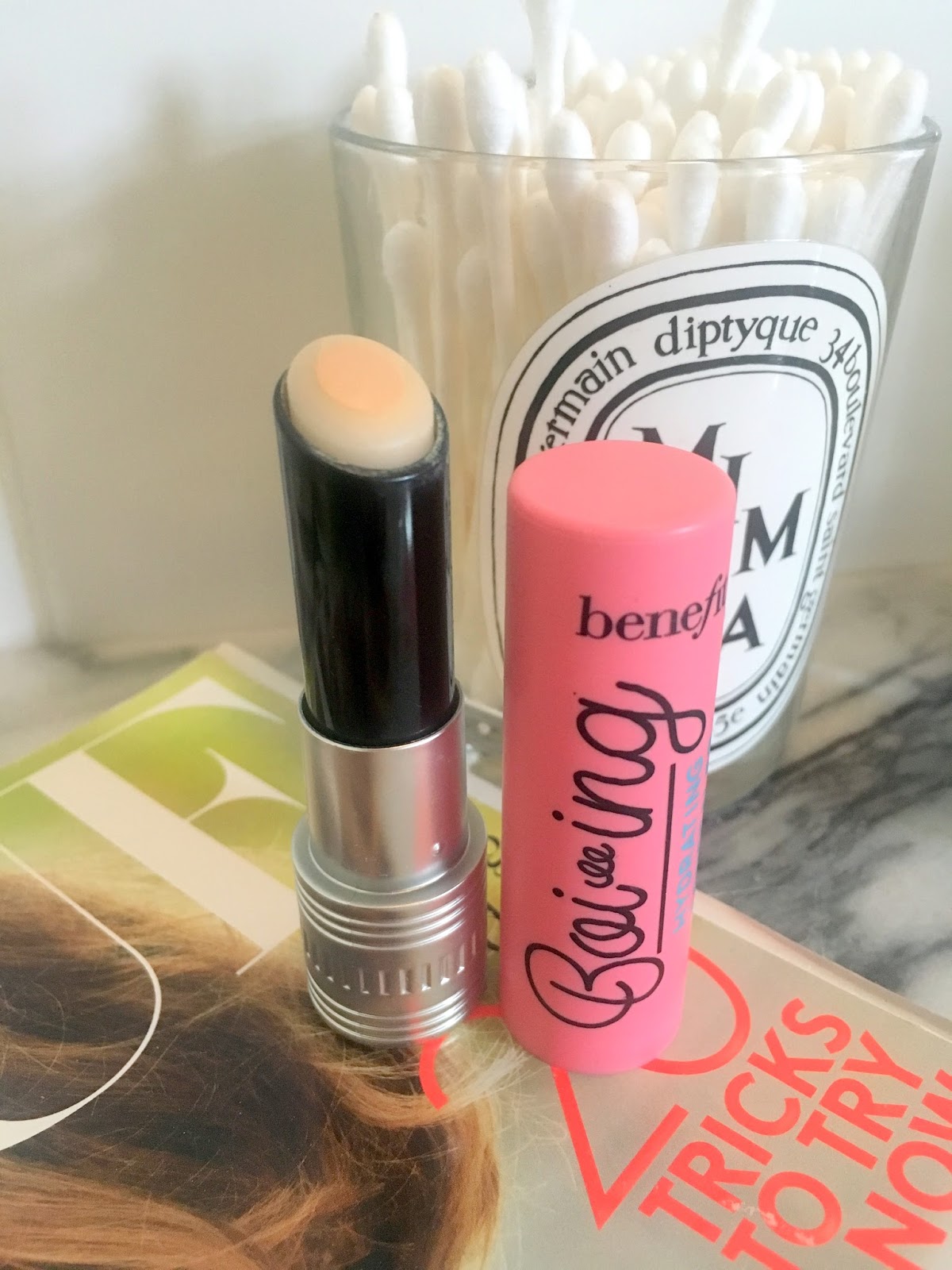 Boi-ing Industrial Strength Concealer – R295
This is the original from the Boi-ing family and it gained a following as this stuff is pretty heavy-duty and can conceal any hangover as if it never even happened. I have heard a lot of rave reviews about this so feel that a lot of people would really love this one but for me the Airbrush Concealer trumps it. This is such a personal choice as the Airbrush conceals adequately for me. The people that prefer the Industrial Strength over the Airbrush say the Airbrush is too sheer for them, which I don't find but may be the case for some, so try these both out before you make your choice.
This will 100% remain in my make-up bag as it is full coverage so fab for angry, red spots which is how I plan on using it. For my eye area I will stick to the Airbrush and Brightening variants. Buy here.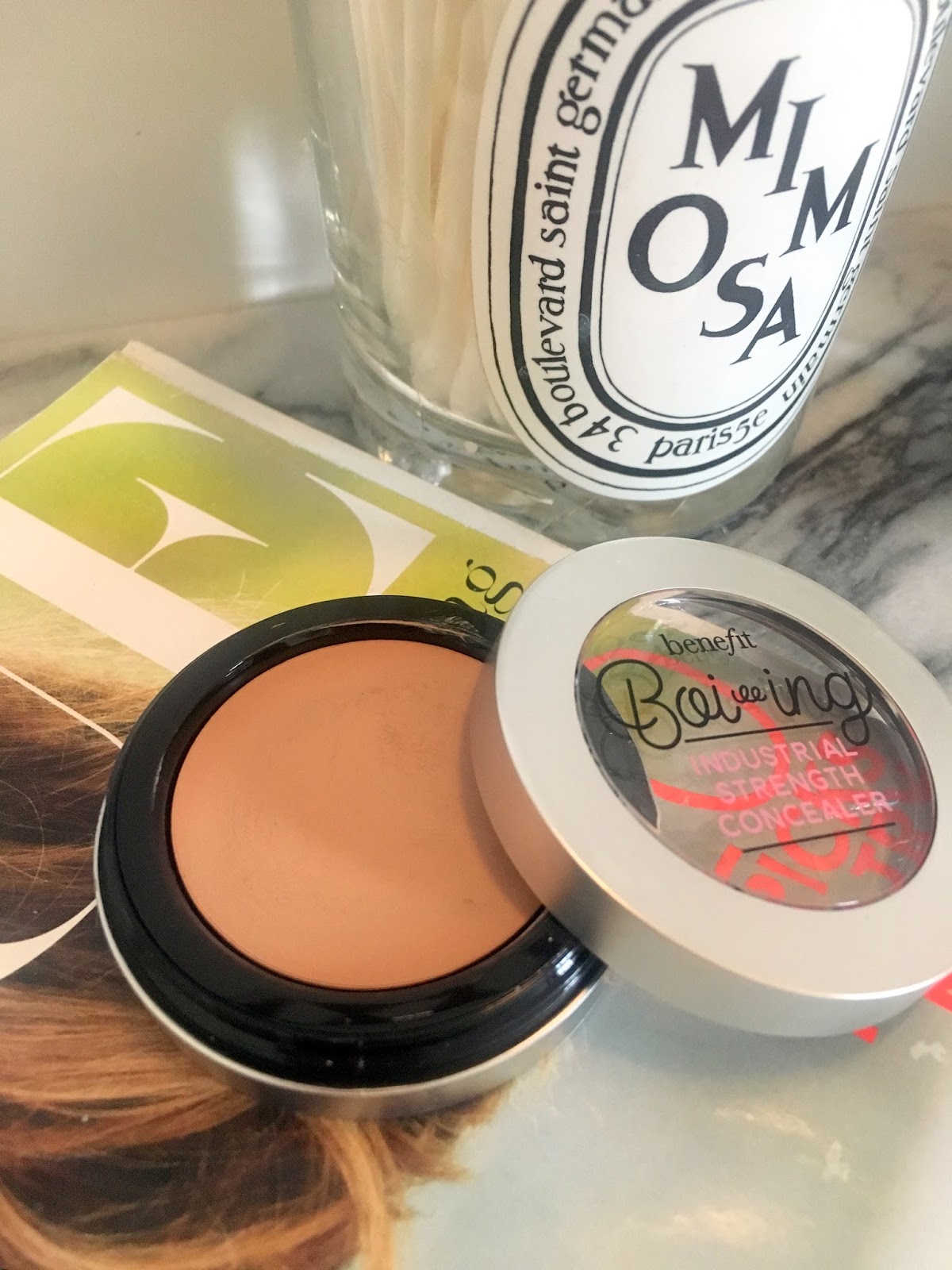 Launch date was mid-August so they are in-store now and come at a very reasonable R295 each. Available online and it selected Edgars and Red Square stores.
https://kissblushandtell.co.za/wp-content/uploads/2017/09/IMG_1868.jpg
1600
1200
Victoria
/wp-content/uploads/2020/03/logo.png
Victoria
2017-09-19 10:01:00
2020-06-24 15:34:59
Benefit - Boi-ing Concealer Collection Review