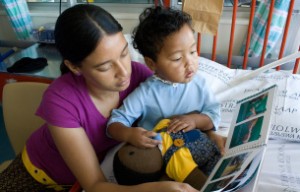 As a blogger I get loads of charity requests, I mean loads – and as much as I'd like to do my little bit of good by publicising every good initiative, I can't. It would take everything away from Kiss, Blush and Tell being the blog that it is. Because of this, I have also had many people give me up-hill for the fact that I won't write about them. It's not to say that I don't care about their message (of course I do), but I also have readers that I have built up over years and I promise you they would run a mile if I was making them feel they needed to donate money every other week.
But today's charity is a bit different; it's a cause that really speaks to me as children are my absolute love. Anyone that knows me would agree. Thus the Breatheasyprogramme really is something I think is worthy of support. The programme focuses on training up mothers with sick children who are technology-dependent after having a tracheostomy to look after them at home; meaning they can live a long, happy life in a home environment like a normal child should. The below video says it all really, do yourself a favour and watch it.
My visit: I went to visit Jane on Saturday and had a walk through the wards with her so I could meet some of the children and hear their stories – it was a very emotional morning, but also a morning filled with hope and happiness as these sick little babies will soon be leading a normal, happy life at home. So here comes my plea to you as my readers: pretty please find a second to donate some money. I know we aren't all in a position to be donating R500 here and there, but rather set up a direct debit of just R50 a month – you have no idea what a difference this will make. I would be happy to tell you more about the project or if you'd rather donate toys, clothes or prams then let me know, every bit helps. Especially at this time of year when we are spending so much money on such silly things (I am the biggest culprit at this). To make your donation click here(please fill in BREATHEASY on the form so the money goes to that specific project). Put it this way; your R50 a month is nearly 2 Vida coffees – let me know if you have any queries. See website for further details.
https://kissblushandtell.co.za/wp-content/uploads/2012/11/resources.jpg
192
300
Victoria
/wp-content/uploads/2020/03/logo.png
Victoria
2012-11-29 06:53:00
2020-07-08 18:27:53
Make a difference {Breatheasy}