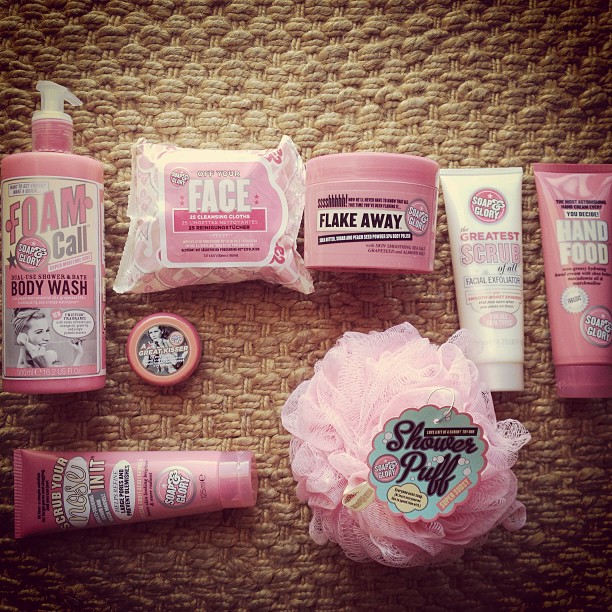 I'm back from an amazing break and feel rather sad that the Christmas spirit stuff is all over. That combined with family time is just my best. I also did all the wedding-y sort of stuff with my darling sister – such special time with her too!
To be honest, the shopping wasn't amazing – only because I hate sales. I mean HATE. I cannot deal with people pushing and shoving me. The reason a garment is on sale is because it wasn't popular in the first place so the only reason you going to be convinced to buy those neon yellow skinnies now is that they cost R80.
I did, however, buy some really beautiful things – a few shoes, dresses, cosmetics (obviously), a handbag, pretty stationery, kitchen stuff, candles and another Clarisonic (here's hoping this one lasts). Oh and loads of books. Here are some of the things that I got (sorry no clothes or shoe pics).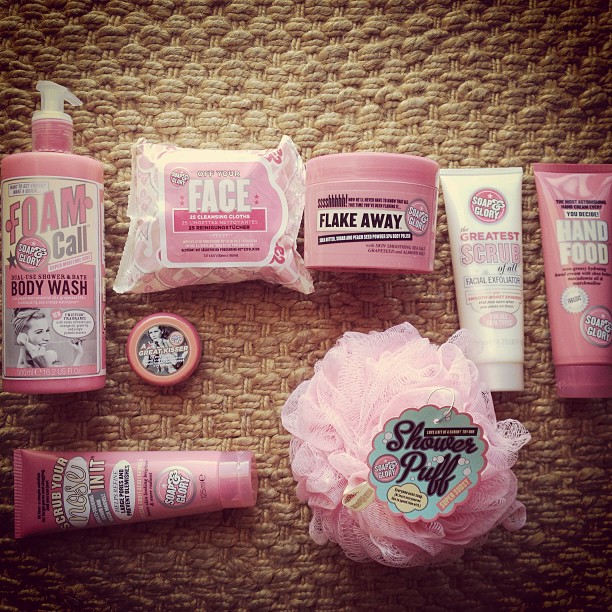 These are the Soap and Glory products I picked up. I am completely and utterly obsessed with this range. It's available exclusively in Boots and the cheapest product starts around R120. A more in depth post is coming tomorrow 🙂 (product by product post)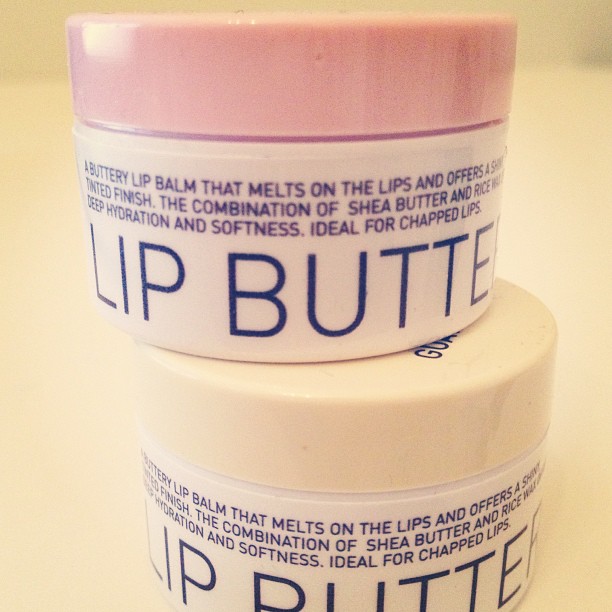 My Korres lip balms have been on my shopping list for ages and for some reason I really battled to find these in London and Paris so I decided to go the online route and got them delivered to my sister's home. They are ah-mazing. I chose the Jasmine (light pink) and the Guava (milky nude) – so, so pretty and worth every bit of effort they took (shipping all the way from Greece et al!).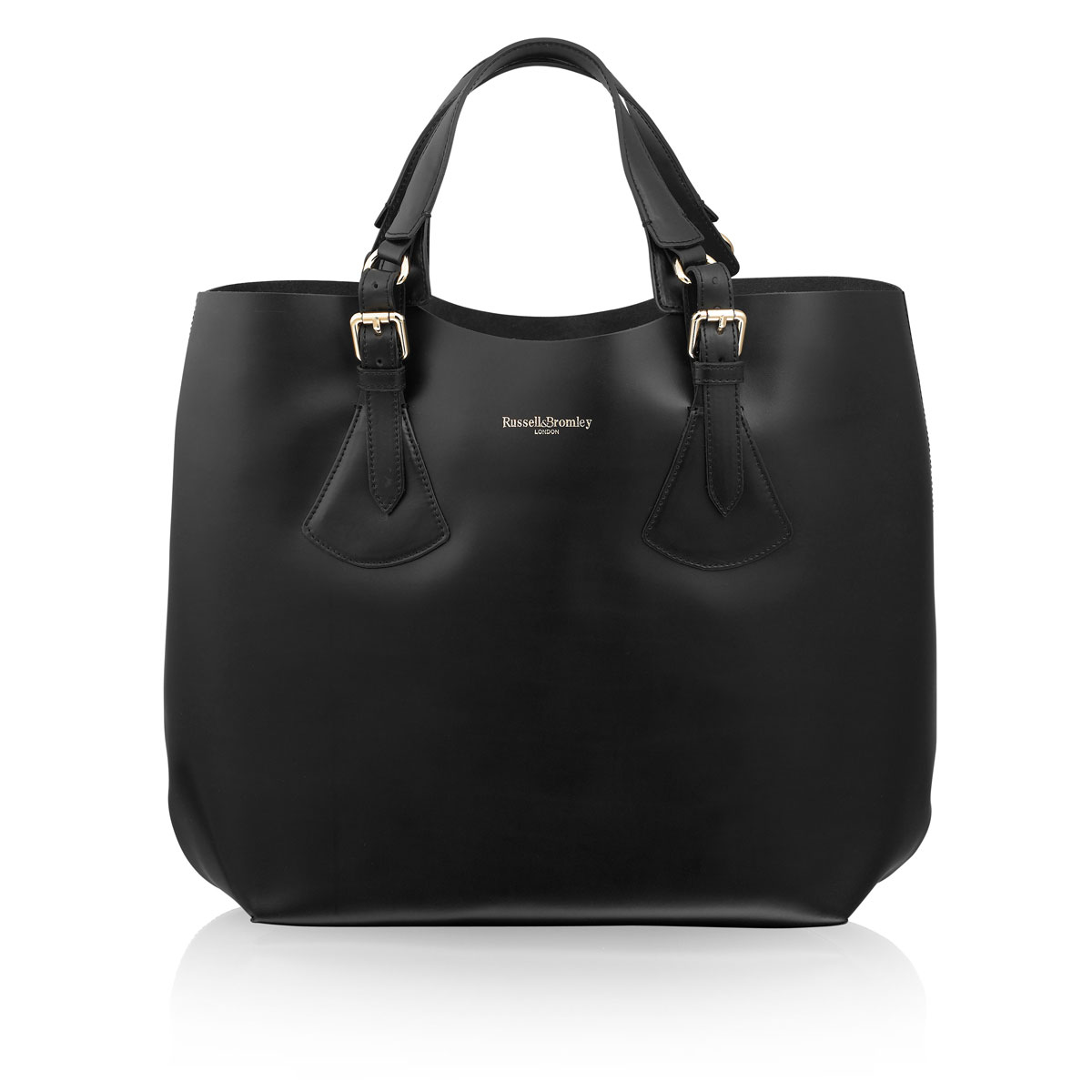 My handbag is from Russell and Bromley. I kind of felt like I needed an everyday kind of bag. My day-to-day bag is the Bayswater by Mulberry but thought I'd mix it up a bit so this is the perfect classic hold all. The bag is a raw lather with no lining and really discreet which I always like. Hate flashy labelled bags or sunglasses (GUESS clothing and accessories pretty much sums this up for me). Adore this, and I see the Dutchess, Kate has one too which obviously sold it to me. And some books… The new Sartorialist, I Heart Stationery, The Edible Selby, Jerusalem by my all-time favourite chef, Ottelenghi, Sweet Tooth, Design Sponge, My Little Paris Kitchen and then two I couldn't fit in: Vintage Tea Parties, Plenty by Ottelenghi.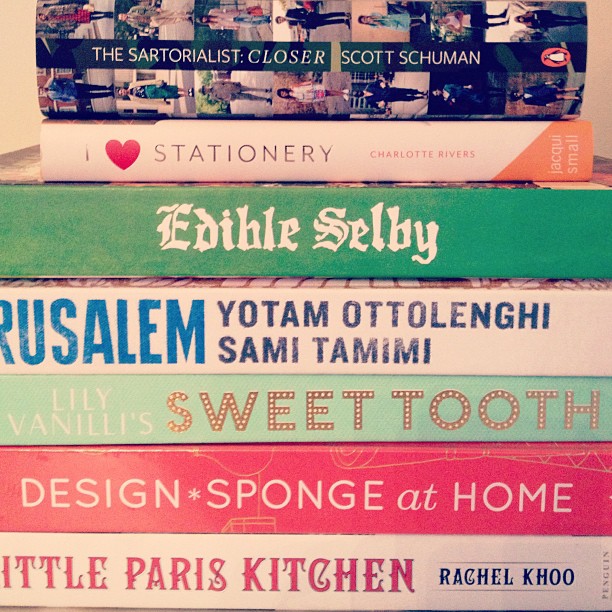 Yip, so that's me for now. Will try and do pics of shoes and, obviously, my home stuff.
https://kissblushandtell.co.za/wp-content/uploads/2013/01/5cea8ec4574811e2b8e822000a1fbcc7_7-1.jpg
612
612
Victoria
/wp-content/uploads/2020/03/logo.png
Victoria
2013-01-14 06:41:00
2020-06-28 10:53:54
Some shopping etc