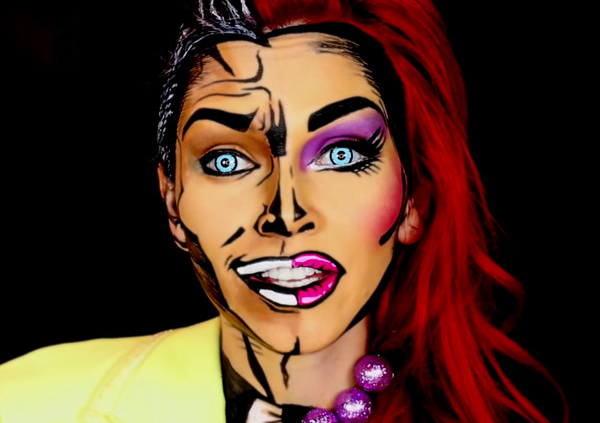 I, sadly, am not going to be attending a Halloween party this year as we will be in Hermanus with a bunch of friends, but I am all-sorts-of-inspirited by some of the tutorials I've seen on YouTube. These American YouTubers don't mess around! I am dying to try some of these looks so decided to quickly share some of my favourite ones with you which may inspire those of you who are going to a party. Some look totally impossible, but on watching the tutorials, I definitely want to give them a go one day.
For Capetonians there is a shop called Masque which stocks special effects make up like your liquid latex etc – see their site here.
Kandee Johnson's Half Man/Half Woman Cartoon Look
This is completely insane to watch – please do yourself a favour. Kandee really is the most talented special effects artist I subscribe to. Can't say I would be able to even attempt this, but fun to watch none-the-less.
Jaclyn Hill's Flesh Eating Zombie Look
This look is actually easier than I thought and great for those of you who don;t want your whole face looking like a mess!
Shaaanxo's Unzipped Rainbow Look
This isn't typically Haloween I guess, which I think is a bit silly as it should be more bloody and gore but I liked how easy the zip idea was and you get use fake bloody instead of the rainbows. Maybe even tying Jaclyn Hill's above look with this.
Or this option, which requires no special effects product, only make up.
Pixiwoo's Guardians of the Galaxy looks
Happy Halloween and do share your looks with me if you attempt any of them!
https://kissblushandtell.co.za/wp-content/uploads/2015/10/cartoon_makeup_t.jpg
500
600
Victoria
/wp-content/uploads/2020/03/logo.png
Victoria
2015-10-29 09:21:00
2020-07-08 18:45:20
My Best Halloween Looks