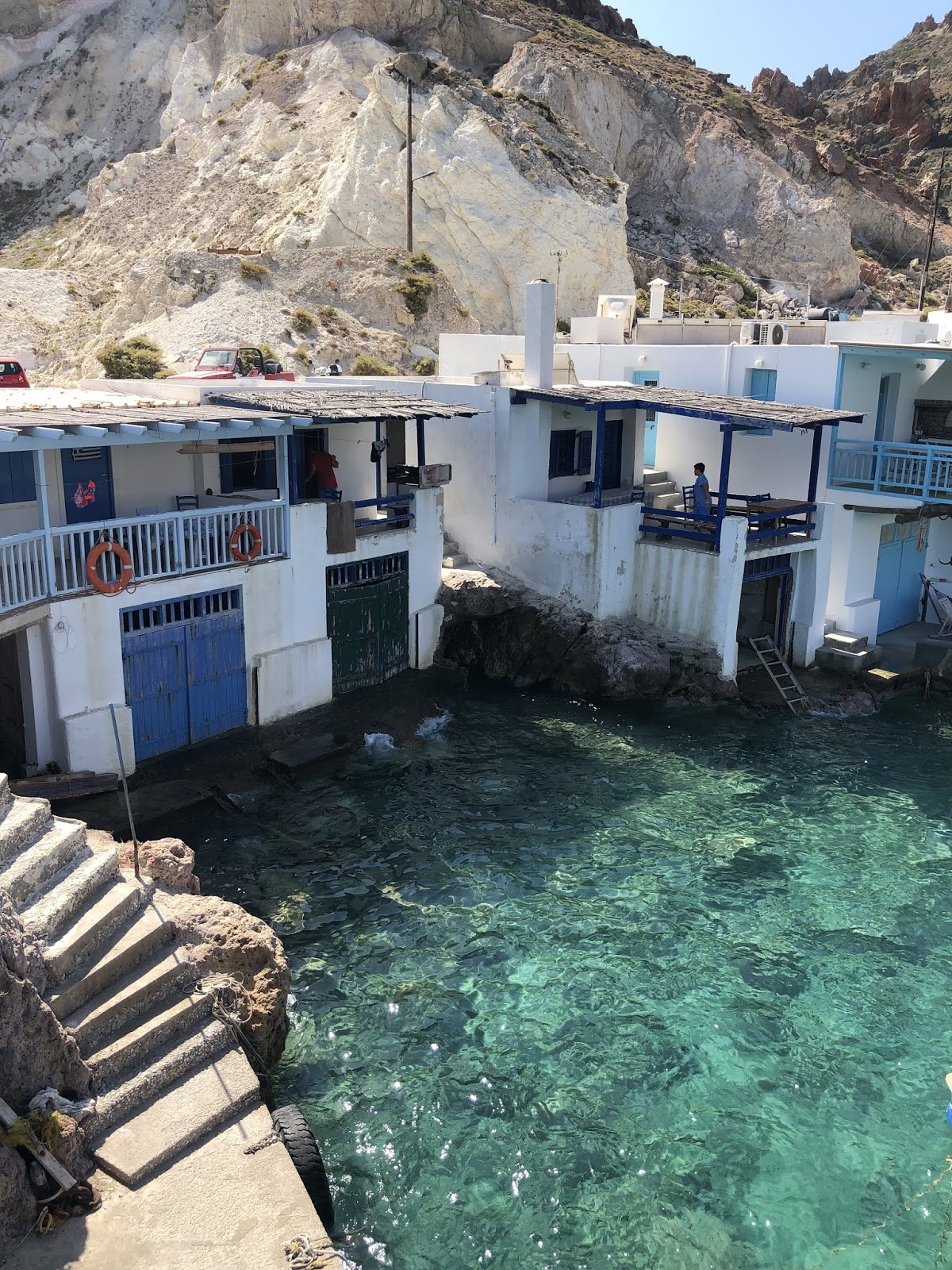 A much-requested section for travel guides has been something I have wanted to do for ages as travelling might actually be my first love (OK, or equal to Beauty). Our holiday to Greece was obviously our honeymoon, so a bit of a different trip with much less planning from my side but A LOT more relaxing. We honestly could not have chosen a better honeymoon destination and, being both of our first time visiting Greece, we had no idea what to expect.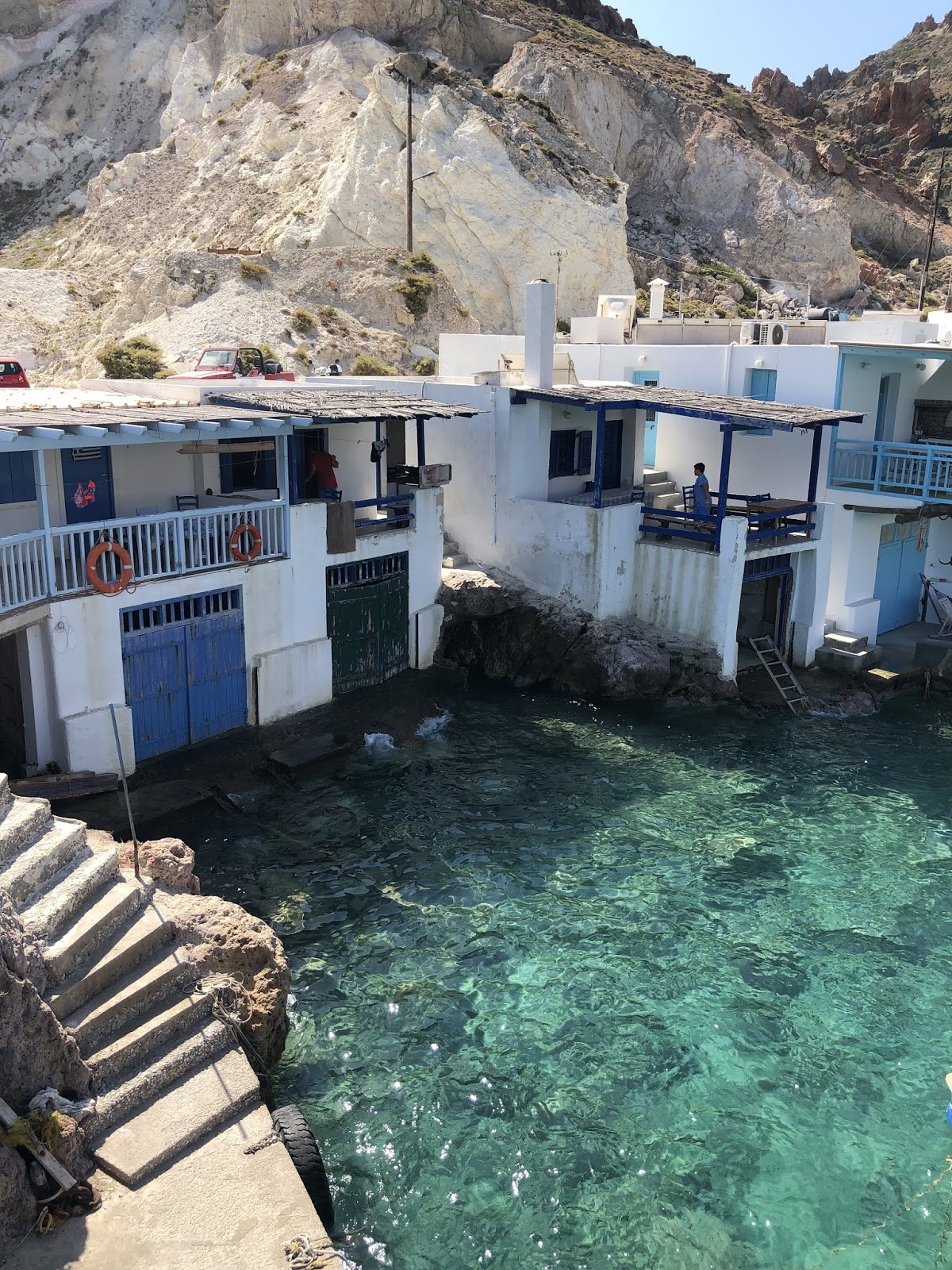 I am going to speak to each island separately and will do a 'must-see/visit' list below each one. I was going to do a separate post on each place, but want to try and keep these guides as to-the-point as possible. I hope it help you in planning your visit… Something to note is that you definitely need to hire a car or a 4 wheeler on most Greek islands, else you will spend a fortune on taxi's (and waste time waiting around). A car is about 50 Euro's a day (minimum) and essential (unless you are one of those people that just sit at the hotel pool). A lot of you also asked me about costs of things, which is So hard to do but on average a meal for two (at the places we chose to eat at) was about €50-€60. A cocktail was about €12 and a beer around €8. Supermarkets and cheap pick-up meals are so affordable – like €2 for a Giro (yum). Ferry tickets are around €35 (but, again, this obviously depends where you are going). Taxi trips from the ports into the villages were about €15- €20.
MILOS
We flew directly to Athens and from Athens caught a flight with Aegean Airlines to Milos. I am so happy we opted for flying where we could as the ferries are quite a hack and certainly not cheap. Book flights in advance though (and obviously lots of islands don't have airports, so investigate that first).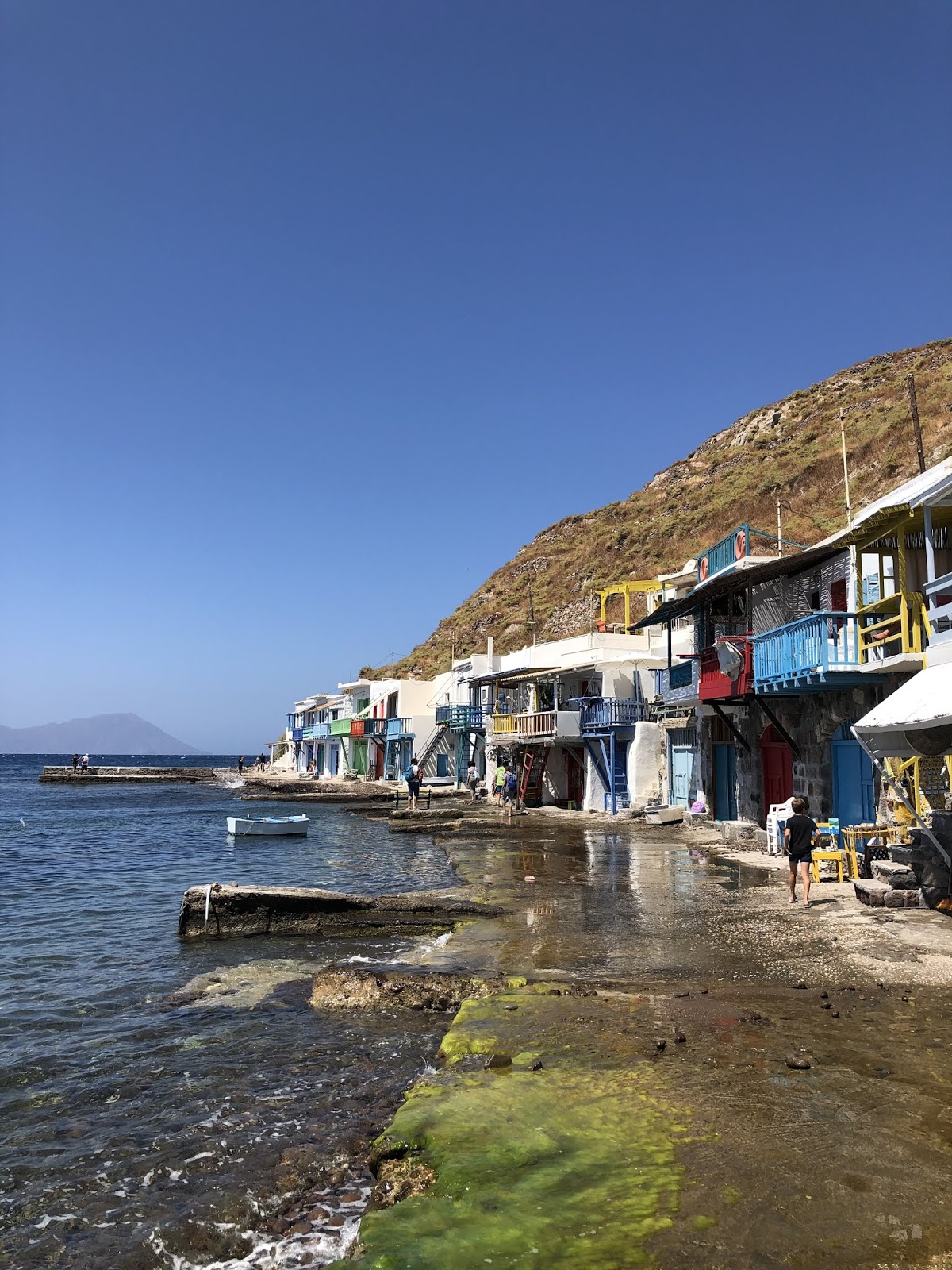 Milos probably ended up being our favourite island, however, it wasn't love at first sight. The island is pretty rural and has beautiful parts to it but in-between those beautiful parts you can expect to see a lot of stray cats, barren land and half-finished building sites. Milos is known for its beaches, and for good reason – the beaches on the North part of the island are quite rocky and absolutely exquisite but we spent most of our days on the South part of the island thanks to the relentless Milos wind that gives Cape Town wind a run for its money. You have been warned!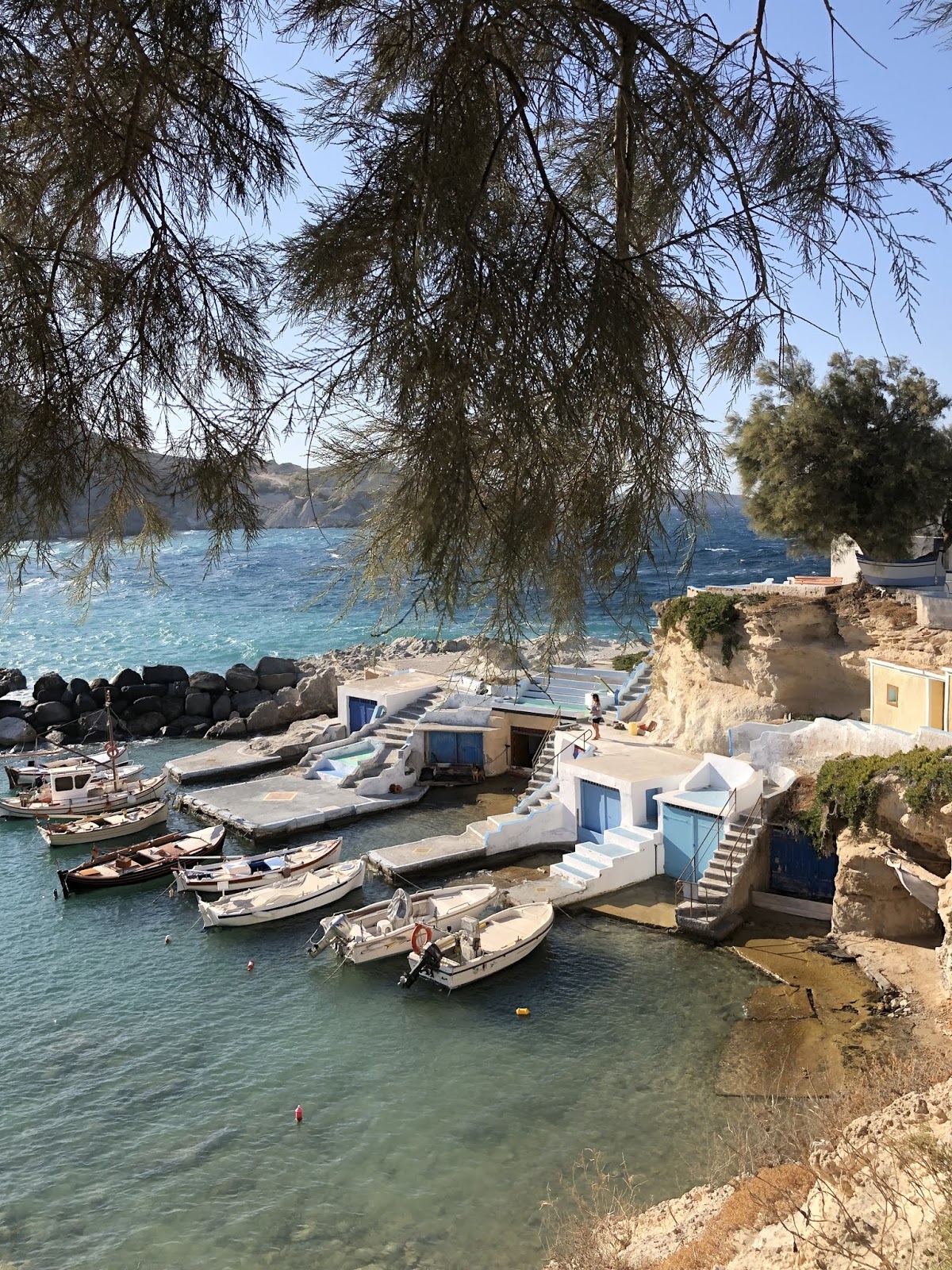 We stayed at Milos Bliss, which we really loved. It is in Plaka (the town on the hill) so means you can easily stroll into town for dinner or into Tripiti (the neighbouring town, but a 3 min stroll). We preferred Tripiti – more authentic and less crowded (and better food).
Some highlights:
Beaches So many to list but to name a few: Paliochori (more protected and great for long beach days), Fyriplaka (also more protected and lovely shallow swimming), Fyropotamos (so beautiful and a must-see), Sarakiniko (the moon beach – what Milos is famous for), Kleftiko – this is a MUST. They are the caves that are breathtakingly beautiful, you need to take a boat trip for this which we took from Ag Sostis and was about 33 Euro p/person and Klima – this is the pictured colourful fishing village which is not a beach, as such, but is so vibrant and beautiful.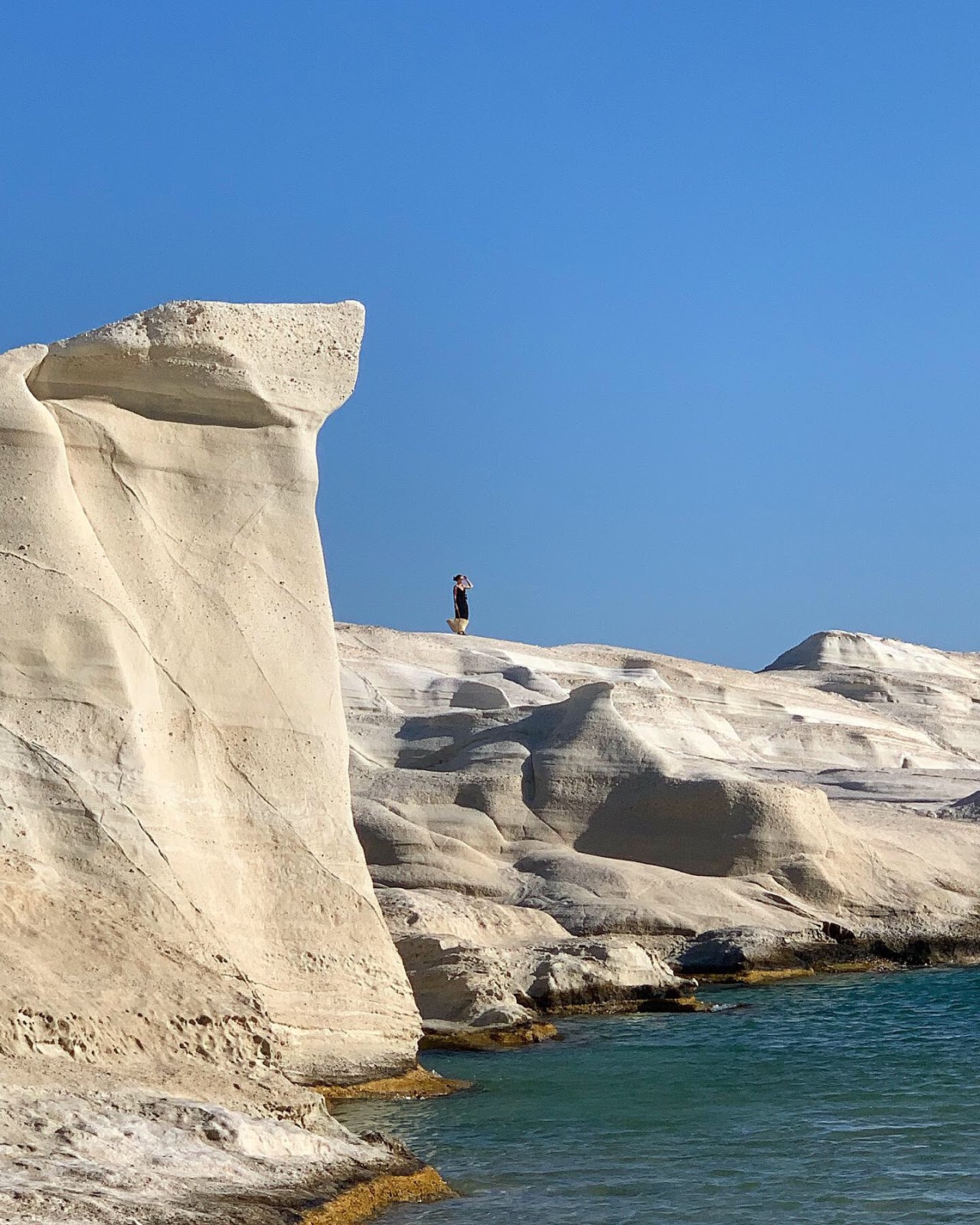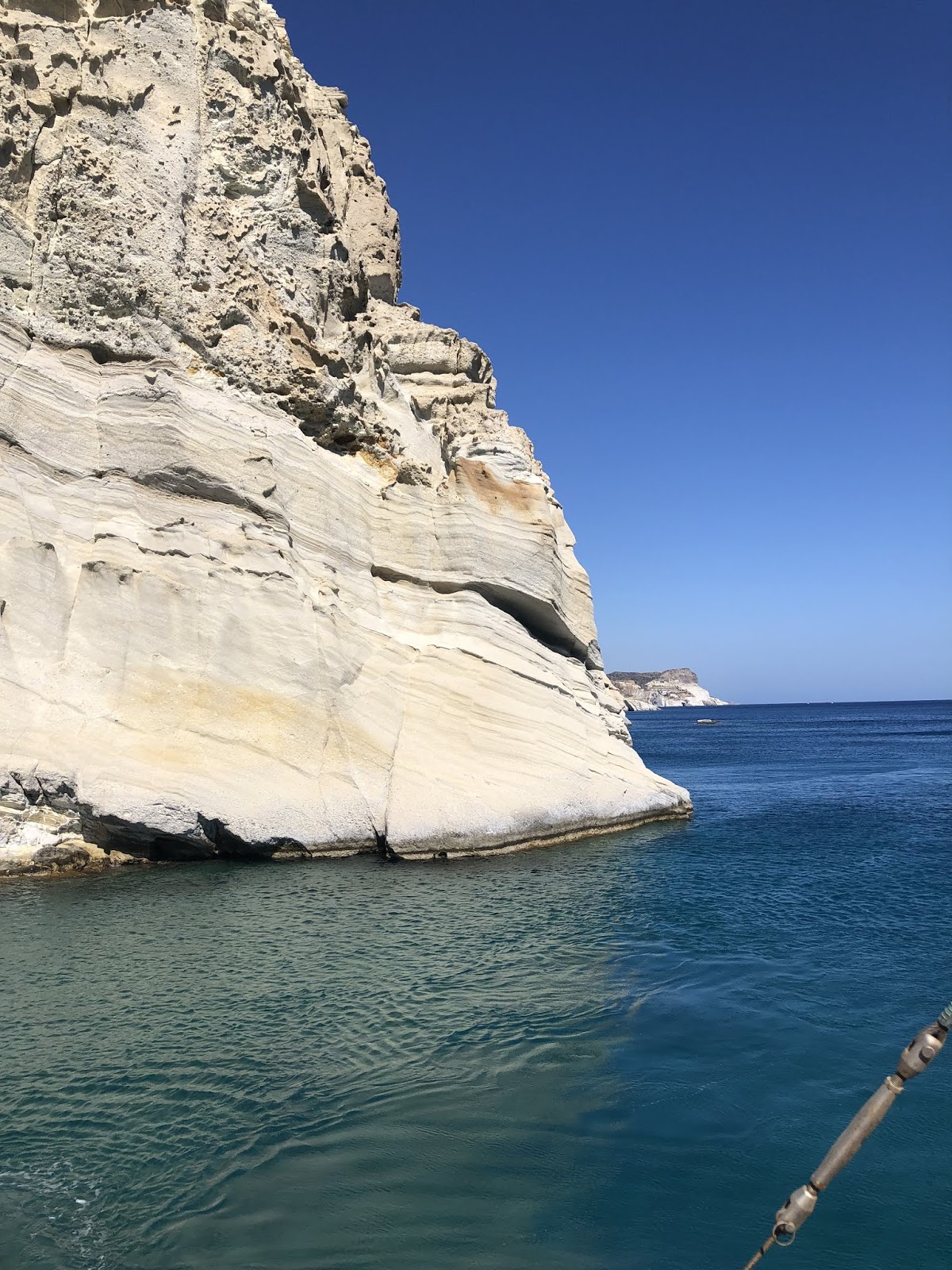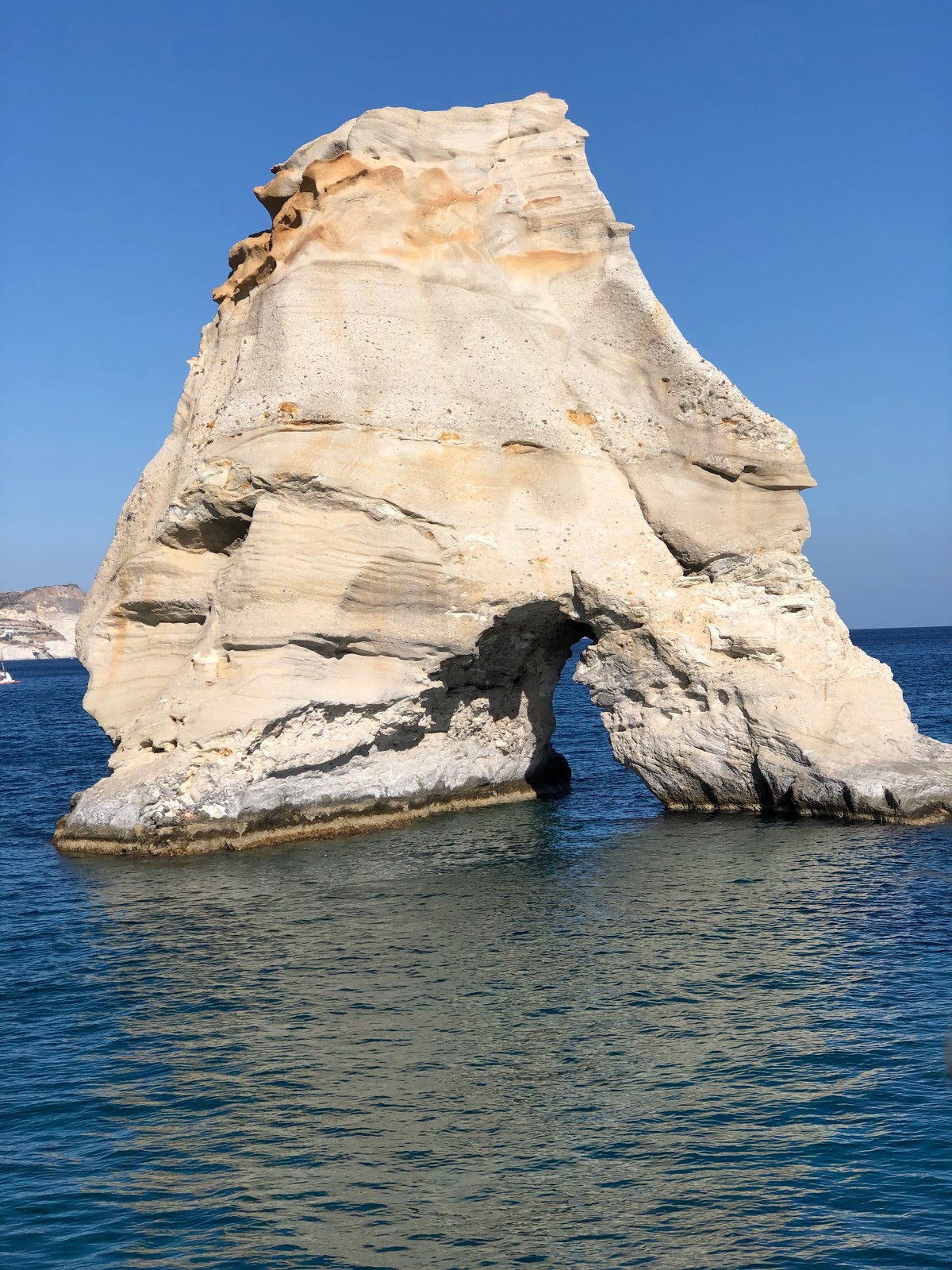 Food – the Milos food was the best food of our whole trip. Be sure to take advantage of the local soft cheese which Milos is famous for. Request this on your Greek salad instead of feta (see pic). Also, eat saganaki ALL day.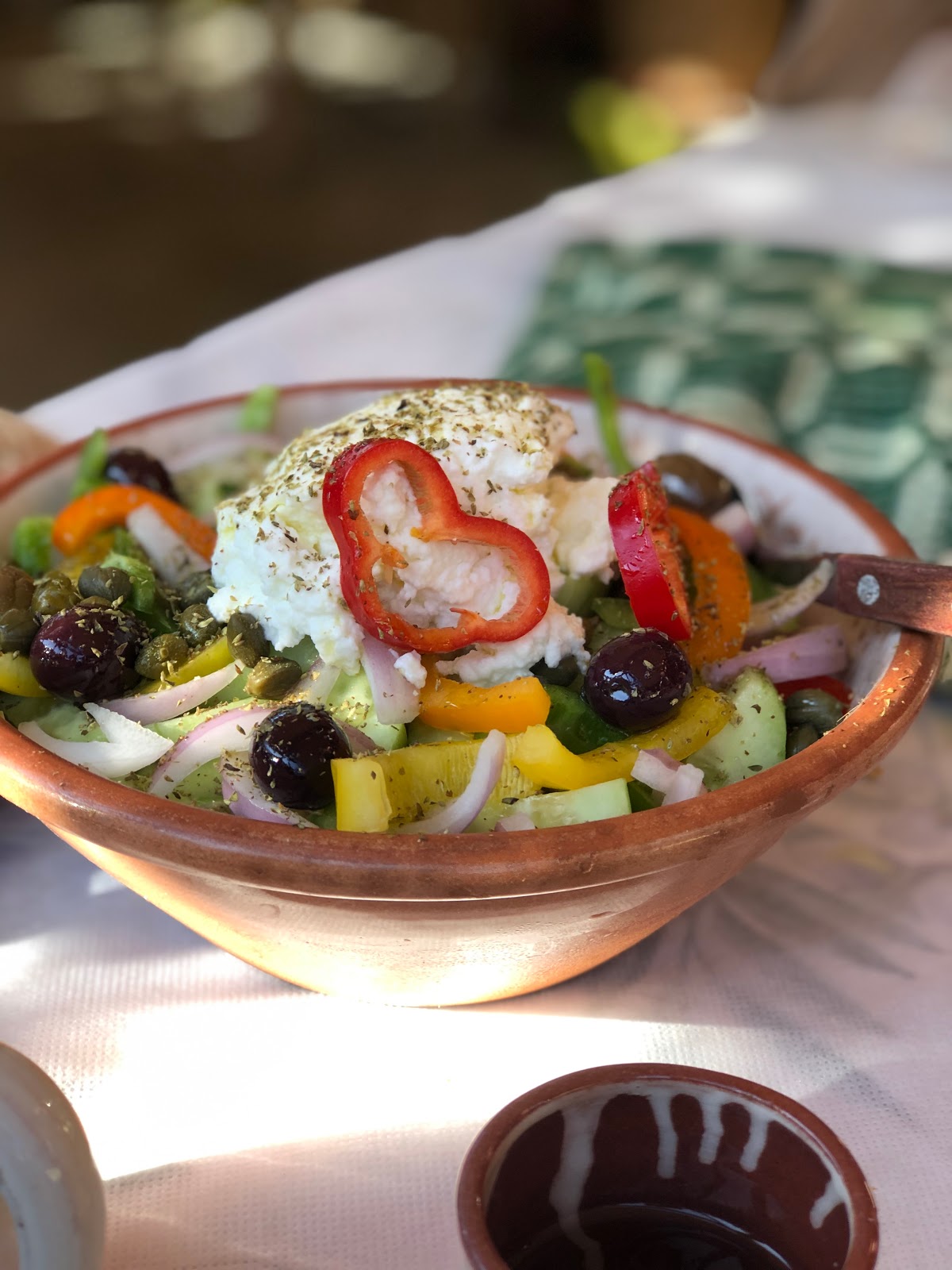 Medousa – a famous beach tavern which has incredible sea views – it can be super windy though but they have blinds to protect patrons from the wind. Their sardines were delish paired with saganaki, a Greek salad and their local rose.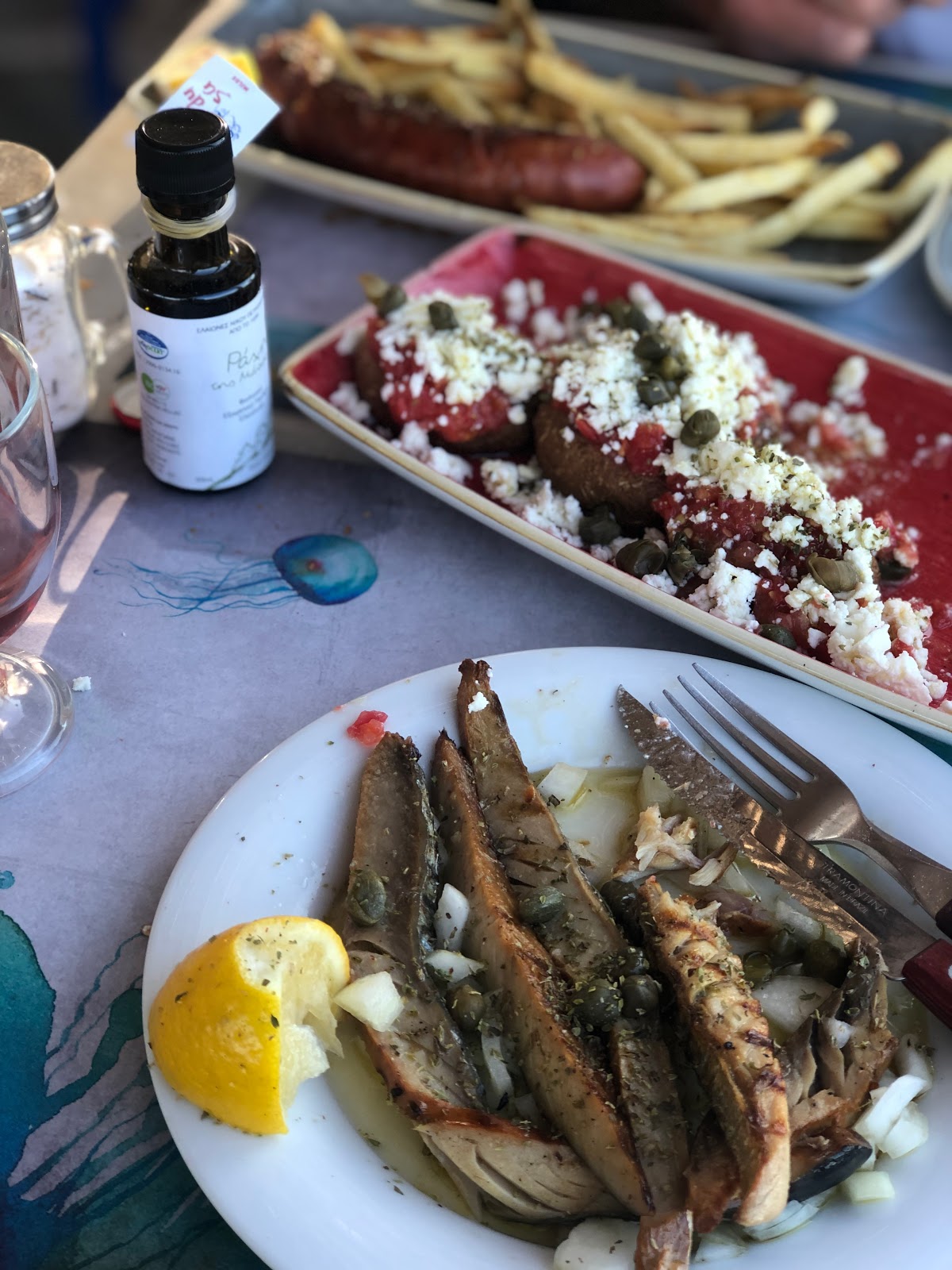 Enalion – this is in Pallonia (the fishing village). We loved our lunch here and there lots of great sea food Oh Hamos! – such a great tavern and one of the most famous on the island. There can be long queues so don't go at peak times. All the menu's are written in bound books by-hand, a really lovely family-owned tavern who source all ingredients from the island.
PAROS
Paros was the perfect in-between island with the right amount of 'chill' and a little more commercial (as in beautiful bars and restaurants). We stayed in an Airbnb in Naousa which I would advise. It is the main town and so picturesque. It's full of little bars and restaurants and comes alive at night. I advise going for late dinners (around 10pm) and walking around the town beforehand for drinks and people watching.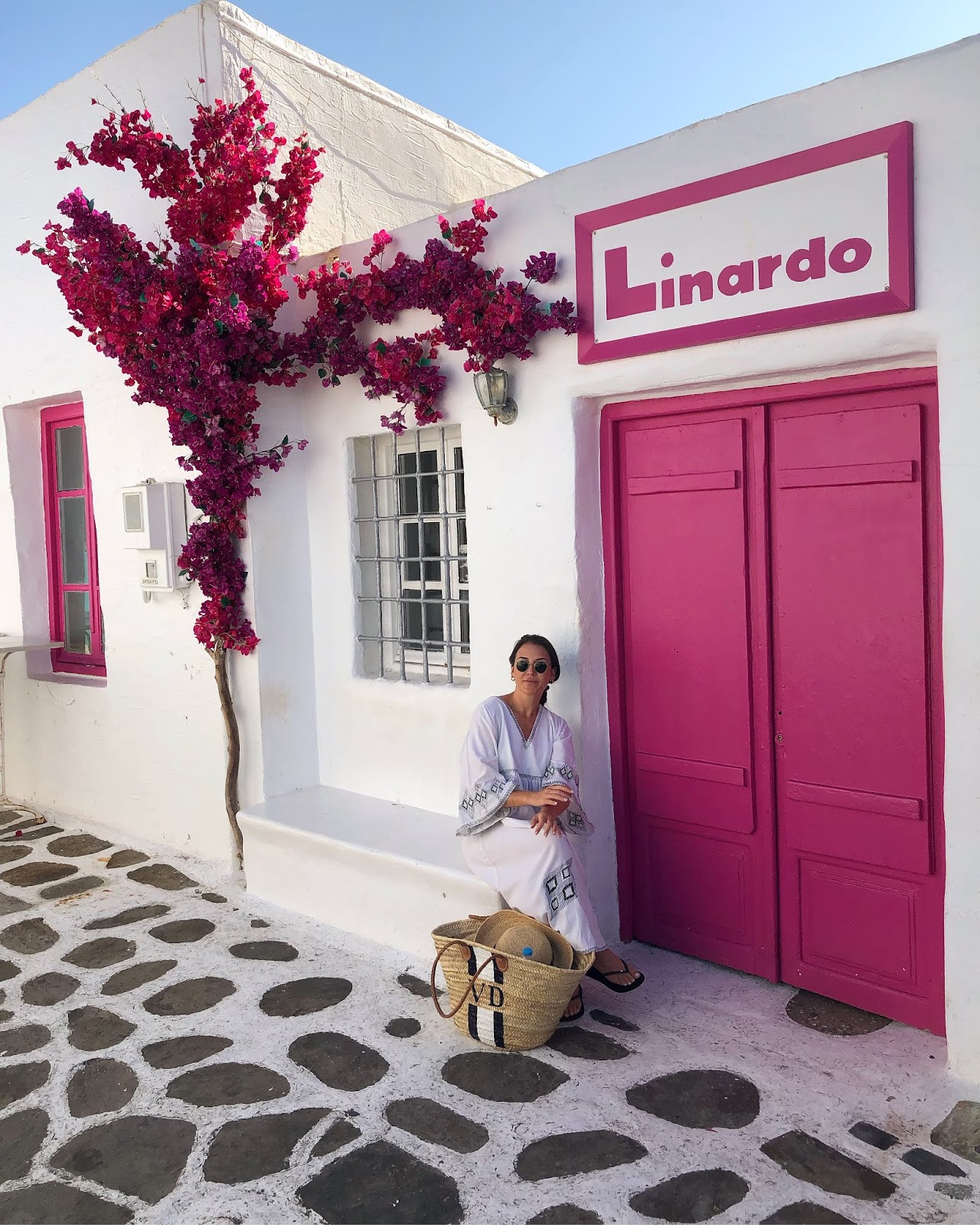 Some highlights:
Beaches
The beaches on Paros aren't comparable to Milos, but some favourites were:
Kolbithres – a rocky beach which has a beautiful view of Naoussa. It gets packed, so go early with some snacks to find a good spot. Lageri – this is a long beach and full of nudists but is very pretty. Kalogeros – this is a lovely beach, but be warned to keep you belongings close by as when boats or ships sale past, the waves get rather large. This beach is famous for it's natural clay rock which you see everyone rubbing all over their bodies. We did this too :), Small Faragas – great for windy days as well protected and a nice little secret spot.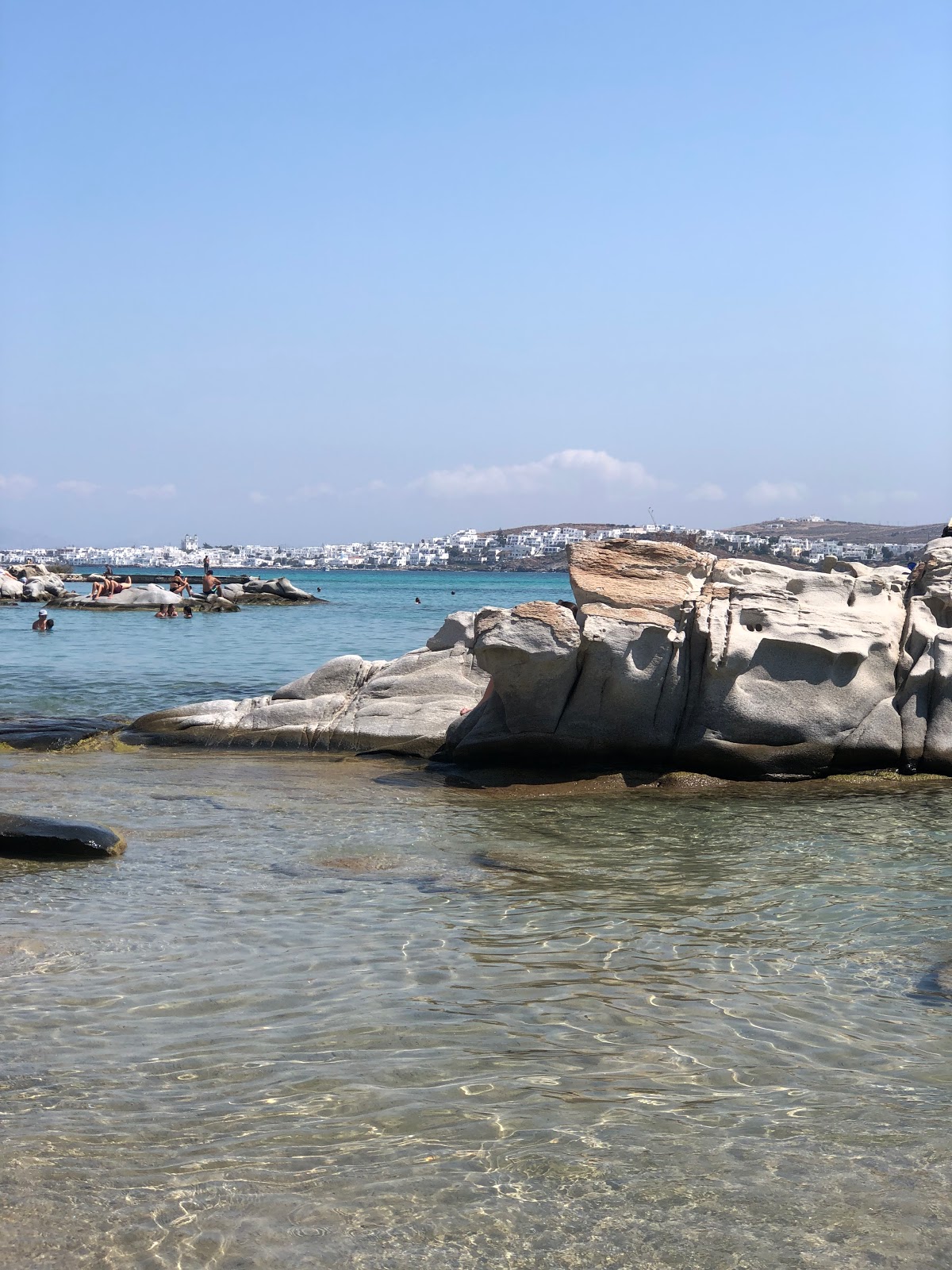 Food
Mediterraneo: really good seafood at relatively reasonable prices. If you go make sure to not miss the tuna carpaccio. It's heavenly!
Yemeni: a little bit on the expensive side but really good food. It also offers a terrific wine list with great wines from all over Greece. Booking ahead is obligatory.
I palia agora: traditional greek eatery with great food at reasonable prices. Fried calamari, baked chickpeas and the meatballs are delish. Well worth waiting in the line for (just grab a drink from the bar next door)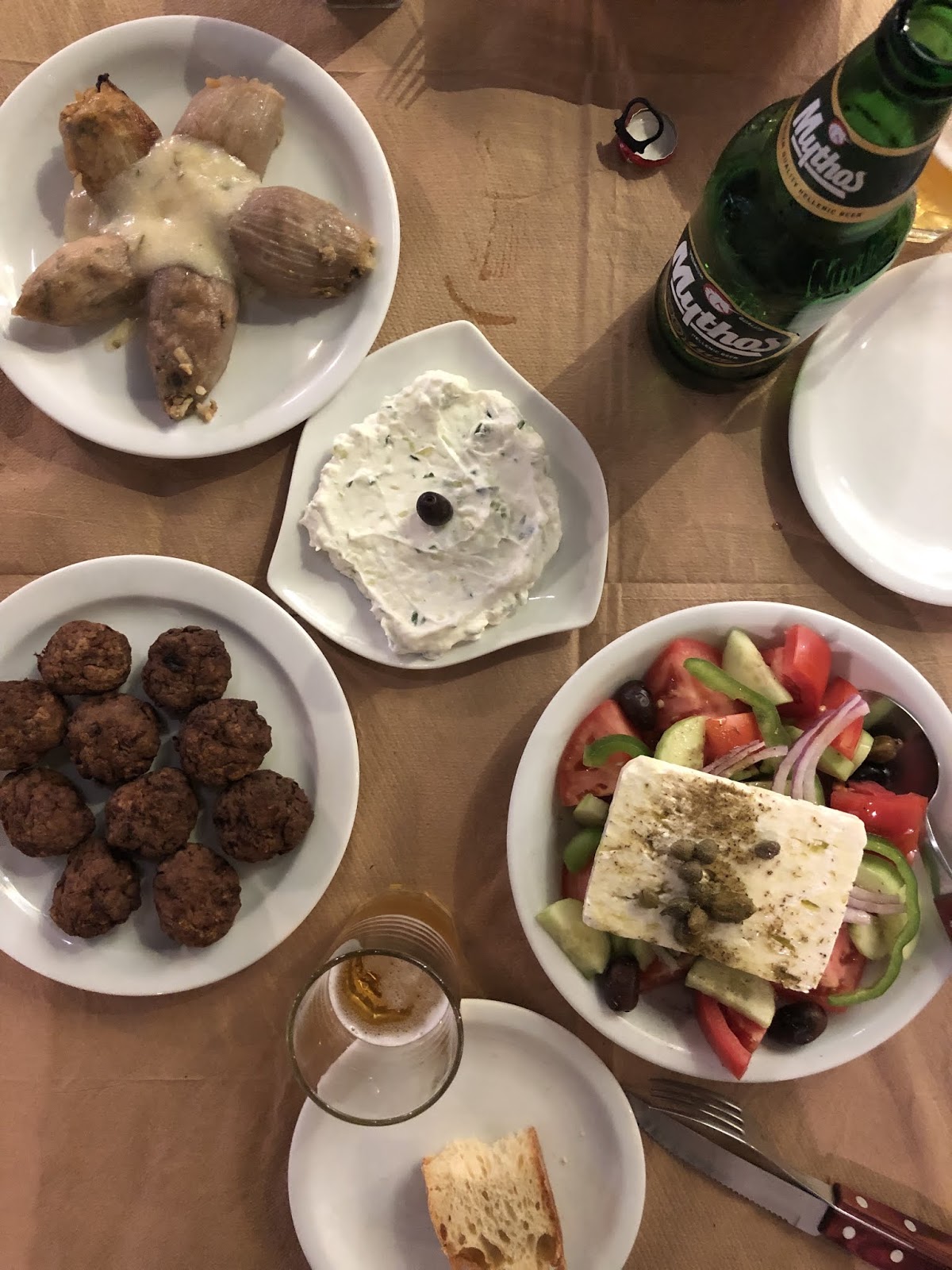 Sousouro: perfect place to have a gin tonic in the evening or an aperol. In the morning it serves delicious and very popular organic breakfast. Right opposite the palia agora eatery and beautifully decorated.
The Meat Bar – delicious gourmet gyro's, honestly insane!
Sante Cocktail Bar – unreal cocktails and such a great vibe with spectacular decor outside under a tree. This place was below our Airbnb and buzzed all night!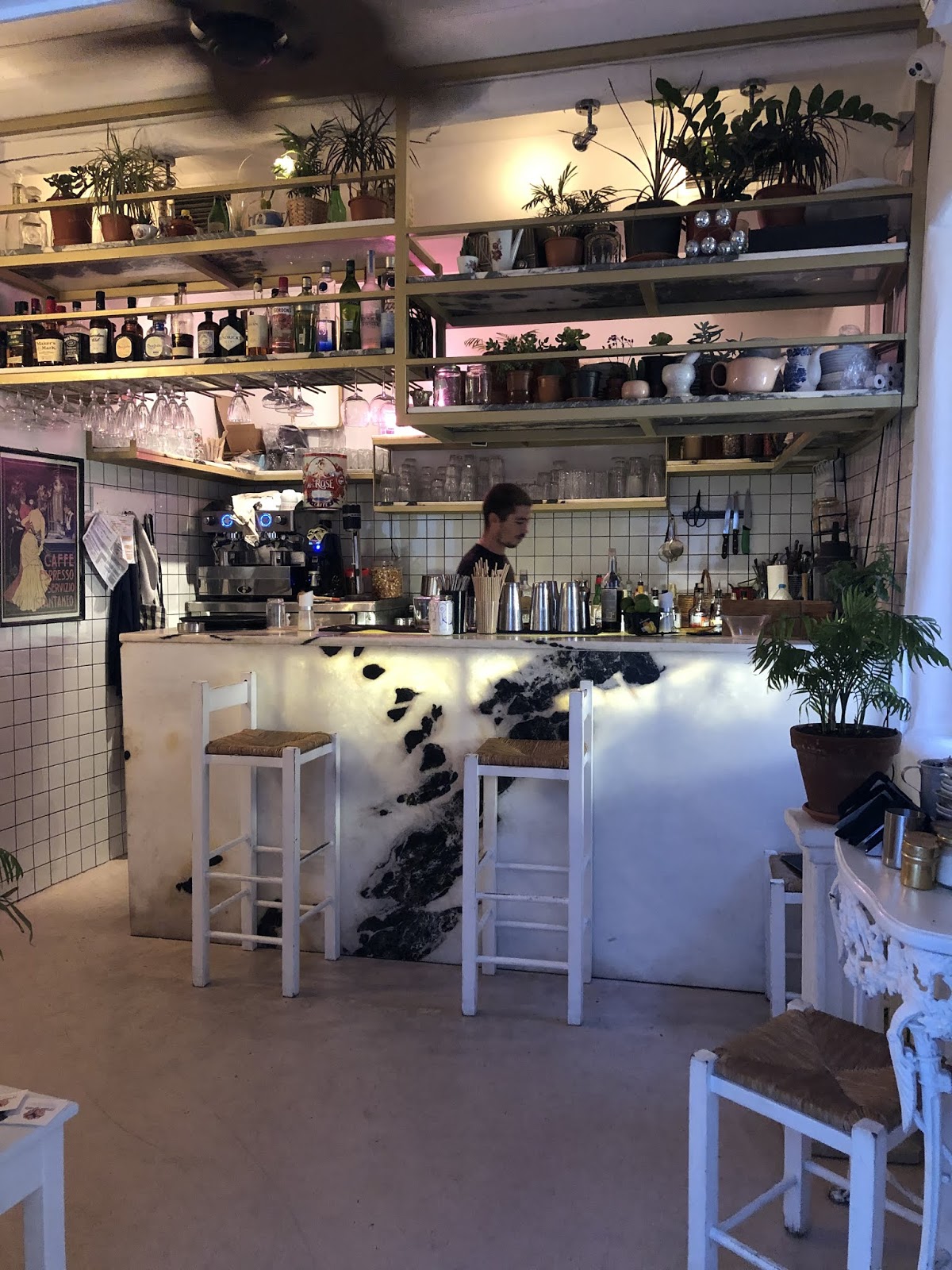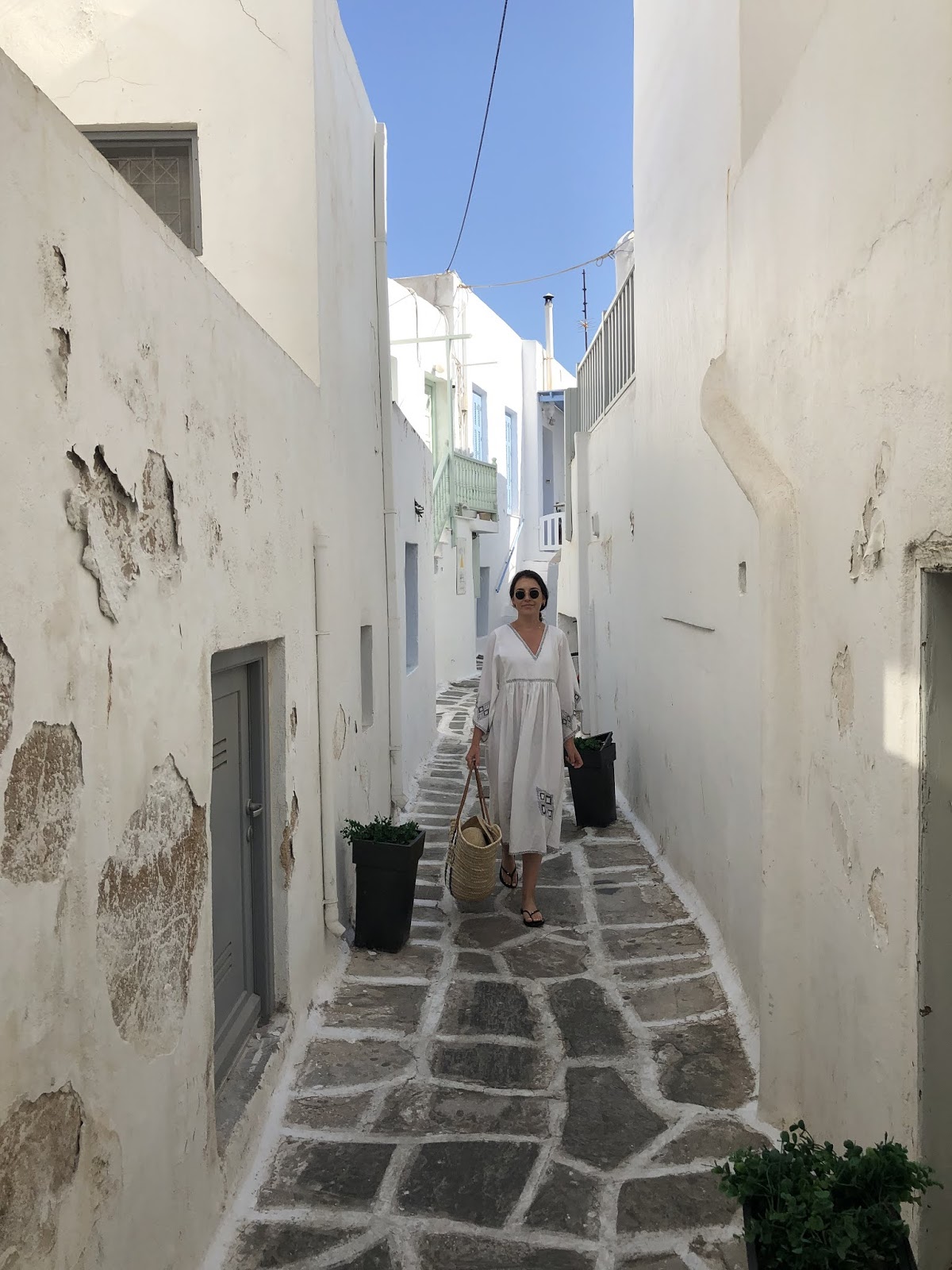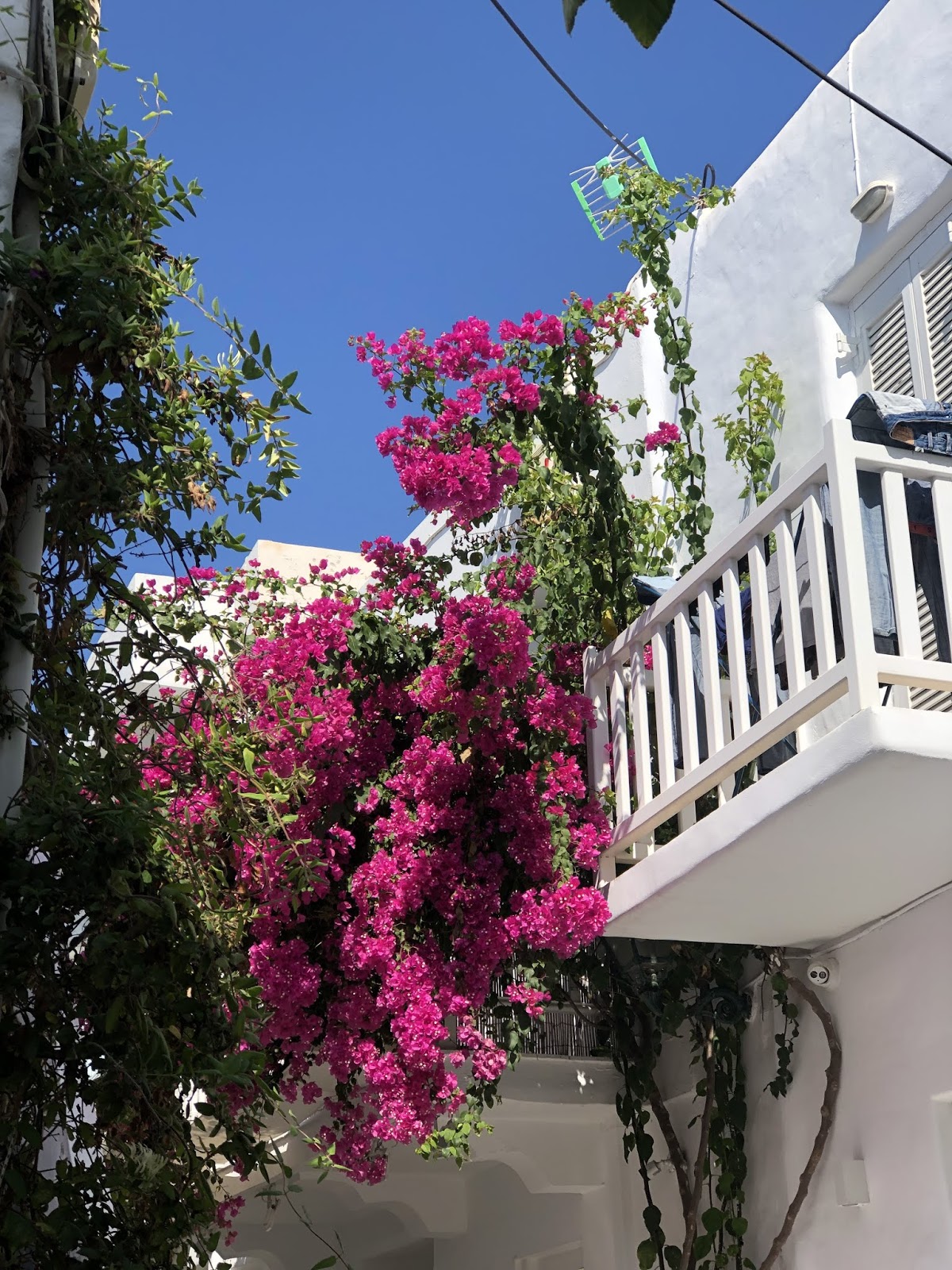 Santorini
Santorini is a must-see and one of those places that you can fully understand why it has the reputation it does. The sunsets really are something special. It is, naturally, much more pricey and flooding with tourists, so 3 days was enough for us. We stayed in Fira (which I would advise, unless you have a bajillion Rand to spend on a rim-flow pool in Oia). On that note, a pool is essential as the beaches in Santorini are nothing to write home about, so lazing at the pool is how most days are spent. In my opinion, Fira is better to stay in. I found Oia over-crowded and over-priced for VERY average, commercial food.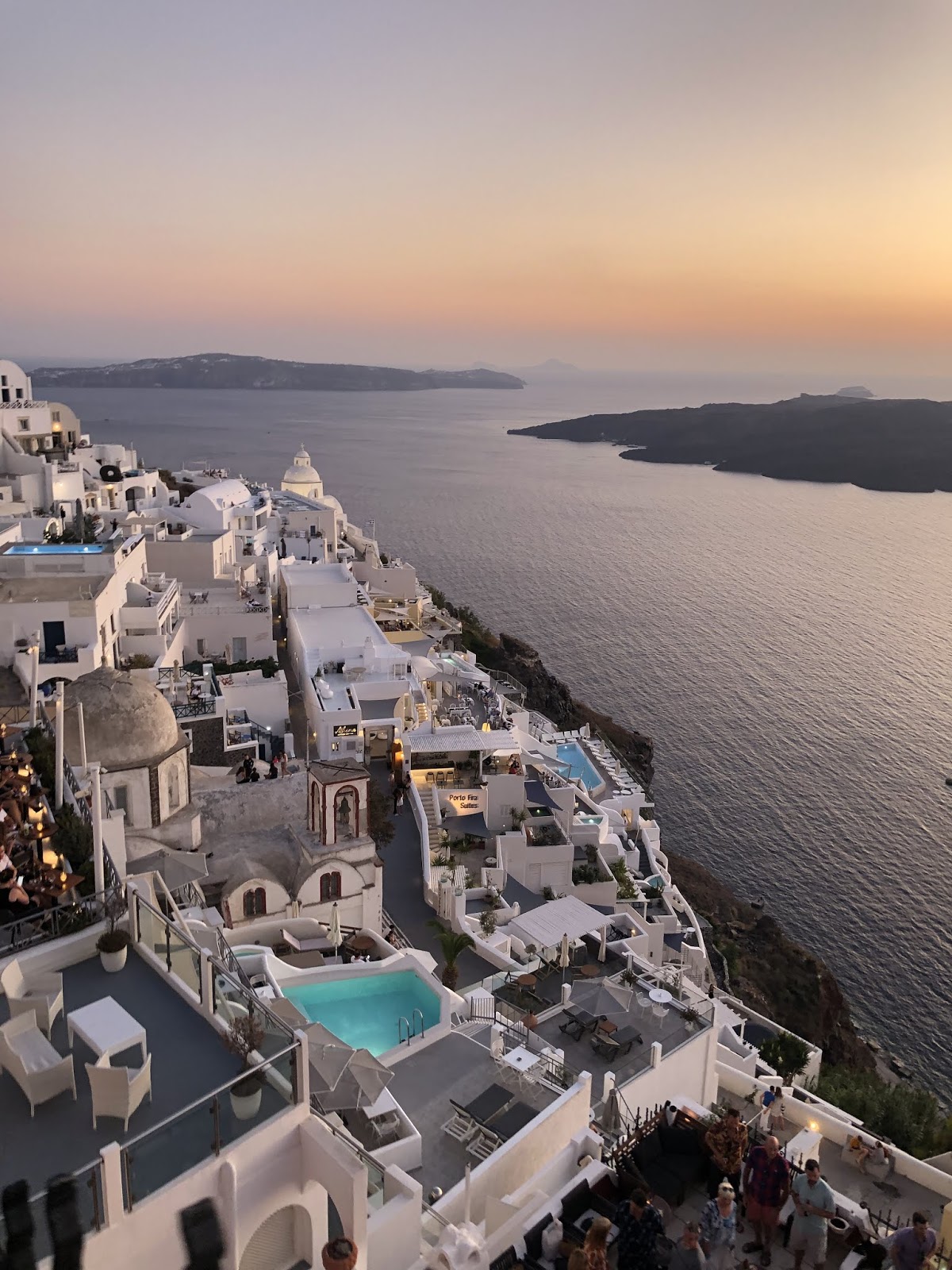 Some highlights:
Food
PK Cocktail Bar – this was our absolute fave and I would highly recommend it. We went back every single night we were here. Unreal cocktails and a magical view. Be sure to get there in time for a good table as they go fast (I would recommend getting there around 5pm or booking a table ahead of time).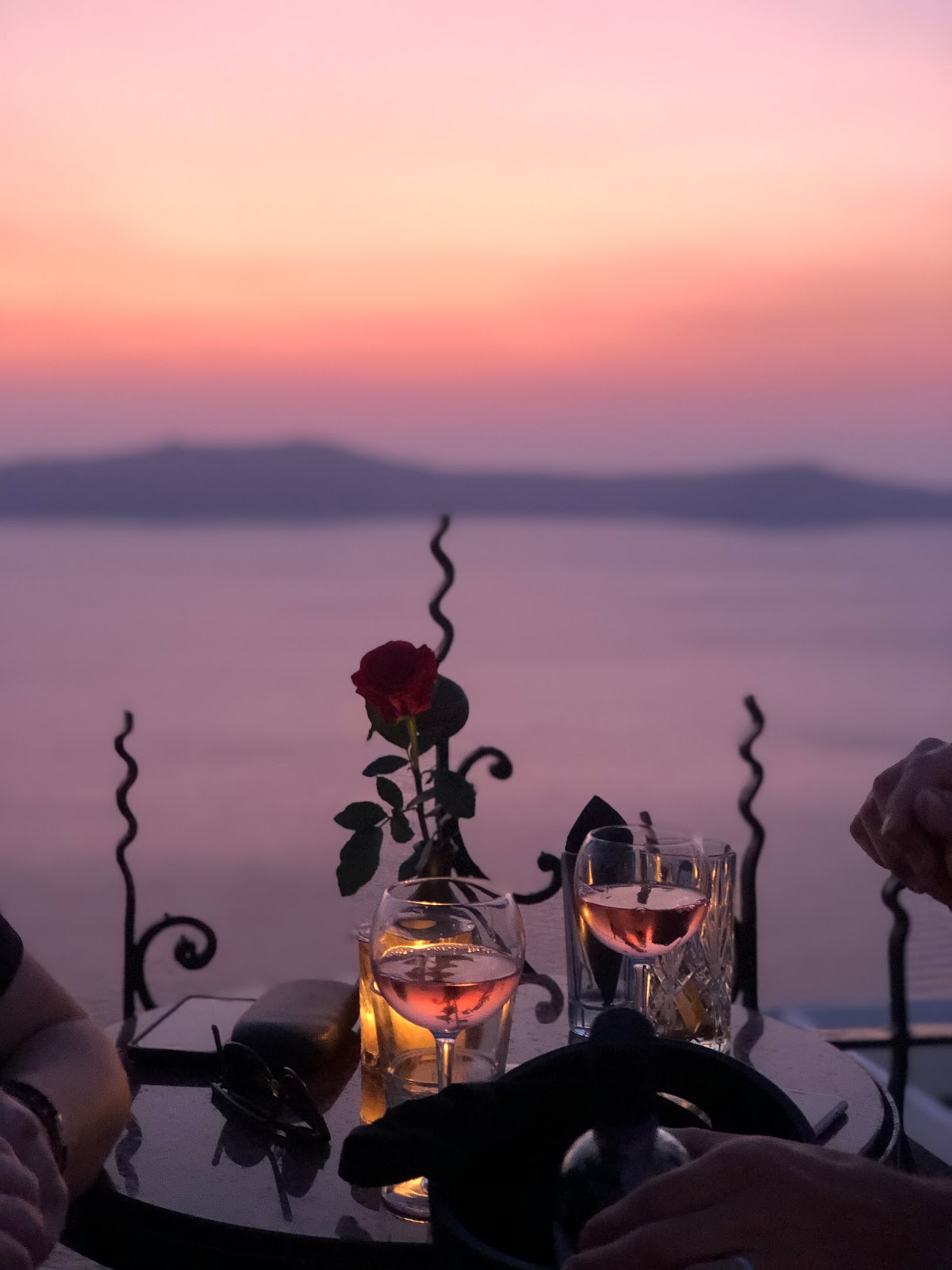 Argo – a lovely spot with beautiful views. Book ahead of time. Amoudi Bay – go for a dip and there some nice seafood restaurants around this harbour (in Oia)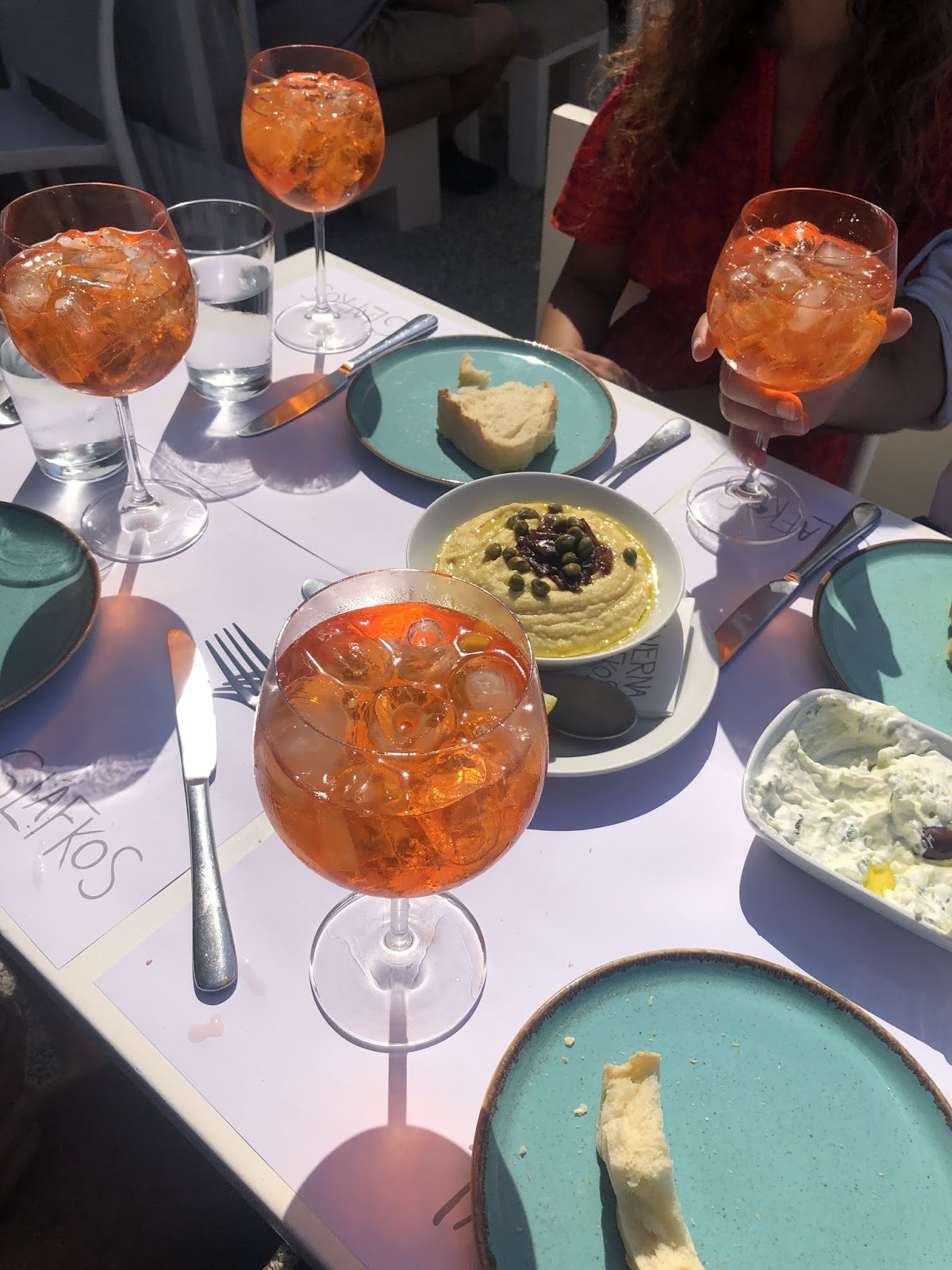 Athens
We finished off our trip with two days in Athens as we were flying out from there. I am glad we did this, as I wanted to see the Acropolis and experience the city, but I personally wouldn't rush back. If you haven't ever been, then definitely include a night or two, but having ticked this off our list, I don't see us returning. I am sure there is a lot more to the city that we didn't experience, but our hotel owner in Milos was an Atheniun local and gave us her tips (and she was phenomenal). Her advice was similar to mine, so don't feel like we didn't go equipped with info. This is the Airbnb we stayed in (shout if you want my R600 discount code).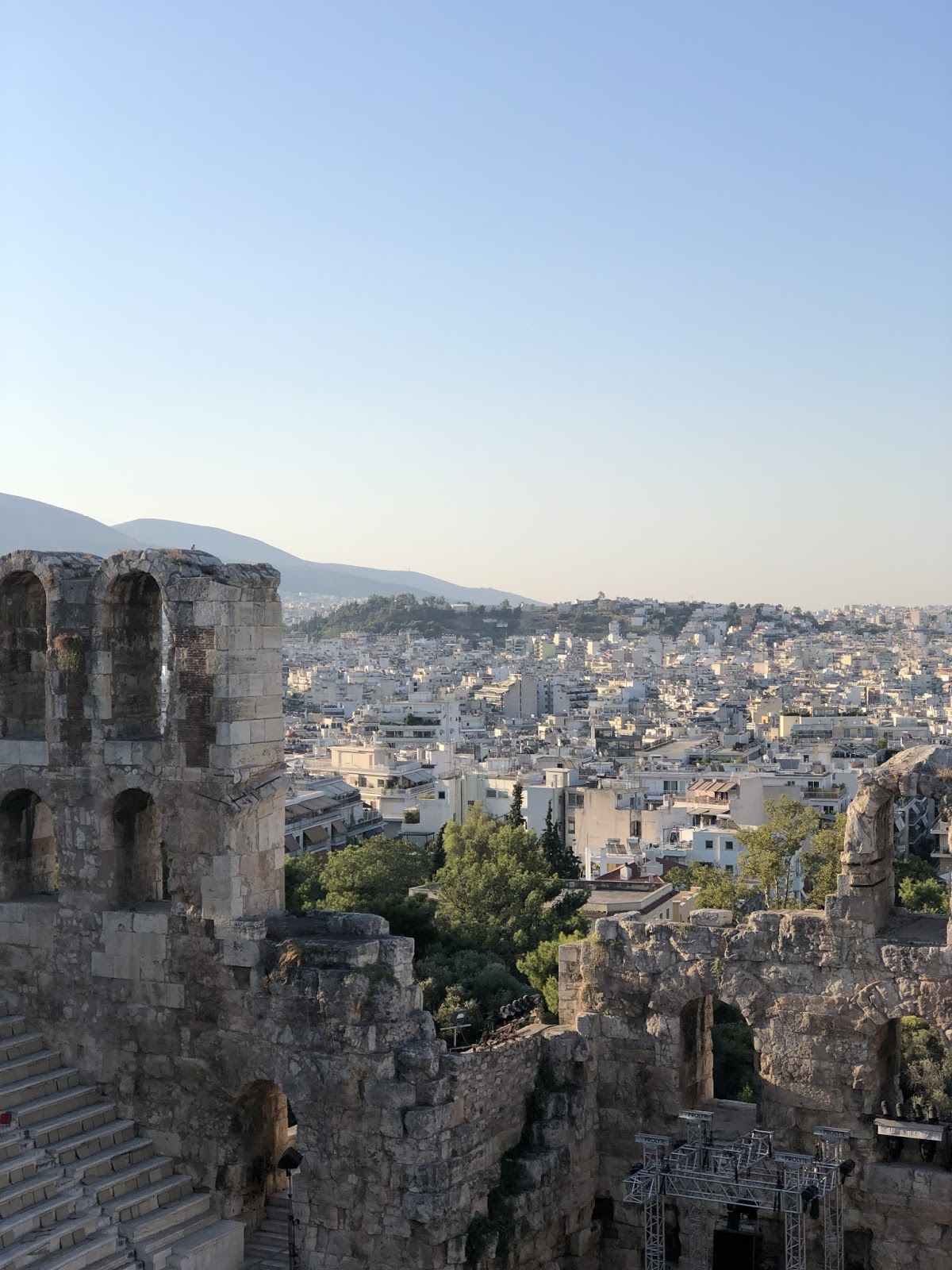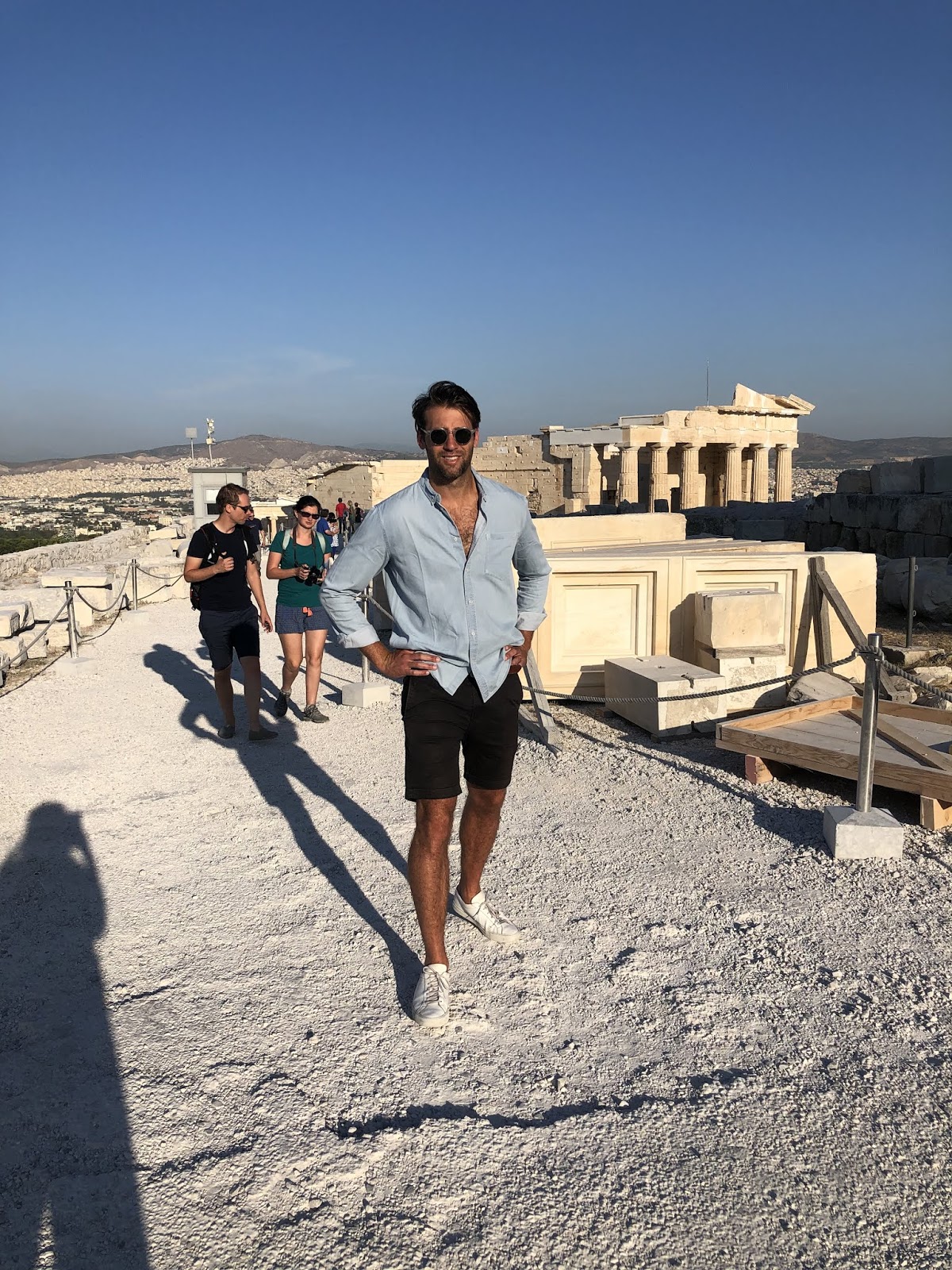 Some highlights:
To do and Food
Do the Acropolis, and do a guided tour if you can. Go early as it gets so hot and crowded but the views are spectacular and it really is mind-blowing seeing it all in real-life.
Sun-downers – go the a hotel called A for Athens – the best views of the Acropolis and based in a fairly basic hotel, so not expensive
Outdoor cinema – we didn't get around to this, but it is something we planned on doing on our last night. There is an outdoor cinema near the Acropolis which looked amazing.
Noel – a really cool cocktail bar where we ate dinner too, which we loved. Great vibe and insane decor!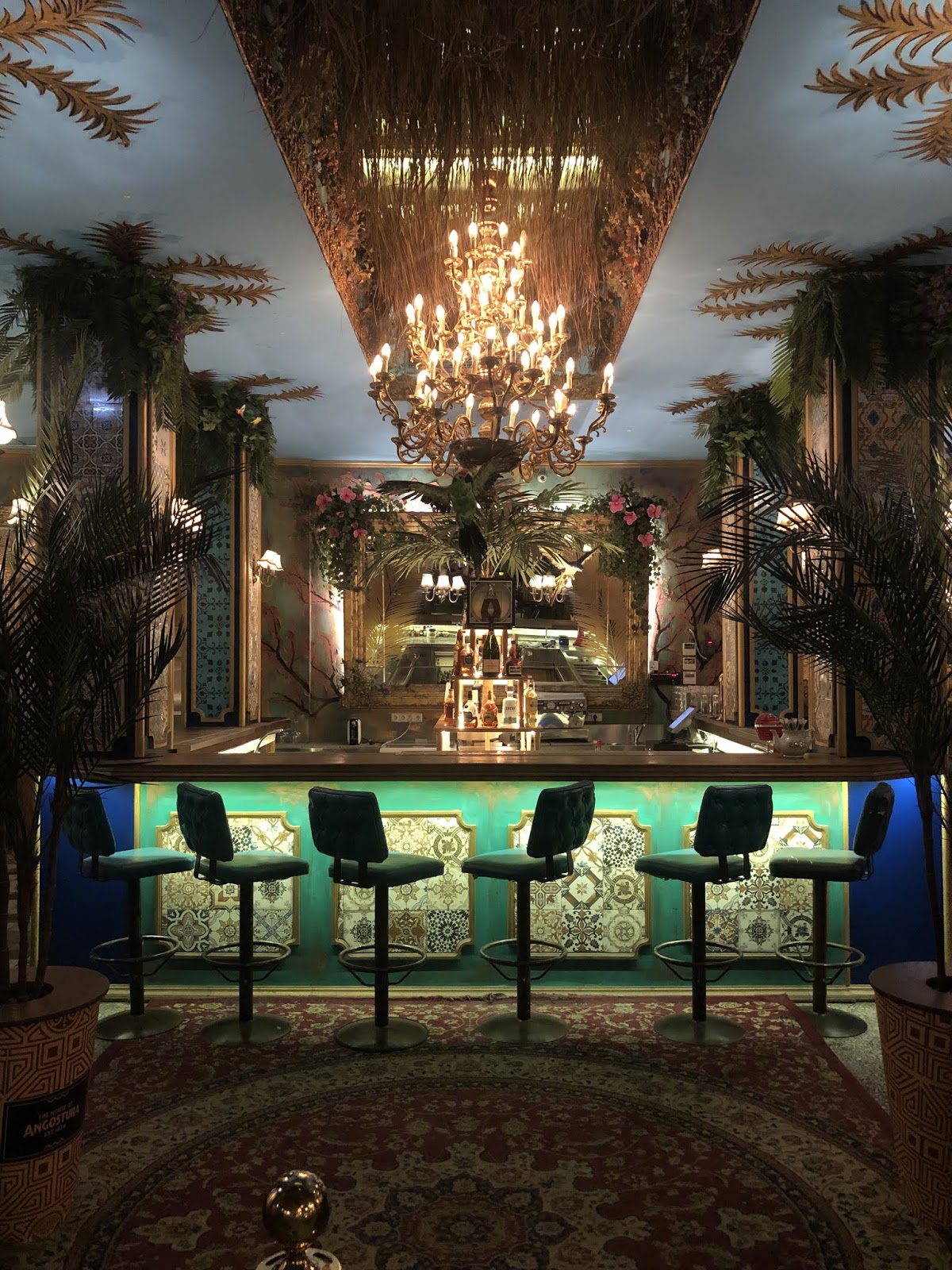 Kuzina – it came highly recommended and we were on the waiting list, but got too hungry and went elsewhere. I would have liked to have tried it though.
https://kissblushandtell.co.za/wp-content/uploads/2019/10/IMG_5648.jpg
1600
1200
Victoria
/wp-content/uploads/2020/03/logo.png
Victoria
2019-10-22 08:13:00
2020-06-12 12:32:36
Travel Guide: Greece (Milos, Paros, Santorini & Athens)