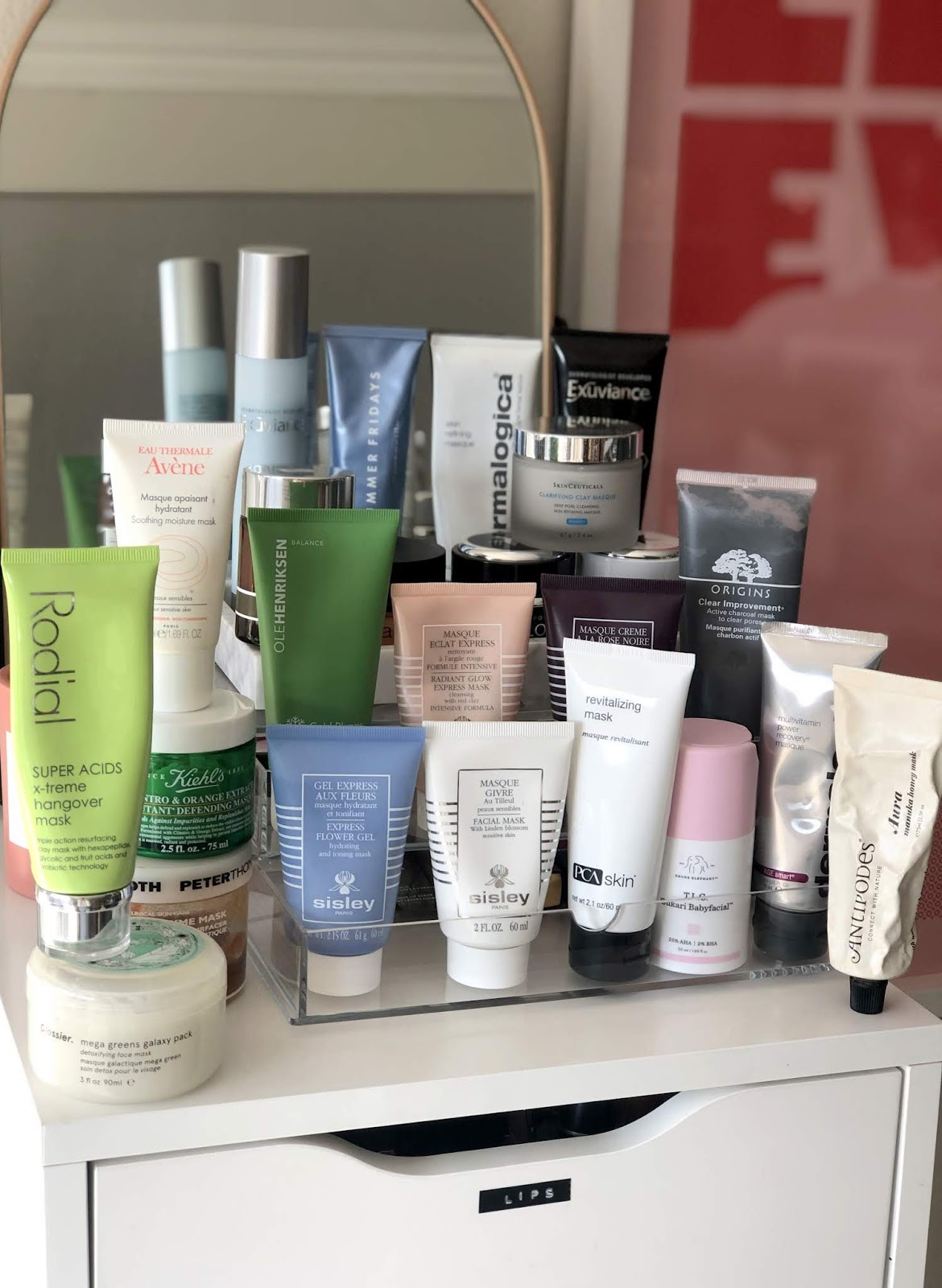 I have a thing for Face Masks, you may have noticed. I use them all the time and they are definitely one of my favourite skincare item to buy. Are face masks essential in every skincare routine? No, they aren't but they are a great add-on and can help take skin from zero to hero when you need a quick pick me up.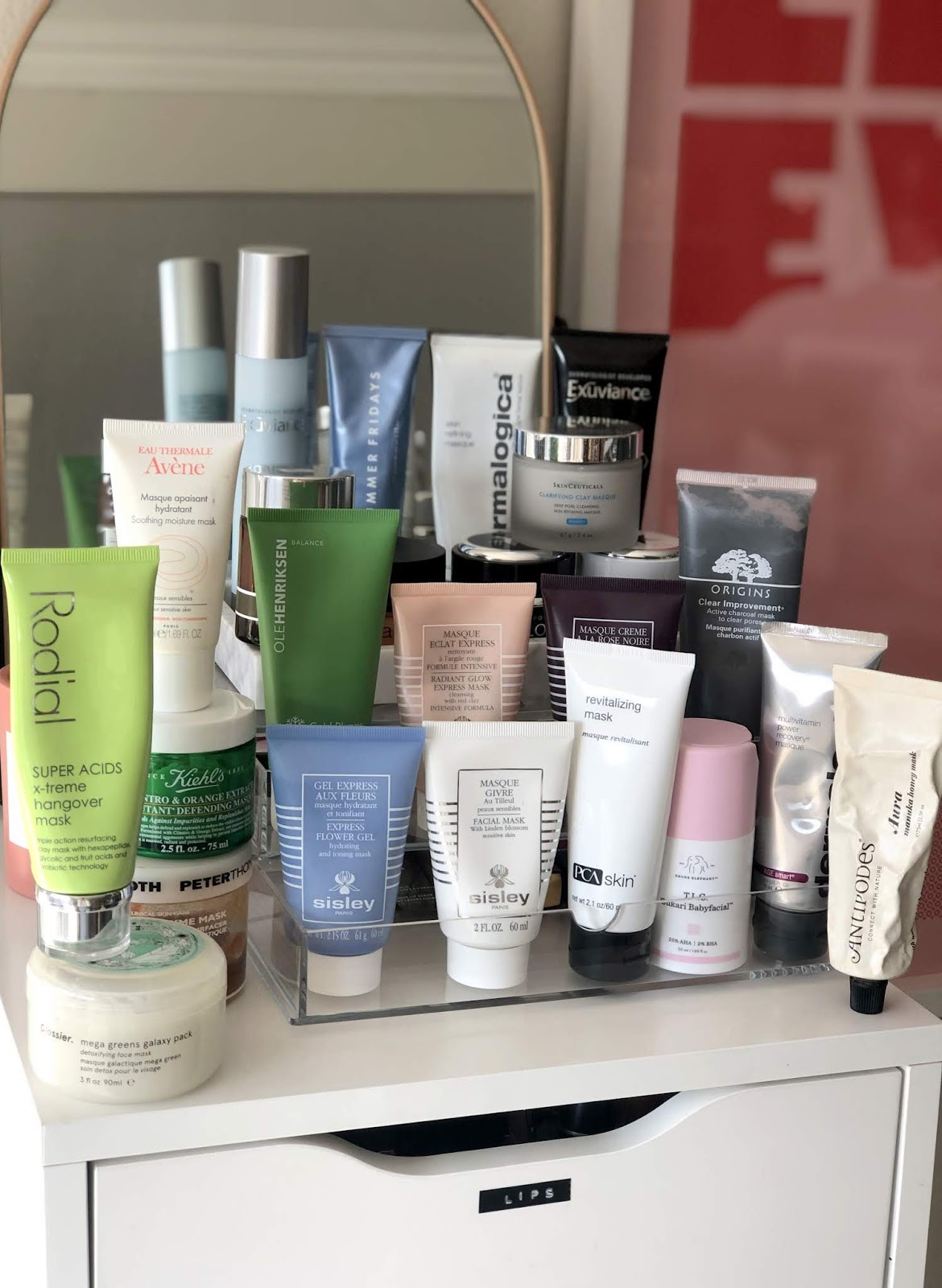 I tend to do a face mask daily. It is excessive and you absolutely don't need to do this. Twice a week is great. Th ideal is to have a variety of masks as the skin is ever-changing, so one day it may need a good hydrating mask, and another day it may need a proper deep cleansing detox mask. It's not the end of the world if you don't have one for every concern, but if you want to grow your stash, then keep this in mind. Side note: when it comes to hydrating masks, I never stick to the stipulated time on the tube and tend to leave these on for a good few hours (or as long as I can). 15 min is fine, but if you have longer to lounge around then there is no harm leaving it on for longer. For detox, exfoliating etc masks rather stick to the suggested time.
DRY SKIN THAT NEEDS SOME GLOW AND A PICK-ME-UP
When my skin is looking a tad bleh, I reach for an exfoliating product first (usually my Exuviance Triple Microdermabrasion) and then pop a hydrating mask on. This way my skin is better equipped to absorb more product and get soothed and hydrated after exfoliation. These are some of my favourites:
AVENE SOOTHING MASK
It's affordable, it's soothing and I have repurchased this mask time and time again. The Avene Soothing mask would be suited to all skin types and is a definite go to for so many of the avid KBT readers around here.
SUMMER FRIDAYS JET LAG MASK
This is a much-hyped product and I really enjoy it. Not sure I would rush out and buy it again, not because it's not good, but because there are so many similar one's out there. I do love it though and find it is great as a quick pick-me-up when the skin just feels tight and lack-lustre.
DERMALOGICA MULTI-VITAMIN POWER MASQUE
Again, another one that has been in my stash for ages. It has quite a strong scent to it – nothing fragranced, but thanks to the ingredients it is quite distinctive. My skin loves this mask and I reach for it so often. This must be my fourth tube!
SISLEY EXPRESS FLOWER GEL MASK
On the more pricey side, but I love Sisley for their masks!! This one is fab if you are in a rush. It's a light gel texture and beautiful for use in summer when you want something cooling and hydrating.
ESSE CREAM MASK
A great natural option, my skin drinks up this mask and it feels lovely when applied. It's a creamy texture and soaks into the skin, making it feel quenched and supple.
EXUVIANCE BIONIC OXYGEN MASK
This is one of those bubbly masks, so on application little bubbles form (which is the oxygenating part). It will leave your skin feeling so calm and happy. One of my faves…
ANTIPODES HONEY MANUKA MASK
You can't get this in SA, but if you are travelling you will be able to pick it up. Antipodes is an Australian natural skincare brand and this is their best-seller. I adore it and would def pick up another one when I am done with this tube. I don't either remember it being too pricey.
SISLEY RADIANT GLOW MASK
This does exactly as it states, makes for a beautiful glow on the skin. This mask is a clay-meets-cream based hydrating mask and a weird one, as it definitely feels slightly cleansing (very gentle) but it just softens the skin so beautifully too.
SISLEY BLACK ROSE MASK
The OG anti-ageing and hydrating mask. You don't really get much more luxurious than this. Read this post for my full reviews on all Sisley masks.
KIEHLS ULTRA FACIAL HYDRATING MASK
I could not for the life of me find my jar when I was taking this pic, but used another Kiehl's mask. The new launch, Ultra Facial, is such a fave and a real gem for all-over hydration. I do love all Kiehl's masks though and think they are a great brand to consider for this.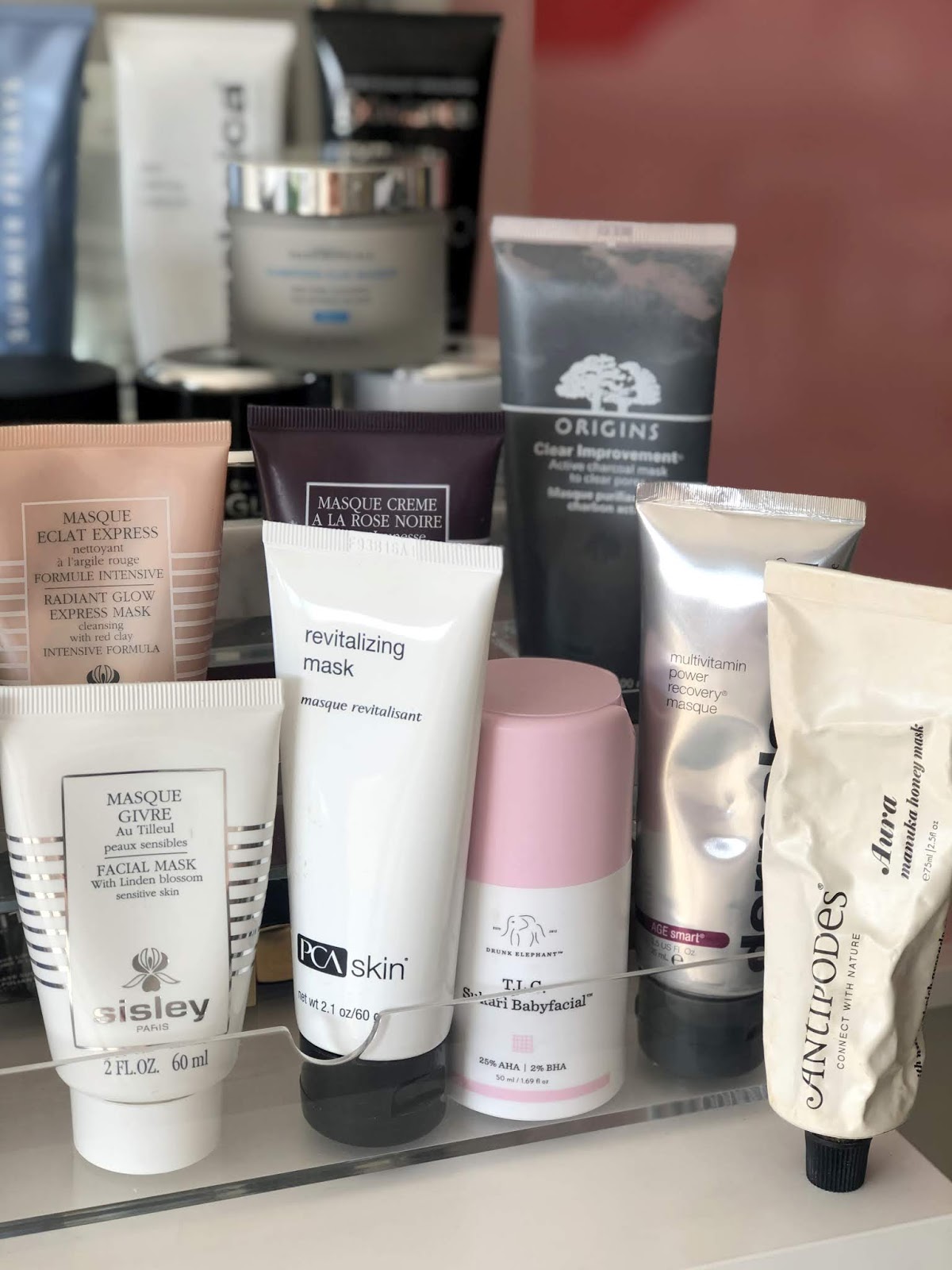 DULL SKIN THAT FEELS A TAD CONGESTED
The second mask I would advise adding to your stash would be a kaolin (clay) based mask. These focus on drawing out impurities and detoxifying the skin. We all need this from time to time and if you are wanting to get into double masking, then pick up one of these. Read this post to understand what double and triple masking is.
EXUVIANCE DETOX MUD TREATMENT
This mask is jet-black and works at drawing out the impurities in the skin. It's great for drying out spots and gentle exfoliating the skin. I have a full review on this mask and why I love it over here.
GLOSSIER MEGA GREENS GALAXY MASK
This mask is super gentle and I like it enough to use it, I don't swear by it though. I rather use it when my skin isn't in crisis mode but just needs some TLC on the deep-cleansing front.
ORIGINS CLEAR IMPROVEMENT MASK
I love the Origins masks and this is my fave detox mask from them. I do prefer the Exuviance one, but it is more pricey. The one thing I don't love about this is that it dries down to be super-tight on the face and can be a hack to remove. This results in pulling on the skin which I don't like, so just be careful when removing it. A hot shower would be best.
GLAMGLOW SUPERMUD
My fave GLAMGLOW mask by a long shot. This stuff is brilliant and working on those dreaded blackheads and cleaning out the pores. I have gone through many jar and would be a tad lost without it.
SKINCEUTICALS CLARIFYING MASK
Probably my favourite mask to use when I am breaking out. It's gentle and clarifies the skin beautifully. I got this after Lisa Eldridge raved about it. It is expensive though, which is the only down-side.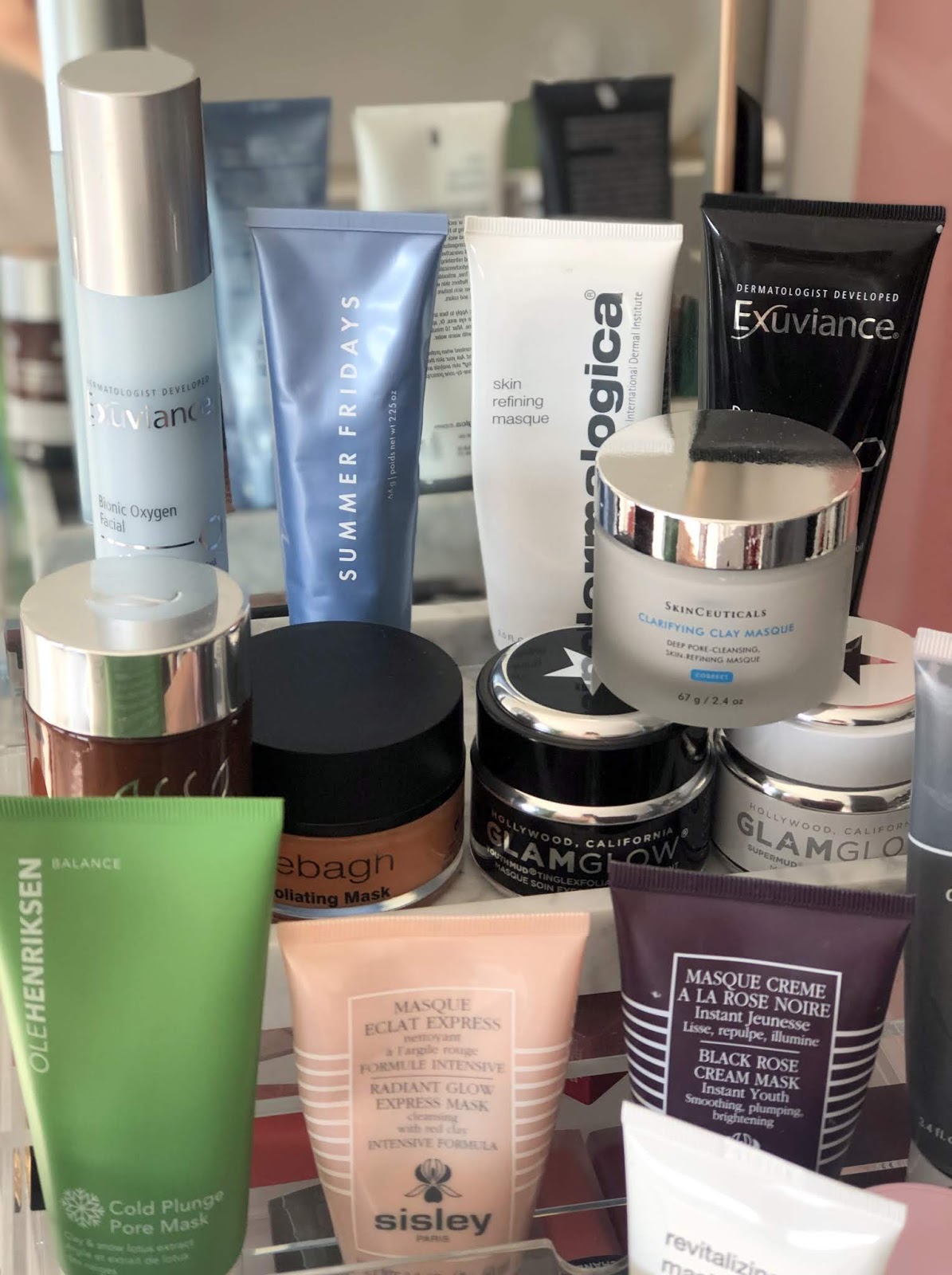 DRY AND FLAKEY AND NEEDS SOME GLOW
I love these sorts of masks and use them often! They all have exfoliating benefits, with all sorts of different consistencies. Be sure to follow the instructions on timing here and reap the rewards with fresh-looking, radiant skin afterwards!
REN GLYCOL LACTIC RADIANCE RENEWAL MASK
One of my absolute faves and one I have sworn by for an age. It is a gel-based mask that is packed with Glyolic acid, Papain and Lactic acid. This works magic and is potent! Everyone pretty much needs this in their lives.
DERMALOGICA SKIN REFINING MASK
This is a clay based mask and has skin-refining granules in it to buff away dead skin cells. I don't use this that often as it is quite intense, but I always love the results afterwards and it's definitely one I would always keep in my stash.
DR SEBAGH DEEP EXFOLIATING MASK
This is on the pricey side but just such a fave! It gets to work right away and leaves the skin feeling and looking like baby skin! I would be weary of this if you are super sensitive but, my word, I absolutely adore it.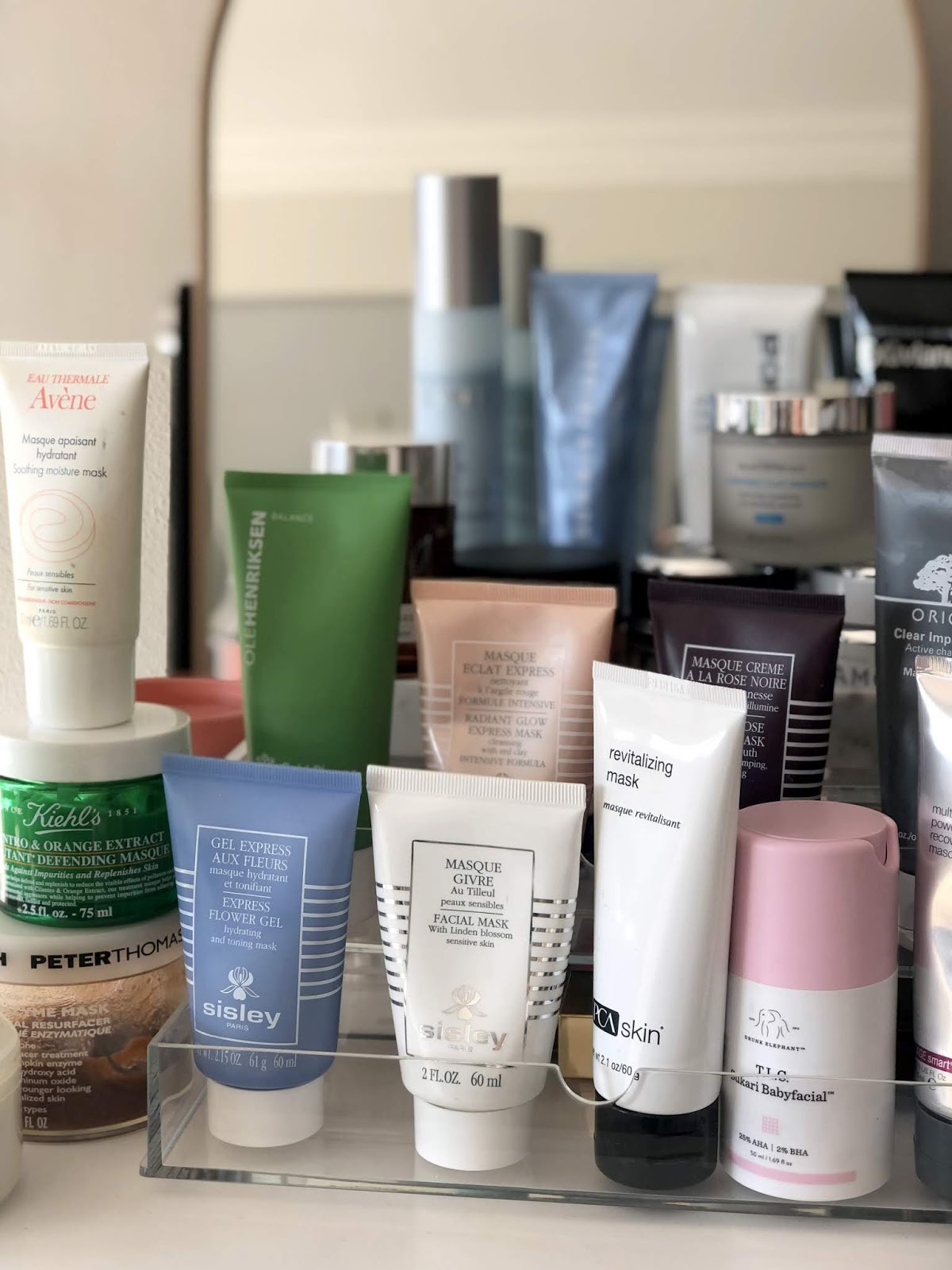 GLAMGLOW YOUTHMUD
I love this mask. It's similar to the aforementioned SUPERMUD but also has the exfoliating benefit. You certainly don't need both, so just depends what you are after.
PETER THOMAS ROTH PUMPKIN ENZYME MASK
Again, not for sensitive skins, but I LOVE this mask. You can't get it in South Africa but it's worth tracking down overseas if you can. This is strong and leaves the skin blitzed of every deal skin cell in sight. Use it carefully and don't overdo it. It also smells like Christmas, YUM!
RODIAL SUPER-ACIDS EXTREME HANGOVER MASK
Sadly, Rodial has left South Africa but, my goodness, I adore this mask. It smells delicious and is a gently exfoliating skin treat! It would be a great option for more sensitive skins and just seems to pack in all the goodness on skin that looks, well, hungover.
PCA SKIN REVITALIZING MASK
A gel based mask that is packed with your acids. I find this really gentle and it can be a tad runny consistency-wise, however, my skin just feels clean and softened after using this. It really is lovely.
DRUNK ELEPHANT TLC SUKARI BABY FACIAL
Another one that isn't available in SA, but has definitely gained cult-status. It's not cheap at all but is pretty potent. I feel this as soon as I pop it on the skin. I don't love the texture (a weird chalky-clay) but it does leave my skin looking good. Not sure I would repurchase this based on the price.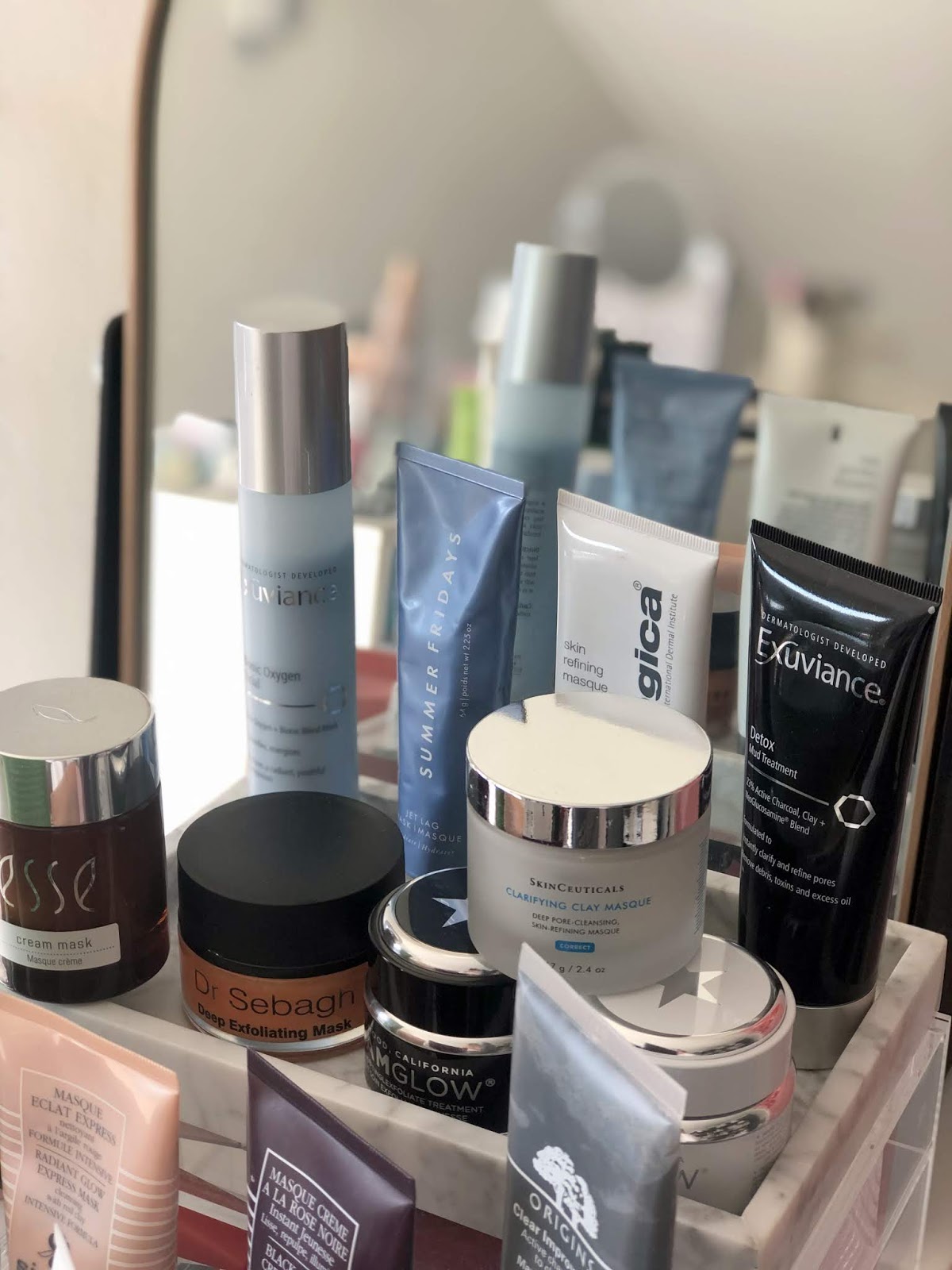 Happy masking!
https://kissblushandtell.co.za/wp-content/uploads/2019/08/IMG_1280.jpg
1600
1170
Victoria
/wp-content/uploads/2020/03/logo.png
Victoria
2019-08-01 07:55:00
2020-06-24 15:09:26
The face mask guide for every skin concern