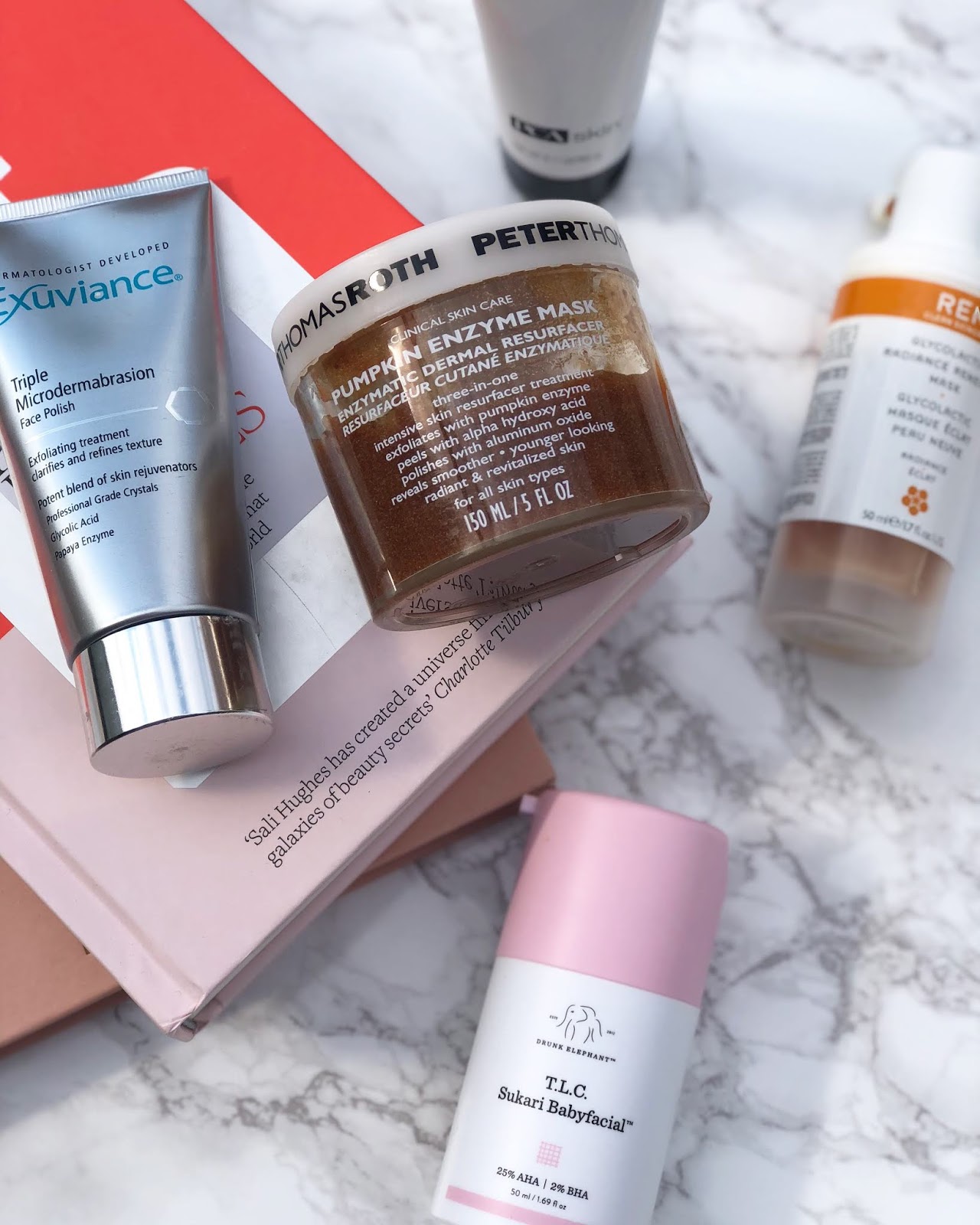 The most vital skincare step, in my opinion. I've always felt this way, this is not a new discovery. I actually had a good laugh the other day reading blog posts I wrote when I was a beauty therapist and living in London (back in 2009). No one read this blog, but I wrote down all my tips here. Good Lord, some of it is cringe. Anyhoo, I digress, my point is that I felt this way about exfoliation from day one. Let me tell you why.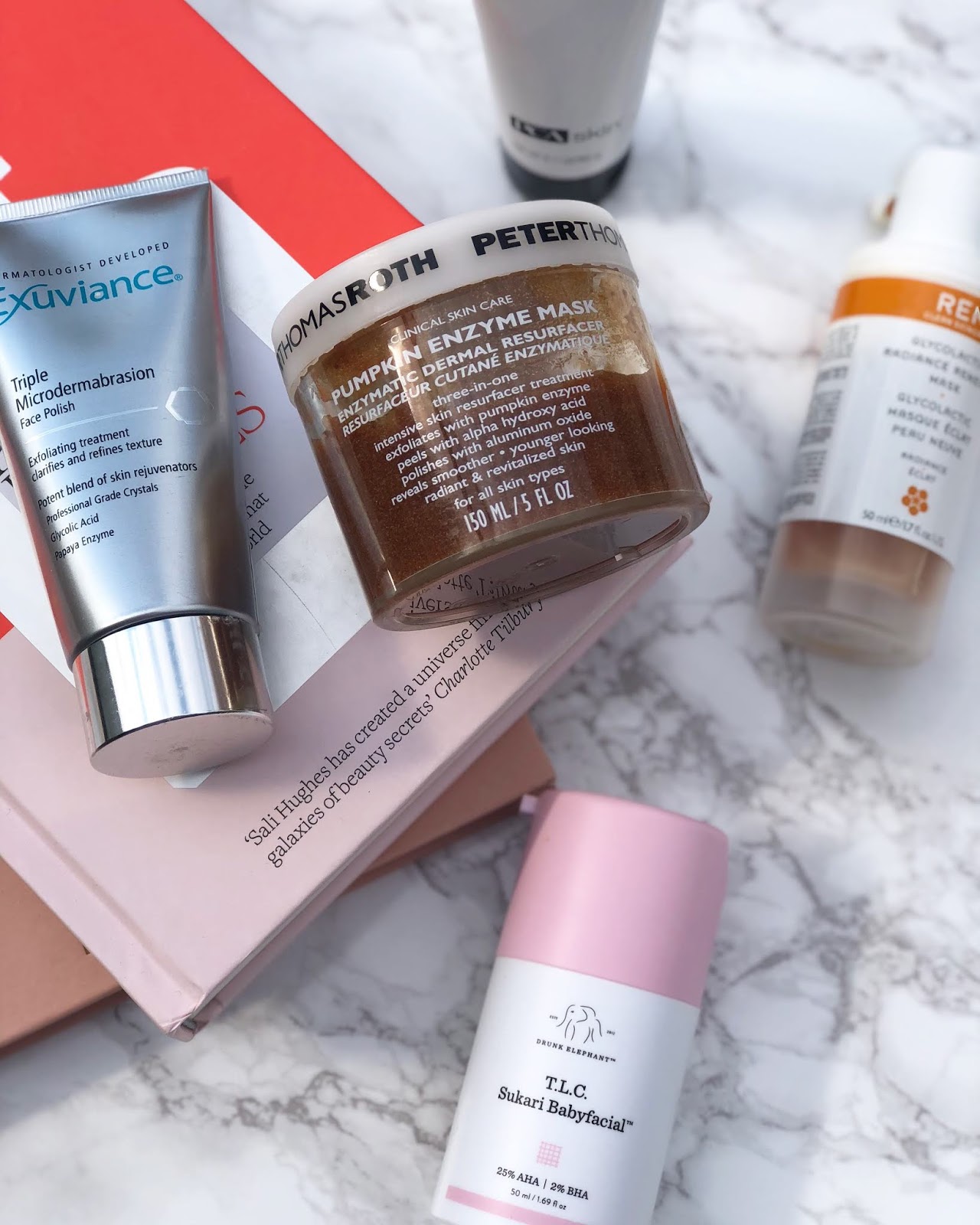 This is the one step that 1) most people ignore and 2) most people don't do properly. After the age of 23/25 our skin starts slowing down dramatically. This means that it battles to slough away those dead skin cells and needs all the help it can get from exfoliating. Without this step, those glowey, renewed cells are going to stay covered up and hidden, meaning a dull complexion, build-up and poor product penetration. What a waste!
Firstly…
There are two types of ways to exfoliate: Physical This is old-school exfoliating as you know it; those little granules you physically scrub onto your skin. Get it? Physically? Good. These aren't all-together bad, even though they have developed a bad reputation with all the cheaper one's on the market that make use of plastic granules that are scratchy and abrasive on the skin. Don't completely disregard them though, as the one's with the correct granules (no plastic please) and that are used with enough care (gently does it), get you good results. I still love using physical exfoliators around once a week. My skin always feels so polished afterwards. Chemical These are your acid-like products that are applied to the skin and through the chemicals (goodness, that word sounds terrifying. They not, don't worry) your dead skin cells are literally eaten away at (sounds even more terrifying – although, music to my ears). These chemical exfoliants don't have granules, and are simply applied, left to get to work, and rinsed off. Now you see why these are great, no irritation to the skin. Side note: you can get a combo of the two. For example, the Exuviance Triple Microdermabrasion is Physical and Chemical in one. I love it for this reason.
Benefits of exfoliating correctly:
Whew, a lot. To name a few… Improved skin texture Assists in healing scarring Assist with pigmentation Gives all the glow Helps your products penetrate into the skin better meaning more actives getting to work Anti-Aging (helps with fine lines and wrinkles) Helps with enlarged pores
How often should I do this?
This is dependant on the product and your skin. Some products would be 2 or 3 times a week, others are for daily use. A question you guys asked is if you can over-do exfoliating and how you would know if you had done this. The answer is yes, most definitely. You do not want to be doing this daily, your skin will be stripped and raw which, in turn, will effect your natural barrier. You will know if you have done this as your skin will be over-sensitive, feel a bit raw and could develop dry patches as a result.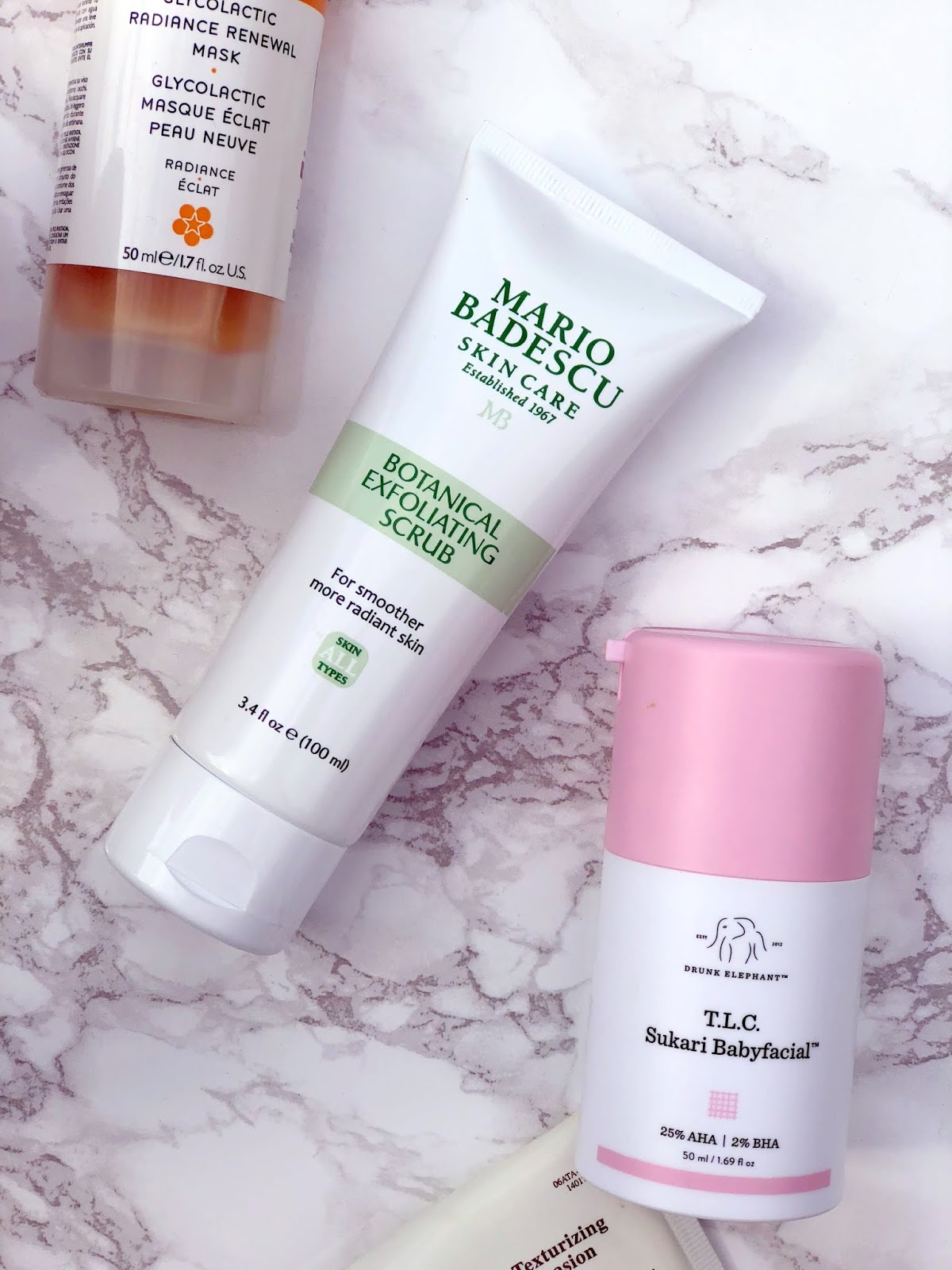 Let's talk about the chemical ones, your acids…
I wanted to expand on the Chemical side of exfoliating more in this post, as I speak to this a lot and it is pretty confusing for most people (even myself sometimes), so I wanted to unpack it a bit more. As you know, this is my preferred form of exfoliation for many reasons: it is better for sensitivity, it is safer (no sand-paper-like exfoliating that could cause damage) and it can be done more frequently. Keep in mind this is dependant of the strength of your Chemical exfoliant, so use with caution and seek professional advice before you go a bit wild here 🙂 So the word 'acid' does sound rather bizarre paired next to having beautiful smooth skin, but they are safe to use (in the right products and percentages). You would have heard me constantly go on about AHA's which stands for Alpha Hydroxy Acids. AHAs are derived from natural substances and are ideal for exfoliating dry skin – they loosen all those dead skin cells and lift them off the surface of your skin, revealing the newer, fresher skin. AHA's are water soluble acids so, even though they work brilliantly, they don't penetrate the skin as deeply as BHA's (beta hydroxy acids). So if you simply need your normal exfoliation then AHA's are totally fine, however, if acne or blackheads are an issue, BHA's will get you better results. BHAs also have anti-inflammatory and antibacterial properties—a more in-depth exfoliation in general. This type of chemical exfoliator is recommended for those with acne-prone, oily skin. You often get products which have a combo of the two (like the Drunk Elephant product I speak to below). Gycolic and lactic acid both fall into the AHA group, whereas Salycilic acid is a BHA (the only one, in fact). Your BHA, with working deeper into the pore and all, will help unclog and loosen the build up at a lower level. The AHA's will be resurfacing the epidermis of your skin – improving texture overall. Your other type of acids which you will frequently see are your natural fruit enzymes (papaya or pineapple). These are a great alternative if you want something more natural that will work well for sensitive skins.
Anything I should be cautious of?
As I say, if you stick to trusted brands, with well-researched products, I don't foresee there being any issues here. If you are hyper-sensitive then proceed with caution, but I have only experienced the most postive effect with including acids into my routine.
Naturally, with your healthier, newer skin being exposed, your main focus should be ensuring you always have your usual spf 50 on the skin. If you have sensitive or rosacea skin, then I would be cautious. Seek professional advice before you take the plunge, as some of these may cause further issues for you.
Some of my favourite products:
PHYSICAL EXFOLIANTS
La Mer – The Replenishing Oil Exfoliator This is a new launch from La Mer and it's just absolute luxury on the skin. The product is an oil/gel base with a fair amount of granules in it, resulting in a pretty thorough scrub. The actual granules are sugar and salt. It also contains La Mer's iconic Miracle Broth to replenish, soften and smooth. It smells lovely and is a joy to use. My preference is once a week. I feel it gives me that deep cleanse my skin enjoys. If you have redness or sensitivity, I would avoid this. Mario Badescu – Botanical Exfoliating Scrub This version is slightly more gentle than the aforementioned one with granules made up of ground up Ecuadorian Ivory Palm Seeds. The base is also a gel-like formula which I tend to use after a cleanse when my skin just needs that extra boost of radiance. I adore this for the winter months as it banishes any dullness, and instantly reveals brighter, younger looking skin. Kiehl's Microdermabrasion This is not, I repeat, NOT for sensitive skin as it is the most abrasive exfoliator I have ever used but I do still love it to use here and there. I only use it on areas that need that extra help, so my jawline and my nose area. I wanted to include it though, as some skin's would respond well to this. Avoid if you are red or have a fine texture.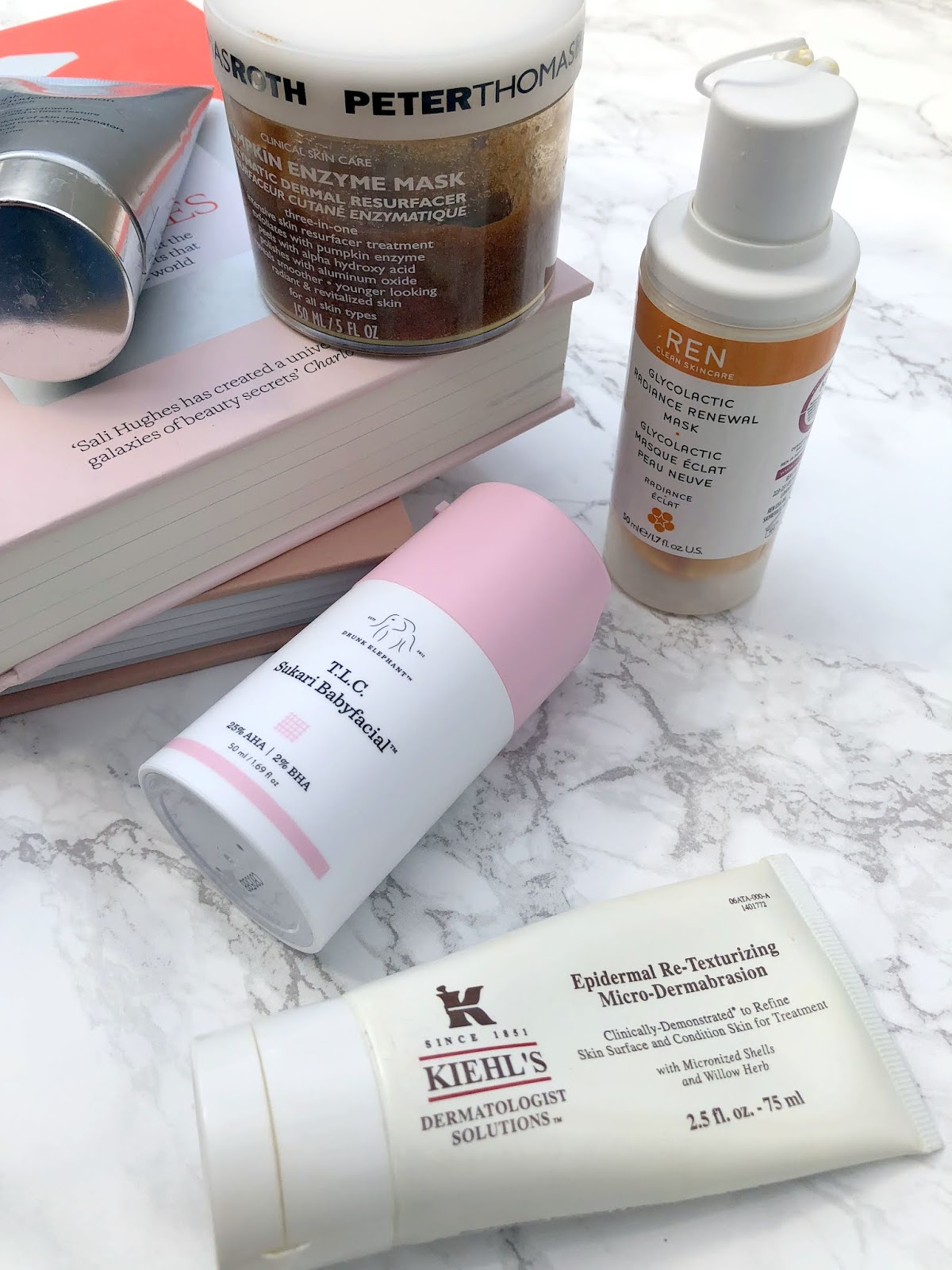 CHEMICAL EXFOLIANTS
Skinceuticals Glycolic 10 Renew Overnight Oh my goodness, I have been counting down the days for this product to launch in SA and it is finally here. It's a 10% Glycolic acid (as the name suggests) as well as a 2% Phytic Acid (dual exfoliation for brightness and clarity) and 1% soothing complex for your skin barrier and to avoid stripping. I love the fact that you can pop this on and leave it to work over-night. The results I have seen are incredible and well worth the splurge. I wake up to soft, super-fine skin that looks incredible once I cleanse it and pop on my trusty Skinceuticals Hydrating B5. Side note: I have been using Skinceuticals only on my skin for the past month and I am quite honestly blown away. I know they aren't cheap but, my word, the results are unreal. I basically want to be their brand ambassador, as I could harp on for days. More to come on that! Exuviance Triple Microdermabrasion Ah, an old favourite. I sing this products praises non stop and it's probably one of the top sold products through this blog of mine. You guys seem to love it as much as I do. This is your hybrid acid as well as scrub combo. It's incredible and works magic! I want a body version of this too. What a star performing product. Drunk Elephant TLC Sukari Baby Facial This is a new addition to my routine thyat I got in my recent order from Sephora US. This product has a lot of hype around it so, naturally, I had to get my hands on it. It's a AHA/BHA mask that works as a "facial" – so is applied and left for 20 minutes to get to work. It most certainly tingles on application, but after the first 15 seconds, it felt totally normal. It's pretty intense at 25% AHA and 2% BHA, but I love it. I have only been using it once a week, as advised, and have seen really visible results on my superficial redness from my recent break out. There's no doubt that this stuff works and I love the fact that it's a mask – I've generally been putting this on and following with a soothing and hydrating mask afterwards. It's beautiful and made me really keen to try more from this brand. ZO Skin Health TE Acne Pads These glycolic acid-soaked pads are just so darn easy to use. I adore them when my skin is being problematic, and they are also so easy for travel. I am more on the dry side, and I guess these would be incredible for an oilier skin, but they work brilliantly for me. I don't use them daily, as advised for some skins, but adore them when my skin needs a good deep cleanse. They also work a treat to rub over a break-out – seriously good and you all know how I feel about ZO products. REN Glycolactic Peel Mask This is an old one, but it's still really good and I wanted to mention it as I feel it would be a good option for more sensitive skins. I tend to prefer the more hardcore versions, but this is beautiful. I actually think I need to buy myself a new one, as this is a tad old now, so probably a little less effective. REN are also launching an acid-based toner soon (well it's launched, just not in SA). I am holding out for that as it is like your Pixi Glow and sounds phenomenal. I'll let you know if I see it on shelves soon.
Peter Thomas Roth Pumpkin Enzyme Mask You can't get this one here, but I love it so wanted to mention it. It's hardcore so not for sensitive skins and not one I use often, but I do love it for those days when nothing else is really giving my skin that super-boost it's looking for. I got mine from Sephora in the States.
PCA Skin Revitalizing Mask I reviewed this on my stories a few months ago but it's still a firm fave of mine. Again (as the name suggests), this is a mask so you can pop it on for 5-10 minutes. It gives the skin that great pick-me-up and is still pretty gentle, so leaves no redness or irritation, just a smooth, glowey complexion. This mask makes use of Papaya enzyme and is not recommended for those with sensitivity. I got mine on Dermastore.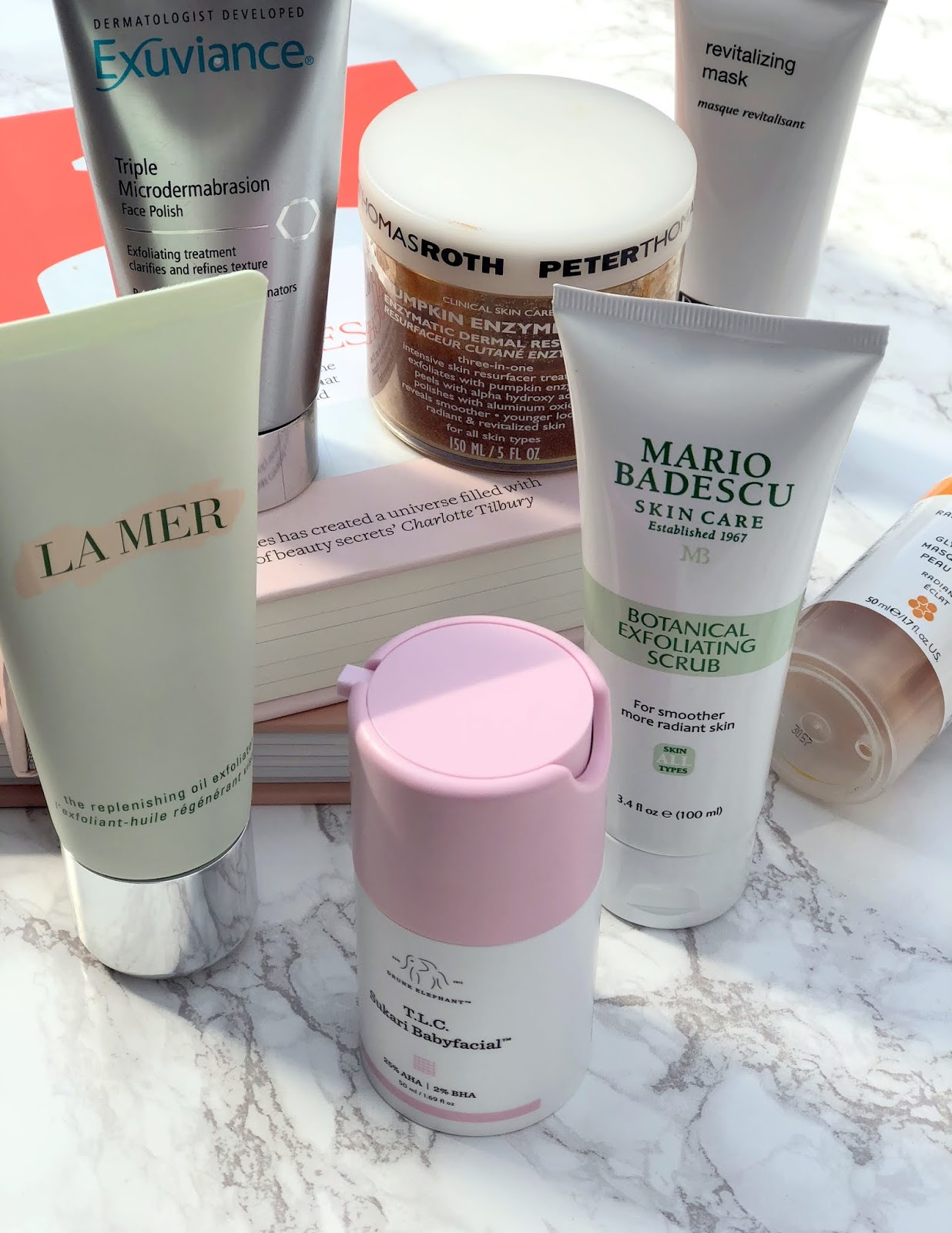 Then, like I did the Skincare Notes blog post, I thought I would answer some of your questions below (that aren't already answered above): Thoughts on the Pixi Glow Tonic or Clinique Clarifying Lotion for exfoliation: This is fine for daily use on a cotton pad (if you feel it works for your skin), but a proper exfoliation should still be done – perhaps not as frequently though. What are the affordable options? This is one thing I really battle with (and trust me, I have searched); I haven't really found an exfoliating product (chemical or physical) that is drug store. I personally think some of the aforementioned products are perfectly acceptable price wise (you are paying for advanced ingredients), but the brands I would trust on AHA's that are more affordable would be Lamelle (always), Optiphi and Environ. Thoughts on the Clarisonic? I think Clarisonic's are amazing to use as an addition to your cleansing routine, and they definitely ensure more of a deep cleanse (and in turn helps with exfoliation, for sure). But, I would still do my proper acids, but I am sure twice a week would be adequate (depending on your skin). Home exfoliation post a peel in-salon? I tend to leave my exfoliation completely until my skin has recovered. So I would say, give it a week of nothing but soothing and hydration before resuming your retinols or acids. Should you exfoliate when you in the middle of a break-out? No, I would leave this area. Most of your spot treatments (this is my fave) have your acids in there (namely Salicylic) to dry it out. So don't exfoliate this area further. I use a retinol, is this enough of an exfoliation? This is so dependent as depends how frequently you are using your retinol and what the strength is. My answer in short is yes, you should still exfoliate. Once or twice a week
If you have any product related questions or questions about exfoliating, just give me a shout!
https://kissblushandtell.co.za/wp-content/uploads/2018/05/IMG_4254.jpg
1600
1280
Victoria
/wp-content/uploads/2020/03/logo.png
Victoria
2018-05-21 09:40:00
2020-07-02 10:32:58
LET'S TALK ABOUT EXFOLIATION