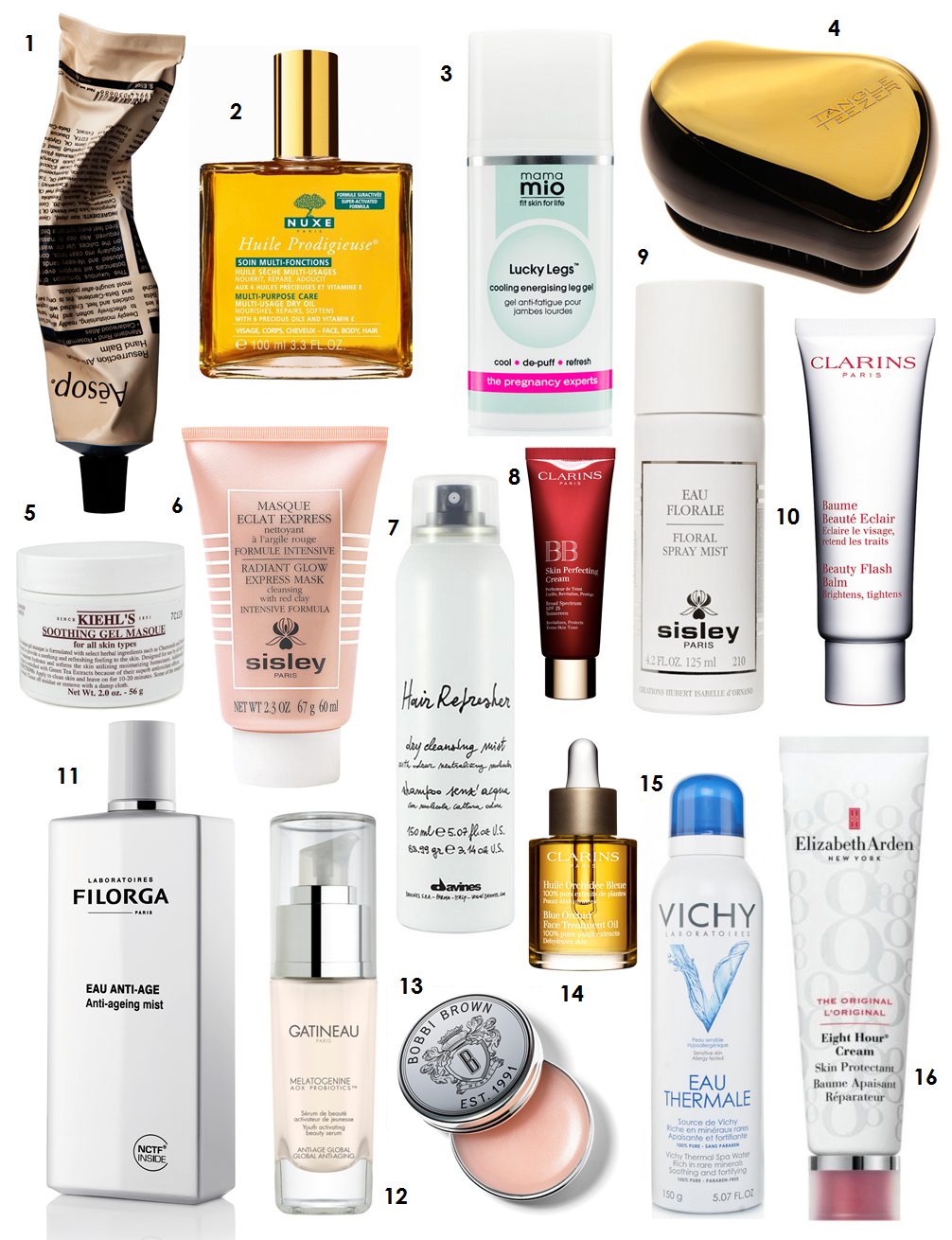 You would have seen my previous post on my favourite kits for travelling. These of course cover most of your bases, but, let's be realistic, you need the additional miracle-workers too and these need to be thought out as, before you know it, the weight can add up. These are a selection of some seriously life-changing beauty products that will make travelling so easy! You, of course, don't need them all as some of them do similar things but I have given a variety so you can find one that fits your needs and your budget. Remember to keep in mind the 100ml hand luggage rule for international travel. You don't want any products being confiscated!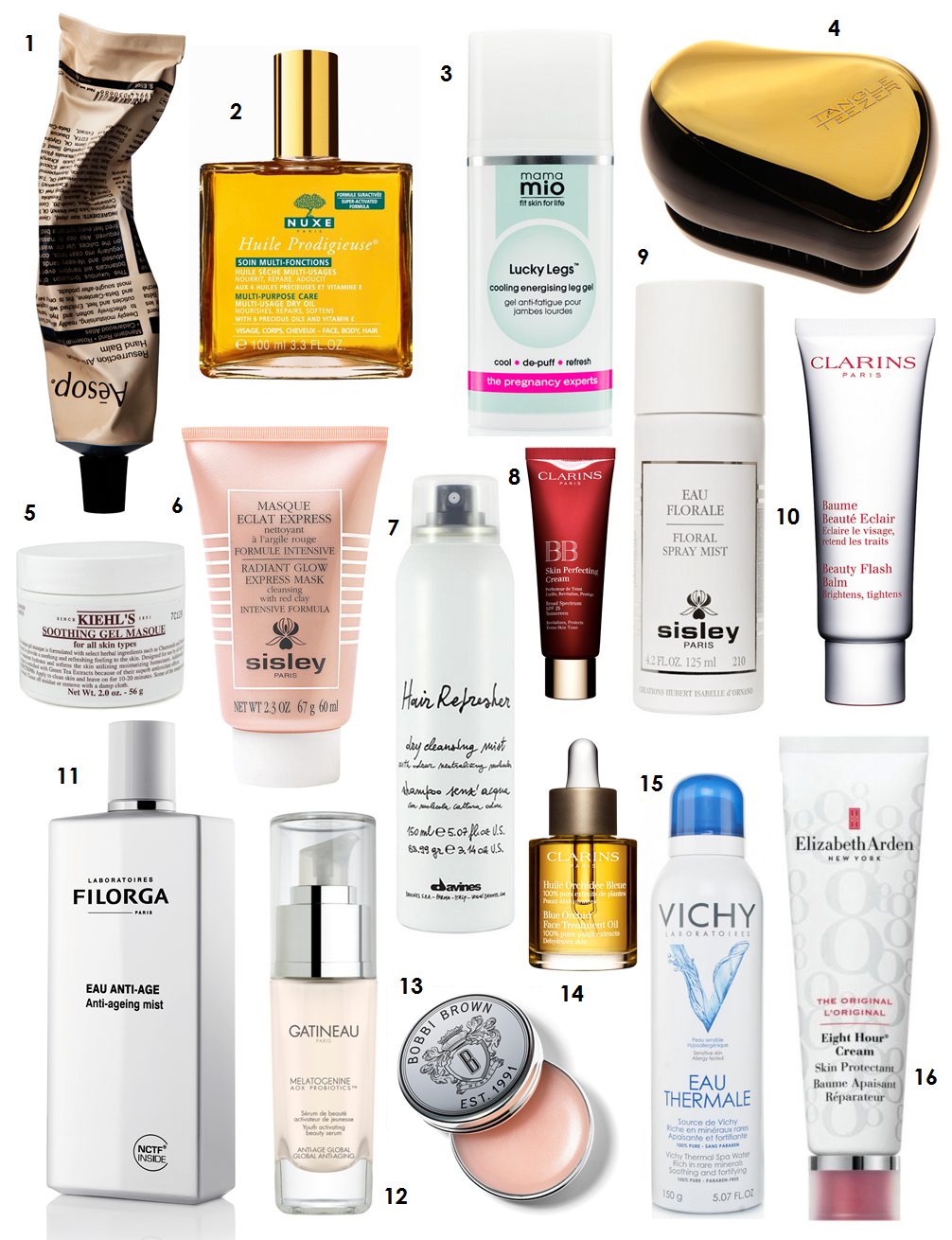 1) Aēsop Resurrection Hand Cream – R380
I bought myself this hand cream a few months ago and it seriously is just everything. It smells unreal (as all Aēsop products do) and does the job of hydrating hands perfectly. I honestly think dry hands is one of my worst feelings ever so always have to have a hand cream on hand (excuse the pun). This one is my star of the moment.
2) Nuxe Huile Prodigieuse – R225
This fancy French name basically means an all-purpose dry oil. This is a best seller for good reason. It can be used all over the body – including the face and your hair. It's the ultimate when it comes to dry oils and no words can truly describe this scent. Seen as I'm off to Paris, I shall be picking up more from this cult French beauty brand!
3) Mio Lucky Legs Energising Cooling Gel – R395
For anyone who battles water retention and puffiness on long-haul flights (most of us, I'm sure) then this is a miracle worker! I mostly love this for long days of walking (which is what happens on all holidays unless you are on the beach). It's great and basically feels like the equivalent of putting your feet up (with a massage and an ice bucket) for 30 minutes. It relieves all puffiness and tension.
4) Gold Compact Tangle Teezer – R250
I have used Tangle Teezers for years now and won't look anywhere else, they do the job perfectly and are great for long, knotty hair (which I have). This is their gold compact styler that I got for my trip – the compacts are smaller for travelling and have a cover to protect the bristles from getting damaged in your luggage. Also, can we have a moment for the glam-ness of this version?!
5) Kiehl's Soothing Gel Mask – R295
You know what I love so much about this product? It's the ultimate in-flight mask. It's see-through so can be popped on as your board and it sinks into the skin, whilst protecting it from all the awful elements that dehydrate the skin whilst travelling. This jar is also nice and light so perfect for your dose of hydration whenever needed (usually often when in holiday mode). The MRC would be a great product to pack if you want a serum too.
6) Sisley Radiant Glow Express Mask
I actually don't think any other brand will make my heart skip as many beats as Sisley products do. They are everything, and encompass true skincare luxury. This Radiant Express Mask is the ultimate quick fix mask for exhausted, tired skin. I mean, the name says it all. I am also such a fan of their Black Rose Mask which I've spoken about loads. They are both essentials in my travel bag and if you have the money to spend, you definitely won't regret this purchase!
7) Davines Hair Refresher – R295
I am on my third bottle of this. It is just what works best for my hair. This is a dry shampoo and obviously probably one of the single most essential holiday products, seriously. You will thank me once you have had one of these in your life. There are the cheaper option like Batiste (which is awesome), but this Davines version works well for me as it isn't white and powdery (so no dandruff-looking flakes) and it doesn't make hair feel gritty at all – I love the name 'Refresher' as that really is what it does, it makes hair look and feel clean, so great to spritz into dull, oily-ish hair to buy you an extra day before your hair wash. Essential for on the flight too.
8) Clarins BB Perfecting Cream – R415
A BB cream is simply the best product for a holiday (and every other day, really). This one from Clarins is my favourite as it provides great coverage and has the spf 25 so perfect for a summer holiday. I tend to use this and not even bother packing a foundation as I prefer to look au natural on holiday, never too made up. The only time I end up packing a foundation is to the same place that I would pack high heels (and this is seldom). This BB cream will have you covered for all your skin needs, and provides amazing radiance!
9) Sisley Floral Spray Mist
Mists are my number one when it comes to products. I am such a sucker for a good mist and have tried loads. They are the product I am drawn to in any beauty range and I may have just found my new fave. I think I love them so much because as someone with dry skin, a mist adds the perfect pick-me-up to my skin and keeps it looking glowey and radiant and (most importantly) feeling good. The ingredients in this spray from Sisley help soothe and hydrate the skin. They say it is the perfect 'beach essential' and can be used through-out the day to protect the skin and add moisture. This will not leave my side this holiday. Seriously. Oh, and every time you spritz this onto the skin just the scent makes you feel like a lady of leisure!
10) Clarins Beauty Flash Balm – R435
What's a beauty bag without Clarins Beauty Flash Balm? This cult beauty product is your answer to all your beauty qualms – a thin layer on the skin in the morning will make your make up last, make the skin glow like never before and brighten your complexion. It's one of those products that will have people complimenting your skin all day long. You can read about my love for this product here.
11) Filorga Anti-Aging Mist – R610
Again, another mist which I just adore. This spritz literally feels like you are spraying a lux fragrance onto your face – everything from the jam-packed active ingredients to the glass bottle scream quality. I have used this over make up for a few weeks already and adore the effect. The mist is probably the lightest spritz I have ever tried – it's just beautiful and great that it targets aging too
12) Gatineau Melatogenine AOX Probiotics Youth Activating Serum – R950
I absolutely adore this serum and think it's a good idea to pack at least one really active product for your trip. This way your skin will be at its best and not be left to battle dehydration and climate change on its own. I love this one from Gatineau and it's the one I chose to recommend as it would work wonders for such a wide array of skin types. It helps balance the skin out whilst really targeting aging concerns. The two active ingredients that will work the magic here are Aox Probiotics (combination of antioxidants and Probiotics to create a Tri-level defence system – much needed when travelling to protect the skin) and Melatogenine (a youth molecule that prolongs the cells youth leading to a lifting, smoothing and radiant effect. Yup, it justifies its price tag!
13) Bobbi Brown Lip Balm – R280
You can take any lip balm, just be sure to not miss out on this one as your lips will take a beating. I love this Bobbi one but can also recommend the Piz Buin Sun Lipstick (R40), The NUXE Reve de Miel (R120) and, of course, your Arden Eight our Cream can fix any lip problem (see number 16).
14) Clarins Blue Orchid Face Treatment Oil – R455
This is another option for your dry oil, but this one from Clarins is obviously for the face specifically and one of those products that you may become addicted to after day 1 of use. The scent of this oil is beautiful and spa-like. It leaves skin feeling plumped up and nourished on a whole new level. Again, another best-seller from Clarins (which says a lot, as their range is pretty darn amazing as you know).
The oil has extracts of Rosewood, Patchouli and Blue Orchid to tone, revitalize and restore radiance to moisture-depleted skin post a long flight. The Hazelnut Oil will help prevent moisture loss and the formation of fine lines. Everything you need in a bottle!
15) Vichy Thermal Spa Water – R169
Oh, yet another mist! This is purely a thermal spa water that contain 15 natural minerals. I love this for constant hydration and refreshing the skin. It does not contain active ingredients like the other two mists but that doesn't mean you won't see amazing results, this is such a popular product and the beauty lies in how simple it is. Also has an amazing deodorant-can-like spritzer. Just adore this (and much more affordable for someone with a lower budget).
16) Elizabeth Arden 8 Hour Cream – R210
You all know about this one, and if you don't then I am not sure where you have been hiding. Arden's Eight Hour Cream should be in every kind of handbag or travel bag as it truly is your multi-tasking miracle worker – it soothes and hydrates just about anything from chapped lips and burns to eczema and cracked heels. Basically if you have a problem, try Eight Hour first! I also adore their Eight Hour suncare range if you are going on a summer holiday like I am. Happy travels 🙂
https://kissblushandtell.co.za/wp-content/uploads/2015/09/travelessentials.png
1310
1006
Victoria
/wp-content/uploads/2020/03/logo.png
Victoria
2015-09-15 09:18:00
2020-06-27 19:43:50
My Picks: The Game-Changer Travel Products