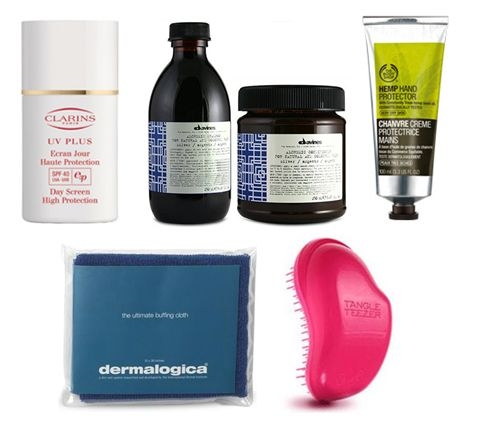 Today's Top 5 is from one of my lovely readers Jacci, who also has a blog (here) where she speaks of the adventures of a girl who has too much time on her hands – an easy, humorous read, I am a fan 🙂
This is Jacci's top 5 – the Tangle Teazer appear again – I have to get one of these!!!
Thanks Jacci 🙂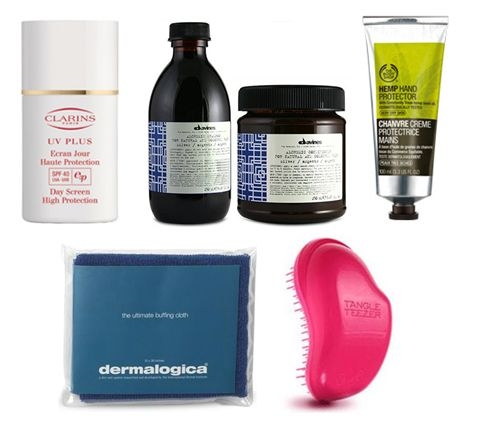 1.) Clarins UV Plus Protective Day Screen SPF40:
I use this Clarins sunscreen every single day, summer and winter. I have sensitive skin which burns easily, and since using this product I haven't had any further sun damage to my face. It feels light on the skin, doesn't leave you with a shiny face, doesn't clog your pores and is unscented. I apply it once a day, under my makeup and am good to go!
2.) Davines Alchemic Silver Shampoo and Conditioner:
Davines silver shampoo and conditioner works perfectly on my highlighted hair, keeping it looking like I've just stepped out of the salon. Sometimes my highlights tend to discolour and take on that brassy or even green undertone, but this shampoo eliminates that as well as leaving my hair super moisturised and manageable. (just don't be alarmed by the bright purple colour!)
3.) Hemp Hand Protector (Body Shop):
My hands come into contact with things like clay, cement, grout and dye on a regular basis, so I need a really good hand cream. Hemp cream is very moisturising – while still being non greasy, has a very subtle scent, and leaves my hands feeling well nourished. For an extra treat (at night), I sometimes apply the cream and then put cotton gloves over.
4.) Dermalogica, the Ultimate Buffing Cloth:
This buffing cloth is my body's best friend. I get to decide how much pressure to exert when I exfoliate different areas of my body – gentle on the décolletage, firmer on the thighs. I simply use it with shower gel (or soap), rinse it out and leave it to dry. It's a product you will have forever, I've had mine for 3 years +.
5.) Tangle Teezer:
The Tangle Teezer is a fabulous hairbrush that brushes out knots on both wet and dry hair, while still leaving most of your hair on your head! It seems to smooth my wayward hair, cutting down on blow drying and flat ironing time.
If you would like to send me your pick of your Top 5 – contact me here.
https://kissblushandtell.co.za/wp-content/uploads/2011/07/Jacci-Top-5.jpg
424
487
Victoria
/wp-content/uploads/2020/03/logo.png
Victoria
2011-07-19 10:33:00
2020-06-28 12:19:34
Top 5: from Jacci