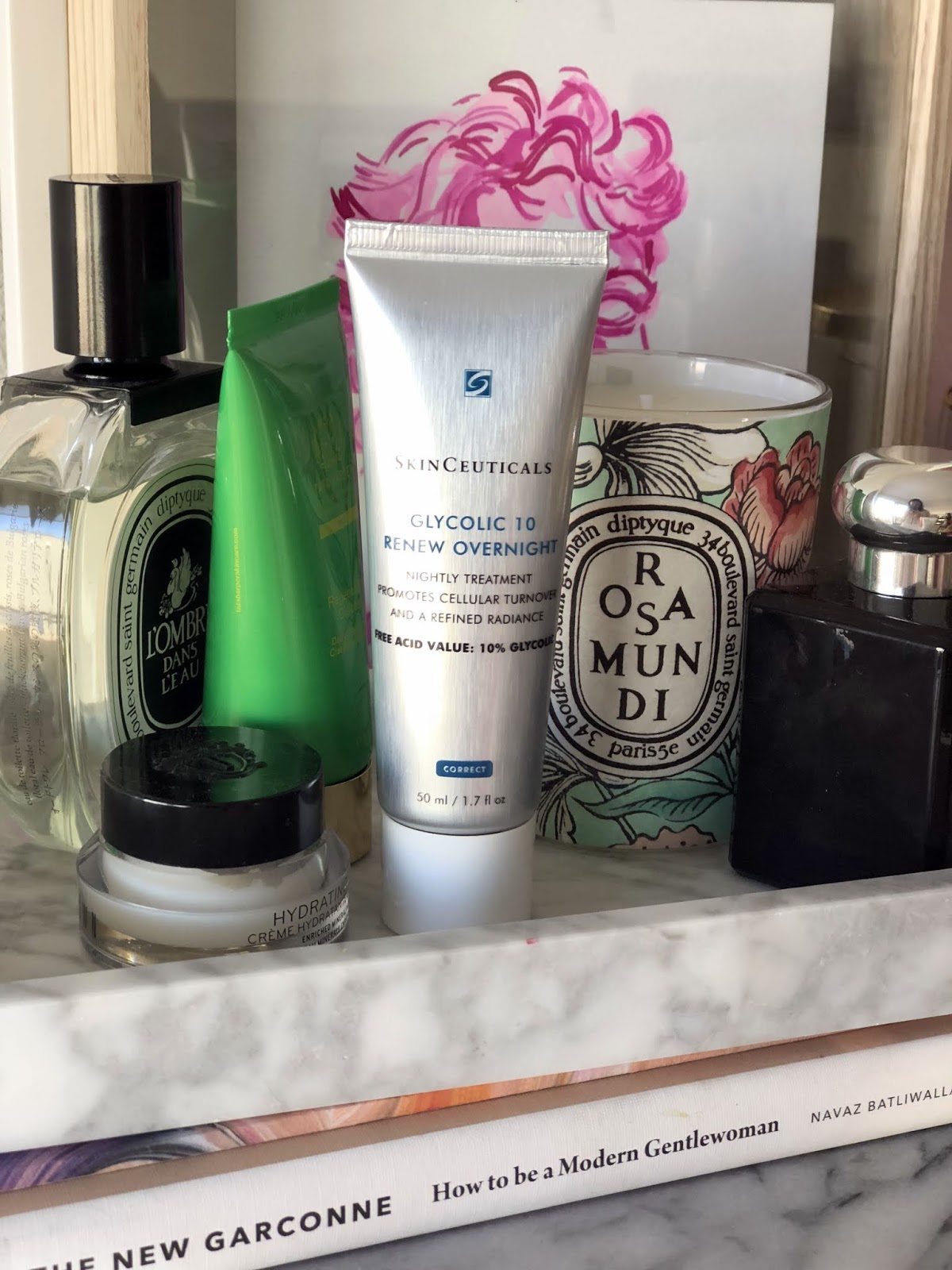 This is a new launch from Skinceuticals, and one that I had been eagerly awaiting the arrival of in SA. In fact, so much so, I jumped the gun and emailed the team asking where it was a month or two before it was due to arrive! Reason being that this is a pretty innovative idea; I've never come across a product quite like this and knew it was the kind of product that would find a good spot in my routine. Quick and easy to use, yet maximum results. Oh, and you all know how I feel about exfoliating – the single most important step in any skincare routine.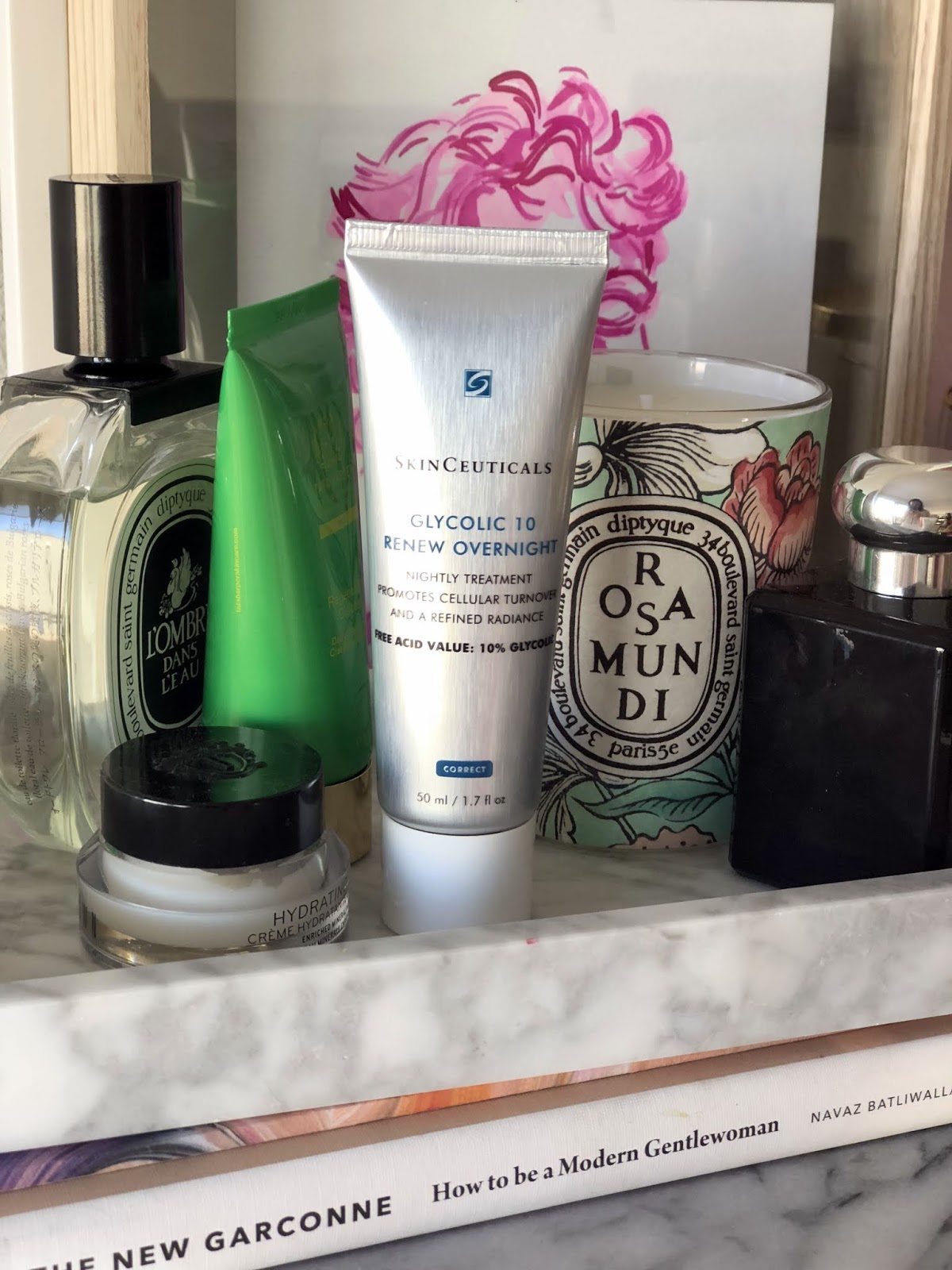 So, what is it?
Well, the products name is Glycolic 10 Renew Overnight and it's a cream-based nightly corrective serum that you can pop on every night. Initially I would advise building this up, so start with 3/4 times a week, and you can end up applying it every night if your skin is up to it. As the name suggests, this product is packed with Glycolic Acid (I spoke about Acids and explained all of the technical info in this post – see here) but, in short, your acids are vital in your routine to get rid of those unwanted dead skin cells. This has countless positive results for the skin; think better texture, improved hydration, amplified penetration (and performance) of your products, reduced fine lines and wrinkles, improved pigmentation, a clearer complexion and more glow (to name a few). In layman's terms, this would be your daily exfoliant that you would apply every evening and keep it on overnight where it will get to work. How convenient and easy is that!?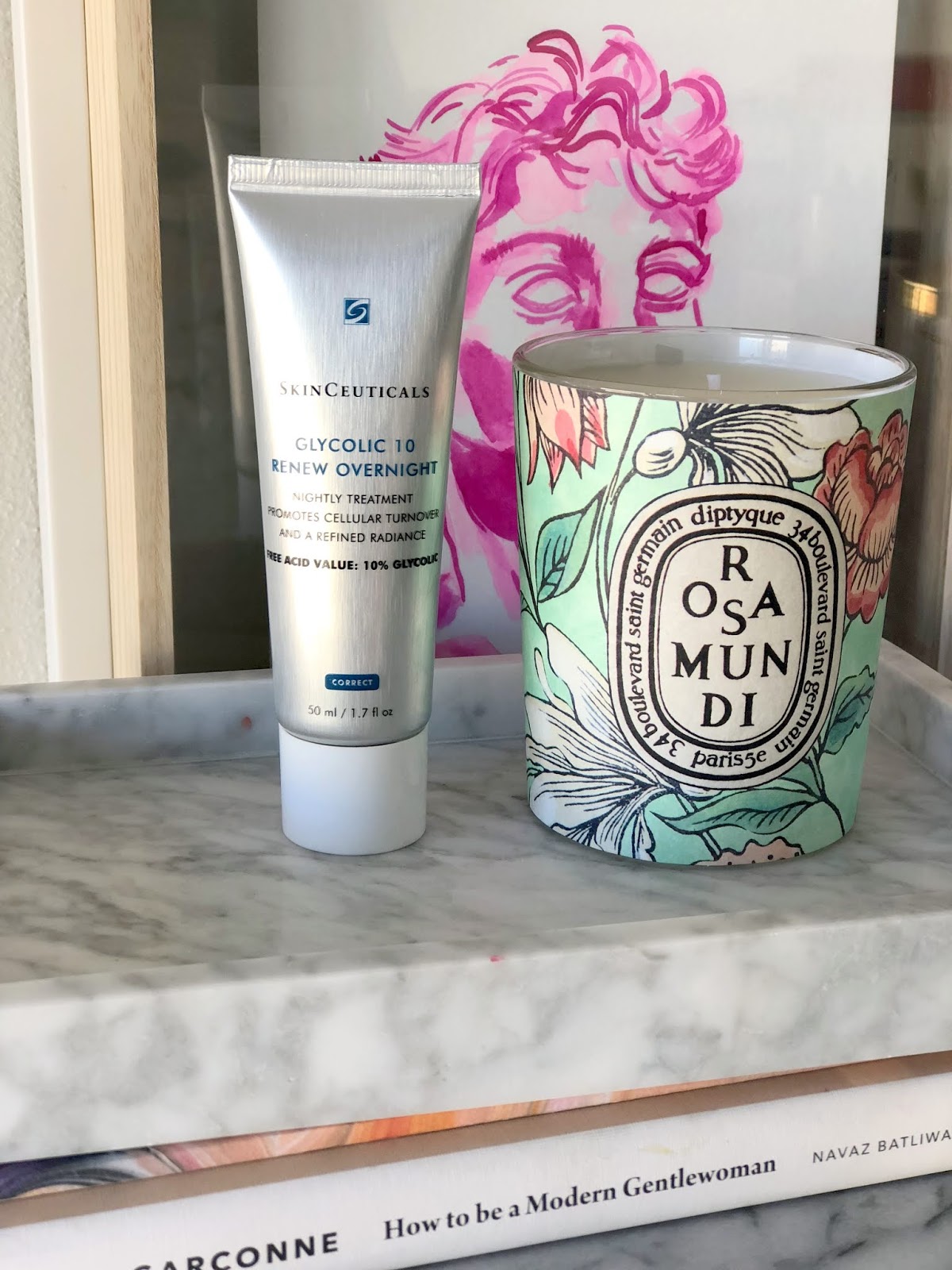 The texture is pretty amazing too – it's a light-weight gel-cream type texture that has a very pleasant but subtle scent, nothing overly fragranced. It sinks into the skin easily and dries down well – no tackiness. I have also used this on Marc's skin a few times, as when I got introduced to the product initially my first thought was how good a product like this would be in a guys routine as well as busy Mum's (or just those of you who find a laborious skincare routine too finicky). He loved it too as once you pop it on you can forget about it, no need to watch the clock for a removal time etc.
Let's unpack the ingredients
Without getting too technical on you guys, I do want to get into the ingredients and explain these to you as that's what sets this product apart. Skinceuticals is by no means an affordable skincare brand, but the science behind the ingredients is where these prices are justified (and, of course, the results that follow): Glycolic Acid (10%) Firstly, as I've mentioned, you have your Glycolic Acid which is the star of the show. The formula is at 14% with a pH of 3.5 to deliver a true 10% to the skin. Glycolic Acid, a fruit acid, works at breaking down those sticky bonds that prevent your skin naturally shedding those unwanted dead skin cells. In turn, your healthy cells are revealed resulting in a smoother texture, better skin tone and more glow (see above for more positive results this will have, it's pretty endless). The way you can feel this ingredient working is slight tingling initially – I love this sensation, but just a heads up. Don't panic. As I say, not a product for sensitive/rosacea skins, but for those without sensitivity, you will feel this sensation – it means it's working. Promise you will grow to love the feeling 🙂 Phytic Acid (2%) This is your other acid in the product, which assists in the skin's clarity – think a clearer complexion. Soothing Complex: I love this addition to an exfoliating product like this, as it ensures the skin is kept in tact, so it never feels parched or stripped post-use. In fact, on waking up after a night of using this product, my skin feels and looks calm and soothed thanks to this addition. The soothing complex is made up of natural oils and botanicals including Jojoba and Sunflower seed oil. These protect your skin barrier and keep hydration levels in tact.
My thoughts and the results you can expect:
I love recommending products like this to you guys as 1) you all know that exfoliation has and will always be my number one recommendation and 2) I know that you guys will see results, and that's all we really want with our skincare routine, isn't it!?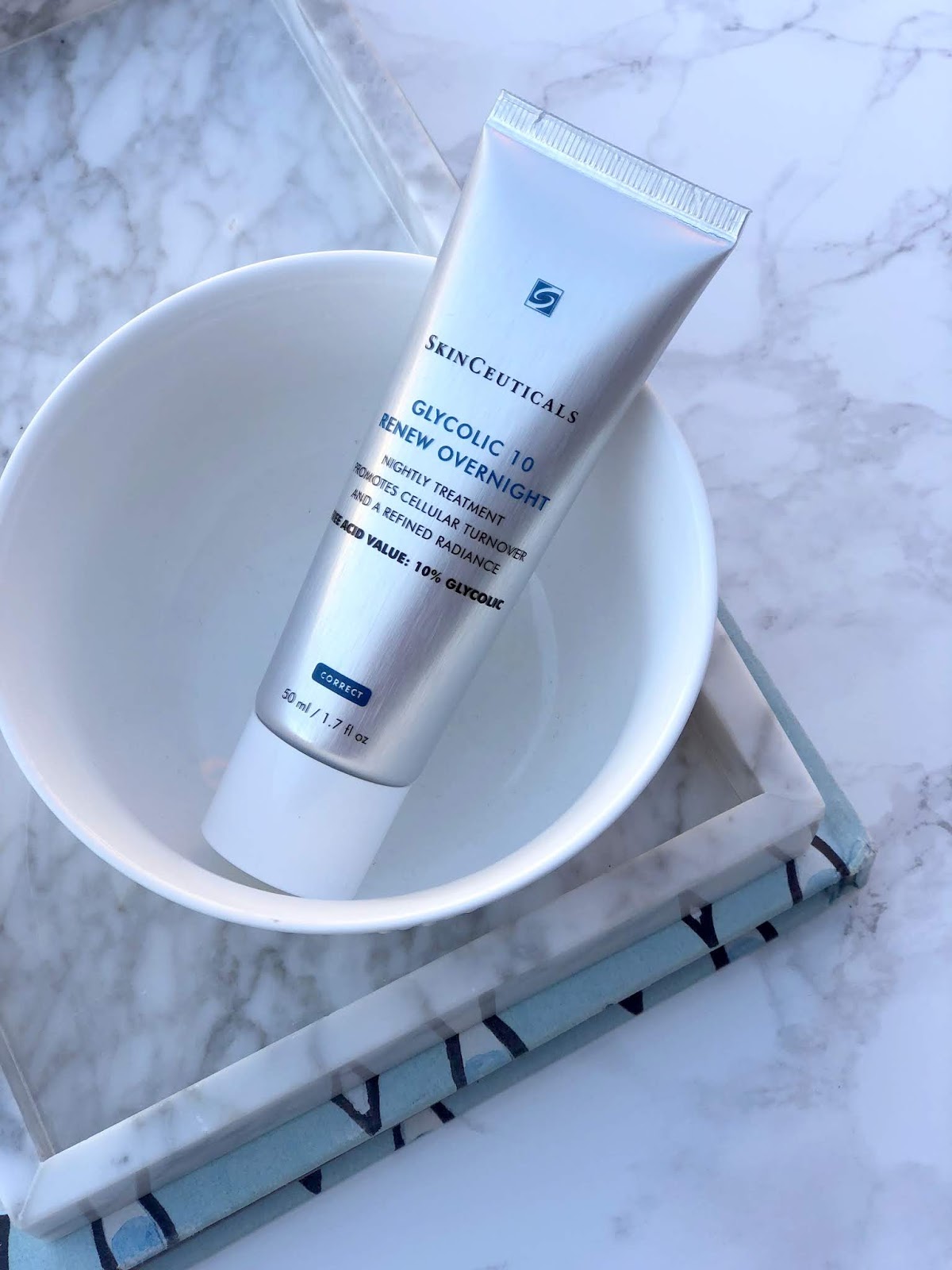 On introducing Glycolic 10 into your routine you will absolutely see a change in texture initially. I saw this change after a week of use. My pores looked more refined and everything just appeared smoother. 2 weeks in I started to really notice my glow and if you are someone who doesn't exfoliant with acids religiously, then you will see a notable change here. I am meticulous with my routine as it is, so my changes were definitely evident, but not as drastic as you would see if you don't have a product like this in your routine already.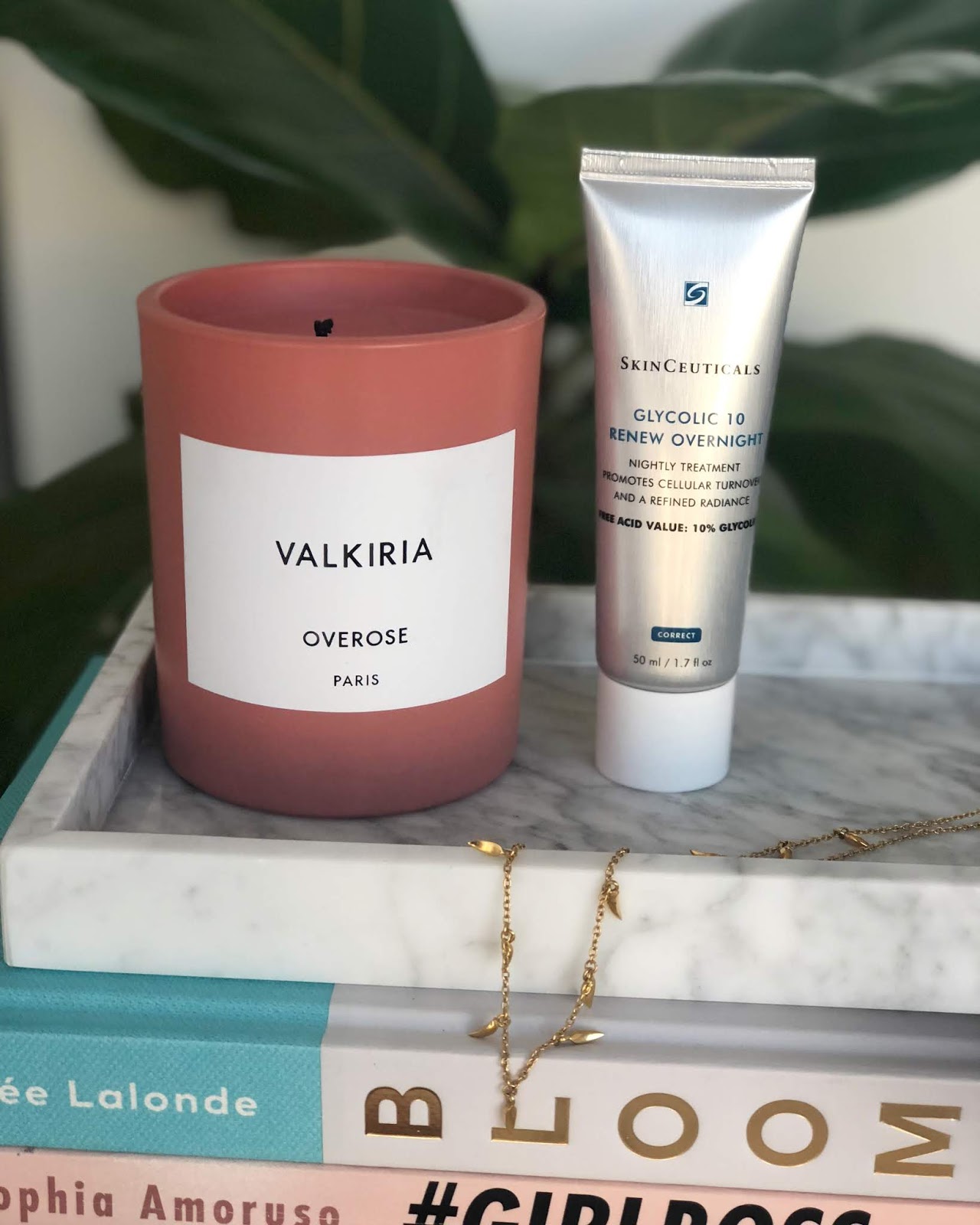 I will most definitely continue using this product. As I have mentioned, I have been using Skinceuticals only for the past month and a half, and truly haven't used a range that has balanced my skin out like this in ages. It just feels like I really am giving my skin what it needs – my hydration is exactly where it should be (and that's saying a lot given we are in the middle of JHB winter). I know I have chatted to loads of you via DM or email about Skinceuticals, and I have promised you all a post with exactly what I am using. I will get to it, as discussed in my Live on Sunday. Buy online herefor R1528 for 50ml. This post was done in collaboration with Skinceuticals.
https://kissblushandtell.co.za/wp-content/uploads/2018/06/IMG_5134.jpg
1600
1200
Victoria
/wp-content/uploads/2020/03/logo.png
Victoria
2018-06-06 08:17:00
2020-06-24 15:23:44
REVIEW: SKINCEUTICALS GLYCOLIC 10 RENEW OVERNIGHT