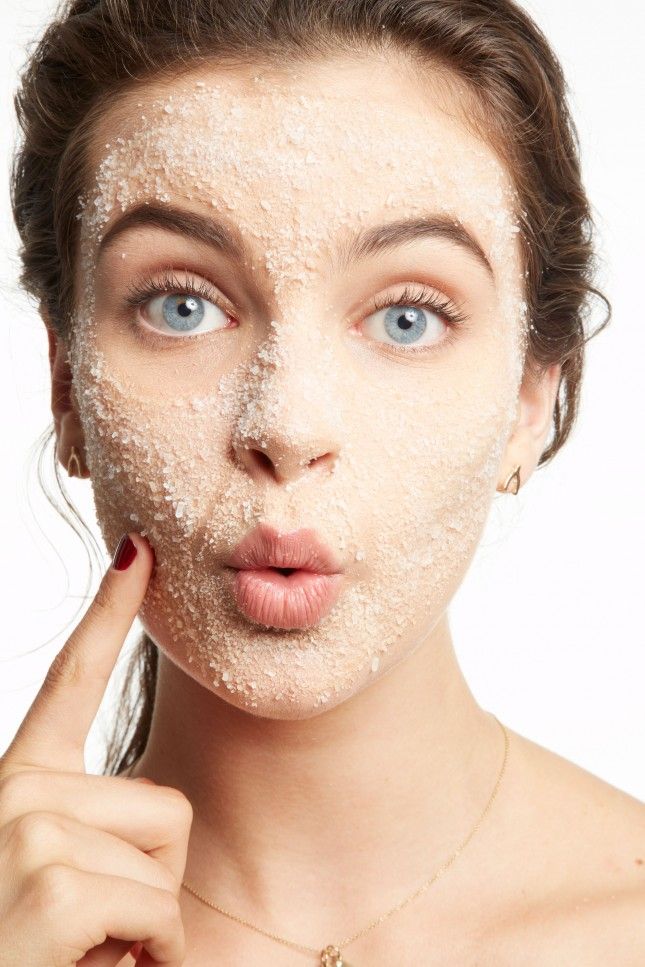 If there was one skincare product that is my absolute weakness, it would have to be a face mask. When I am wanting to spoil myself, this is generally the product I end up purchasing. I think I love them so much as it's such an easy way to indulge yourself at home as it takes a sec to apply and then you can pretty much keep it on until you need to leave the house again (!!!). Not in all cases, but I do love to sleep with my hydrating masks on to make sure my skin gets as much pampering as possible.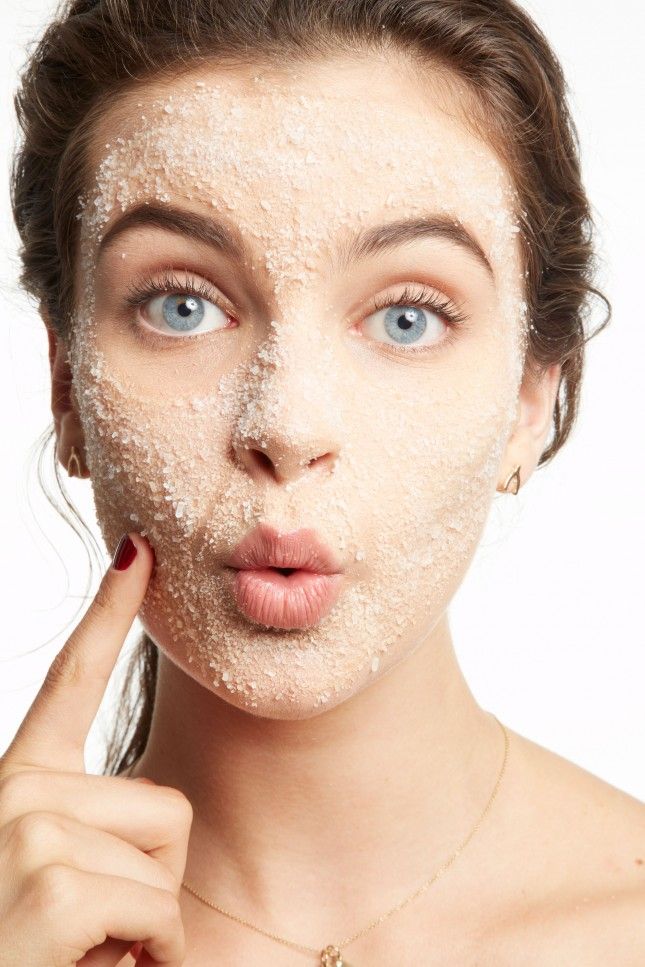 This is the low down on the different types of masks you can get and what they are good for. I have then also included a bunch of my favourites from across the board just to encourage you to treat yourself. I end up doing a mask about 3 times a week, and really do get amazing results from them!
Clay Masks
These generally have an ingredient called kaolin clay in them, which makes them clay-like in formula. These masks are used for detoxifying the skin, removing impurities, helping with blackheads and breakouts and balancing the skin by removing excess oils.
Sheet Masks
Sheet masks are a once off application which you dispose of afterwards. They are those masks that are placed on the face with cut outs for the mouth and eye area. These masks are soaked in different types of serums or active ingredients and generally are soothing, hydrating and cooling (depending on the masks description, obviously).
Gel Masks
Gel masks are generally used for hydrating the skin. They are a gel formula, so great for keeping on over-night. They too have hydrating, soothing and calming properties and are great to use after a deep exfoliation.
Cream Masks
These are very similar to the above, but more of a thick, creamy texture. Again, often anti-ageing, moisturising and soothing. Sleep with one of these on as it will generally soak into the skin beautifully.
Eye Masks
These are (as the name would suggest) focused on the eye area. They come in either cream or gel formulas, as well as sheet-like applications (which I like best). I tend to use my usual cream or gel masks around the eye area, however, if there were specific problems you wanted to target, then an eye mask may work best. They are generally de-puffing, cooling and hydrating.
Exfoliating Masks
One of my favourite types. Exfoliating masks are the only ones where I advise that you follow the 'leave on time' strictly as these are often packed with AHA's to help eat away at those dead skin cells. These masks should be kept far away from the eye area for that exact reason. Your skin will look renewed and radiant after using one of these. My favourite is to double-mask – meaning using one mask after another. I love starting with one of these exfoliating masks and following with a gel or cream mask – that way your skin is ready to absorb loads of goodness!
My Recommendations
Below are some of my best with a brief description. Sadly, some are not available in South Africa, however, there are plenty of online stores that deliver here. Links provided where applicable.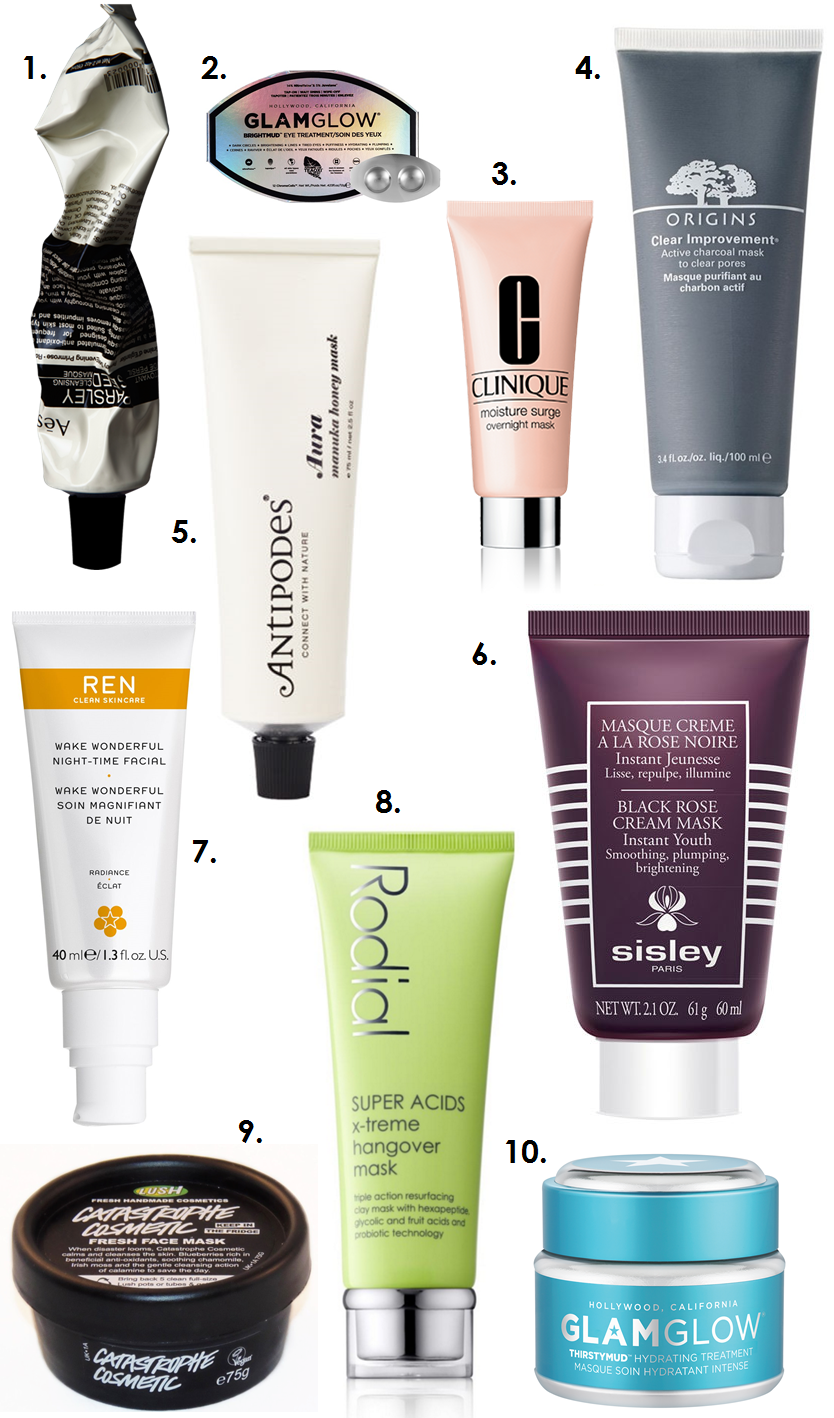 1. Aesop Parseley Seed Mask – R495 (buy here)
A clay based mask that works wonders for removing impurities, clearing up black heads and decongesting the skin. I love letting this dry and then rubbing it off gently to give added exfoliation.
2. GLAMGLOW Bright Mud Eye Treatment Mask – R850 (buy here)
It's very pricey but, honestly, the only one I actually saw results with. Every other eye mask I have tried has been rather disappointing so if you are going to go this route, then consider this option. Alternatively, as mentioned, just use your usual hydrating/gel mask.
3. Clinique Moisture Surge Overnight Mask – R460 (buy here)
A creamy mask that can be left on for the night, you will wake up with hydrated, smooth skin. I love the moisture surge range, and there's no excuse for 'lack of time' with a mask like this. Slap it on like you would your usual night cream!
4. Origins Clear Improvement Active Charcoal Mask – R488 (buy here)
Such a great clay/charcoal mask (also adore the Drink It Up Intense Hydration Mask). I leave mine on for a good 45 minutes and let it get to work. It's clears pores and helps with break outs like no other!
5. Antipodes Aura Manuka Honey Mask – R488 (buy here)
I ordered mine online from Feel Unique and it arrives pretty quickly with no customs. This is a light creamy mask that I've slept with on plenty of times. It smells lovely and absorbs so well into the skin. It does have a bit of a tacky feeling but you get over this once you see the results!
6. Sisley Black Rose Cream Mask – R1355 (buy at Edgars/Stuttafords)
This is a seriously indulgent cream mask that is the only one I will pack with me on long haul flights. It;s indulgent in every way and packs the skin with moisture. The matching facial oil is an old favourite too.
7. REN Wake Wonderful Night Time Facial Mask – R620 (buy here)
This is a newbie from REN and a great exfoliating mask – it delivers a 3 phase treatment to the skin and is sure to leave you looking more glowey than ever before! Phase 1: The exfoliating and brightening effect of the acid/enzyme complex is delivered to the skin on application Phase 2: Next, Glycogen and Magnesium take over to revitalize and boost skin cell vitality Phase 3: Finally, Sodium Lactate kicks in to gradually raise skin PH, leaving the skin rejuvenated and infused with plumping moisture
8. Rodial Super Acids XTreme Hangover Mask – R1200 (buy here)
Oh em gee this is a goodie, It smells like sherbet and, as it suggests, would be the ultimate post-heavy-night-of-drinking mask. It delivers loads of great ingredients to the skin whilst assisting with dead skin cell build up too. Even though this is a clay mask, it also delivers great hydrating properties too – triple action, like it promises!
9. Lush Catastrophe Cosmetic Mask – R160 (buy here)
Packed with blueberries to deliver all those antioxidants and to save breakout prone skin. The ingredient that stands out for me in this mask and what made me fall in love with it was the Calamine – so extremely calming for any redness or break out swelling.
10. GLAMGLOW Thirsty Mud R960 (can't buy online, but if you have a mule, then go for it!)
I included this because, as someone with dehydrated skin, this mask is literally my life saver. It smells of coconuts too, I mean!!! It is pricey, but it really does do the job. If you looking to spoil yourself try one of these cult masks!
Image source
https://kissblushandtell.co.za/wp-content/uploads/2015/11/1e014bc2d3bc5af87c9f0991952c5bbf.jpg
967
645
Victoria
/wp-content/uploads/2020/03/logo.png
Victoria
2015-11-02 08:05:00
2020-06-27 19:41:03
My Face Mask 101