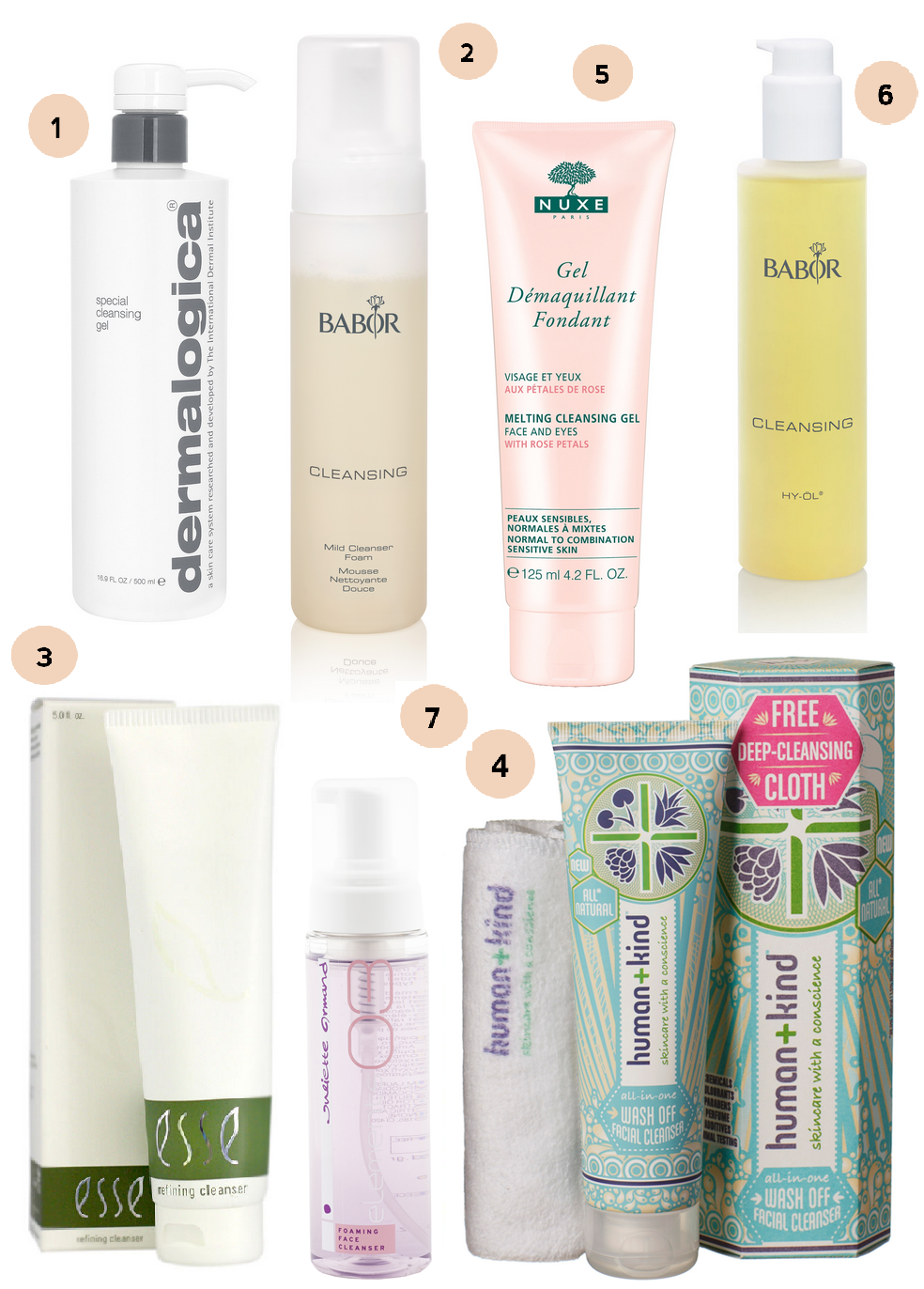 One of the single most important steps in any skincare routine is good cleansing – making sure your face is clean, rid of dead skin-calls and ready to absorb whatever products you apply in your routine is incredible important. So many people skimp on this step which results in congestion and dull-looking skin. I am by no means saying that your cleanser has to set you back an arm and a leg, but it is vital that you find one that works for your skin type and removes the days dirt sufficiently! Below is a round-up of my favourite cleansers – for all sorts of different skin types and concerns (and budgets):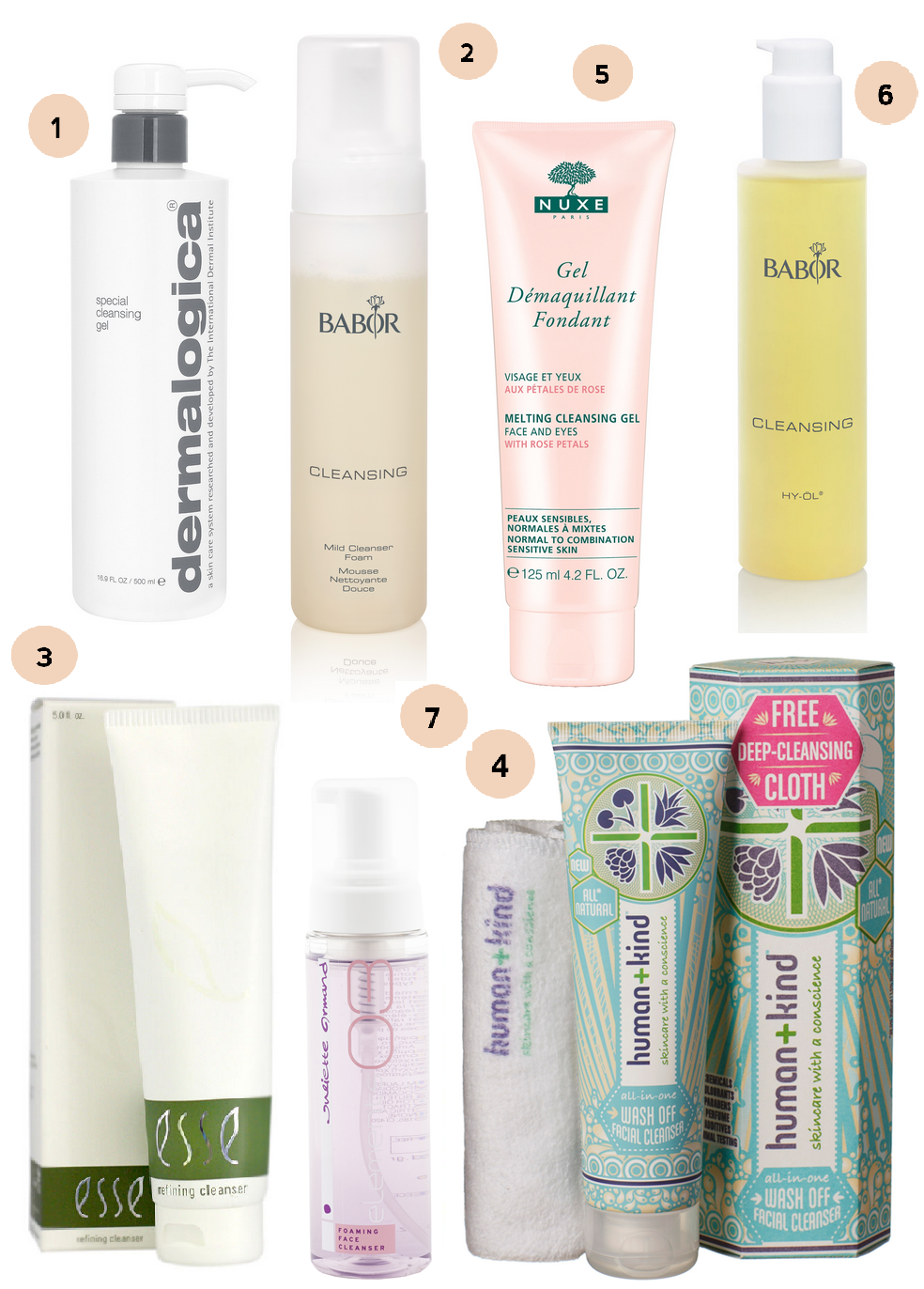 1 – Dermalogica Special Cleansing Gel (R480 – R700) Skin Type – All
This is an old favourite and it works for so many different skin types. It's particularly great if you don't have a problematic skin and are simply looking for a good all-rounder! It's a foaming cleanser and a little goes a long way. I love how gentle it is on the skin and how clean the skin feels afterwards. I am a big fan of their extra large pump bottles – they literally last a life-time so, even though they are pricey initially, you really do get your moneys worth! Details here.
2 – Babor Mild Cleanser Foam (R497) Skin Type – All
This one is for everyone and my-oh-my it is a treat to use. One pump cleans every sitch of make up and dirt off the face. I love the feeling of this – it feels like a foamy silk on the skin and for thos eof you who like that 'squeaky clean' feeling, then this one if for you. I've been using it for 2 months and already dreading the day that it ends! Details here.
3 – ESSE Refining Cleanser (R190) Skin Type – Congested/Oily
Even though I don't have a congested or oily skin, I love this. This is my second tube and it's my go-to cleanser for a deep cleanse twice a week. I think all skins could do with a cleanser like this to reach for when the skin is crying out or some TLC. My favourite thing to do is pop a layer on when I'm in the bath and leave it on for a good 10 minutes as it acts as a clay mask. The texture is thick and full of bentonite clay particles which act as superfine exfoliating granules while drawing toxins. It also contains Kalahari Melon Oil which adds omega-6 essential fatty acids to help maintain the skins lipid balance. All amazing for drawing out impurities and refining the pores, real skin detox! Ladies who battle with blackheads, this one is for you! Details here.
4 – Human + Kind All-in-one Wash Off Facial Cleanser (R149.95) Skin Type – Normal/Dry
This product comes with a muslin cloth which is great! This is a great all-round cleanser that is perfect for the vegans out there as it has no nasties what-so-ever. Oh, and can we take a second for the packaging!?! The actual product leaves the skin feeling super-clean and not at all stripped of any moisture. I also enjoyed the fact that it removed make up so well. This brand is pretty amazing – more details on other products soon! Available at Clicks, Wellness Warehouse, Stuttafords, Kalahari.com.
5 – NUXE Melting Cleanser (R165) Skin Type – Combination/Dry
This cleanser is such a treat to use, especially if you love the smell of rose like I do. I've really enjoyed using this product in the colder, winter months. It's not drying at all and beautiful to use with a cleansing cloth – I've particularly enjoyed using it with my Smitten cloth! Seriously indulgent and a win for the price! It;s packed with Damascena Rose Petal Floral Water so you can only imagine the scent! Available at Truworths.
6 – Babor HY-OL with Phyto-Active CP For Combination Skin (R763) Skin Type – All (those really keen to indulge their skin!)
This is serious cleansing indulgence right here and your skin will thank you for it. This is the famous HY-OL cleansing oil from Babor (R422) that is a combination of water and oil resulting in a biphase deep-action cleanser. This product is made to be used in combination with a CP Phytoactive product specific for your skin concern (there is a combination one, Base one and a Reactivating option – R341 each). The result of this product combo is seriously radiant, rosey looking skin – I truly can't rave about it enough. It is an indulgence, but if you have the money, definitely one to consider.
7 – Juliette Armand Foaming Cleanser (R300) Skin Type – All
You've heard me harp on about this one before – it's just great! I use this religiously as my pre-yoga cleanser. This probably means nothing to you but the rush from work to yoga every day is always seriously sweat-inducing and in that time one of the many things I have to do is make sure my face is perfectly make-up free (heated yoga with a face full of make up is a huge no-no). This removes everything in record time and leaves skin feeling fresh and healthy!
Cleansing Aids
You may be thinking, what the hell is a cleansing aid and do I really have to be spending more money?! This is something that will aid you in removing your cleanser efficiently and thoroughly. You by no means have to have one, but it's an essential for me as makes cleansing more worth-while and easy-to-do. There are some pricey options and some super-cheap options below: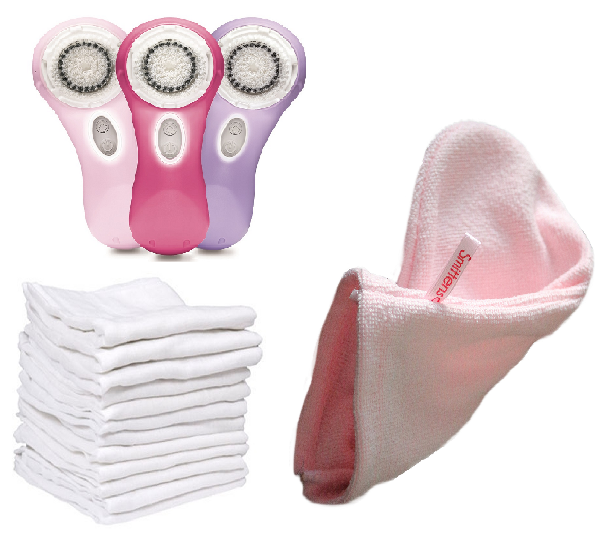 Clarisonic
I have written an in-depth post about this cleaning tool here and here. In a nut-shell – the Clarinsonic cleanses skin 6x more efficiently. It helps with congestion and makes the skin look radiant and healthy – it really is such a great investment! (starts at R2499 )
Smitten
THE most underrated little cleansing mitten eve. This little micro-fiber mitten will change your cleansing routine – when used with a cleanser the cleansers can help lift dirt while the mitten massages your skin to "collect" any dead skin cells & impurities into the cloth. With daily use it offers a delicate exfoliation, guaranteeing the effective removal of excess grime & 99% of the bacteria from your skin, leaving it smooth & shining. You guys, I cannot recommend it enough, do yourself a favour and it's cheap as chips. Also great for travelling!!! Details here (R100)
Muslin Cloths
At any baby store in in the baby department you will find a pack of plan muslin cloths – these are really useful for removing cleanser and provide the perfect amount of abrasiveness to remove dead skin cells, yet not damage the skin. (R30)
https://kissblushandtell.co.za/wp-content/uploads/2015/07/cleansers.png
1372
984
Victoria
/wp-content/uploads/2020/03/logo.png
Victoria
2015-07-14 09:32:00
2020-06-27 19:47:34
The Ultimate Cleansing 101