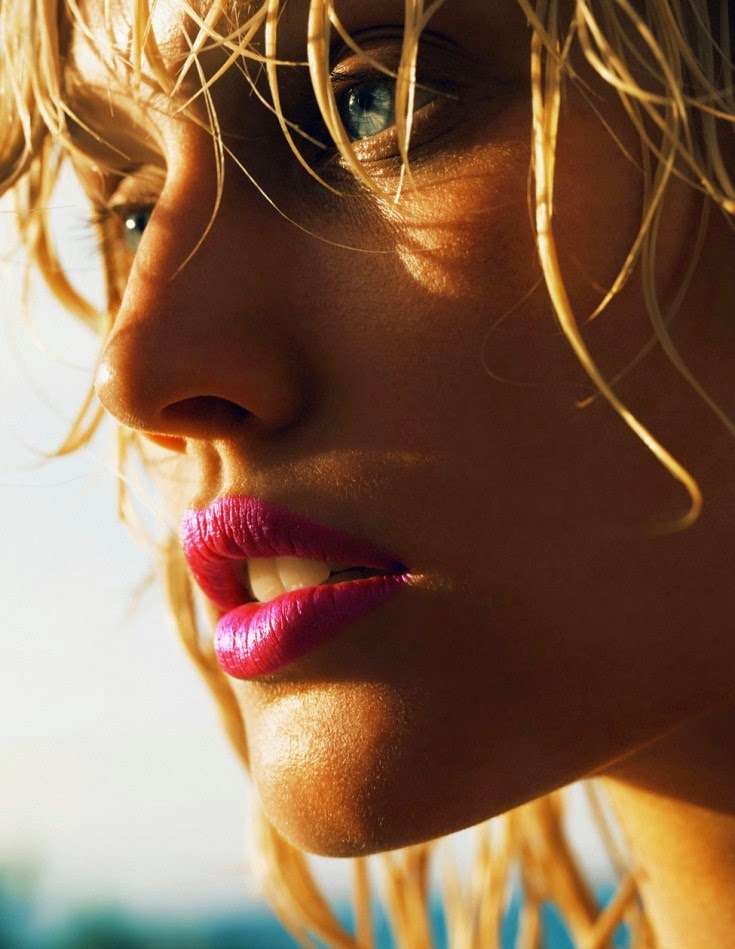 It's that time of year when being milky and pale is not OK any-more! With the warmer days slowly arriving, I'm finding myself steering clear of my summery dresses purely because I am so incredibly pale and pasty. Let's face it, we all look better and feel more confident with a tan and I am most definitely a big fan of the faux glow rather than the sun. I have been using self tanners for years and had many-a-disaster but think I have pretty much nailed the application now, so hopefully I can share some tips and tricks with you.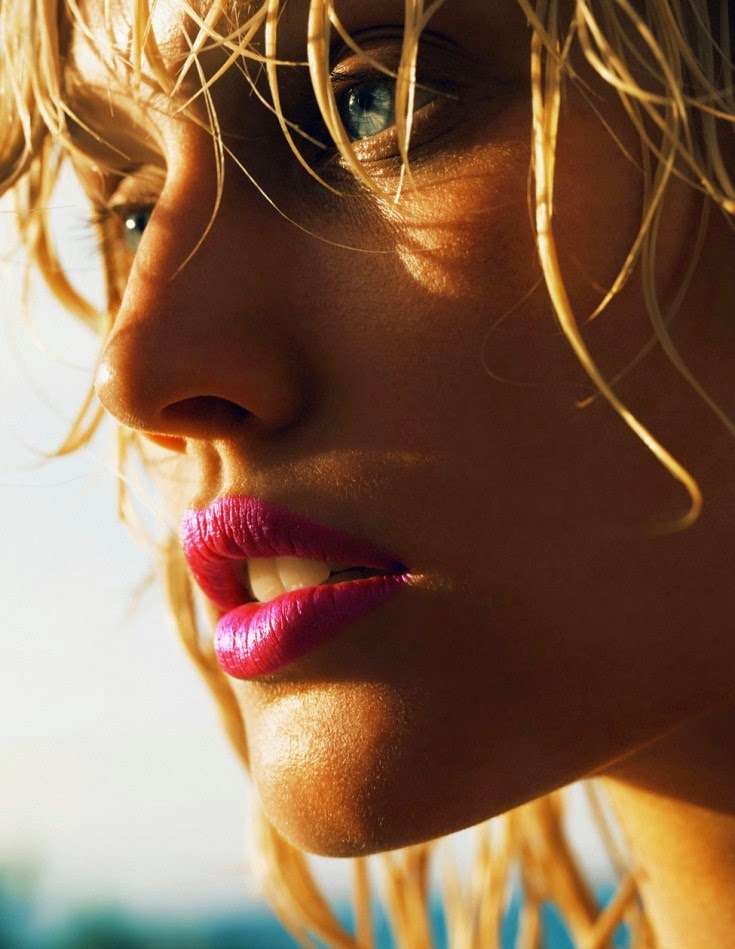 I often get asked about the measures I take to stay out of the sun, and I am going to be honest, I still enjoy long days on the beach. Yes, I wear protection, but we as South Africans would have a pretty miserable summer if we were constantly avoiding the beautiful sunshine. I just try and keep it limited and make use of self tanners to keep me feeling sun kissed. Below are my tips and my favourite products to get the best, non-orange tan: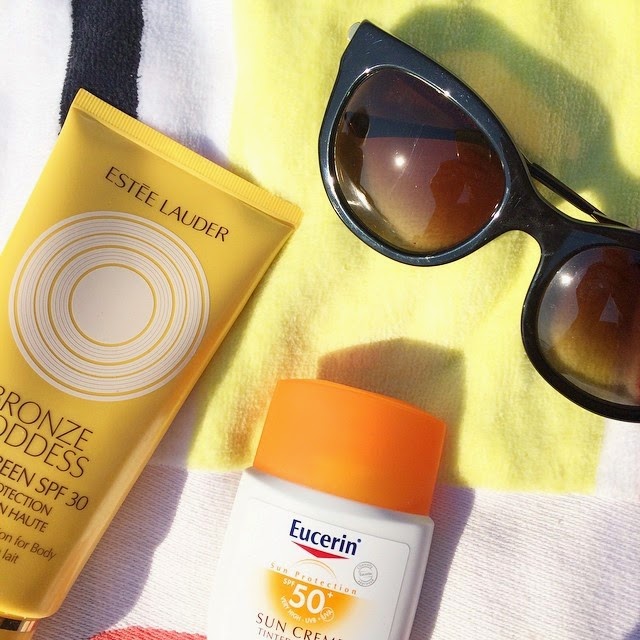 Estee Lauder Bronze Goddess Sun Cream, Eucerin spf 50 tinted face cream and my Thierry Lasry 'Lively' sunglasses
My Tips & Tricks: 1) Skin Prep This is almost as important as the actual application of the tan. Your skin needs to be perfectly prepared in order for the tan to last well, look even and not streak. I do this by exfoliating in the shower before turning the water on, so always on dry skin. This way the exfoliation is more abrasive. I then rinse the scrub off using a loofah and body wash. Tip: Try and use non-oil based products as these will leave a film on the skin that will prevent the tan developing properly. I like Mio Double Buff Enzyme Scrub. 2) Hydrating A lot of people skip this step out but it is vital in making sure your tan develops correctly. You want to use minimal lotion and only on certain areas of the body. The reason you are doing this is that some parts of our bodies have drier, more coarse skin that absorbs more tan and can end up orange – lotion prevents this from happening as it softens up the skin and makes sure it is not too dry and over-absorbent. Tip: Hydrate the knees, ankles and feet, hands, elbows and armpits. The key is 'less is more', so don't over-do it, also non-oily products are a must. Any old cream will do 🙂 3) Application Loads of people over-think this, there really isn't that much to this other than to be as thorough as possible. Just when you think you have done a good enough job at rubbing the self-tan in thoroughly – do it again!! Start from the bottom and move up – so starting with feet and legs and moving up to arms and chest. Be sure to either use a mitt to prevent orange hands or wash them intensely after application – I usually use 2/3 different types of soaps/exfoliators to get the tan off my hands, plus scrub my nails as there is nothing worse than orange finger nails! Tip: Swipe a cotton pad with self-tan over the top of the hands post applying a touch of moisturiser so it doesn't cling to the knuckles and leave you looking very obviously fake-tanned 🙂 Sisley Self Tanning Gel- R1010 This is the holy grail of all self tanners but, alas, we don't all have the money to splurge on self tan. I most definitely would recommend this to you if you use self tan occasionally for special occasions though. It epitomises luxury and leaves the skin looking sun kissed in a way that no one would ever notice being fake. You can be sure you will be left with a rich-girl tan, nothing too Jersey Shore with this product! It's amazing, leaves skin silky-smooth, lasts beautifully and smells great. I have only been using this on my chest and arms and so far, it has lasted me really well. Stockists: Edgars Xen Tan – Ins-TAN-taneous – R480 This isn't a self tan but an instant tanner that can be applied, dries in 60 secs and then removed when you shower that eve. I probably end up using this type of product way more frequently than actual self tanners as my planning is often out the window so come Friday night when I am heading out I slap some of this on and look instantly bronzed. The colour is great and the scent is very subtle but smells like a luxury body cream – no self tan smells which is a win! I love this stuff! Stockists: their website. Australian Gold Self Tanning Lotion – R199 This is a gel-like lotion and, in my opinion, Aussies know how to produce a proper self tan! This applies really easily as long as you work it in properly. It also has built in technology to prevent it being too smelly like all other self tans, so a win if you need to be sharing a bed with your husband/boyfriend. The colour is subtle, which I liked and build-able too. Australian Gold also have the most amazing tanning oils that I am so excited to use in summer, my favourite is definitely the Bronzing Dry Oil Spray (R199) – it just screams summer and doesn't leave you feeling like an oil slick. Stockists: Rip Curl, Quicksilver, Roxy, selected independent Pharmacies, Dis-chem (KZN)
St Tropez Gradual Tanner – R309 This is an old favourite of mine. I'm on bottle number 3. It's great for the legs (and all over the body). It's a nice big tube and the colour is great – one coat is often enough for me. I can't tell you how great this is and the smell is also fairly unobtrusive. Stockists: Clicks, Dischem Clarins Liquid Bronze Self Tan for the face – R310 Oh my god, can you believe I'm harping on about this again?!? I won't bore you again as you can read about it in my July Favourites and What's On My Bathroom Counter post and all over Instagram. Either way, this is your answer to having a beautiful radiant, glowy, tanned face. That's all! Stockists: Woolworths, Edgars, Red Square, Truworths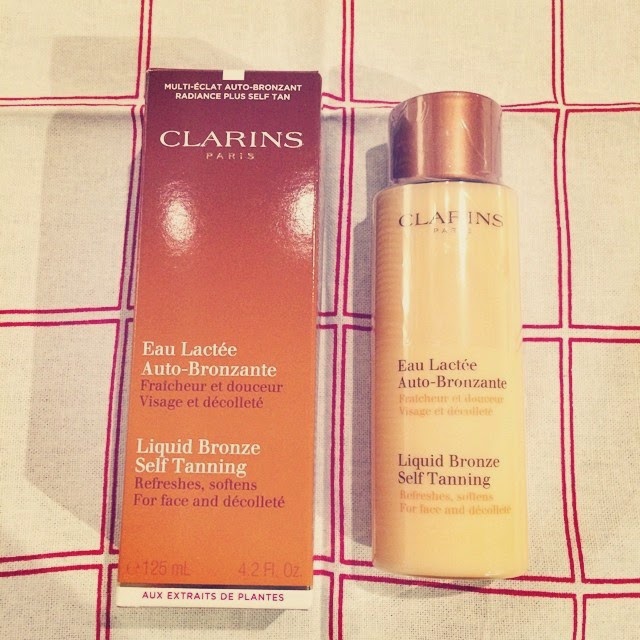 Skinny Tan 7 Day Tanner – R349 With the daunting thought of baring all in a bikini, this product obviously caught my eye. I actually first heard about this product on Dragon's Den (see their interview here) – I love what a success story this is! Again, an Australian nailing the fake tan world. This is a self tanner that is 100% natural, so no DHA, which is the main thing that I love about it. This means no dry, snake-like skin. It is said to reduce the appearance of cellulite with caffeine. I can't say this would be the reason I would buy it again, as anti-cellulite products are not my kinda thing, but I most definitely would re-purchase this simply because it's a great self tan, awesome colour and we all look better with a tan! Oh and it lasted really well, plus when it starting fading it was nothing too patchy or gross like lots of others tans I've used. Stockists: Skinny Tan online or Takealot – it's cheaper on Takealot. Vita Liberata – Spray Tan – R550 I have spoken about this being my ultimate spray tan before in this post. I actually had one done again a few days ago. The colour, the way it makes your skin feel, the lack-of-a-horrid-smell, the fact that it's organic. Ahh! It is just the best. Stockists: their website.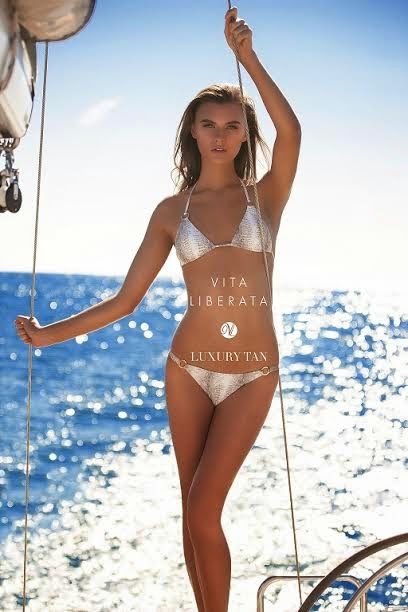 Caribbean Tan – Tan In A Can Type B – R84.95 This is really budget friendly and a good option if you like to be super bronzed (while not being orange). Caribbean Tan gives really strong colour that is perfect if you don't have time to apply 2/3 nights in a row – it's fast working and has a really olive undertone. Only cons are the smell and that it can be quite messy but that's a given with self tans and worth it when you see the results (and the price). Also great that the colour is instant so perfect for nights when you need a quick fix. Stockists: Dischem, Clicks or online. SUN Dark Self Tanning Lotion – R439 I wasn't going to mention this one but thought those real self tan addicts may want to hear about this. With my (sad) passion for beauty products comes constant research into what's the very best in the market which often leads to impulsive Ebay/Amazon/Boots orders to my sisters home in the UK. The below product is a self tan loads of American bloggers rave about. It's only available on Amazonand ridiculously priced for how small the bottle is in real life but, my-oh-my, this stuff is the business. Trust me, if you are an avid self-tanner, you need some of this. I save mine for my chest and arm area and it's just fabulous! Buy here.
https://kissblushandtell.co.za/wp-content/uploads/2014/08/Toni-Garrn-for-Madame-Figaro-April-2013-Nico-11-735x949-1.jpg
949
735
Victoria
/wp-content/uploads/2020/03/logo.png
Victoria
2014-08-25 14:00:00
2020-03-24 08:31:52
'Tis the season to be tanned