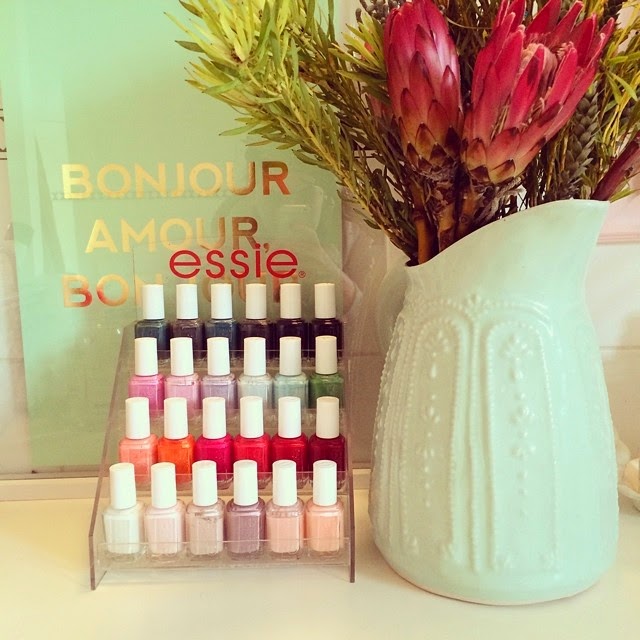 As you can imagine, my bathroom is pretty chock-a-block with beauty stuff. Especially because I live alone – it's literally like walking into a mini-beauty salon. This week has been my week to try and get more organised, hence the Essie nail display. This was actually my first attempt, which I quickly realised would only house a fraction of my polishes so I have now got a salon-size wall mount for them. I will do a post when I'm done with this to show you guys my attempt of beauty organisation – whether it will stay this way is the question.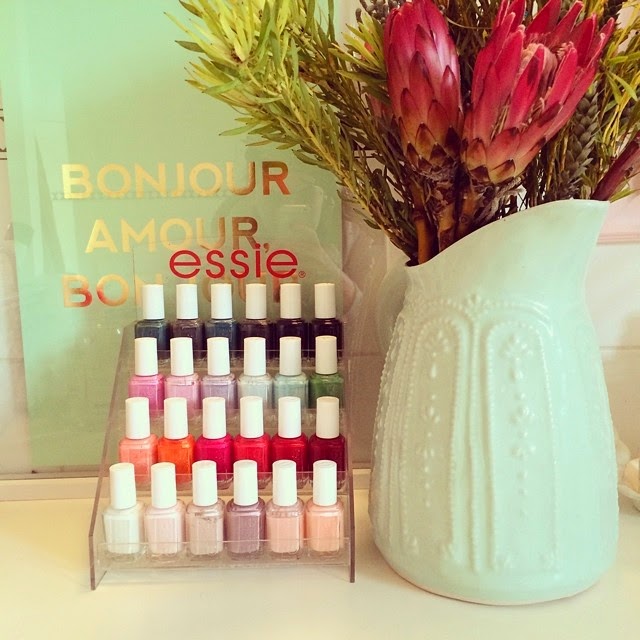 Anyway, I think a pretty good way of judging what products I am enjoying is by looking at what's on my bathroom counter top. These are always the products I am using most frequently and too lazy to put away. I've grouped them into three categories; Make Up, Skincare and Other. Starting with Skincare: Skincare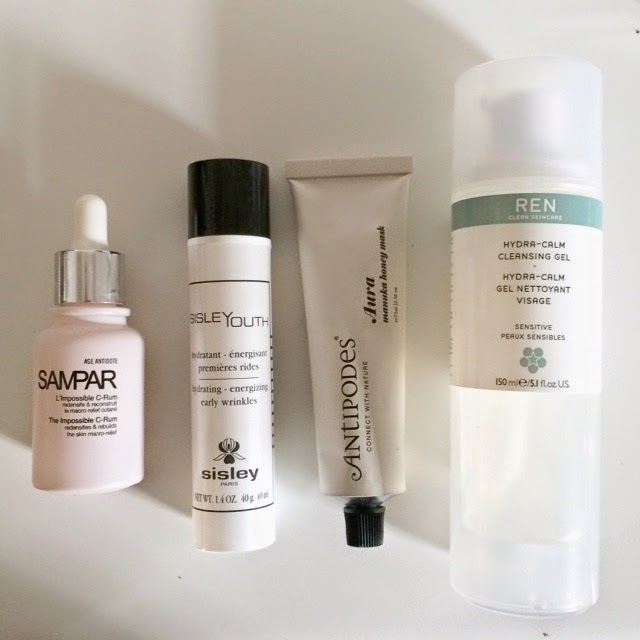 I have been using this day and night and love the replumping, hydrating and replenishing effect it has. I would like it to have a less-runny texture but once applied it absorbs well and has a lovely effect on the skin. Great scent too.
I am obsessed, you guys. As in, already panicky about this finishing. I know I have mentioned it before but OMG – this stuff just feels like it's working magic. Also, love the zesty scent. To me it just feels like an all-in-one and has made my skin feel really healthy and radiant. Pity I will never be able to afford it again at R2150 which is rather ridiculous.
You know when you buy something and you know, from that point on, that you will buy that product for the rest of your life? Well this is one of those. I have been sleeping with this on 2/3 nights a week. It leaves no film on so is easy to do this and leaves skin so super-soft when you rinse it off in the morning. I got mine from Feel Unique for R390. I am heading to Australia in October so will hopefully be stocking up on some more Antipodes stuff as it's from New Zealand and seems like there are stores all over Aus.
I got this ages ago but have started using it as my morning cleanser. It works perfectly as it's mild enough to give the skin a gentle clean that only make-up-free skin would need. I would say it's quite mild for a full face of make up, but so refreshing and beautiful for the morning. And the smell….! R310
Make Up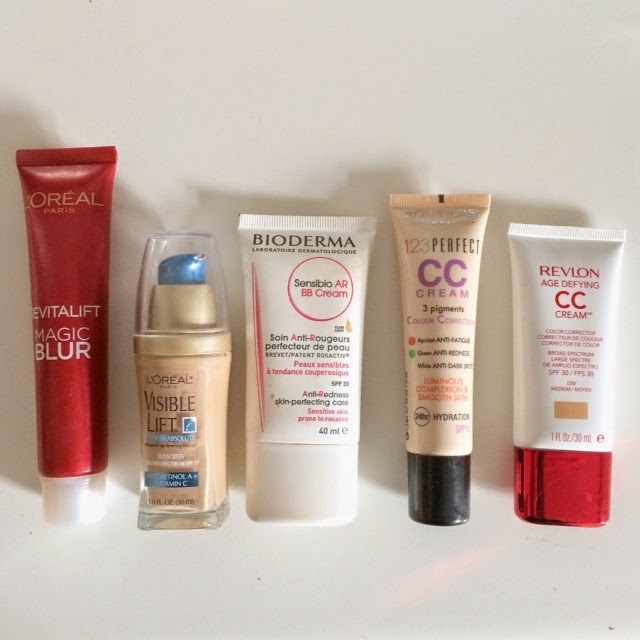 This is pretty pricey from L'oreal (R199) but it has pleasantly surprised me. I cannot stop using it! It's a primer and, as it says, literally blurs out any large pores, redness, uneven skin, blemishes etc – it honestly gives you an airbrished look. The balm is quick thick and a little goes a long way. I have actually only been using this on my T-Zone area. It helps with oiliness and really just keeps everything in place perfectly, while looking flawless. Launches this month in Clicks stores. Hurry though, I can see this one selling out like hot cakes.
L'oreal Visible Lift Foundation
I have been using this again and again. I got 151 in Natural Beige and the colour has the perfect yellow under-tone to it. I think L'oreal's foundations are seriously underrated. Hoping to pick up a few of these soon as dying to try some more of them out like the True Match and Lumi Magique. This product has Pro-Retinol A as well as Vitamin C in it so great for hydration and plumping. I also like the fact that it is spf 17 and that it is a glowey formula – great for more mature skin. R230.
I got this in shade Light which is actually perfect for me, I thought I would be their medium shade. This is an anti-redness product and, even though I dont have any extreme redness, I just love a product that targets redness and conceals it whilst treating it. Great for those of you who suffer from redness/rosacea -this skin condition often leaves people piling on way too much make-up, however, this product means radiant, translucent coverage while treating the concern with their patent ingredient – Rosactiv. Also has spf 30 – the ultimate summer/beach product, I think! R239 at Clicks, Dischem and Wellness Warehouse.
This is just AMAZING and deserves every single rave review it has got. Just a beautiful formula that feels so light on the skin but provides just the right amount of coverage. Bourjois face products really are just beautiful! This product has three pigments in it; apricot (anti-fatigue), green (anti-redness) and white (anti-dark spots). Also cheap as chips – R159.95. I got it in Light Beige.
The original Revlon BB Cream was one of my favourites so was very excited about this. I also got this is shade medium and it's great – the coverage is pretty full so better for older skins (as it says being 'age defying' and all). I prefer the formula of this one to the BB Cream – this is more cream-like, the other one was quite like a gel. I honestly don't think you can go wrong if you are over 35 and want something for day-to-day wear that leaves the skin looking even and fresh. R199.
Other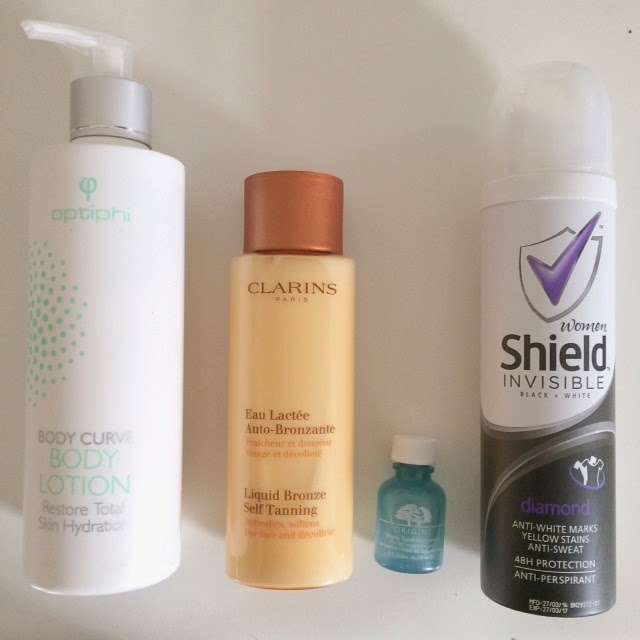 Optiphi Body Curve Body Lotion
I took this on holiday with me and was so happy I did – my skin was honestly feeling amazing after that week of using this day and night.This stuff is pricey at R370 but promises 24 hour hydration and I really felt like it helped with the usual winter dryness, especially on my upper arms. What sets this cream apart from others is the addition of antioxidant bamboo extract to help fight free radicals as well as cinnamon leaf oil (which provides the delicious Christmassy/cinnamon scent) – this assists suppressing glycation which can trigger ageing. Read the link in the title for further detail as they explain this well on the Optiphi blog.
Clarins Liquid Bronze Self Tanning (for the face)
I have been lusting after this for way too long now and after Vivianna Does Make-Up, Lily Pebbles and Jules from All Dolled Up raved about it, I had to give it a try. It's a mild self tanner which you can build up depending on how tanned you want to look – I love this cos it makes it pretty fool-proof! The colour is really subtle but just makes you look healthy. This is much-needed as I am feeling rather translucent at the moment! Unlike other facial self tanners, I didn't feel this left my skin feeling dry and congested – thank goodness as this is a first for me! Available at Woolworths and Edgars stores. R310.
I got my lovely sister to pick this up for me in the UK after hearing Essie Button rave about it. My skin has been quite problematic of late which has been stressing me out, this stuff works wonders, stings like hell, but zaps the spots over-night! It's pretty pricey for a bottle that tiny at R275!!
Shield Black & White Deodorant
This is an odd one to be featured, but I am really enjoying using this. It smells fresh and leaves no white marks, as promised. It also comes in a roll-on but I'm much more into my aerosols. R22.99.
https://kissblushandtell.co.za/wp-content/uploads/2014/07/10549830_1445090655763152_1075802504_n.jpg
640
640
Victoria
/wp-content/uploads/2020/03/logo.png
Victoria
2014-07-18 11:33:00
2020-06-27 20:00:11
What's on my bathroom counter?