As many of you know, I am a Shellac addict and have been having it non-stop now for about 8 months. Before that I was between Gelish and normal nail varnishes (as I have to test these frequently). Anyway, a few weeks back Chanel, from CND South Africa (distributors of Shellac) popped round to my house for a mani and pedi treat and told me about their latest release: Vinylux. I had been hearing whispers about this product for a while, but wanted to find out all the info and try it out myself.
Vinylux is basically an at-home product that you can buy at your local salon for about R150 and it applies exactly like your usual nail polish, except it last 7+ days without chipping. It also dries incredibly fast (8 minutes for 2 colour coats and one top coat) and has a top coat that helps the varnish become more durable with exposure to natural light.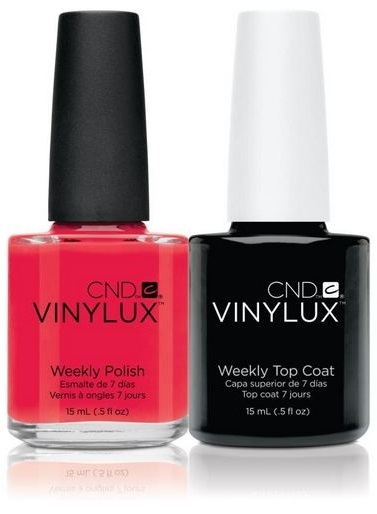 Keep in mind that when purchasing your Vinylux you will always need the Top Coat too, however, this does last really well so you can build up your collection once you have made your initial splash out.
Colour wise you are pretty much looking at the Shellac selection which I love and have a few staples that I go for every time. This also means that if you are a Shellac user then you can always buy the Vinylux for holiday touch ups (regrowth etc.).
I know my readers often ask for recommendations for holiday nails and I have been unsure up until now. Naturally your nail will always grow out so no matter how good the product is, your nails are going to look pretty average on week 3. Vinylux, however, can be reapplied and removed easily with nail polish remover so solves this completely – so there your answer is honeymoon ladies!
My experience
I have not owned a bottle of Vinylux yet so can't give you an honest review on how it lasts as I have not experienced this. I have, however, had it applied over my 2 week old Shellac and seen great results. I didn't think it was as shiny as Shellac but it is certainly as shiny as your normal nail varnish. Shellac is just particularly amazing like this.
I thought it was super easy to paint (great brush) and, as mentioned, thought the colour selection was good. If you are looking for some favourites, below are a number of mine:
Rubble
Cake-Pop
Lobster Roll
City Scapes
Black Pool
Romantique
Asphalt
Studio White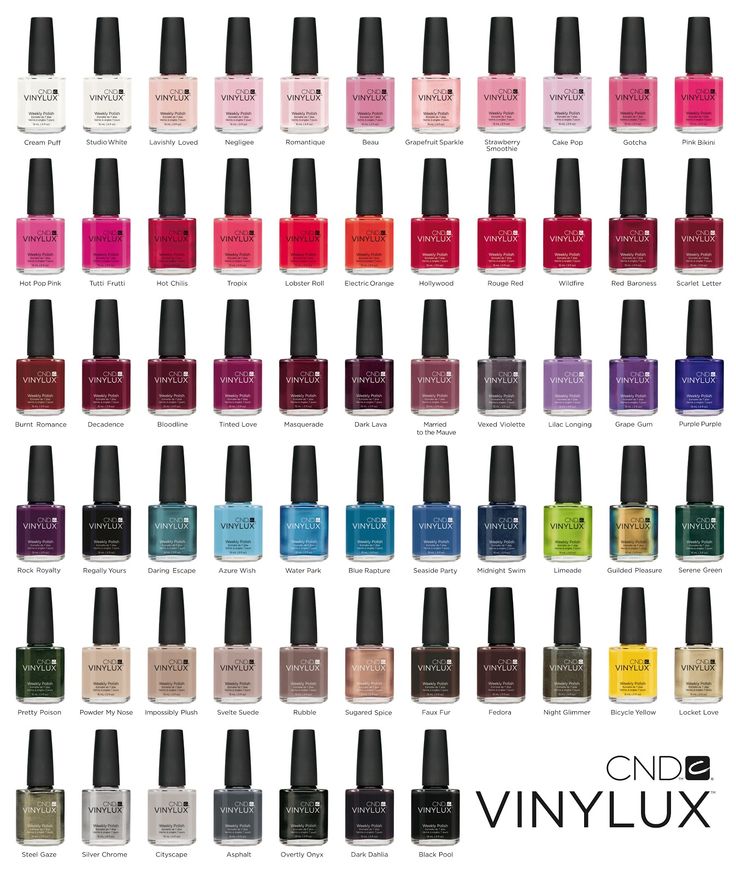 Colour selection – click on image to enlarge
A little tip: cap/seal the nails with the varnish, it prevents lifting and helps it last longer.
I will be purchasing a bottle or two soon and will give you the low down on how well it lasts, but so far I'm pretty excited about the idea! You can read more on their site.
https://kissblushandtell.co.za/wp-content/uploads/2013/08/4aa22838c248039f39ed7f15da7e12bb.jpg
740
594
Victoria
/wp-content/uploads/2020/03/logo.png
Victoria
2013-08-20 08:23:00
2020-03-24 08:47:23
Vinylux lands in South Africa. Here are my thoughts