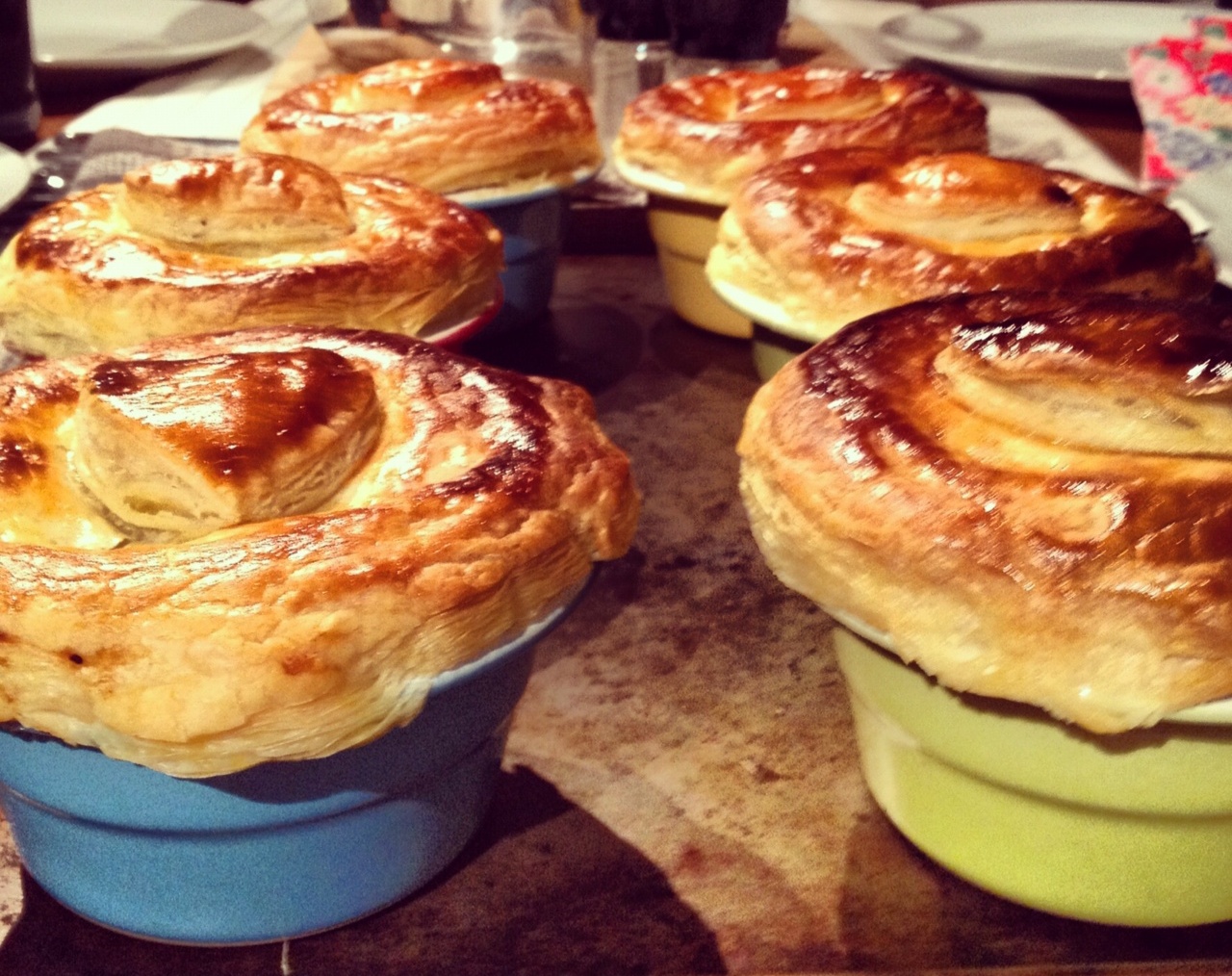 I promised I would share this recipe with you all, so here it is. My inspiration came after visiting Nook Eatery on my weekend away. This meal sent me into a panic like never before, as half way through the meat was tasting like nothing, the mashed potato looked like babies purée and I was just managing to mess everything up, but after a few glasses of red and my dinner party guests help we managed to save the mash and I got all back on track with the pies – whew! They were delicious and will definitely make them again!I got the recipe here.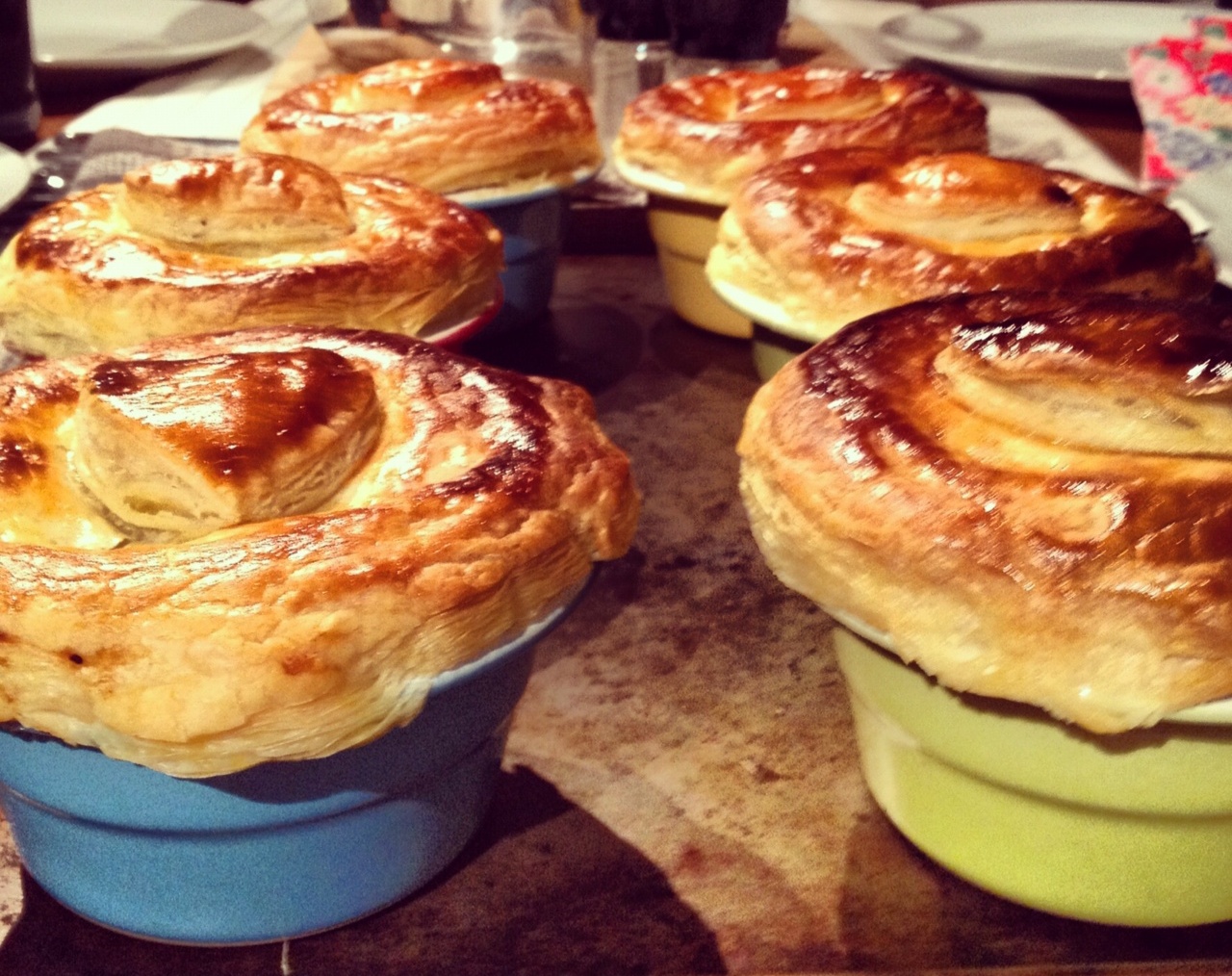 ingredients
900g stewing diced beef
3 tbsp butter
40ml olive oil
4 slices smoked bacon, chopped
2 white onions sliced
2 cloves garlic, crushed
2 carrots, chopped
2 sprigs thyme
1 bay leaf
500ml beef stock (I made some in the week using oxtail bones)
150g mixed mushrooms, cultivated and wild
400ml Brewers&Union Dark Ale
25g flour
salt & pepper to taste
300g ready-rolled puff pastry
1 egg, beaten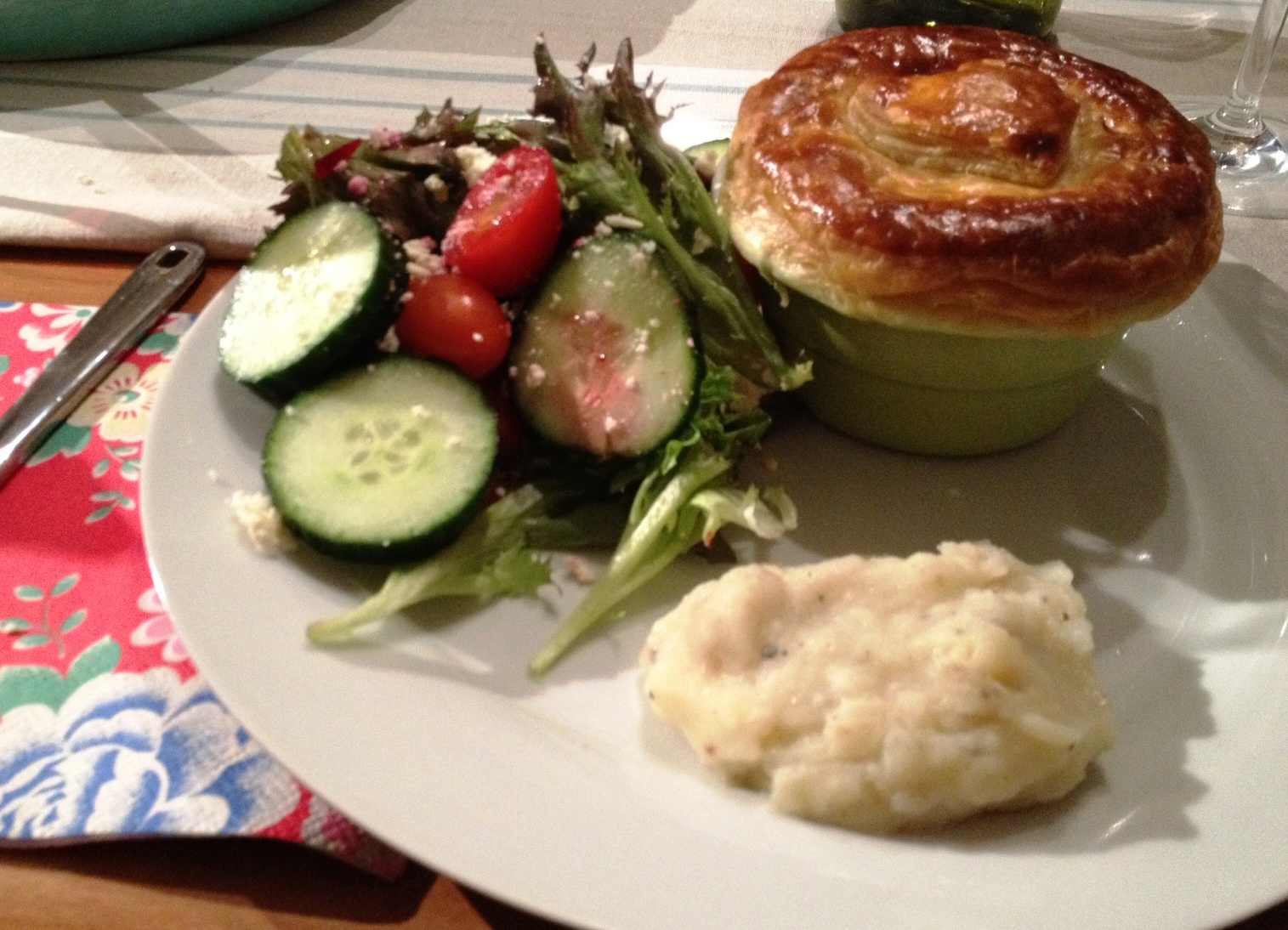 method
1. Heat the oil and butter in a saucepan until hot. Add the beef in batches to brown, remove and set aside. Add the onion, garlic and thyme to the saucepan and cook for 5 minutes, or until the onions have softened. Add the carrot and cook for a further 5 minutes.
2. Add the beef back to the pan and pour in the stock and beer. If need be add enough water so that the meat is just covered by liquid. Bring to the boil, reduce the heat and simmer for 2 hours, skimming and stirring every 20 minutes or so, until the meat is just tender but still has texture. Remove the beef pieces to a plate and set aside.
3. Strain the cooking liquid and return to the warm pan over a high heat. Continue cooking the liquid until reduced by about one-third. Mix together the potato flour and 2 teaspoons water and add to the cooking liquid, stirring well to combine. Return the beef to the liquid. Season with salt and pepper to taste. Fry the mushrooms in a hot pan until browned and add to the beef. Pour the mixture into a container with a large surface area to cool down.
4. Preheat the oven to 200 degrees celcius. Roll out the pastry and cut out a lid to cover the pie dish. Spoon the mixture into the pie dish and lay over the pastry lid. Brush with egg wash and make a small hold in the middle to allow steam to escape. Reduce the oven temperature to 180 degrees celcius and bake the pie for 30 – 35 minutes, or until golden brown on top. Remove from the oven and allow to cool for a few minutes before serving.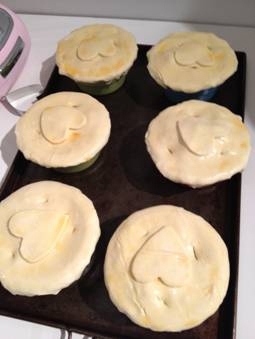 https://kissblushandtell.co.za/wp-content/uploads/2012/06/pies1.jpg
1014
1280
Victoria
/wp-content/uploads/2020/03/logo.png
Victoria
2012-06-18 08:54:00
2020-06-28 11:12:46
Beef + Ale pies