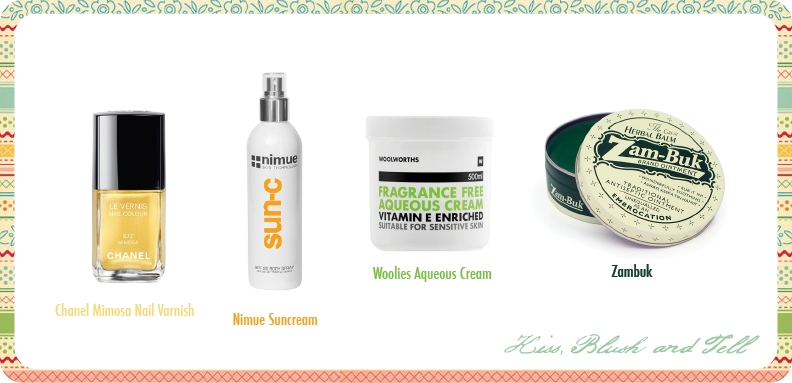 Today's pick is from the glam and ever-so-lovely Lize The Unicorn (Twitter & blog). Her girly opinion was a must-have and I think her top 5 are just fab.
I actually took her advice on the aqueous cream – and you seriously cannot believe the difference in my skin on my body – so thank you Miss 🙂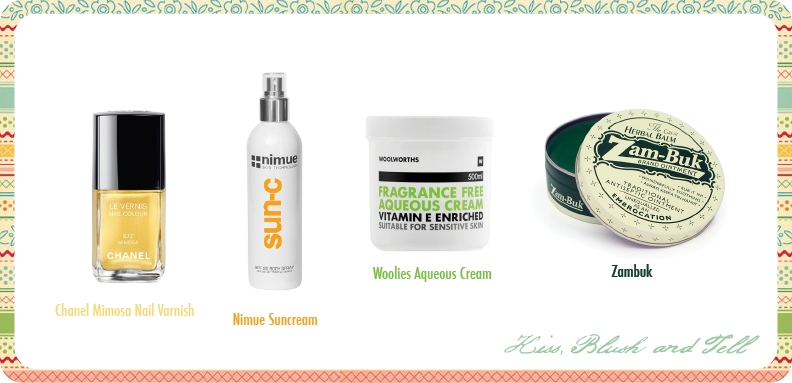 Please click here to see my pretty image properly…
Lize says, "My beauty picks are a combination of luxury and the necessary basics" – thank you for sharing:
1.) Zambuk: You can try other lip balms, and they will either be okay or not so great. And no matter what they cost or how great they smell, NOTHING will be as good as Zambuk. See how faded that label is? You can barely see what it says. That is because my Zambuk goes everywhere with me. And it costs, like, R2.50.
2.) Summer might still be a while away, but a pop of colour can work in winter too, just to brighten things up a little. I love Chanel nail polish, and Mimosa is definitely the colour du jour. Stocks are low
because of the high demand of this product, but I have a little secret to share: Cavendish Edgars has quite a few in stock. Hurry!
3.) I wear sunscreen every single day of my life. Even if it is zero degrees, overcast and raining, I will still have sunscreen on my face.The Nimue SPF is great! Not too oily, which makes it ideal for every
day use. Sunscreen is an absolute must, especially in South Africa. And not only for your face- make sure you put some on your hands, especially while driving. [Thanks, mum, for drilling this into me from
age 2.]
4.) Aqueous cream is much like Zambuk. I buy a huge tub from Woolworths for R19.99. It lasts ages and because it's cheap you can apply it liberally. Also, while fragranced lotions look- and smell great, added perfumes and chemicals can do more harm than good to your skin. Aqueous cream is pure, unscented food for your skin. It isn't sticky, so you can moisturise your entire body and get dressed straight afterwards without feeling like your clothes are sticking to you. Best beauty buy ever! I also massage a big dollop onto my hands before I go to bed, and it works better than most expensive hand lotions I have tried.
5.) My fifth pick is a bit of advice, rather than a product. Remember that, no matter how much money you spend on beauty products, what's inside matters even more. So when it comes to looking great, don't substitute a healthy diet, lots of water and exercise for the latest unaffordable cream. If you're healthy on the inside, you'll look healthy on the outside. Oh, and happiness. I firmly believe that happy
people are more beautiful, even though I am still working on the scientific evidence for that.
If you are interested in sharing your Top 5 beauty favourites with me, mail me here🙂
https://kissblushandtell.co.za/wp-content/uploads/2011/08/5things-for-lize.jpg
383
792
Victoria
/wp-content/uploads/2020/03/logo.png
Victoria
2011-08-24 14:40:00
2020-06-28 12:14:57
Top 5: From Lize