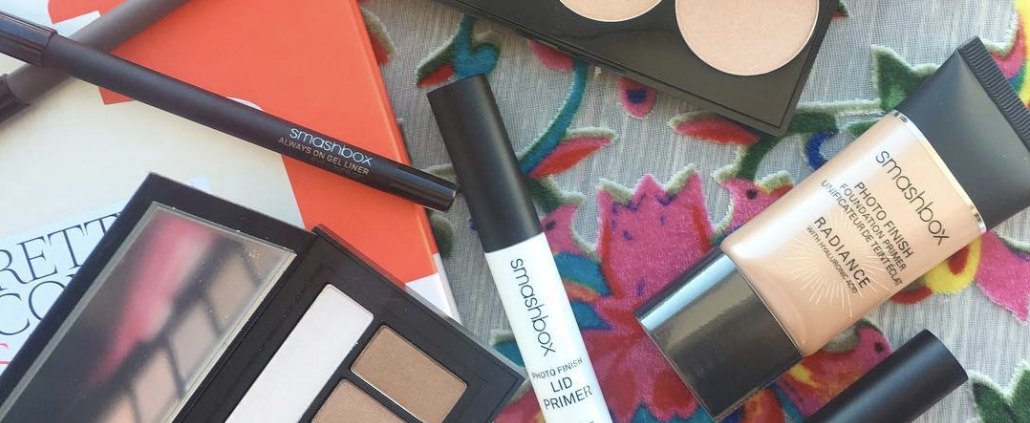 Smashbox is one of those brands that really do just deliver when it comes to unbelievable make up. I have used and loved their products for years, as you know, and continue to get super-excited whenever they launch new products and the below are no exceptions. In fact, these are some of the most 'up-my-alley' launches I have seen in a while.
You will have seen me harping on about this on Instagram Stories and Instagram Live but let me unpack each of these launches:

PHOTO FINISH RADIANCE PRIMER – R475
Smashbox are probably the most well-known and trusted brand when it comes to primers. These guys know how to make you look flawless all day long. I have used a number of their primers but, having dry skin, the mattifying or pore minimizing one's aren't exactly what my skin needs. This 'Radiance' primer, however, was exactly what I have been looking for.
The primer is a balm-cream like texture in a light bronze shade that blends into the skin seamlessly leaving a subtle glow and a hydrated canvas for make up application (thanks to the main ingredient being hyaluronic acid) . As mentioned, my make up does tend to stay in place all day but can look a little flat come the afternoon. I love this product as it adds a holiday-skin glow that really is very subtle and doesn't lead to my skin looking at all shiny. I also love the mild blurring effect it has making you need minimal foundation after this, it helps even out my skin tone which I love. Buy here.
PHOTO FINISH LID PRIMER – R290
They call this 'foundation for your eyes' and what makes this unique is that it's your lid primer but in a number of different shades, so it really can be tailored to your skin. Great news for the darker skinned girls as there will be no white cast on the skin.
I naively have been going along thinking I don't need a lid primer in my life but, alas, I clearly do. I did a few tests with this – using it on one lid only and then both and then not at all and I definitely noticed less creasing. My lids don't crease too much but the difference I noticed was that the shadow pigment popped that much more and it lasted really well throughout the day. Side note – I got the white and the 'dark' formula. The white is the one I am reviewing here, the dark was way too dark and has become my make-shift contouring product – works wonders! (I know, I know). Buy here.
SPOTLIGHT PALETTE X CASEY HOLMES (Light/Medium) – R550
This obviously got me extremely excited – a highlight palette, I mean!!! This collaboration was done with Casey Holmes who is a well-known YouTube sensation. I actually hadn't heard of her before this, but on doing an online stalk she is super into her make up and loves a good highlighter. Her make up looks aren't my cup of tea, to be honest (that much make up terrifies me) but she knows how to make a good highlighter.
The three shades in this palette are really pretty but are quite glittery. That may appeal to some, but wanted to highlight that factor (how bad is that pun!) as when I used this on my Mum I thought it was a tad 'young' for her more mature skin. For my skin, however, I think it's beautiful and find myself swirling my brush across all three shades – they are all very wearable. This comes in two shades (light/Medium and Medium Dark), buy here.
COVERSHOT EYE PALETTE (SOFT LIGHT) – R650
This is probably the item I am most excited about. I have been dying to try one of the Covershot palettes for a while and was sent the perfect shade combo for me, the Soft Light one. The Covershot palettes comes in 7 different shade options. These are the Insta-famous palettes with the super-cool packaging that changes as you move it. The palettes are also small and slim so super-nifty for travel (I know this is 100% coming with me on my trip). The shades aren't matte in this palette but are very subtle. Some may find this palette too neutral, but there are 6 other options depending on how intense you like your eye looks to be. For me, this one works perfectly. It's not often I find a palette where every single shade is wearable – this one is great for dull make up folk like me 🙂 Buy here.
ALWAYS-ON GEL EYELINER (FISHNET) – R250
I wanted to review this as I have kind of steered away from eye-liner – it makes me eyes look smaller when I tight-line my upper lash-line and then it transfers to the lower lash line, so I decided to exclude it from my routine. I actually haven't used an eye-liner in years!!! Anyway, in short, this was (by some miracle) actually stay put and makes my upper lash line look amazing – it's full of pigment and pretty much the only eye-liner I will be using from here on out. Side note: I used this all over my eyes for a dress up the other day (Frida Kahlo) and you can't make mistakes with this stuff – it takes it's job very seriously of 'staying-put'! Buy here. You can buy Smashbox online at Woolworthsand Red Square
https://kissblushandtell.co.za/wp-content/uploads/2017/06/Screenshot-2020-07-08-at-19.30.54.png
1194
1030
Victoria
/wp-content/uploads/2020/03/logo.png
Victoria
2017-06-13 13:14:00
2020-07-08 18:32:30
SMASHBOX, You've outdone yourself