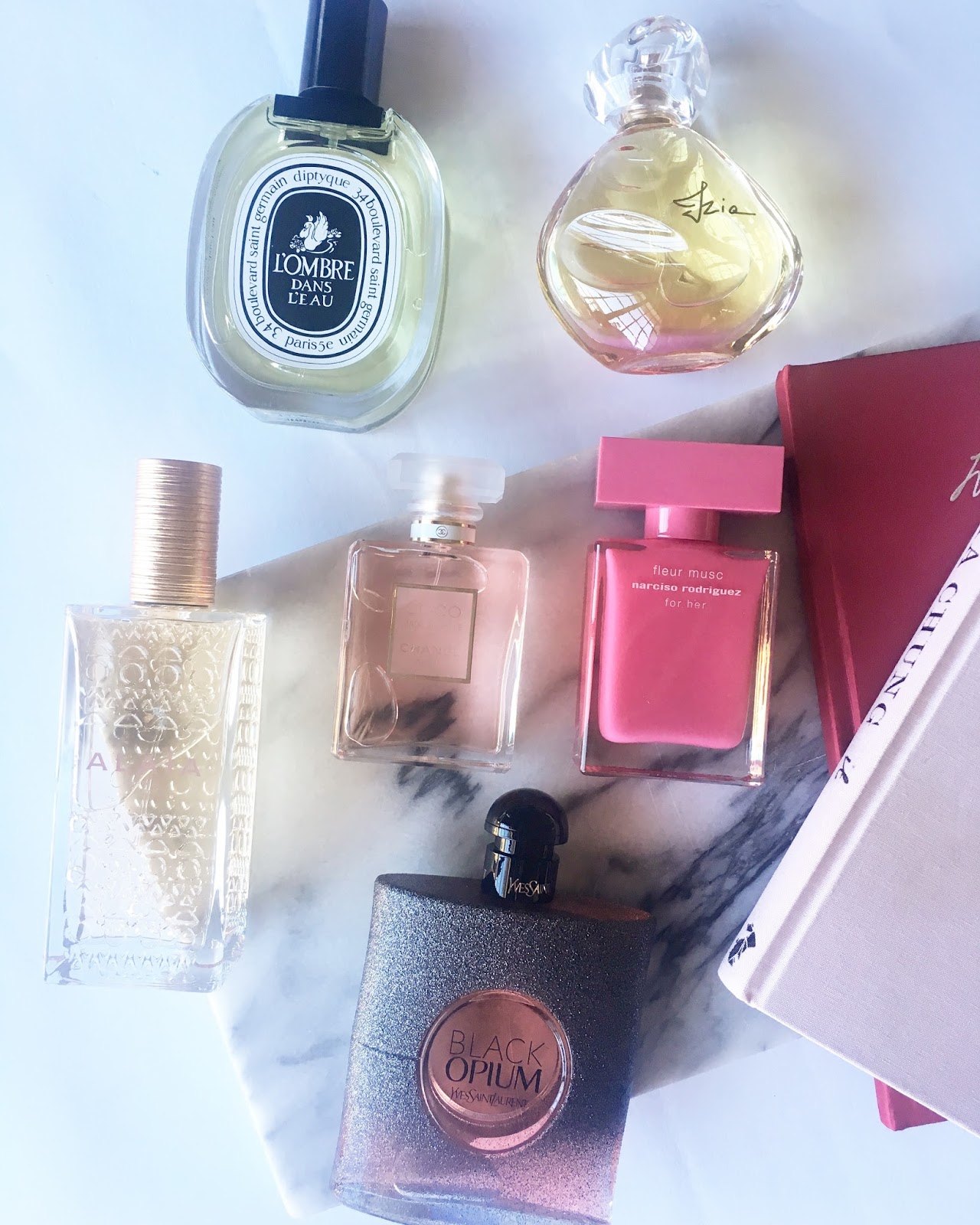 I always love this time of year for the fragrance launches as my taste in fragrances is way more the wintery/autmnal type scents rather than the light and sweet one's. I have so many new scents in my collection – some gifts to myself, some PR gifts and some old favourites which have resurfaced: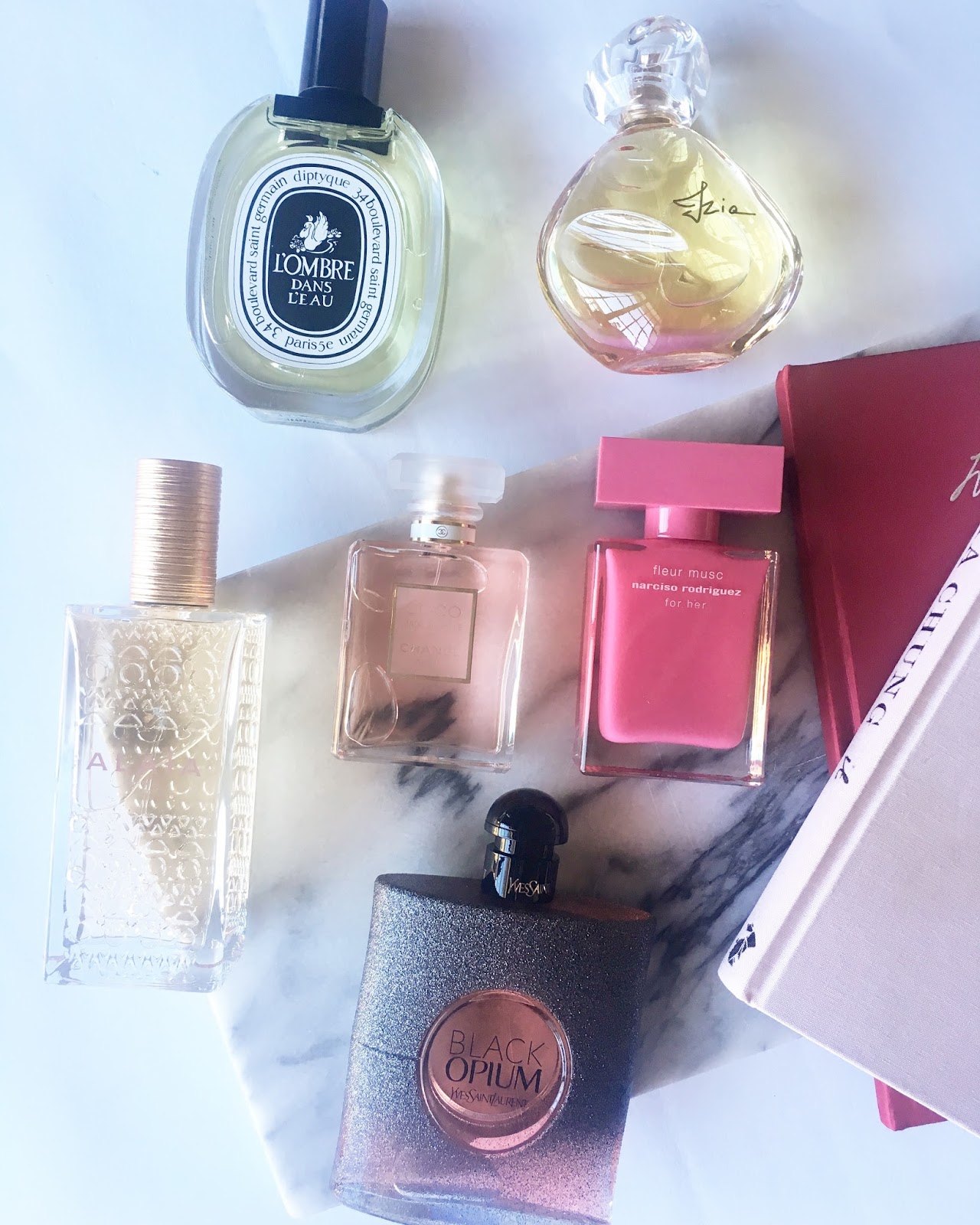 Diptyque L'Ombre Dans L'eau
This is my new 'favourite child' of my scent collection. I got this off the online store, My Perfume Shop. I hadn't actually heard about them before, but they sell a wide array of amazing fragrance brands in the 'tester' format (which is totally legal. Don't worry, I did my research). Buying a tester basically means you get the exact fragrance and bottle as you usually would, but just don't get the box (you get a plain white box) and this saves you up to 40% off the normal retail price. It's a no brainer! The box always ends up going in the bin anyway, and it saves you so much money. Plus the service is super-slick! I really encourage you to go and have a look at their offering. Onto the scent – I'm not going to bore you with the obvious, which is what a die-hard Diptyque fan I am, but this is my 5th scent of theirs and probably my favourite of them all. It's sophisticated, quite androgynous and just exudes luxury. The actual juice also lasts really well and 2 sprays is all you need. I will continue to repurchase this when it runs out as it really is just my perfect scent! R1500 on My Perfume Shop.
Sisley Izia
This is a brand new scent from Sisley which you have seen me raving about on my Instagram Stories already. I hadn't actually tried a fragrance from Sisley before but, given how I feel about this one, I don't think I ever have to stray. Now this one is really hard for me to describe as it's sophisticated yet not overly mature (I hate old lady scents).It is essentially a rose based scent but this doesn't stand out to me as the combination of the musk, cedar and amber notes makes it beautifully feminine whilst never being too floral nor sweet. I cannot get enough of it and am so delighted to have discovered this gem. Do yourself a favour and go and spritz it on when you next in stores! You will also have seen I am planning a summer holiday for next month – this is going to be my scent of choice for the trip 🙂 R1245 – R2710 available at Edgars.
Alaia Blanche
The original Alaia fragrance, and their first one at that, was launched in 2015 and I fell in love instantly. I have since recommended it to so many of you who have mailed or messaged for fragrance recommendations as you simply cannot go wrong with it. Blanche is their latest launch and the perfumer describes it (comparing it to the original), "In this new adventure… I aimed for a white, milky florality, a bit more solar, adding a powdery element, as well as the wealth of vanilla and a musky addition, in a timeless creation." I had high expectations and I really was not disappointed. The bottle is simply beautiful and the juice is different to the original; more musky, less heavy and I would call it a more 'day time scent' with the original being a sultry, sexy evening scent. It's light, fresh and floral without being sweet and is most definitely still unique, which is what I love so much about Alaia's scents. R845 – R1835 (link).
CHANEL Coco Mademoiselle
This is by no means a new scent but is new in my collection and I adore it. I feel so classically classy when I wear this one from CHANEL. Mademoiselle is their best seller and I can totally see why. I get so many compliments when I wear this! I know this scent has been around for a while but growing up I was more of a CHANEL Chance gal and, whilst I love those scents, I feel Mademoiselle is so much more 'me' now – guess that shows I'm growing up, right?! R1600 – R2270 (link)
Narciso Rodriguez Fleur Musc
This bottle caught my eye straight away. Fair enough, I always love Narciso scents (and their classic bottles) but I just adore this bold pink bottle, still in their classic, minimalist shape. I really fell for the NARCISO by Narciso Rodriguez that launched a year or so ago. This version is very different to that one, but still has the musk notes and I guess that's a pattern when it comes to scents I warm to. The notes you will find here are pink peppercorn, rose, peony, musk, patchouli and amber. R1400 – R1960 (link)
Elie Saab Nuit Noor
On my recent holiday I decided to take this scent with me as I thought it would be perfect for snowey, wintery conditions, and it definitely was! I got sent it in the travel size mini version (pictured below) so it was very handy! I hadn't really used the scent before the trip and, my word, this juice is something seriously special. There is nothing 'light' about this fragrance in the sense that it may not be for everyone, especially those who like a light, girly easy-to-wear scent. This one is intense, it's dark and it's seriously opulent. It's inspired by Beirut in the Middle East with notes of heady rose, dark accord of spicy woods, ylang-ylang from Madagascar, Indonesian Patchouli, Black Pepper and Incense which all add to the feminine yet spicy mysterious edge. This is a definite evening scent – it's incredibly sexy and very concentrated so a little goes a long way. Please just do yourself a favour and give it a sniff. I now need the full size! R2880 for 90ml (link).
YSL Black Opium Floral Shock
This is the 4th addition to the Black Opium collection from YSL. This version was introduced as a fresher version with more floral and green aromas and the first one to possess the "iced coffee" accord (the original had black coffee accords). This juice opens with zesty lemon, hawhite floral character in the heart with gardenia and iced coffee and white musk at the base. It's quite a different scent for me but I really love it for daily wear and love it for winter as it still has the oriental appeal that the Black Opium scents originally won me over with. R1245 – R1630 (link). Side note: My Perfume Shop have a competition running where you can win perfume for a whole year – see details here.
https://kissblushandtell.co.za/wp-content/uploads/2017/05/IMG_6010.jpg
1600
1280
Victoria
/wp-content/uploads/2020/03/logo.png
Victoria
2017-05-02 10:21:00
2020-03-24 08:13:06
The Fragrances that will be seeing me through winter