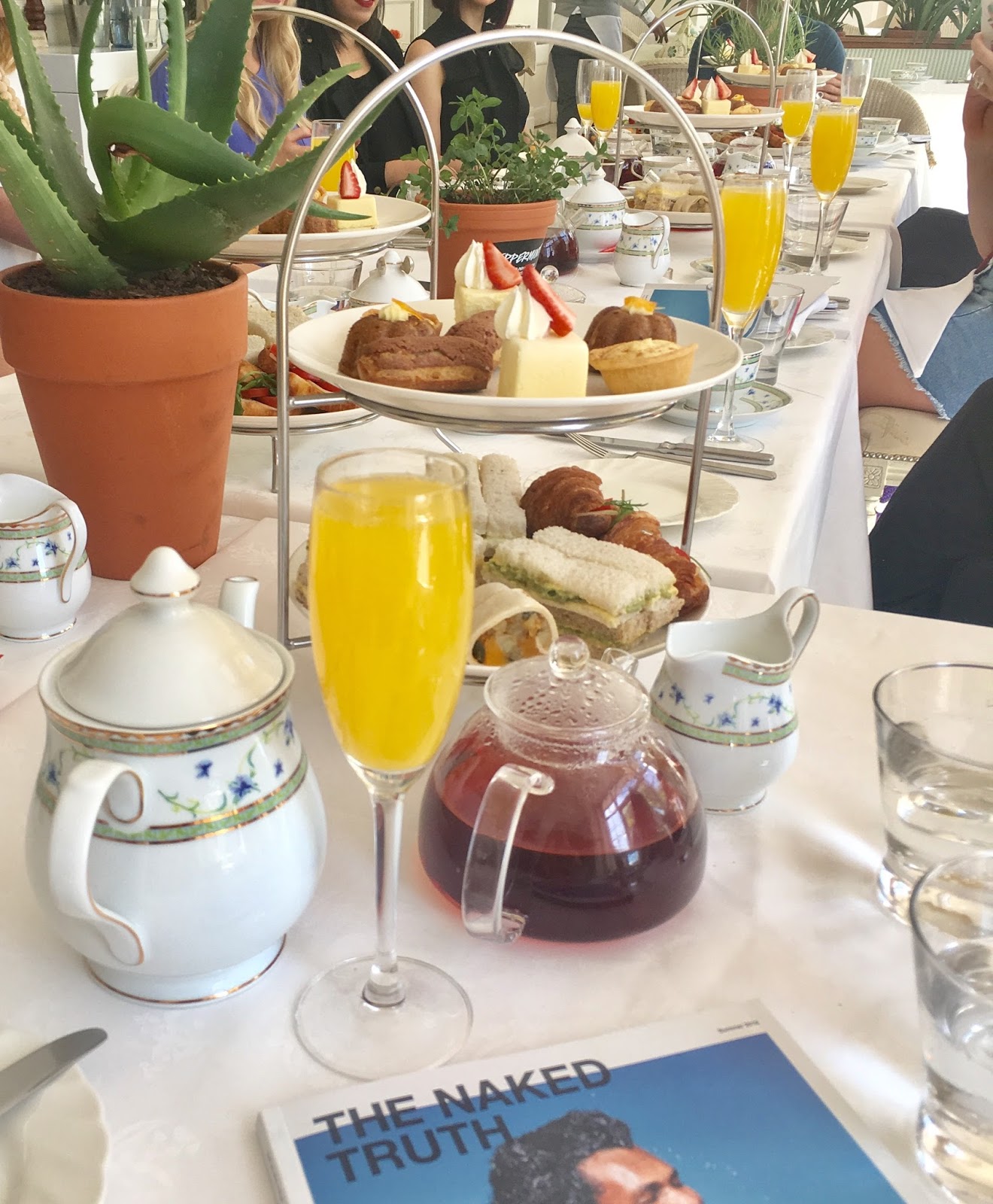 Lush is truly one of my absolute favourite brands (and one of those that I would choose to work for in a heartbeat). I love their whole brand ethos and, obviously, their products. The products work magic and, most importantly, just make me so happy when I use them! Isn't that what beauty products are all about!?
Spent he morning drinking mimosas and chatting about everything Lush-related to the co-founder, Rowena Bird. Such a lovely morning (oh, and everything Christmas too) ????

A photo posted by KISS, BLUSH & TELL (@kissblushandtell) on Oct 14, 2016 at 2:30am PDT
I was really honoured to have been invited to a breakfast with the Lush co-founder, Rowena Bird, last Friday. The breakfast was at The Mount Nelson (possibly my favourite place, ever) where we got to indulge in vegetarian breakfast treats and chat all things Lush. Heaven!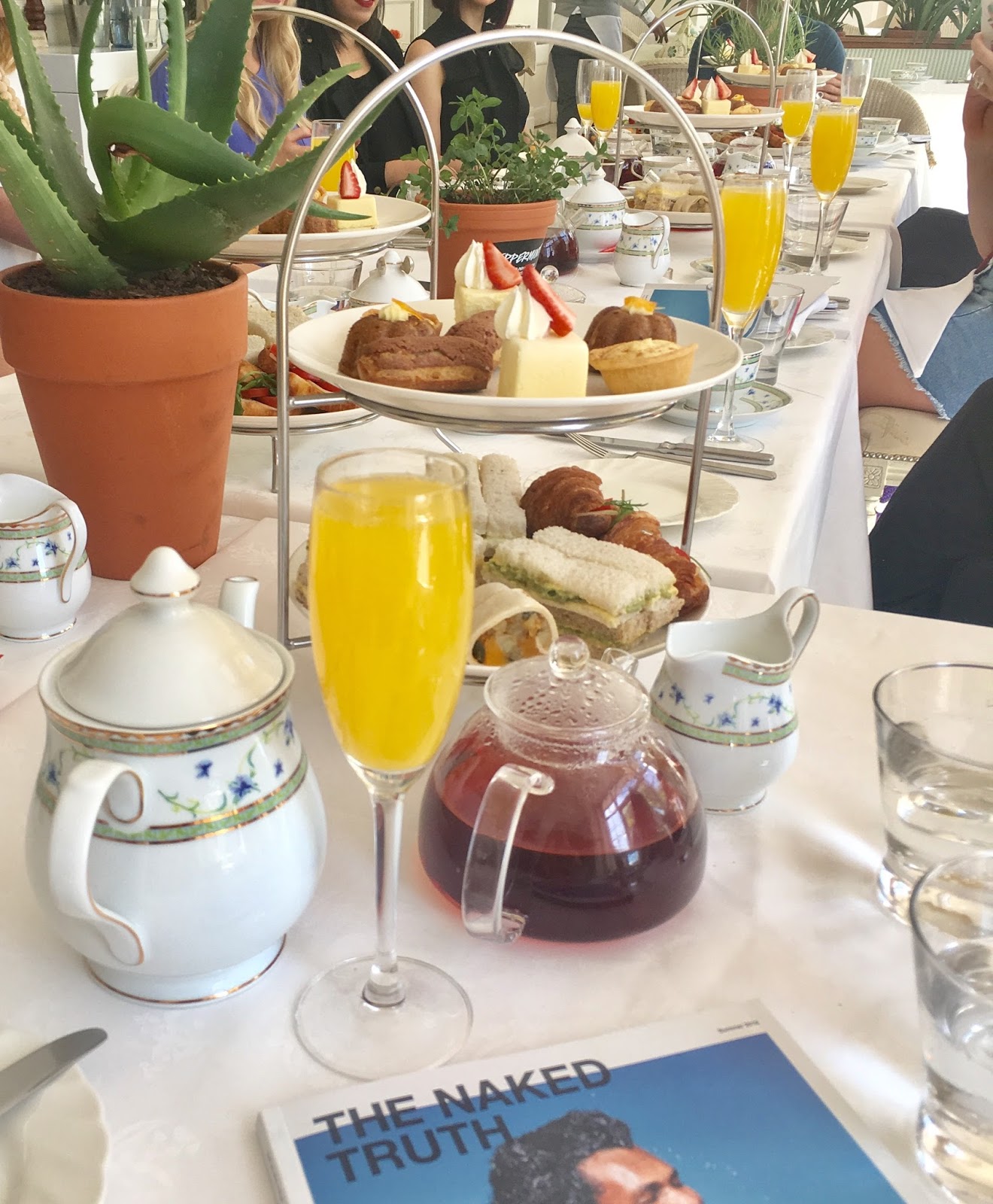 Rowena chatted us through the whole Lush story, her favourite Lush picks, the products she came up with and, of course, a sneak peek at their Christmas collection that will be hitting stores soon. The best news is that Rose Jam is back (in 1 Litre and all!!!) – this is hands-down my fave body wash and I always stock up on a large one which lasts me the year (yes I also use other body washes in between, don't worry). Alongside this launch are a bunch of other really Christmassy bath bombs, a Christmas cleanser called Bûche de Noël (!!!) and loads of other festive goodies. It's no secret that I basically become Father Christmas around this time of year, I love every single bit of the lead up (and so do Lush). These are the products I am most excited to get my hands on: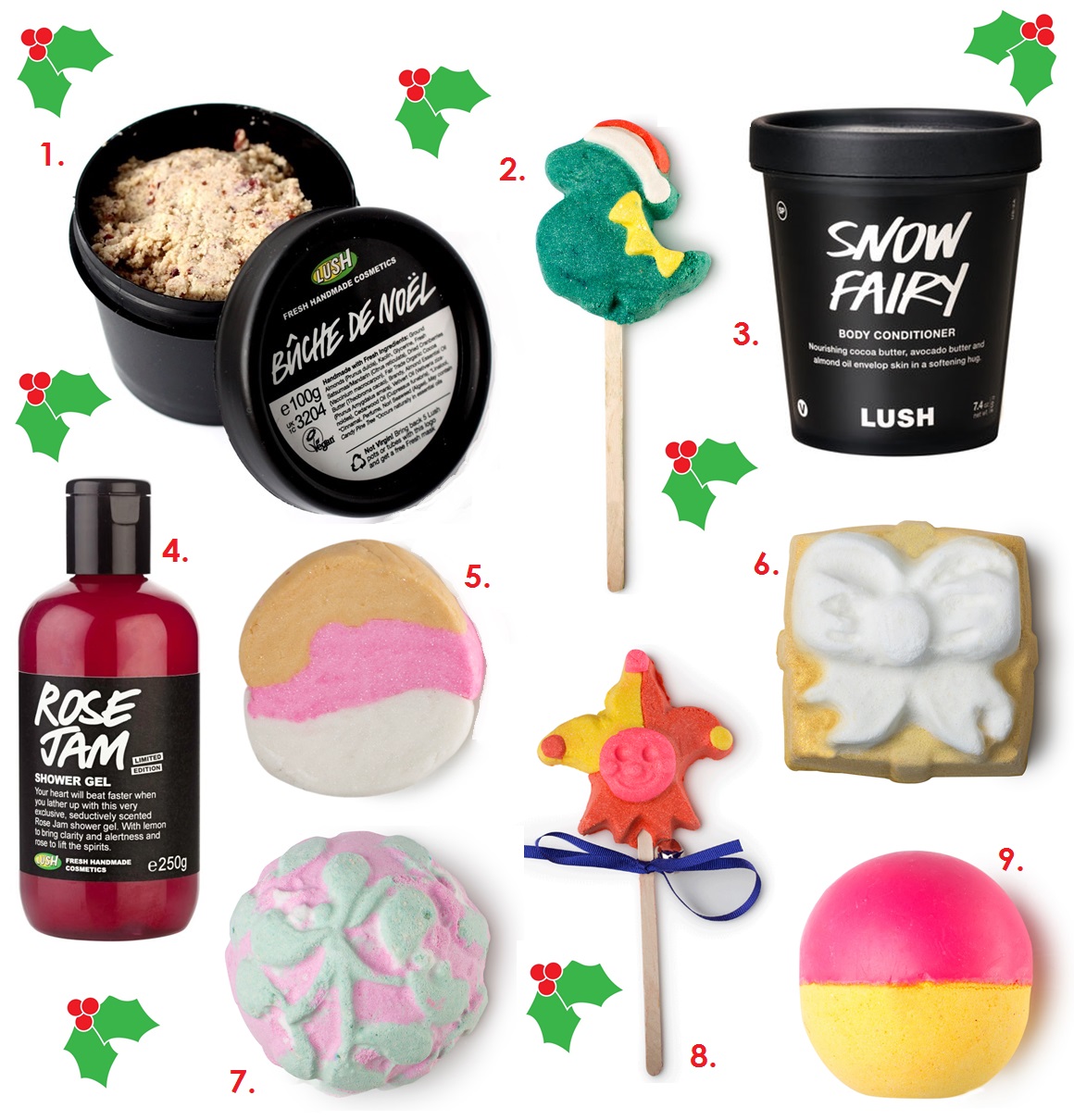 1) Lush Bûche de Noël Cleanser – R95 (NEW)
Bring radiance back to wintry skin by using this blend of
softening almonds, cleansing kaolin, nourishing festive fruit
as well as a dash of brandy. The boozy blend will gently buff
and brighten. A little Fair Trade cocoa butter ensures your skin
stays soft. Vegan
2) Santasaurus Re-usable Bubble Bar – R95 (NEW)
Inspired by a nativity gone wrong, this dinosaur is just roaring
to get in the bath. Crumble or hold under a running tap to
create an ivy green colour in the water and produce a scent of
comforting honey, refreshing orange and fruity
bergamot. Vegan.
3) Snow Fairy Body Conditioner – R175 – R325 (NEW)
With peppermint and crystals to awaken and stimulate your
body, this is the number one to return to over the festive season.
Spearmint and grapefruit oils are also added for a minty
citrus kick. Cover wet skin with a generous amount then rinse
off for a clearer mind and body. Vegan.
4) Rose Jam Shower Gel – R95 – R275
A shower gel made with organic Turkish rose blends with
sweet Fair Trade vanilla pod infusion from Western Uganda to
lather skin in a decadent, lingering scent. Nourishing argan oil
treats the body to some well deserved conditioning while Sicilian
lemon and goji berry juice cleanses and brightens. Vegan.
5) Snow Fairy FUN – R115 (NEW)
Now you can make your own legendary Snow Fairy complete
with a magic wand and wings. Mould the shimmering gold
together with the perfect pink and snow white to create your
fairy, she can also be crumbled under the tap for a bubbly
soak or used to wash your hair and body, just like magic!
Vegan.
6) Golden Wonder Bath Bomb – R69.50
Bathe in liquid gold with this uplifting, sweet, citrus bomb. Drop
it in the bath and watch in wonder as it unwraps itself to reveal
its glittery contents in a sparkling turquoise explosion and
citrus blend of uplifting sweet orange and refreshing lime and
cognac oils. Vegan.
7) Mistletoe Bath Bomb – R69.50 (NEW)
Say it with love this festive season and give the gift of kisses.
Watch as it fizzes away pink and green that mix to create
a sensual deep purple. This bath bomb is romantically fragranced
with floral jasmine absolute, exotic ylang ylang and
earthy vertivert. Vegan.
8) Jester re-usable Re-usable Bubble Bar – R115 (NEW)
Put a smile on your face with the re-usable Jester! Complete
with a little bell, this bubble bar is sure to boost your mood
right up as well as revitalising your skin with a super citrus
blend of tangerine, Sicilian mandarin and bergamot oils.
Gardenia extract is also added for a floral flash. Vegan.
9) Never Mind The Ballistics Bath Bomb – R62.50 (NEW)
Create a sunset in your bath tub! Fragranced with sweet
orange and lime oils, watch as the yellow and red layers intertwine
to create a dusky orange colour. The red side of colour
is coated in a layer of Fair Trade cocoa butter to give your skin
an extra treat. Vegan.
Lastly, another new up-coming launch (which isn't Christmas related) is these mouthwash tabs. I got the spearmint flavour and it honestly is so handy to keep in your handbag for travel etc. Remember you can shop Lush online, and for those Pretoria girls – you are next in-line for the soon-to-open Lush store in Menlyn Park.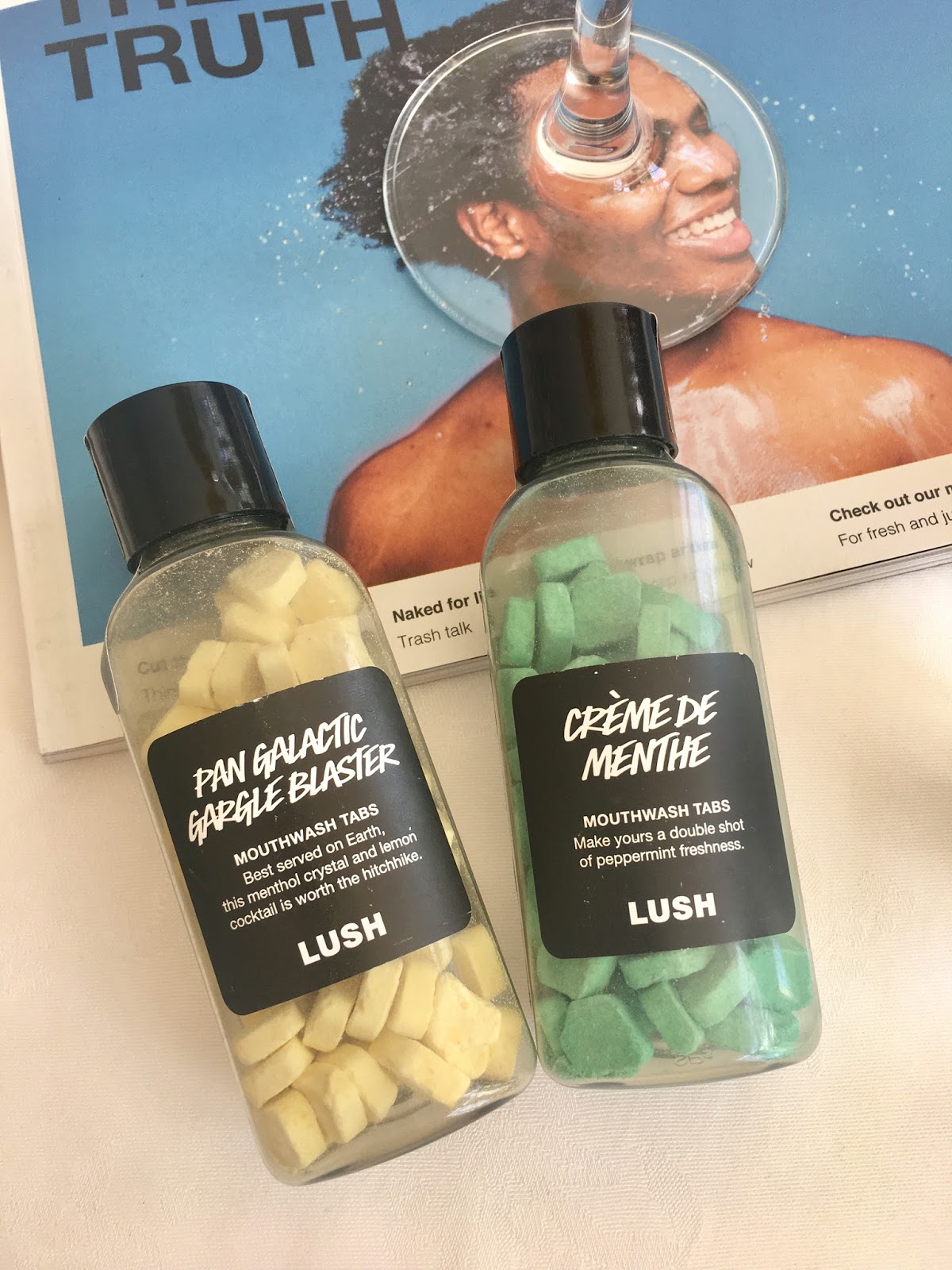 https://kissblushandtell.co.za/wp-content/uploads/2016/10/FullSizeRender281229.jpg
1600
1320
Victoria
/wp-content/uploads/2020/03/logo.png
Victoria
2016-10-24 10:05:00
2020-04-29 11:56:23
Celebrating Christmas with Lush