Right, so a few of you liked the idea of this healthy recipe posts on the blog so here it goes. I am by no means a foodie or a health-nut but I do really love my cooking and, at the same time, love food that leaves me feeling like I have given my body what it needs without making me feel guilty and like I have just undone all the hard work I have put in at the yoga studio or gym.

When I posted my Instagramabout healthy recipes I had a reader get in touch who is a registered dietician and practices at a well-known company in JHB called Nutritional Solutions. She (very) kindly offered to have a look at all my recipes and give a dieticians point of view – from nutritional info to tips about tweaking the way we eat to be more healthy. It's been fascinating for me. So below are my recipes where Nicola has added in tips or alternatives (italics mean the healthy info). You can follow her on Twitter – @DelishDietician. Thanks so much Nicola 🙂 I'm not sure about you, but I find it pretty easy to be healthy if it's just week-night meals at home, the hard part is when I am entertaining people in my home (which I love doing). I used to always feel that when I had dinner parties the meals I cooked had to be extravagant and (often) over-indulgent. I now, however, stick to cooking my usual healthy foods and make them a little more exciting. I think my friends also love this, as they get to have a healthy, balanced meal rather than carbo loading on ciabatta with butter like we do at most dinner parties (even though very little beats that!) My first two recipes are very simple and so easy to do, I did that on Saturday eve and they went down very well.
Beetroot Houmous
Nutritional Analysis for Hummus per serving (Serves 8) 332 kJ 4g Protein 1.6g Fat 9g CHO 3g Fibre
I made this Houmous using my Nutribullet (which is a new addition to my kitchen so I try incorporate it wherever I can, I'm a tad obsessed). This Houmous can be done using peas or carrots too – just simply replace the beetroot with either of these two.
Time: 5 minutes
Ingredients:
Cooked Beetroot (I used the Woolies one and would avoid tinned beetroot) Rich source of Anthocyanins which boost Anti-oxidant defences against UV radiation & may contribute brain function & motor function 1 can organic chickpeas Half a lemon (use the juice) Half a garlic clove minced Rich in Diallyl Sulphides an antioxidant that boosts innate immune defences Half a red chilli Half a bunch of flat leaf parsley Spoon of creamy goats cheese (optional – I added this the second time I made this and loved the additional creamy flavour) Another option here is Ricotta Cheese – it still adds a creamy texture but has only 173kJ per 30g portion vs 457kJ in 30g of Goats cheese (Per serving that saves the equivalent of 1 extra slice of bread!) Pop all the ingredients in your blender or Nutribullet and blitzed up for a minute. That's all. I served it with loads of fresh cucumber batons, baby carrots, baby tomatoes and melba toast. Opt for whole grain crackers here to increase fibre for satiety and fullness
Sweet Potato and Fresh Fig Salad
Nutritional Analysis for Sweet Potato Salad per serving (Serves 6) 1139 kJ 6g Protein 7g Fat 32g CHO 4.5g Fibre
Time: 45 min
Ingredients:
3 Yam Sweet Potatoes 4 Fresh Figs Red Chilli 2 Tbsp Balsamic Vinegar Brown sugar Spring Onions 30g Goats Cheese Again Perhaps Use Ricotta to significantly reduce overall kJ content of salad 60g Walnuts (roasted) – I didn't add this, but next time definitely will as a nut would have been a good addition Walnuts are high in Omega-3 derivatives which have anti-inflammatory properties. Portion however is very important as these are energy dense, I work on 1 level Tbs. Chopped Walnuts (10g) per person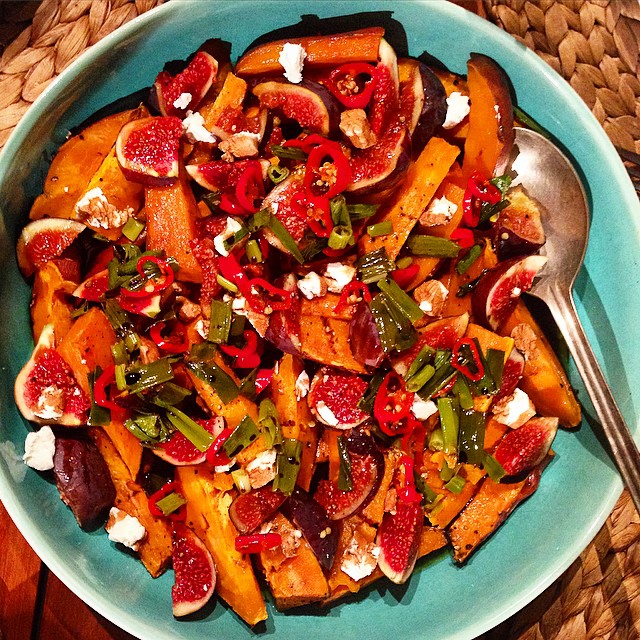 Slice the potatoes into wedges and pop in the oven for 25/30min – until cooked through but not smooshy. Let these cool and pop in your salad dish. Slice the figs into wedges and put these into the dish. Crumble goats cheese over figs and potato. Put 4-6 big glugs of balsamic vinegar in a pan with 2 tbsp of brown sugar and boil off until it forms a sticky glaze, put this aside to cool in a bowl. Slice the spring onions into 2/3cm slices and put in the same pan with roughly sliced red chillis and a touch of olive oil. Cook these off for 5 minutes, drizzle over salad followed by drizzling over the balsamic glaze.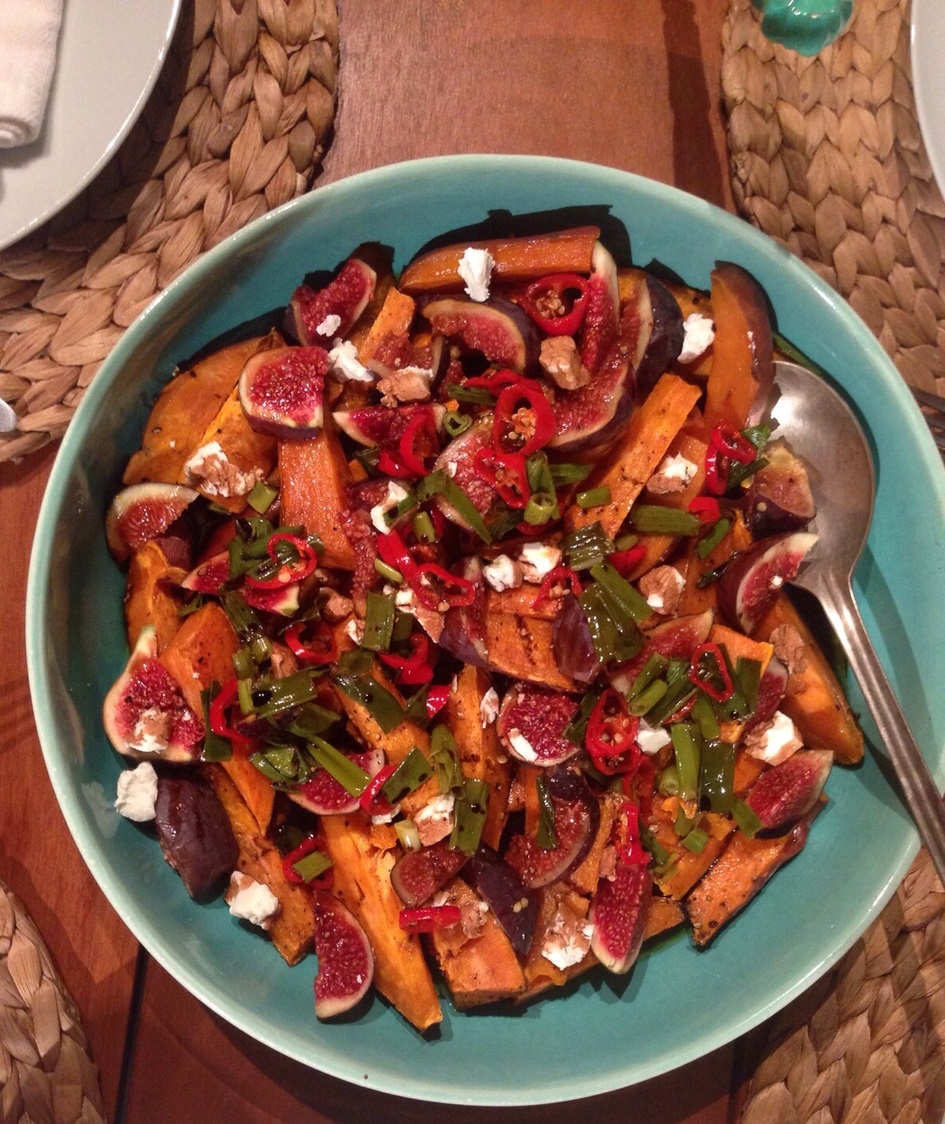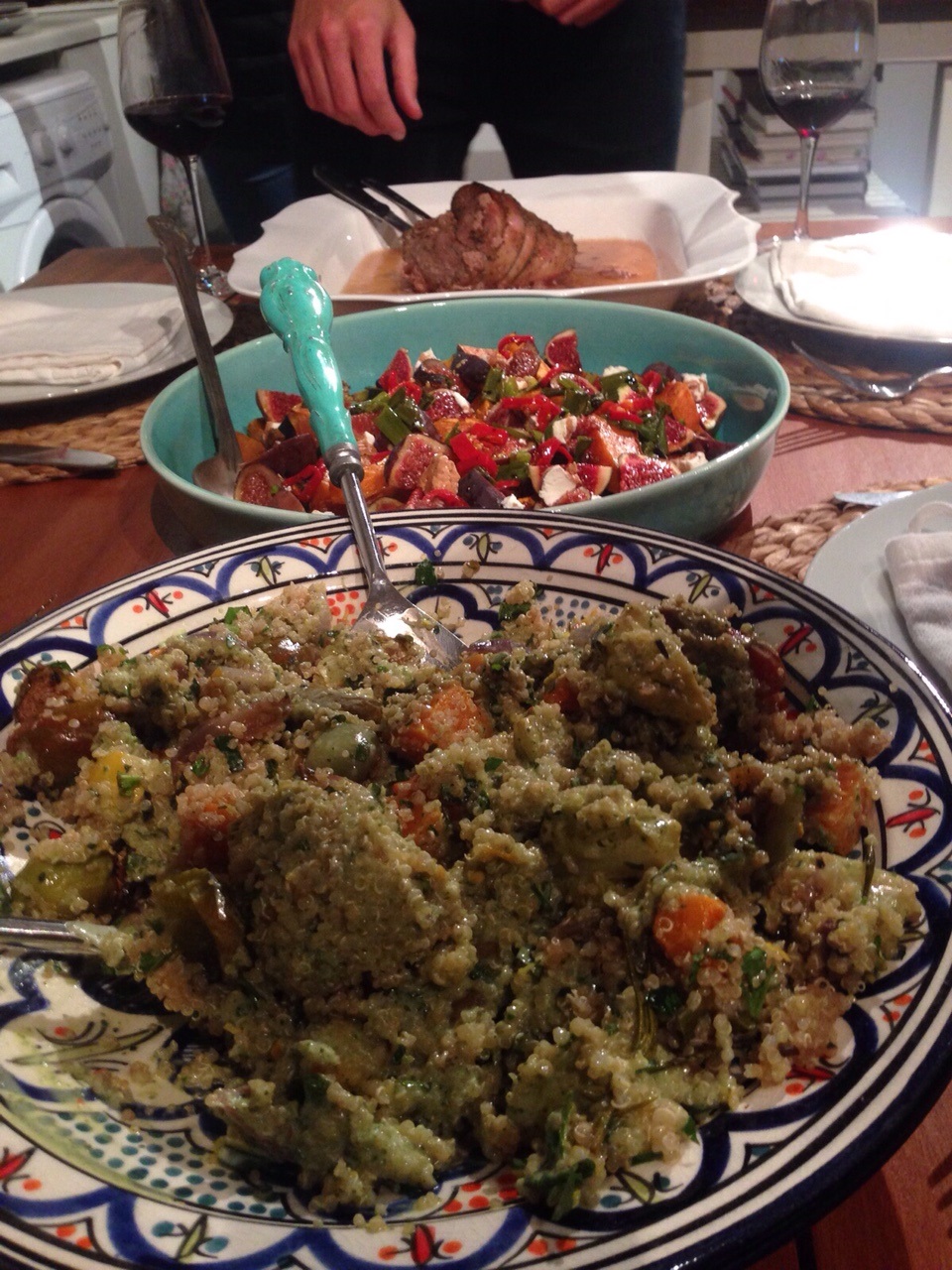 This other salad is my veggie quinoa salad with yoghurt mint and basil dressing, shout if you want this recipe too.
Enjoy!
https://kissblushandtell.co.za/wp-content/uploads/2015/10/health5Bpic.png
545
1600
Victoria
/wp-content/uploads/2020/03/logo.png
Victoria
2015-10-15 09:50:00
2020-06-27 19:41:35
Healthy Recipes: Beetroot Houmous & Sweet Potato & Fig Salad