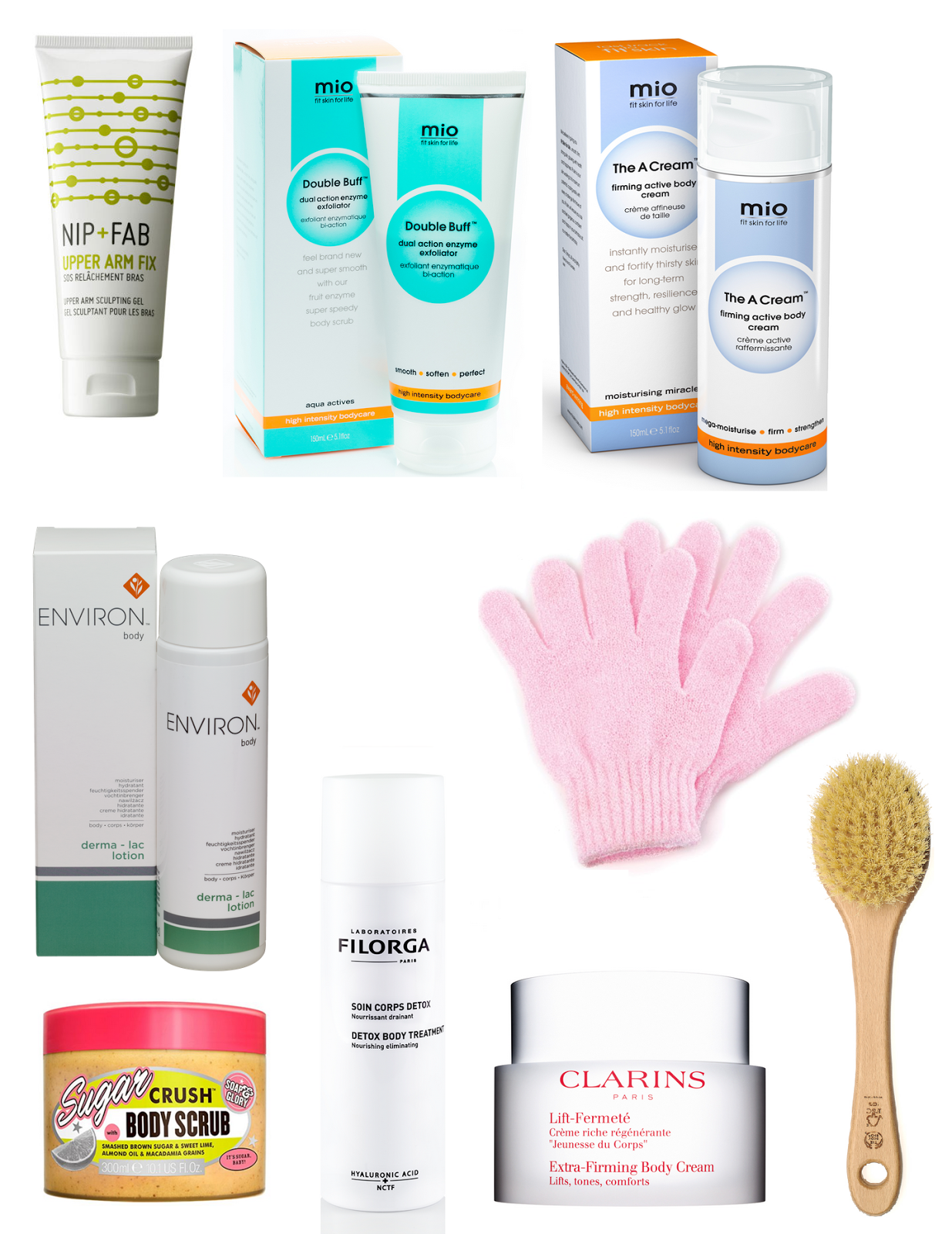 I actually got asked this question the other day and, to be honest, I wasn't quite sure of the answer as I don't battle with chicken skin/arm acne – but I know many women do so this is my guide to treating what is medically termed Keratosis Pilaris.
The name for this genetic condition is when too much keratin is produced around a hair follicle which results in the hair being annoyed which forms this little bump. It's often in areas where there is friction with clothes such as the bum, upper arms and thighs.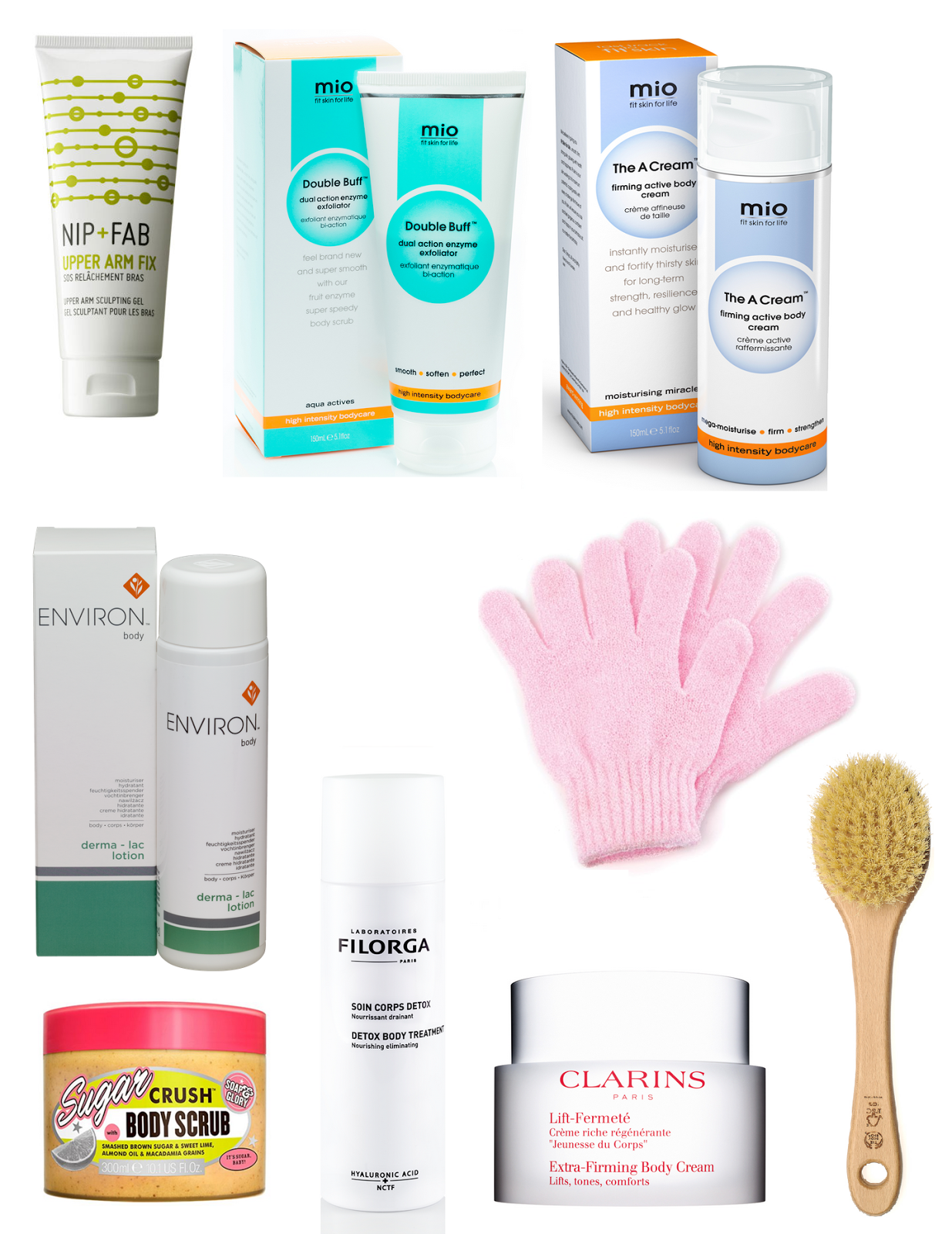 The problem is one that worsens in the wintery months (like now) and this is because the skin is drier, making it even harder for the hair follicle to break through the drier skin. It's also in these colder months that we tend to wear jeans or tight clothing allowing no time for our skin to breath! I actually remember one overseas trip in particular where I wore wintery clothing non-stop, only to return home to little bumps all over my shin area – this was due to dry skin and constant friction from my clothing.
The good news is that there are a number of fairly simple ways that you can treat and avoid Keratosis Pilaris – below are some recommendations:
Buffing
Consistent buffing of the skin can keep the dead skin cells at bay and allow the skin and hair follicles to not get trapped. I recommend the cheap-as-chips exfoliating gloves that you can pick up in Clicks for R40. I have a pair in my shower and make an effort to use these with my shower gel at least twice a week – it's so super quick and easy. Else a good old dry body brush works wonder! If you are more into using actual exfoliaters try Soap & Glory Sugar Crush Exfoliator or the Mio Double Buff.
Moisturise
Keeping the skin hydrated and soft is important. I am particularly slack about this, but make an effort with my upper arm area. When my skin is very dry my go-to product is the Environ Derma-Lac lotion – this stuff is pretty unreal as it contains AHA's to assist in exfoliating the skin as well as keeping it very moisturised. It's also great for treating in-grown hairs. Another go-to moisturiser is the Clarins Body Shaping cream (R585) and the Mio A Cream (R497) – both assist with firming the skin and a little goes a long way. My pet hate is moisturiser that doesn't sink into the skin and have a lasting moisturising effect – both of these are great for absorbing into the skin and leaving the skin feeling soft for at least 24 hours after use.
Active Concentrated Treatments
For a more active treatment-based product I can highly recommend the newly launched Filorga Detox Body Treatment – it concentrates on nourishing the skin, eliminating toxins and has a chemical peel action which aids in exfoliation. This product really is very active and will get amazing results! It comes in a foam-like formula and the results were fast and noticeable for me! R550 – Edgars and Red Square. If you want to really target those 'bingo wings' at the same time, I have been enjoying using the Nip + Fab Upper Arm Fix gel (R250) – it dries quickly and I love what a targeted product it is – these sorts of products do need to be used in conjunction with a good diet and exercise routine – water is also a big help in terms of the skins general hydration.
Sunlight
Vitamin D assists in keeping Keratosis Pilaris at bay – either through supplements or a healthy amount of sun exposure (with adequate protection).
https://kissblushandtell.co.za/wp-content/uploads/2015/07/keratosis.png
1600
1235
Victoria
/wp-content/uploads/2020/03/logo.png
Victoria
2015-07-28 07:26:00
2020-06-27 19:46:40
How to Treat Chicken Skin / Keratosis Pilaris