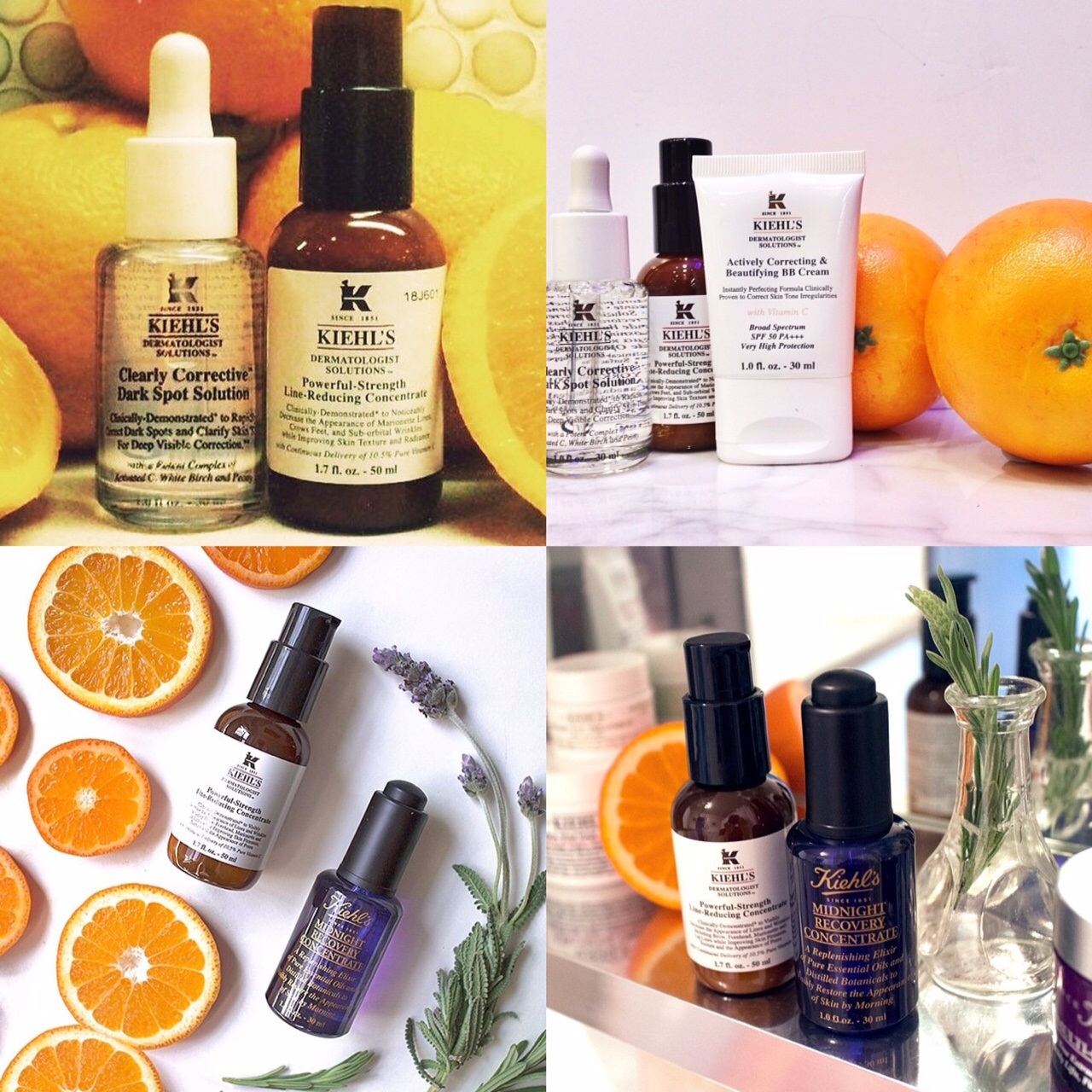 As many of you know, I have just completed my first week of the Kiehl's Change Your Skin challenge – the challenge involves 28 days of using three star products from Kiehl's and in doing so, hopefully seeing great results! Five of my KBT readers have joined me in the challenge and received their own full sized products – below I share my feedback so far as well as their thoughts. The products we are using are:
Midnight Recovery Concentrate – a pioneer product in the facial oil category
Dermatologist Solutions™ Clearly Corrective Dark Spot Solution – the 1st clear, stabilized dark-spot serum
Dermatologist Solutions™ Hydro-Plumping Retexturing Serum Concentrate – the 1st serum to address age-related dehydration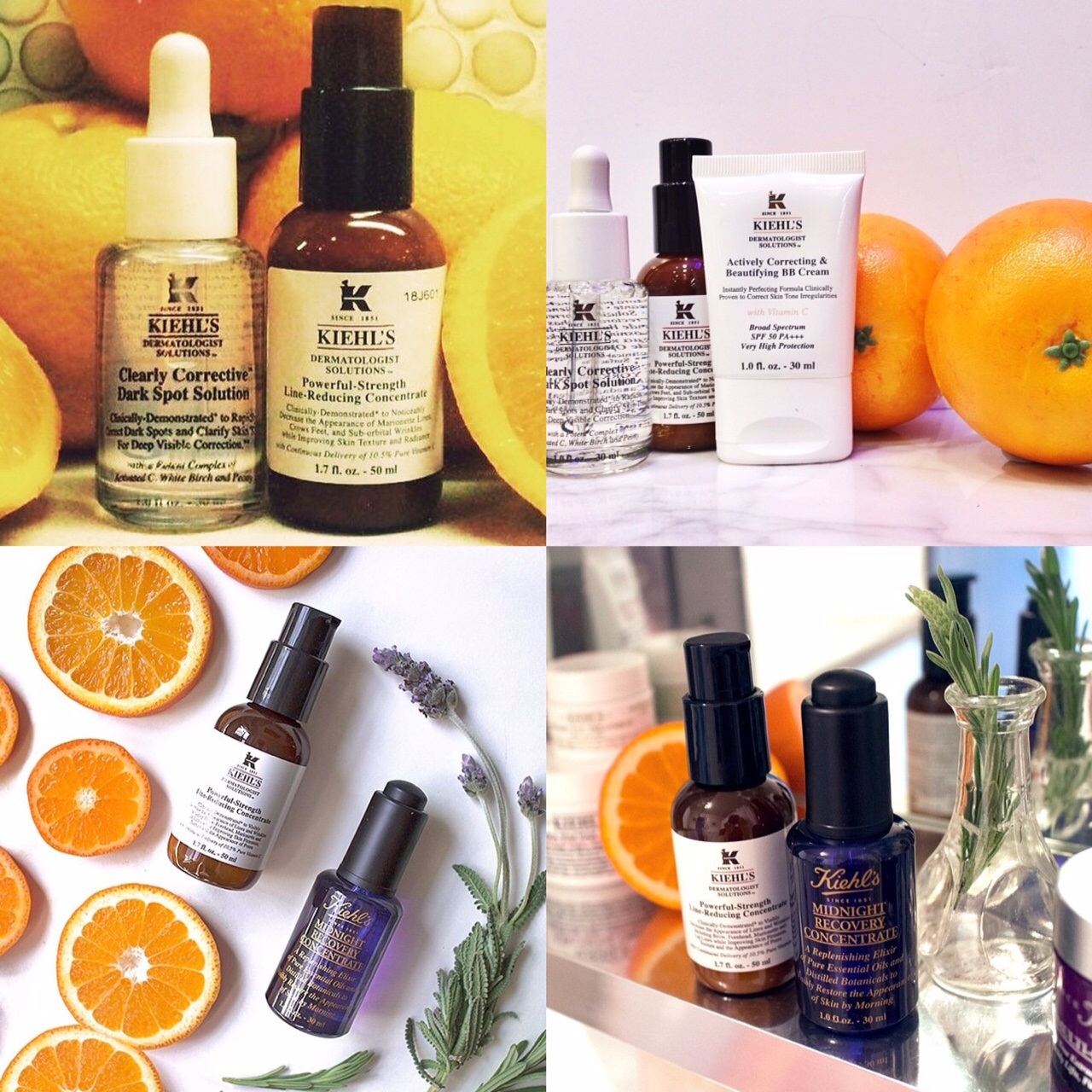 My thoughts:
My star product of the week (unexpectedly) has to be the Hydo-Plumping Retexturising Serum Concentrate. I say unexpectedly as I am on my second bottle of this and didn't love the first bottle – this may be because I wasn't using it in conjunction with the best products, however, this time around I am seeing such great results – skin feels firmer and plumper all-round. I was battling with fine lines and even though I don't have an un-even skin tone, my skin of late just hasn't been looking that great make-up-free. Maybe that's something to do with my age, who knows. After week one I am noticing a more even skin tone and more hydrated, plump skin. I am still not that happy with my eye area, so this is something I hope to see improving over the next three weeks.
Falon's Feedback (Week 1):
My skin not only feels lovely, it looks healthy and its glowing too! Because of this, I only wore make-up once this week! I've noticed a visible change in the dark marks on my skin which appears to have helped my overall skin tone. The areas on my face that were dry and flakey have been hydrated all week. I'm incredibly happy so far!
Avastha's Feedback (Week 1):
In only a week, my skin feels smoother (this could be because I'm actually routinely applying moisturizer) and I'm definitely noticing a brightness in my skin! I haven't seen any progress with the getting rid of the dark marks just yet.. But it's only been a week! I have high hopes! In terms of the products – my favourite is definitely the midnight recovery – I love how weightless the oil is and how well it is absorbed into my skin leavening it feeling moisturized without being greasy – also it smells heavenly!
Krist's Feedback (Week 1):
I fell in love with these three products almost immediately. I personally prefer lightweight products that are easily and quickly absorbed into the skin and don't just lay on your skin, and you can really feel the Kiehl's products going into your skin, and not just laying on the surface. I wanted to stick to my normal skincare routine of washing, toning, and moisturizing, but at the same time I wanted to judge only the Kiehl's products. So I eliminated all my current skincare products and stuck to just washing with my face wash and makeup removal with coconut oil for the challenge. I noticed a massive difference in the texture of my face right away – I don't have smooth facial skin and it's been something that has bothered me for as long as I can remember. On day 4 on the challenge, was when it really started to kick in and my skin felt extremely smoother, and softer, than ever. To be honest – I didn't want to put makeup on! And if it wasn't for my hormonal breakouts happening, I probably would have gone without makeup for the day. For me, that's HUGE. My skin also definitely feels a lot more hydrated and the patches of flakey skin on my forehead are slowly going away. I haven't noticed a difference in my dark spots…. yet. But I'm definitely holding out for that because some of them are from my teen years so it might take more than a week to start vanishing. I'm really enjoying these three products. They are easy to apply, and I feel that a little of the Clearly Corrective Dark Spot Solution and the Midnight Recovery Concentrate go a long way, and really absorb into the skin's surface like a product should. I used a little too much the first day, but soon adjusted that and used only a few drops for my entire face. I'm really excited to see what the next three weeks of the challenge have in store for my skin! If it's started off this good – it can only get better from here!
Natalie's Feedback (Week 1):
I started the week with an awful breakout, the kind that usually lasts for weeks with me and the worst crocodile skin ever so the serums really had their work cut out for them.
The Hydro-Plumping Retexturing Serum Concentrate and Clearly Corrective Dark Spot Solution are not really perfumed which I am very happy about and my skin just soaks them like a sponge. I have definitely seen an improvement with regards to the fine lines and wrinkles especially around my eyes and my skin in general has a very healthy fresh glow, I have received quite a few compliments on how rested and refreshed I look, YAY!!!!
The Midnight Recovery Concentrate is AMAZING!!! I have completely fallen in love with this product, it is a must for everyone. My skin looks amazing in the mornings and the feel of this serum on my skin is pure luxury. It has a light fragrance but its beautiful, I catch myself smelling it at night when I'm putting on the serum and just smiling.
It really has been a great skin week with all these serums and I am happy to say my breakout is almost completely cleared and not looking pink and blotchy anymore. Can't wait to see what next week brings 🙂
Elizabeth's Feedback (Week 1):
The first time I applied the evening regimen I said to my husband: "I feel like I have "rich girl" skin". And that's exactly the feeling I have a week later – even without make-up, I look as if I've just walked out of a soothing facial. And it's not just the surface – my skin feels more 'plump' in the mornings, which is a great change from the slightly papery feel I'd been experiencing the last few months. I think it also helps that I'm no longer just cleansing with a wet wipe snatched from the kids' nursery…
I know a few readers have since joined us and spoilt themselves to some Kiehl's products, please let me know your thoughts so far, would love to hear! Here's to week 2 🙂 Happy testing!
Image from Kiehl's Singapore Instagram
https://kissblushandtell.co.za/wp-content/uploads/2015/06/PicFrame.jpg
1280
1280
Victoria
/wp-content/uploads/2020/03/logo.png
Victoria
2015-06-30 10:33:00
2020-06-27 19:49:50
Kiehl's #ChangeYourSkin Challenge - Week 1