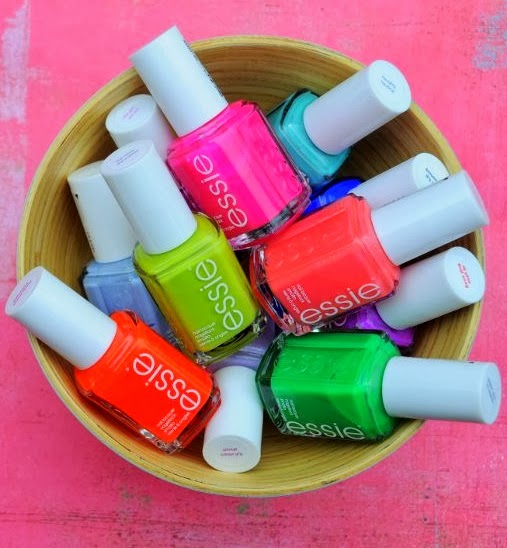 With summer around the corner, I'm sure you are all feeling much the same way I am. I've booked my first spray tan for tonight, got all my waxing out the way and have started going for the summery Shellac nail colours on my hands and toes. I've also booked a Brazilian Blowout for tomorrow – so look forward to telling you how that goes.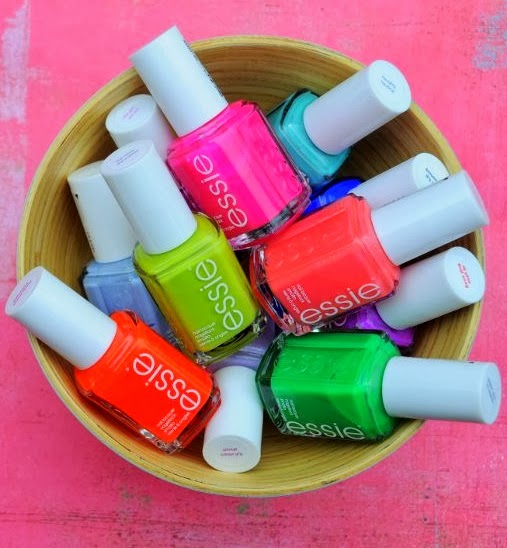 Anyway, one of my absolute pet hates is hard skin and after a long winter, I'm sure most of our feet are looking less than perfect. I know mine are from running, especially treadmill running – and nothing grosses me out more. About a month ago I started setting aside a bit of time for my feet using the below products from Elixir. I seem to spend so much time on my hair and skin but neglect my feet when it comes to hydration. I go for a pedi every second week (religiously with my mani) but hard skin still creeps up on you.
Elixir is a local aromatherapy-based facial and body brand that makes use of the finest essential oils and vegetable based raw ingredients. The reason I so enjoyed their foot care range is that the products really are as natural as you get plus they smell beautiful. Their scrubs were my absolute favourite as when I want to scrub my feet I want a real-deal scrub, and theirs is exactly that!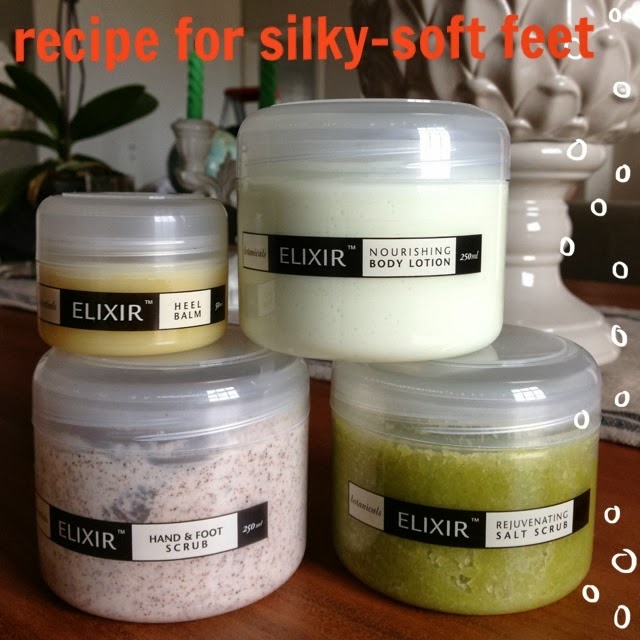 I made use of four of their products for the four week period and used them every night (except the few late nights that I forgot). I can honestly say my feet have not felt this soft in ages and the prices are brilliant. It does wonders for the overall appearance too as the skin on the top of my feet is hydrated and glowing too, making it super-easy to wear any summer sandals. This is how I used the products and a few tips to make it easy:
Elixir Rejuvenating Salt Scrub (R100):
This is what I deem to be a 'real-deal' scrub. It gets down to business and gets rid of all unwanted hard skin. It smells fabulous too. I only used this once a week as it is strong. I alternated this with the below product.
Elixir Hand and Foot Scrub (R110):
This was a softer/milder version that the above so I used this every other day. It was great on my hands too and was full of beads that buffed the skin perfectly.
Elixir Heel Balm (R75):
I loved how natural this was. It was almost like a bees wax. I put this on overnight with some socks. Be sure to wash this off in the shower the next morning if you planning on wearing sandals, else you may find it a bit slippery.
Elixir Nourishing Body Lotion (R190):
This was great for use over my heel balm for the rest of my foot as well as my legs. It absorbed perfectly and smelt wonderful.
Foot tools:
I then made use of this foot file from Woolies (you can get it here). I used this before I started the treatment on dry feet. Some people prefer doing this on wet feet; I don't think it's as effective. This is great to follow with the aforementioned treatment for the best results. I also popped some Essie cuticle oil on my nails afterwards.
You can buy Elixir products online or check out their website for other stockists. Join their Facebook page here.
https://kissblushandtell.co.za/wp-content/uploads/2013/10/option-1.jpg
548
507
Victoria
/wp-content/uploads/2020/03/logo.png
Victoria
2013-10-03 13:06:00
2020-03-24 08:44:02
Summer feet with Elixir