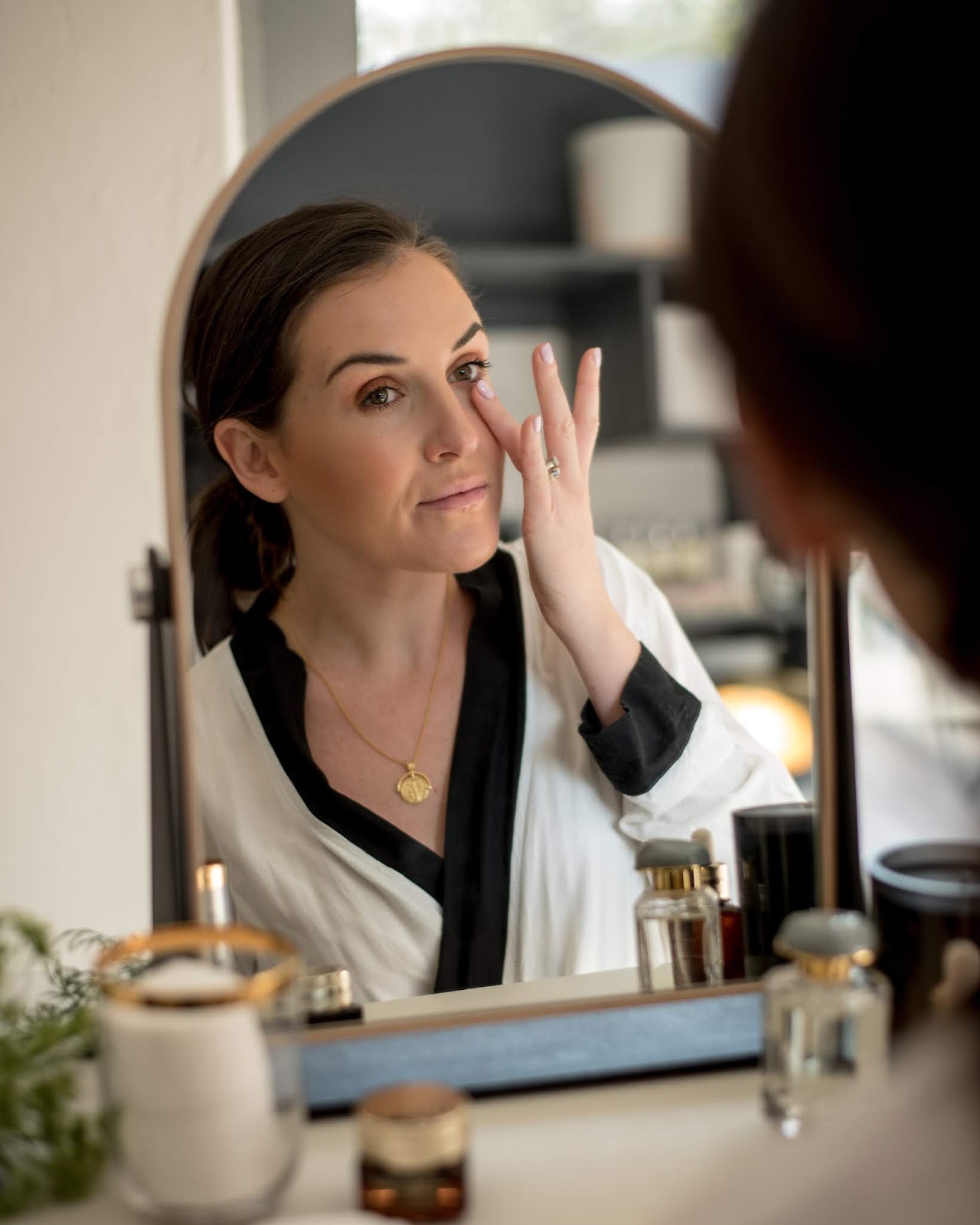 This must be one of the most frequently asked questions, "but when do I apply my sun cream", "Does my Eye Cream go on before my serum, or afterwards", "how often should I exfoliate" etc. I get it. It's pretty confusing and, more than anything, there are a ton of opinions here. Although that goes for everything when it comes to the beauty industry – I might say one thing, but your Beautician (who stocks one range and earns commission *cough cough*) might disagree completely. These are my thoughts and what I can very-unbiasedly recommend.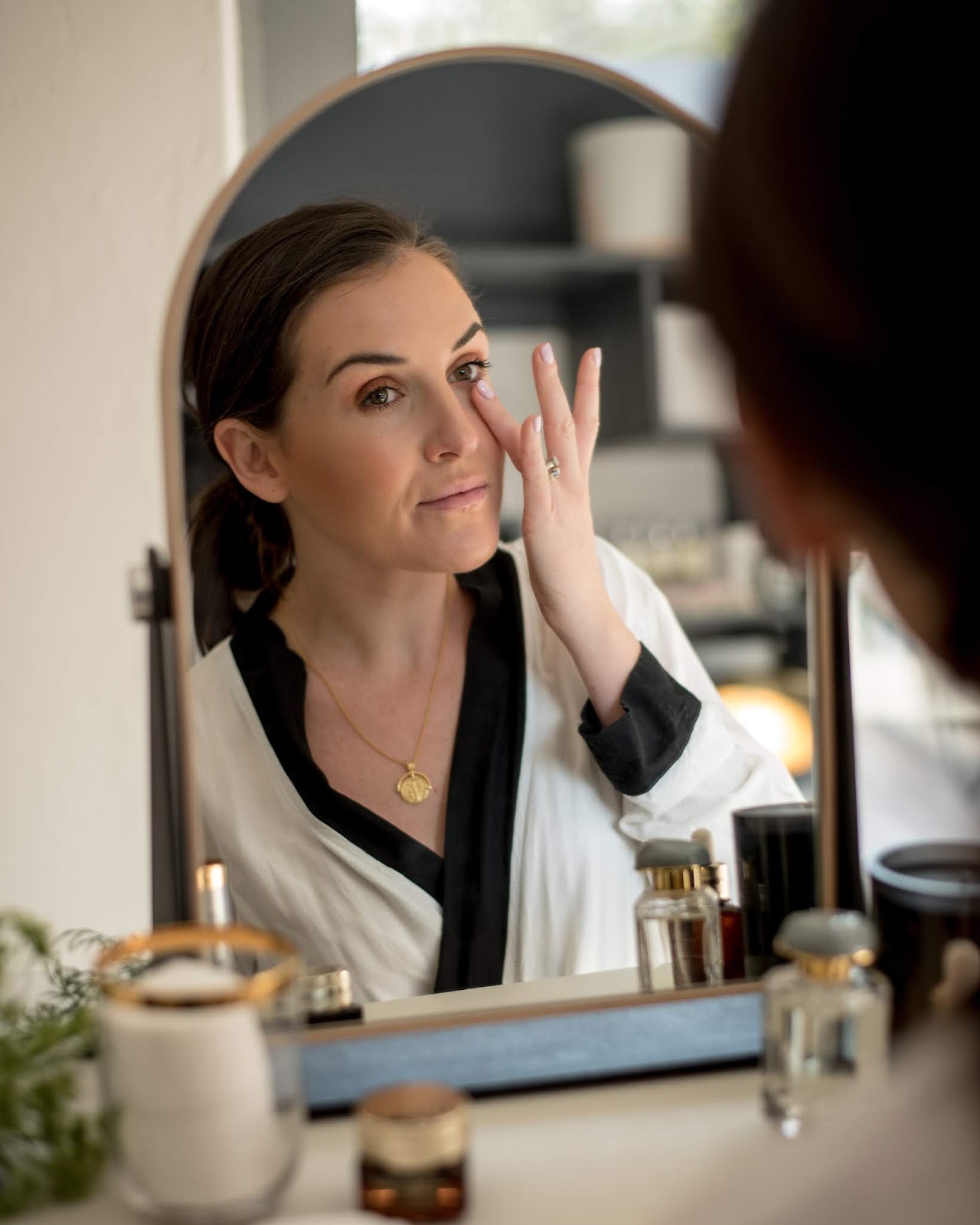 I thought I would share how I personally do my product layering – what goes on first and how frequently I do those in-between things, like exfoliating and masking. This is what works for me and what I advise, but feel free to tweak here and there if you feel your way works better (within reason). For example, your skin may be just fine with masking once a week or exfoliating twice a week; this is just my preference and what suits my skin type. Take from it what you will 🙂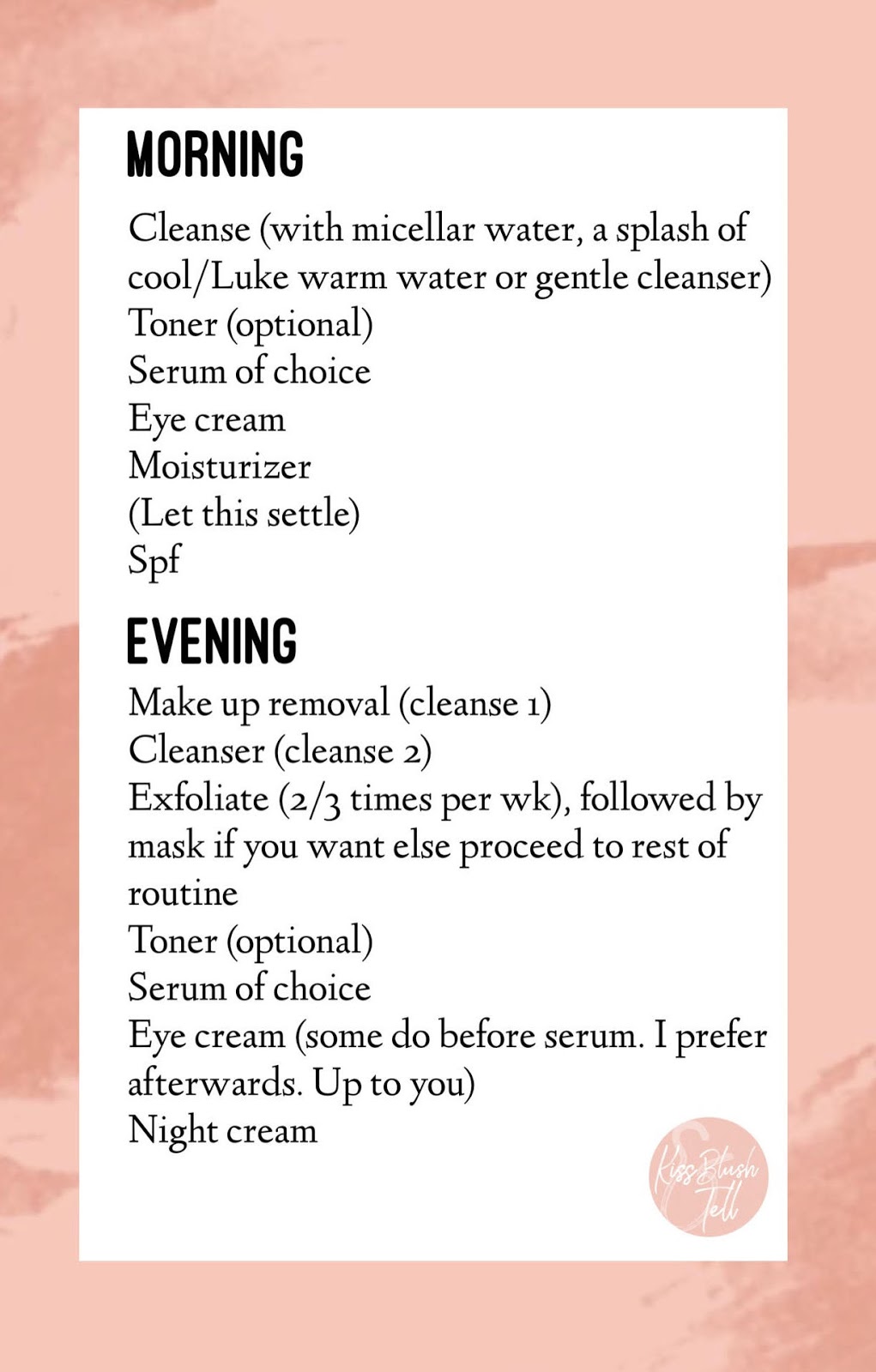 You can print the attached rough template as a guide
MORNING
Cleanse – I cleanse in different ways every morning. If I feel like my skin is looking tired, I use a gel-based cleanser that's invigorating and refreshing. Alternatively I just use warm water and a face cloth with some Micellar water on a cotton pad afterwards, to ensure every scrap of that dreaded mascara is gone. There is no need to use an actual cleanser every morning as your skin should be clean from the night before – just be sure to remove excess oil that is on the skin (micellar water will do this). Tone – optional – you don't need to do this step. The reason some do it is to ensure excess cleanser is removed, skin pH is balanced and extra hydration is added. I like doing it, but that's my preference. Toning will always follow cleansing. Morning and night. My current replacement for toning is using a liquid exfoliant as my 'toning' step. This is simply a liquid AHA that is swiped over the face, like a toner. If you use something like this in your routine, you could do it at this point. Serum – I then go in with my morning serum. It's absolutely fine to use the same serum morning and night. I tend to use an anti-oxidant serum (I use a Vitamin C) in the morning and an anti-ageing serum in the evening, or my retinol, depending on my needs. Eye Cream – I personally choose to put my eye cream on after my serum. I let my serum sink in and then go in with this. This works for me as I like my eye area to absorb the serum and then be nourished with an eye cream. Before or after serum is fine, up to you. Moisturise – this will always follow my serum. I apply my moisturiser which acts as more of a 'lock everything in' type product. My focus has always been on using an active serum, which is where my results come from. My moisturiser merely keeps my skin protected and hydrated. Spf – I wait a good few minutes for my moisturiser to sink in and dry down, I then follow with an spf which is always 50+. Every single day! That's skincare done! Let everything absorb and dry down, and then you can start your make up routine. Any additional sun protection in your tinted moisturiser or foundation is an added benefit. Don't rely on this solely as your protection, your spf in your skin care routine will do this.
NIGHT
Double Cleanse: Cleansing in the evening is where you should spend your time. I double cleanse every evening. Like you would double shampoo, a double cleanse is vital in the evening to ensure every bit of make up and dirt is removed from your skin. You are welcome to use your same cleanser twice, I like to use two different types: Cleanse One – I go in with an oil-based balm first. This is to melt away all the make up. A lot of the make up we wear is oil-based, so a water-based cleanser will battle to break this down. An oil-based balm will ensure it is removed properly. Think something like Clinique Take The Day Off balm or the Emma Hardie cleansing balm. Anything oil-based really. Cleanse Two – My second cleanse is my usual cleanser of choice at the time. This can be a foam or cream cleanser – whatever suits your skin type. Double cleansing is advised every evening to ensure your skin is properly clean. I can't emphasise this enough. Tone – as you do in the morning, toning would follow. Again, optional. This might be a rose water spritz (which is what I do), or a AHA toner. Up to you. Serum or Oil – as I say, this is usually an anti-ageing, hydration-focused serum. If my skin is feeling extra dry, I will replace my serum with an oil. I prefer using oils at night only and would apply this in place of my serum. I often actually leave my eye cream and night cream application out too when I am doing an oil. On these nights I will often do a facial massage myself, just to get the blood flowing – this has great benefits. I use an oil once or twice a week. Optional. If it is a serum (I usually use a hydrating one), then I apply this and continue the rest of the steps. Eye Cream – same as the morning. Night cream – this is where I will use a restorative balm-type moisturiser, something emollient-based, that will help my skin barrier. I will leave this out when I do an oil or retinol. Lip Balm – I always have a super-nourishing lip balm next to my bed. It's really important to finish off your evening routine with this. You can also use any excess eye cream on your lips, and follow with a rich lip balm before you go to bed. Oh, and hand cream too while you're at it.
EVERY OTHER NIGHT
These are your treatment-type steps in your routine that are over-and-above the usual basic skincare routine. These are usually done 2 to 3 times a week, sometimes more frequently, but this is very much dependant on 1) your skin 2) your time and preference and 3) your budget. Exfoliating and Masking This is something I feel extremely strongly about. If you haven't already, you will need to read this post for more detail, however, I do this a lot. More than the average person, but my skin enjoys it, so do what works for you. 2/3 times a week is enough. On nights when I exfoliate, I always follow with a mask. This way I get the maximum benefit from my mask. If I don't have time for the mask part, then I just exfoliate and continue my routine. You would do your exfoliating after cleansing on clean skin – it would act as your step 3 of your cleansing. If you follow with a mask, you would do this step and, once you've removed it, you would continue with your eye cream, serum etc. I often leave a soothing mask on overnight – in that case you would simply resume your morning routine when you wake up with a cleanse to ensure the mask is removed properly. Retinol Basically the ingredient that every skin could do with having in their routine! On the evenings where you want to apply retinol, you would cleanse as normal and then do your eye cream and serum and replace your night cream with your retinol. Retinol can penetrate these layers, so if you are feeling dry then your serum will help make it feel more comfortable. I often just apply my eye-cream, pop on lip balm and go straight in with my retinol. Up to you and what feels most comfortable. In terms of frequency, this is so dependant on the actual strength of the retinol and your skin. Please read this post for more detail. Right, that's it. I hope I have covered the various steps. Shout if there is any confusion.
https://kissblushandtell.co.za/wp-content/uploads/2018/11/RobynDaviePhotography-TORI-aug2018-8.jpg
1600
1280
Victoria
/wp-content/uploads/2020/03/logo.png
Victoria
2018-11-12 05:55:00
2020-06-24 15:16:20
Let's Talk About What Order To Apply Your Products In (AM & PM)