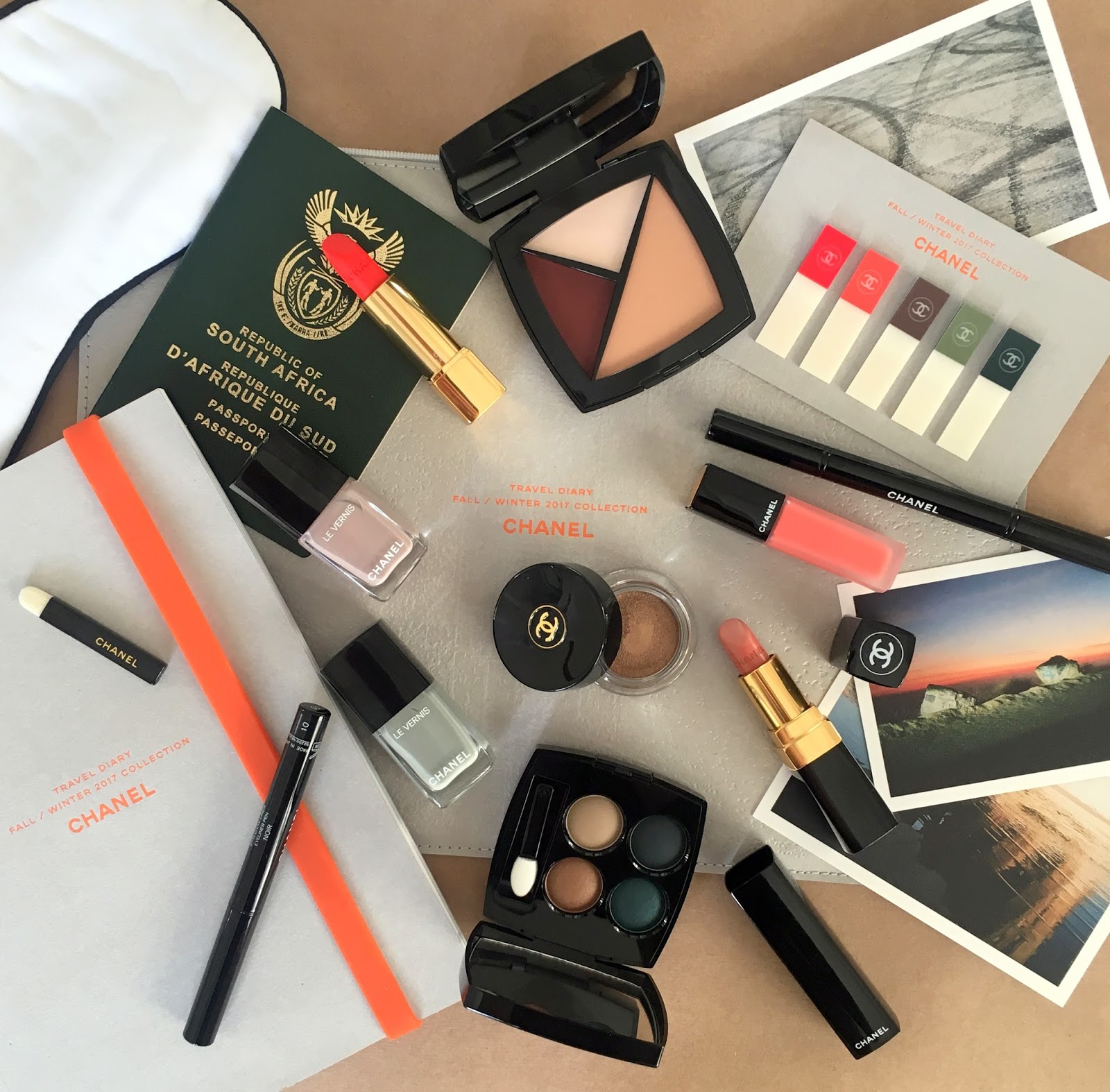 The latest collection from CHANEL is their AW17 launch called Travel Diary and it's up there with the most exciting media drops I've got in quite some time. Well, I guess anything CHANEL gives me heart-palpitations.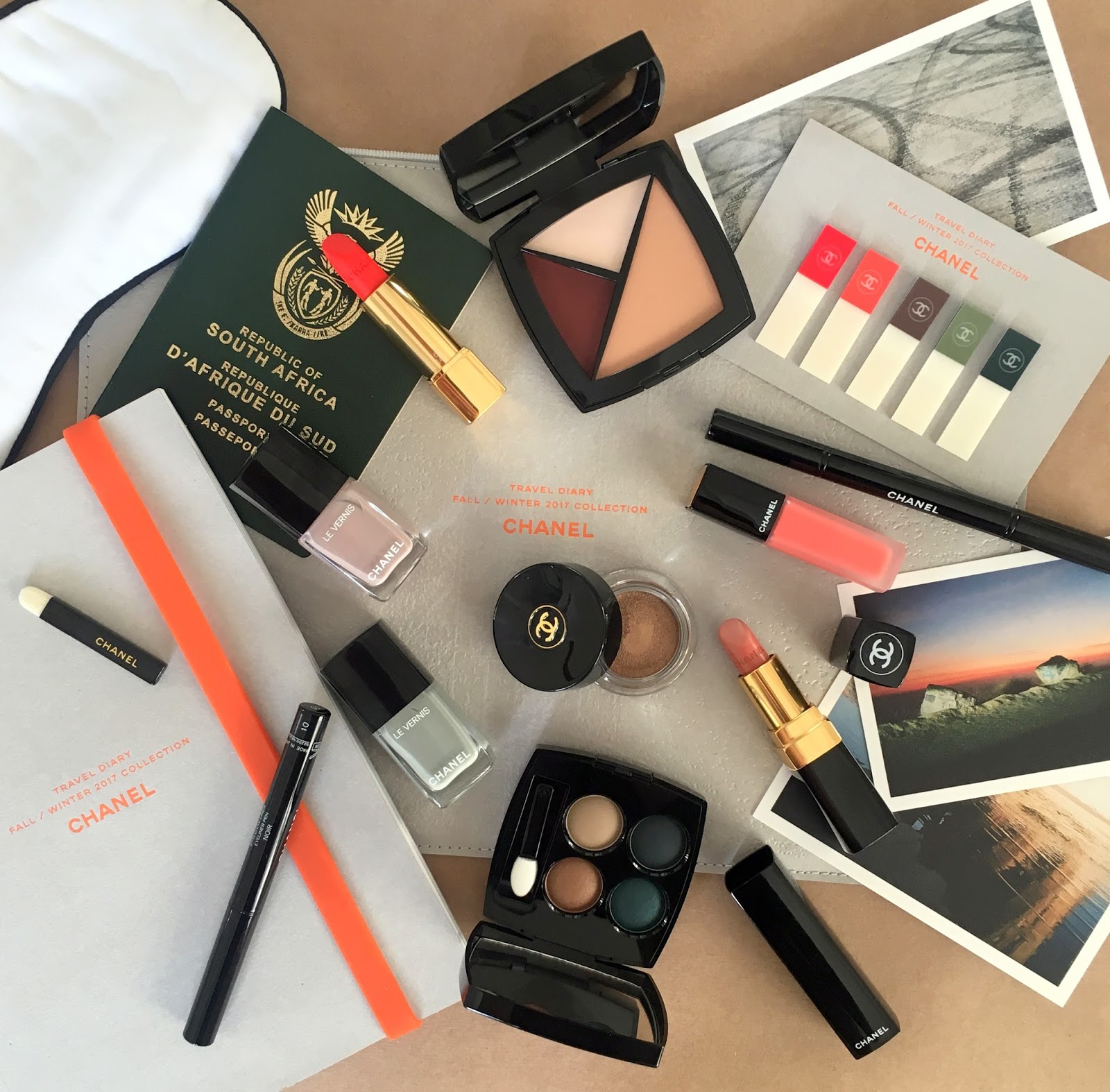 The inspiration for this collection comes from the Californian Golden coastline; so think glimmering city lights to long stretches of sandy beaches. This collection also comprises of some completely new product launches for CHANEL which created extra anticipation for me! Let's hop straight into this one, as there are a few products to cover. Keep in mind this isn't the entire collection, but I am covering most of it here (there are just some shades that I am not reviewing as didn't try them).
Palette Essentielle 160 Beige Médium (R1080)
This one is the star of the show and a completely new launch for CHANEL. This is your handbag-friendly, on-the-go compact which comprises of three cream-based products; a concealer for touch ups, a highlighter for some added glow and a cheek/lip stain for that pop of colour. This launch ties in as your travel-friendly companion, given this is the theme of the range.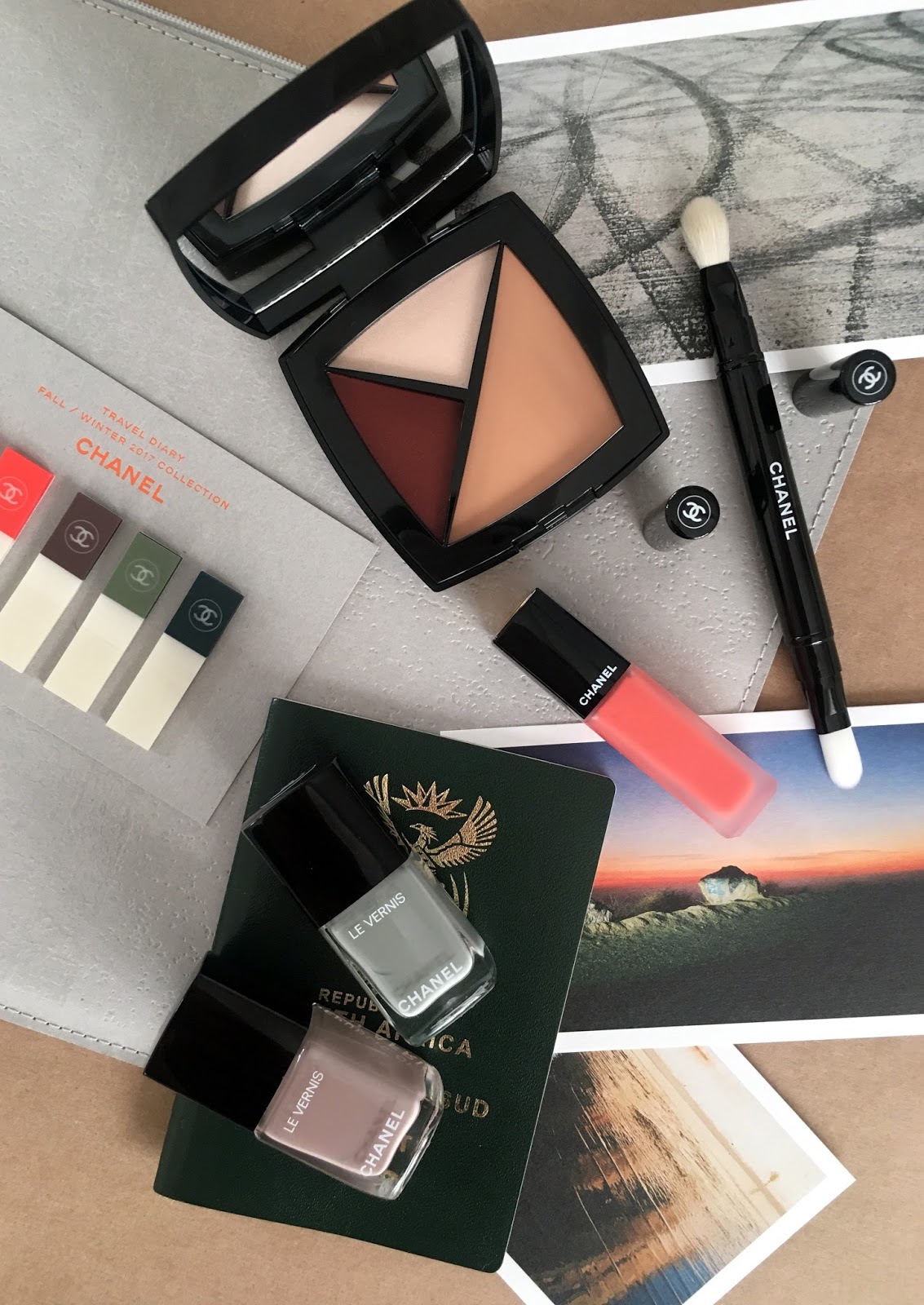 This product took me a while to 'get the hang of' but now that I've worked out how to use it for my needs, I am pretty happy to be adding it to my collection (and my handbag).
The concealer is very creamy (which I was worried about at first) but it actually sets down to quite a matte finish and stays in place well. The first time I wore it I did have creasing, but a setting powder will solve this issue. The highlighter is the star of the three for me – I've been so keen to add a creamy highlighter to my collection, so this was just what I needed. I apply this by dabbing it on with my fingers and it really does make the skin glow incredibly. I found a brush unsettled my base due to the creaminess of this formula, so fingers work best IMO. Adore this formula! Lastly, the cheek and lip colour (which I first used as a contour type shade – FAIL) is a very deep maroony-brown which gave me a bit of a fright but the colour (when applied lightly) is really lovely and gives a super-natural flush to the skin. Perfect for brunettes I would say! The palette comes in 3 shades (Clair, Beige Medium & Intense), I got 160 Beige Medium which is a good match for my skintone. How handy for your handbag!?
OMBRE PREMIÈRE – Memory (R575)
For us non-French speaking gals, this is your cream eye-shadow from CHANEL. This little pot of gold stole the show for me! Honestly, I feel like going and purchasing another 3 jars of this because it is everything I need in a cream eye-shadow. I've always loved this formula but never really found a shade that I would wear day and night until 'Memory' launched. It's a bronzey, coppery shade that wears incredibly well (I don't use primer with it). I don't really have enough good things to say about this stuff! Do yourself a favour.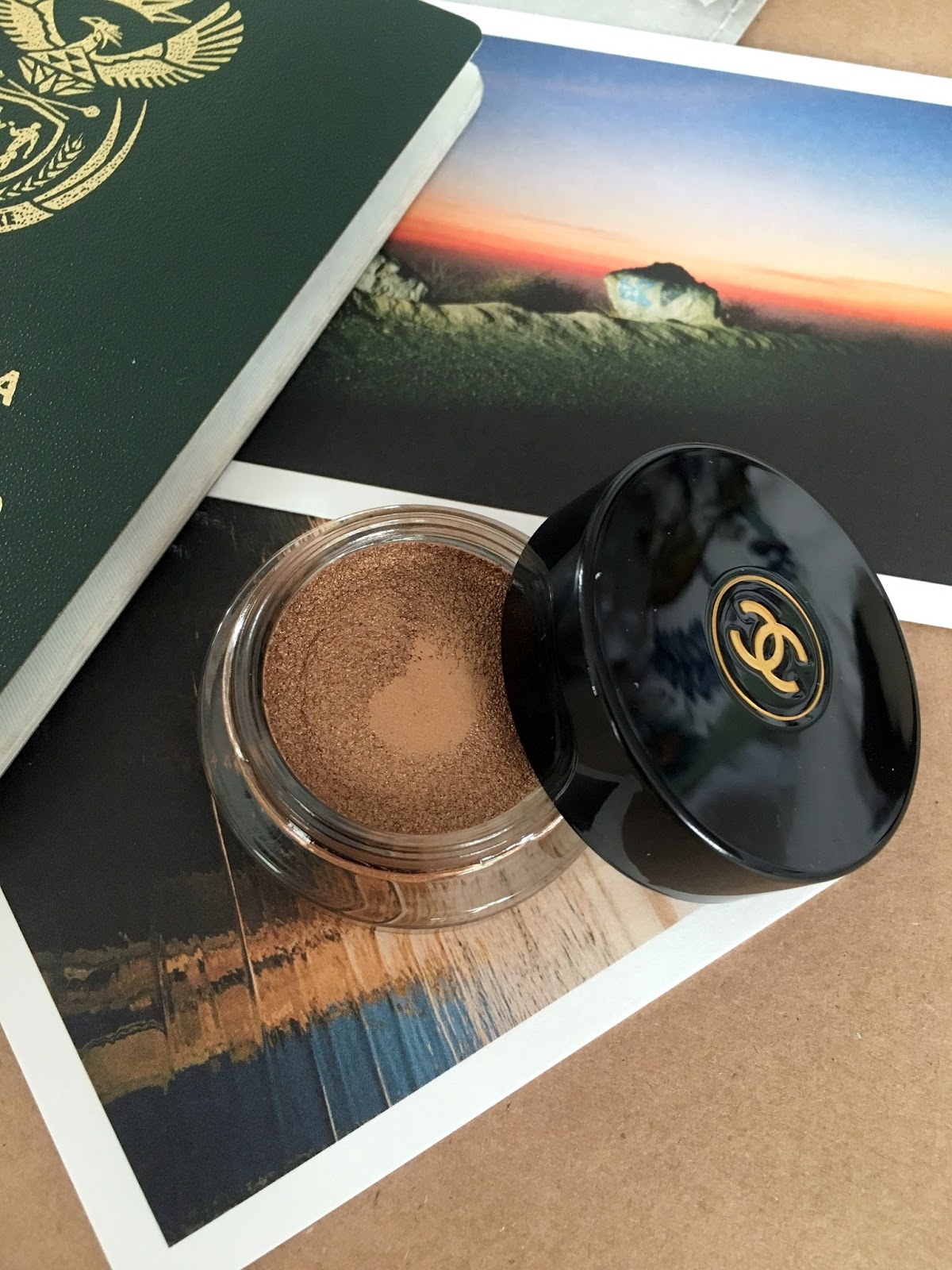 Chanel Les 4 Ombres Palette – Road Movie (R920)
There were two quad eye-shadow palettes in this collection (Road Movie and City Lights), I am reviewing 'Road Movie'. The palette is made up of a deep navy, a topaz greeny/blue, a bronze and a light taupe. Don't let this palette intimidate you if you are a dull make-up wearer like me, as it is actually surprisingly very wearable and seriously gorgeous. I have been using the lightest shade all over my lid, carving out my crease with the bronzey shade and then using a hint of either the green or blue (or both if you are adventurous) under the eye very lightly. It looks absolute beautiful on dark eyes with a nude lip like the below 'Daylight' shade.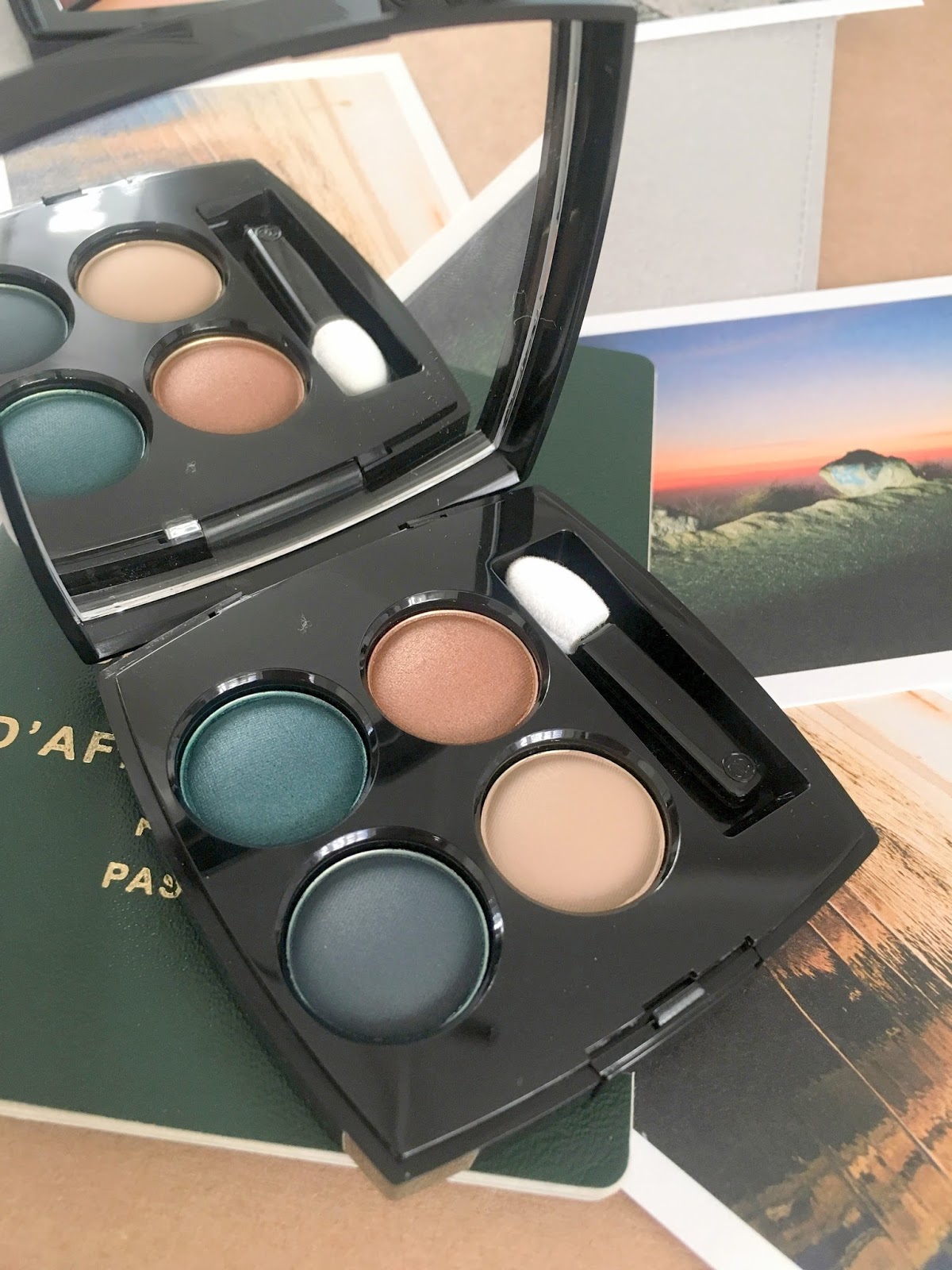 Rouge Allure Velvet Lipstick – First Light (R610)
This colour just makes me so happy – I adore a bright orange lip. This formula is comfortable and can be layered for a more opaque look. I need this exact shade in a matte formula! (below image, on the right)
Rouge Coco Lipstick – Daylight (R610)
I knew this would be my kinda shade as soon as I saw it. It's your perfect, peachy-under-toned nude that is great for those in-between seasons. It's hydrating and easy to wear and makes any make up look feel fresh and natural. (below, on the left)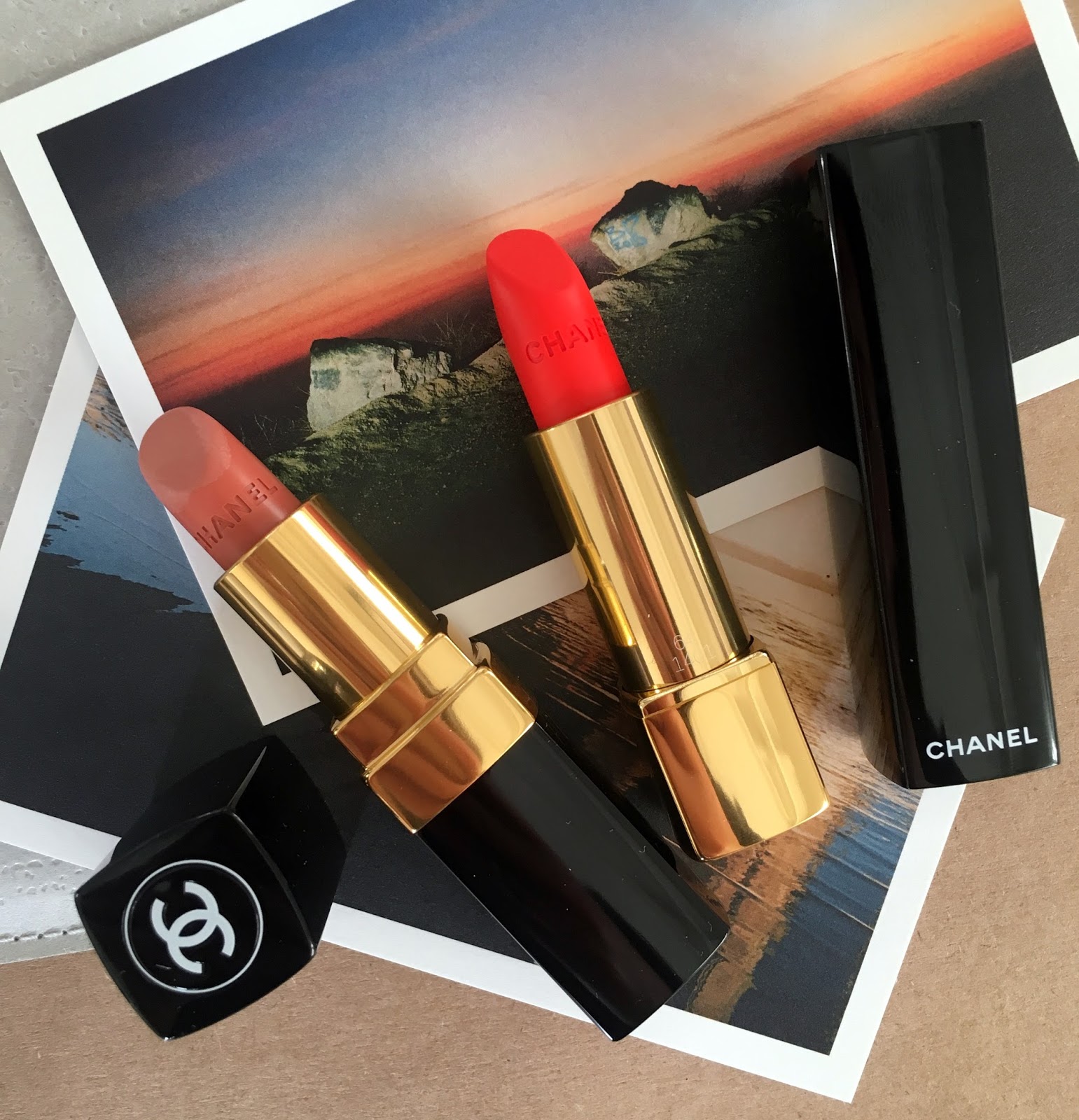 Nail Varnishes – New Dawn & Horizon Line (R450)
Both of these nail varnish shades are '100% my type on paper' (if you don't get that then you are obviously not a Love Island fan). But honestly, I really adore these muted nail shades. Horizon Line is the beautiful mossy-green that I have worn flat-out and New Dawn is that nail shade I always tend to reach for – a greyish/taupe which I would wear all year around. This is the shade a few of you have asked about on Instagram.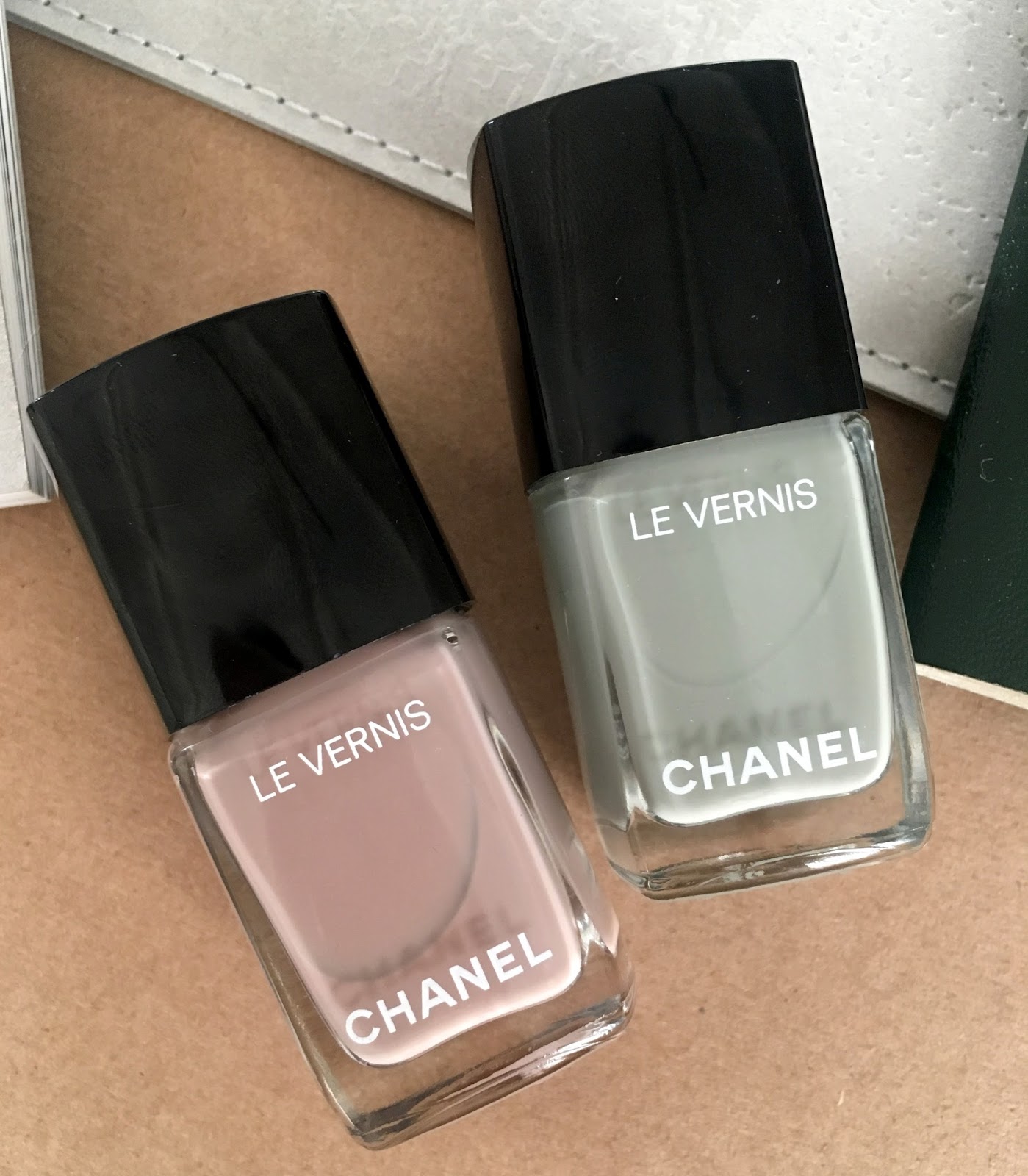 Chanel Rouge Allure Ink Matte Liquid Lip Color – 158 Highway (R610)
You will remember me speaking about this launch last year when the Allure Matte Liquid Lips launched. I am still a big fan of the original red in this collection. The Travel Diary launch bought out a new addition to the shade range called Highway. It's a light, pretty coral shade that is quite sheer for a matte lipstick. In the tube I thought this colour would look beautiful on, which is does, but I kind of feel this would have been better suited to a sheer lipstick rather than a matte lipstick. The other shade is called Lost (see some good swatches of both shades here).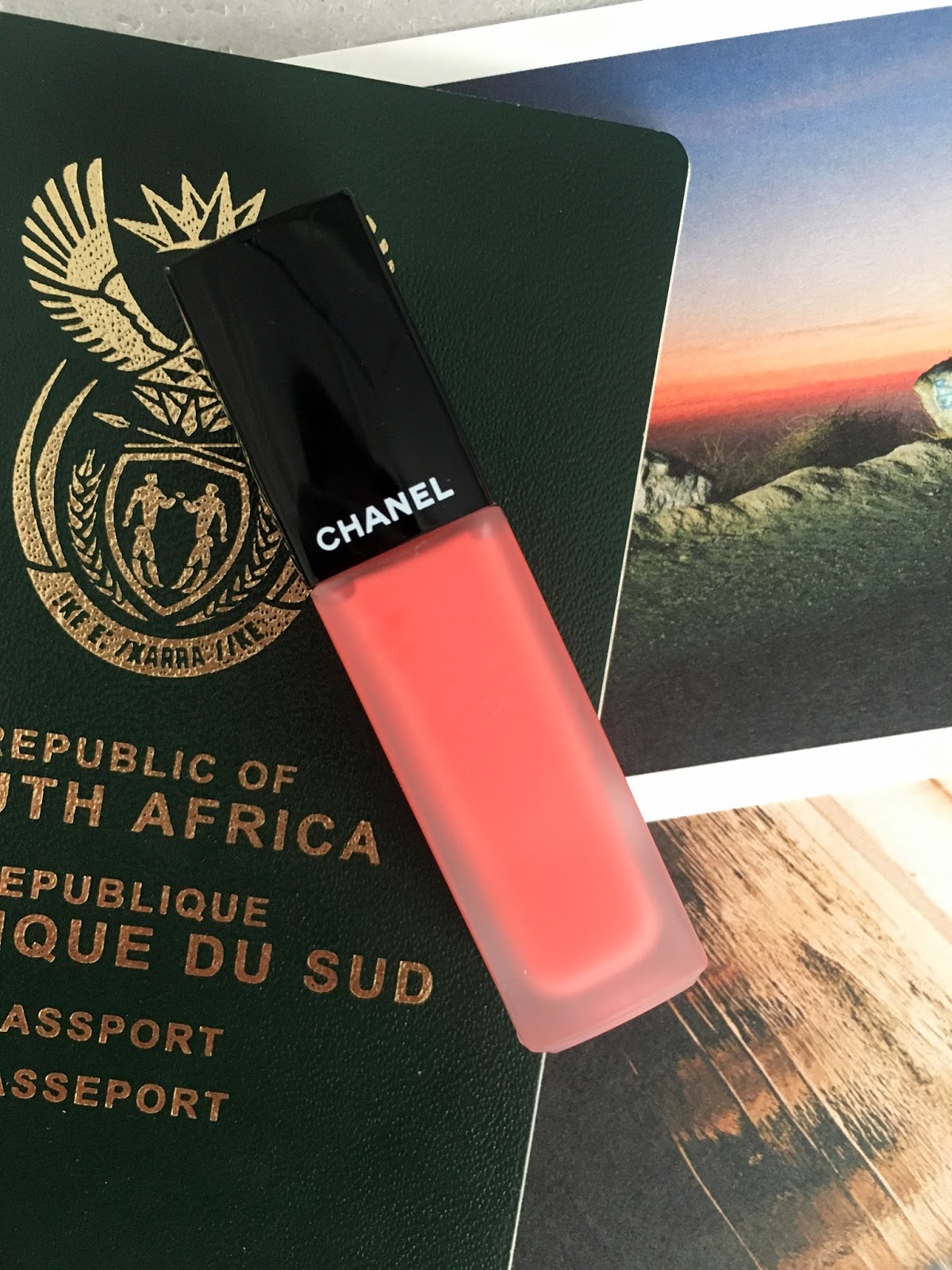 Chanel Retractable Dual-Tip Concealer Brush
This is the first CHANEL make up brush I've actually ever owned. This, again, ties into the travel theme of being retractable and dual-tipped so seriously handy to pop in your handbag. I do find you have to be quite careful when popping the lids back on as some of the hairs can get caught and bent, but this isn't a major issue. Performance-wise the brush works really well – the one end is a flatter brush that I use to apply the concealer with and the other end is quite similar to the MAC 217, which I use to buff the product in. These two are a great combo and the brush has already found it's place in my handbag make up bag (which you may have seen on my Instagram Stories the other day). Only issue: I now need ALL the CHANEL make up brushes.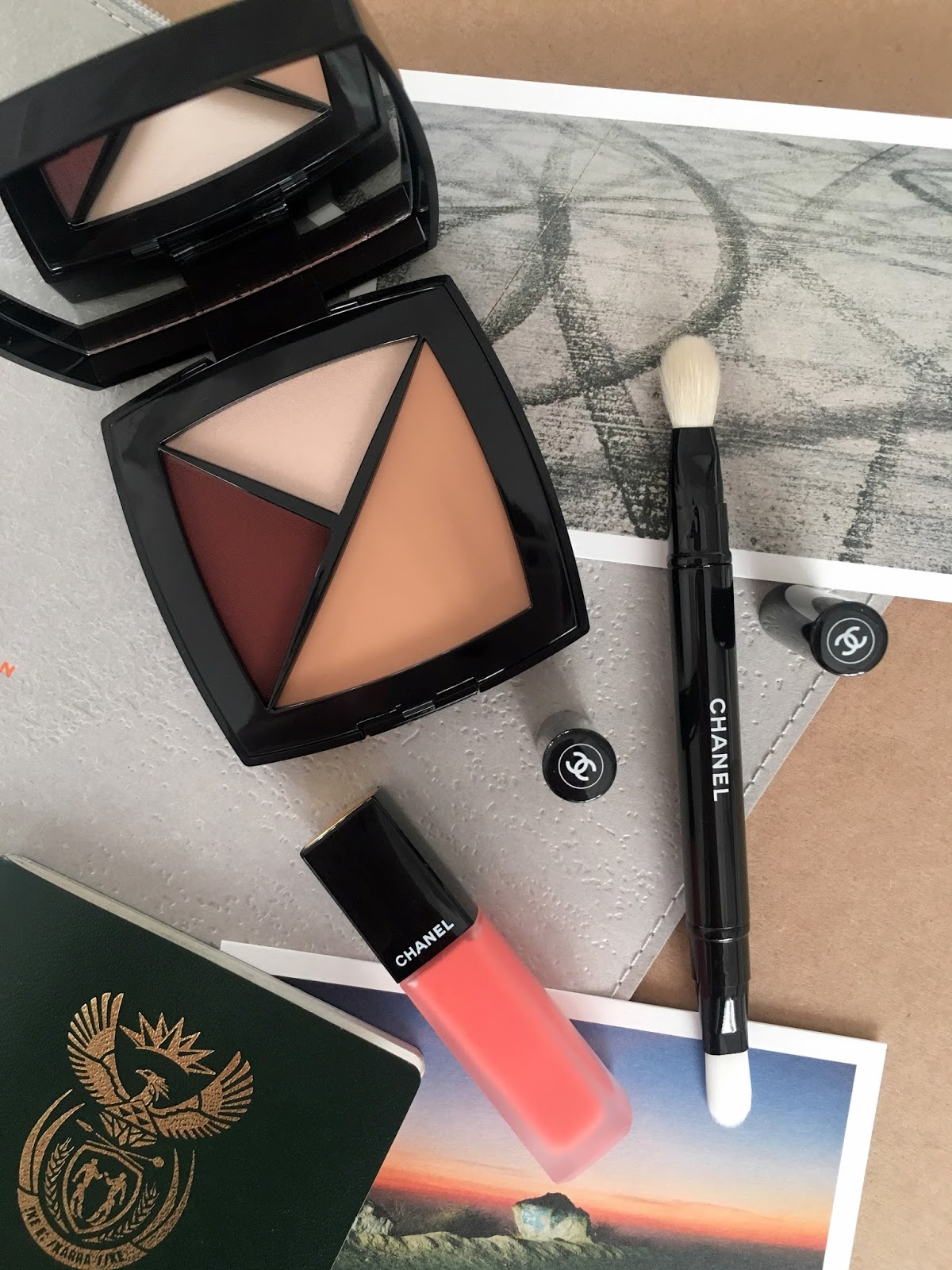 SIGNATURE DE CHANEL EYELINER PEN – Noir (R720)
A bit of a difficult one for me to review, to be honest, as I am just not a liquid liner girl. I do, however, have my way of using a liquid liner that means it is most definitely in my routine (but not daily). This liquid liner comes with a refill which makes it better value for money as it is very pricey for a liquid liner. The tip is ultra-fine and not overly packed with 'liquid' but the pigment is good. I have been using this (on night's when I can be asked to do my make up properly) to fill in the gaps of my upper lash line. It works a treat for this! The tip here is what sets this product apart as it's ultra fine and disperses product very evenly. Collection on counter now.
https://kissblushandtell.co.za/wp-content/uploads/2017/09/IMG_1943.jpg
1574
1600
Victoria
/wp-content/uploads/2020/03/logo.png
Victoria
2017-09-28 12:33:00
2020-06-24 15:35:21
CHANEL TRAVEL DIARY COLLECTION | REVIEW