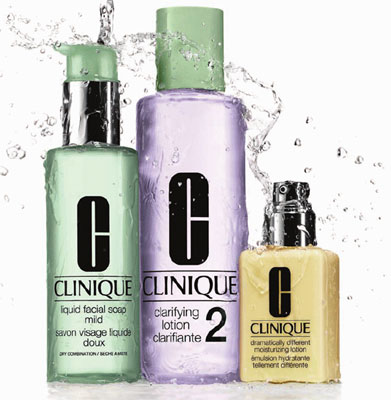 So I was spoilt today with receiving a complimentary gift pack, a sure way to brighten up one's day. Specially when you having lovely home time in Natal, which is amazing (don't get me wrong) but the days do seem to go by ever so slowly. So yes, I said it – this was the excitement of my day.
I got Clinique's 3 Step Skin Care kit.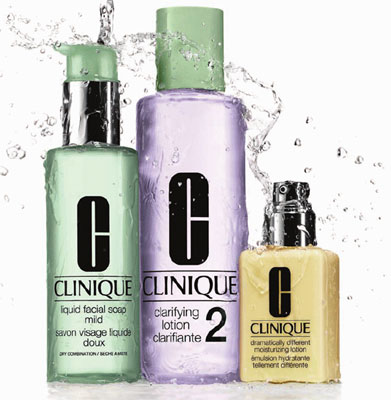 I have never been a fan of Clinique. An unfair judgement because I don't know the brand at all. But I judge books by their covers, I'm one of those people. I think the packaging is quite fuddy-duddy and their scientist-looking assistants, coated in thick make-up are a deterrent in themselves!
I was assessed at Clinique before receiving the kit, and was told I was a skin type 2, being dry/combination. I fair statement as my skin is pretty dry and normal all in all.
1.) The kit comprises of a cleanser: Liquid Facial Soap – this is a gel like cleanser in a pump bottle. Seen as all Clinique products are fragrance-free it smelt of nothing. It foamed up into a nice foam, and surprisingly removed all my make-up (my new mascara is impossible to remove). This is something my Dermalogica doesn't do – not sure if its a good sign, because thats how gentle it is or what??!!
2.) A toner: Clarifying Lotion 2 – they don't call this their toner, it is a lotion that does the exfoliating and is used daily, on a cotton piece, just the way a toner is. It smell STRONGLY of alcohol, making me a bit nervous to put it on my skin, but did anyway. It took off a bit more dirt and left me feeling squeaky clean, literally!
3.) A moisturiser: A Dramatically Different Moisturising Lotion – jeez how's the dramatic name!? This is what they call the 'drink' for our skins, it puts back the moisture and keeps a good balance between the T-Zone and the rest of the face. Smelt of nothing, felt good though.
All in all, this is my first night of using the 3 step, but I was impressed. I love nothing more that the feeling of being super clean, esspecially my face. I look forward to scrubbing it, masking it and peeling it so the Clarifying Lotion is bearable. I will fill you in after more use.
I have been dithering about what skin care to take to Thailand, as my 500ml Dermalogica will be a hazard for my shopping space! Looks like this might crack the nod – does the job, is simple and most importantly is unisex.
We shall see…
https://kissblushandtell.co.za/wp-content/uploads/2010/12/clinique3step2-080709.jpg
400
391
Victoria
/wp-content/uploads/2020/03/logo.png
Victoria
2010-12-10 20:15:00
2020-06-28 12:42:36
Look what arrived on my door step today....