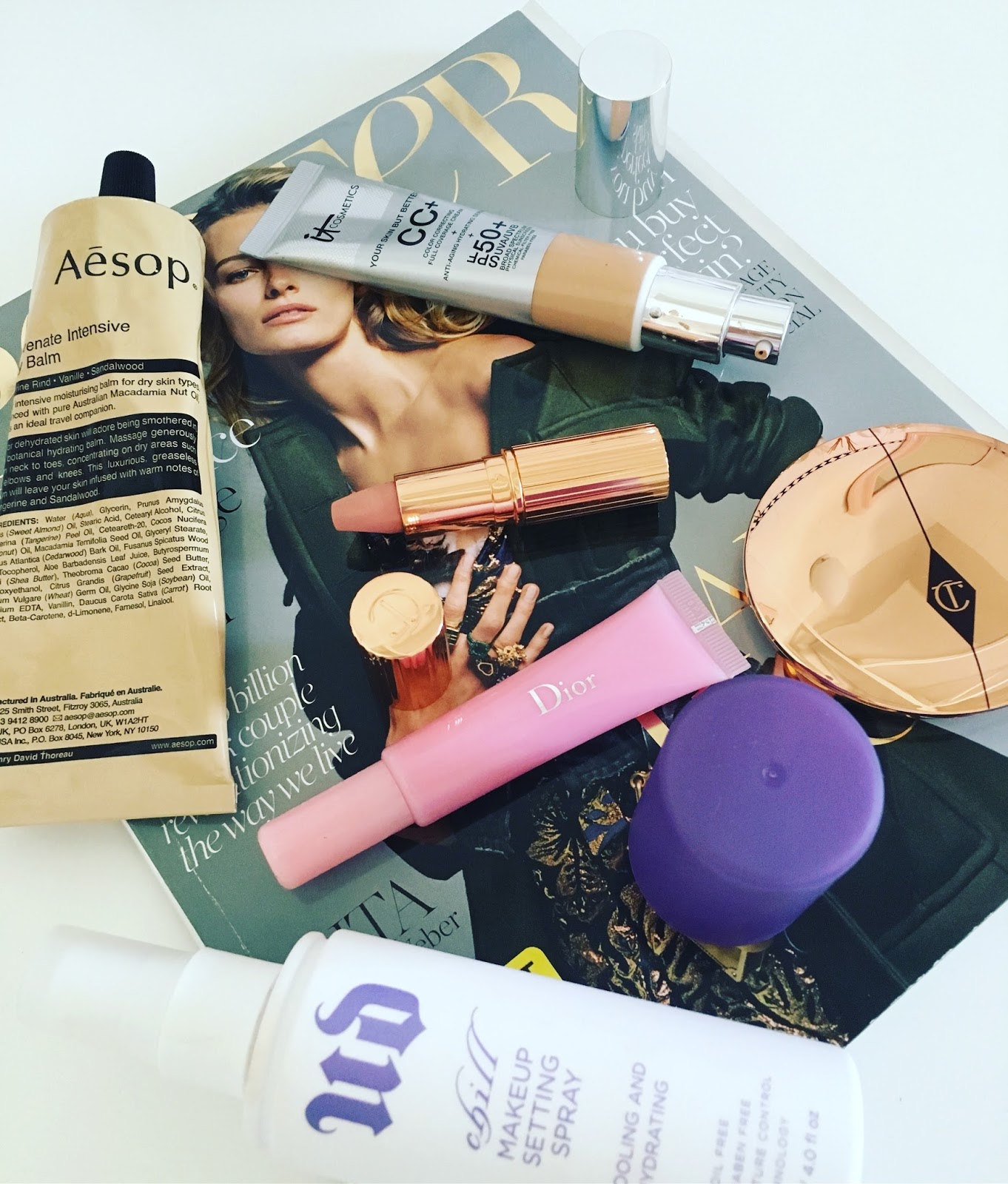 Firstly, sorry for being so quiet here. I have had a lot going on work-wise as well as with my boyfriend relocating to Joburg, so my plate has been full and, unfortunately, the blog has to give when that happens. But, the good news is that stress = shopping for me, so thought I would share a few of the beauty items I have bought of late, my thoughts on them and whether they are worth the splurge. I often get mails from readers asking what one item they should ask their husband/friend/family member to pick up for them while abroad. I know most of these aren't available here, but for those of you who do shop internationally (or find willing mules) then I hope this helps you in your decision making! Oh, and obviously I forgot to include all products in the below image, so a few more are included below.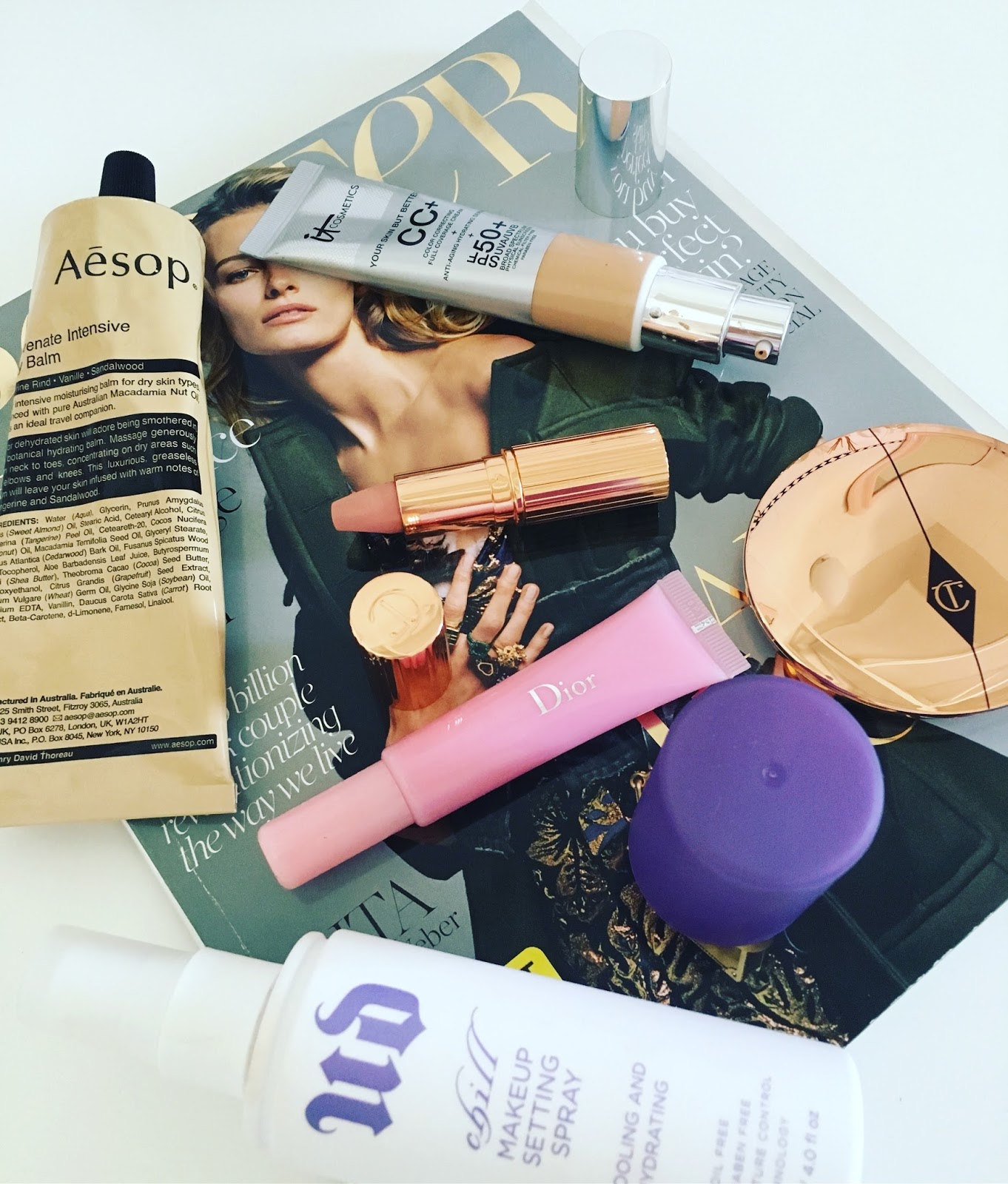 IT Cosmetics CC Cream Spf 50
I have wanted this forever. I actually tried it on in Sephora Australia, left in a flurry and then could not stop admiring my glow (and regretting not purchasing it) for the rest of the eve. My sister was recently in Australia so picked this up for me. I got shade medium.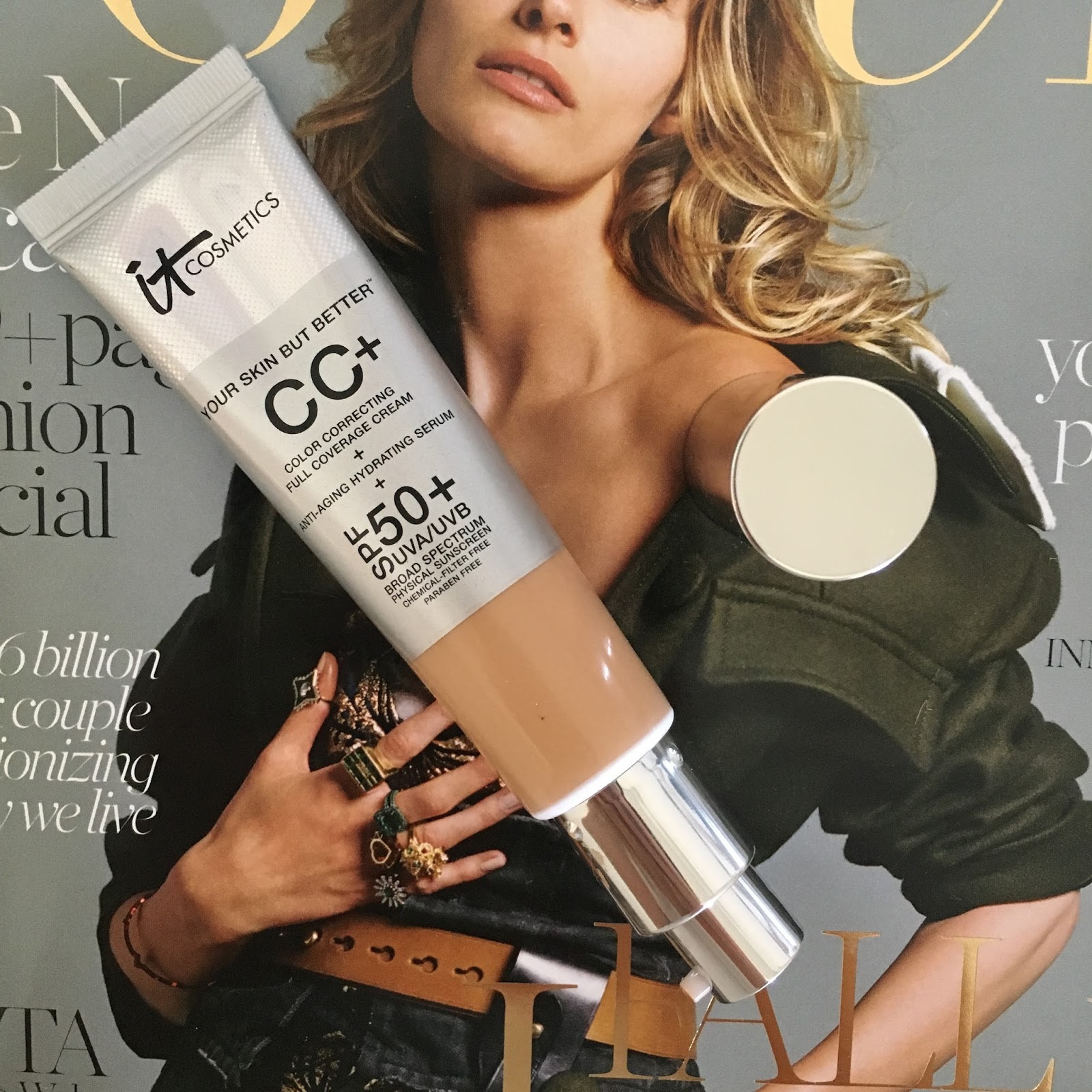 Price:
$58 (around R750). Pricey considering the tube is only 30ml!
Pro's:
This product is a best seller for good reason – it makes the skin glow like no other, gives great coverage whilst still looking super natural and has great sun protection at spf 50! What's not to love?! I knew I would love this and am using it so sparingly as it is a splurge for a CC cream. My sister also picked one up for herself on my rave reviews and she can't get enough of it. If I could use only one foundation product for the rest of time, this would probably be it as it really does tick all the boxes I look for it terms of coverage and finish. What a bonus that I also know my skin is being hydrated and protected at the same time. The packaging is also super hygienic being in a pump tube – it's light-weight and perfect for travel. No glass bottles or chance of leaking here.
Cons:
No cons here, honestly, other than the steep price for 30ml. As a comparison, my other firm favourite is the NARS Tinted Moisturiser which is $44 and 50ml – nearly double the size.
Maybelline Eraser Eye Concealer
My sister also bought one of these back for me as you can't get it in South Africa (ridiculous).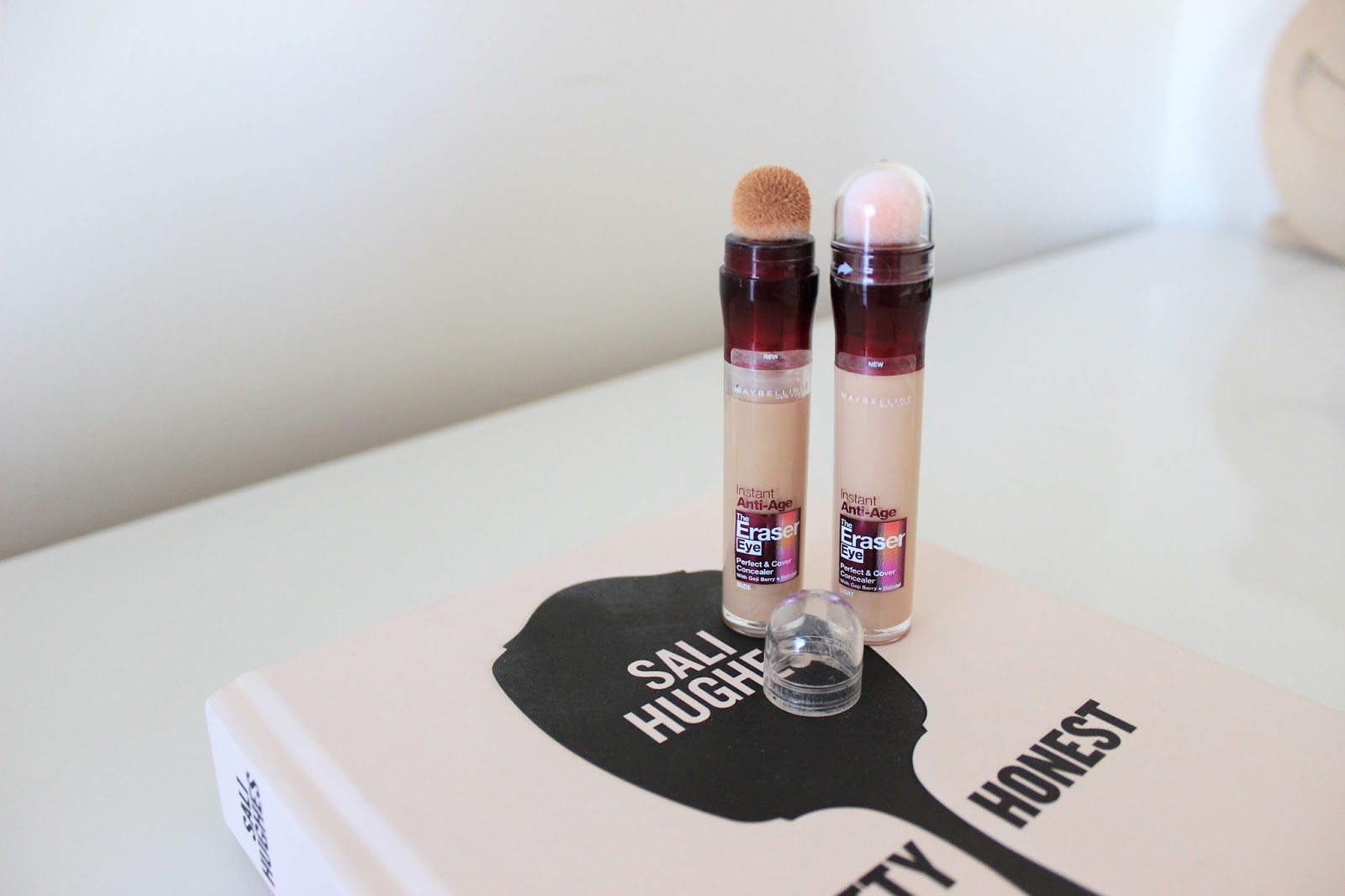 Price:
8 Pounds (around R90) – cheap as chips and, if it were easily accessible, I would say every single one of you should never be without this product.
Pro's:
Again, so many pro's – the actual formula gives a medium coverage to the eyes area which doesn't crease at all on my skin. As you know, I am a die-hard Urban Decay Naked Concealer fan (R400) and I have to say, this stuff is definitely as good for a fraction of the price. I will still continue buying and using my UD concealer as their shade range is so great, but this one is perfect for day-to-day concealing. I also love the applicator which is a wind up tube with a fat sponge tip. It's seriously addictive to apply, I love the feeling!
Cons:
I guess the hygiene of the sponge applicator isn't ideal but it's only me using this product and I'm not a hygiene- phobe with this kind of stuff.
Charlotte Tilbury Flawless Finish Powder
Firstly, I have never ever been a powder kind of girl until I got into the Hourglass Ambient Lighting powders which continue to hold a very special place in my heart. I wanted to try this out as it was said to have a similar effect – a powder that keeps everything in place without making skin look anything but radiant and flawless – ummmm YES!
Price:
38 Pounds (R670)
Pro's:
I got shade medium and I am so chuffed with it. You most definitely don't need Hourglass AND this as they are similar. This one isn't as glow-enhancing as the Hourglass powders, but it is even more finely milled so the end result is flawless skin like no other product has ever helped me achieve. It's beautiful!!! Oh, and can we take a moment for the packaging?.
Cons:
Price, but justifiable as a powder lasts really well.
Charlotte Tilbury Hot Lips Lipstick – Kim KW Shade (Nude)
Obviously I needed this lipstick. Kim K fan or not, that girl knows exactly what the perfect nude lip shade is all about. This was a collaboration between Kim and Charlotte as part of the Hot Lips collection where the make up artist collaborated with a bunch of celebrities to create their perfect shade. The 'Kim K-W' shade was the one that everyone was raving about, naturally!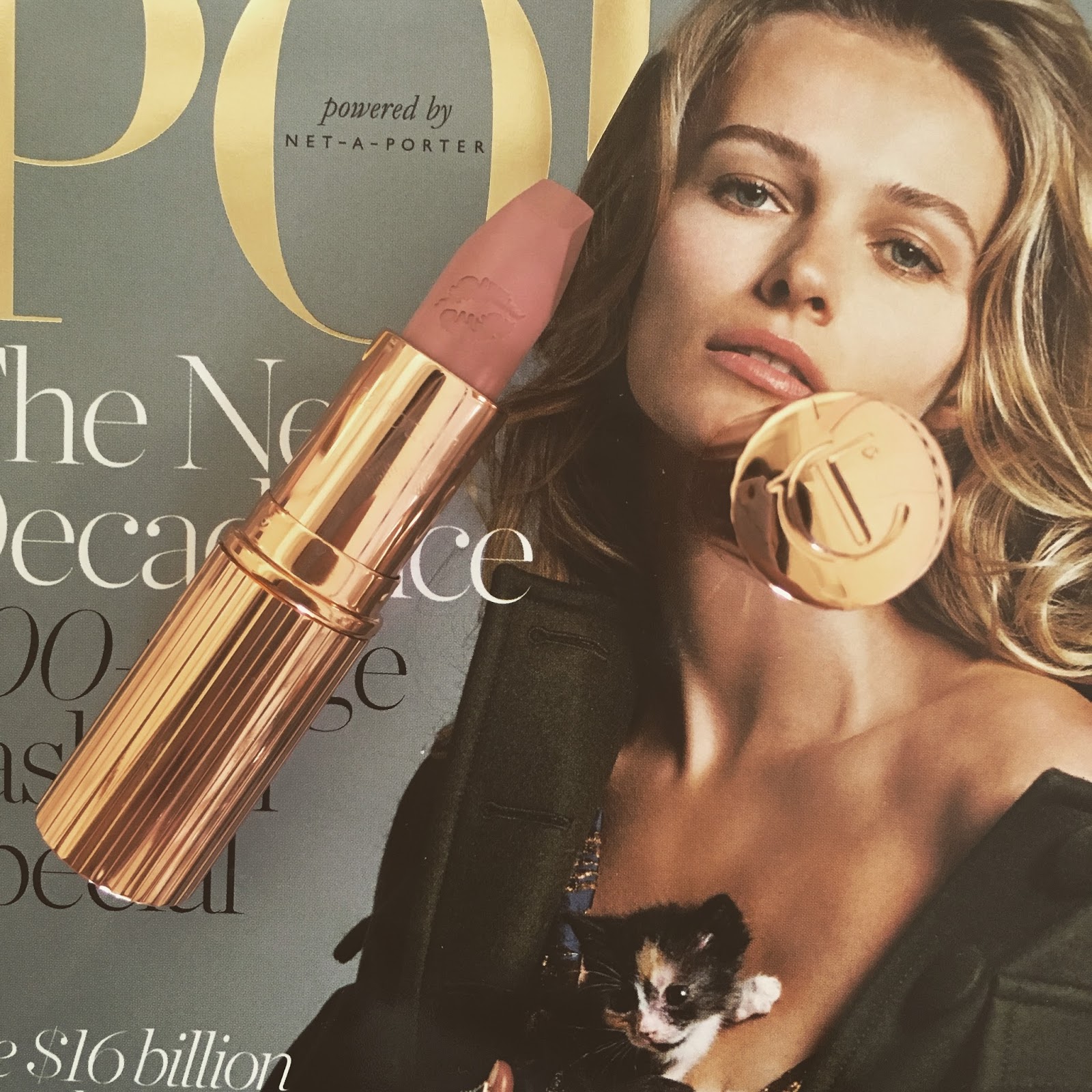 Price:
26 Pounds (R480)
Pro's:
Charlotte Tilbury's lipsticks are perfection (as is her entire range); from the luxe packaging to the insane formula. You can expect a balmy/matte hybrid. Shade wise this is as you would expect; the perfect Kim K nude and I am not shy about the fact that my lipstick collection has about 200 shades similar to this one. Still, this one is special and I would buy it over and over again. A treat product and definitely not a necessity (depending on your junkie status). The shade is pinker than I expected, so more of a dusty pink nude but I love it and think it would be very flattering on most skin-tones.
Cons:
Well, it's a lipstick and it's nearly R500 so is pricey.
Charlotte Tilbury Lip Pencil in Pillow Talk
I have lusted after this product forever so was so chuffed when I finally got my hands on it. I bought myself a load of the MAC lip liners a while back and really am not a fan. The actual pencil is so hard and takes quite a bit to actually get any colour pay-off. I am not sure if I am doing something wrong here but I don't like such a hard nib. This, on the other hand, is perfectly buttery and soft, yet still firm enough to not smudge and melt away. This shade is one of the best sellers from Charlotte Tilbury as it is the perfect 'lip cheat' shade, as the name alludes to. It is perfect for slightly overdrawing the lips and has great staying power. I honestly don't think you will ever need another lip liner once you own this (unless, obviously you are going for a bold lip shade).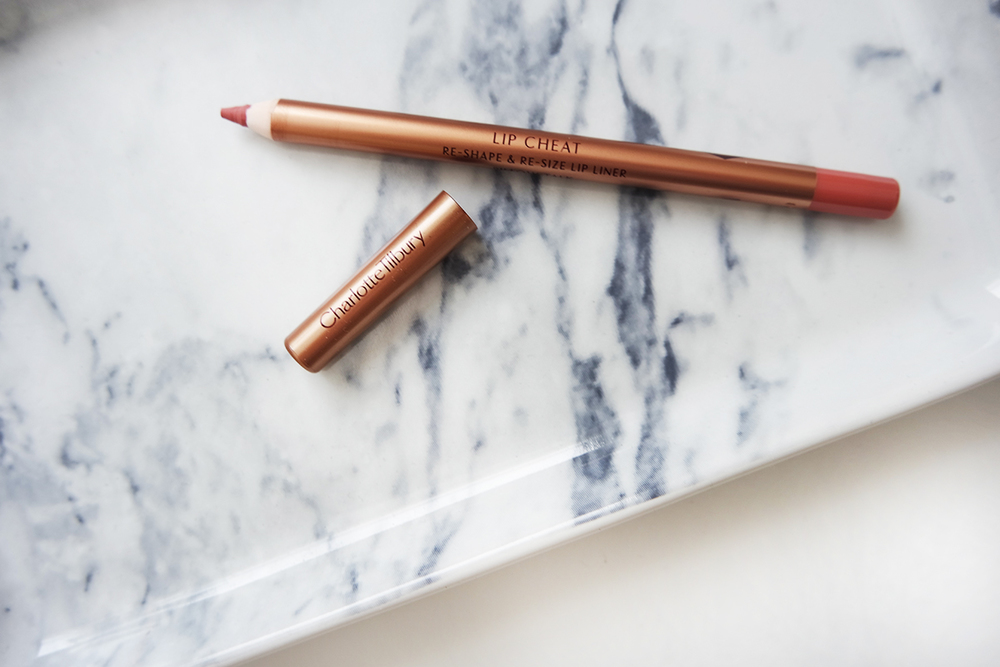 Price:
16 Pounds (R280)
Pro's:
Everything. The formula and the shade are so on point.
Cons:
None, and I think the price is reasonable for the product. I just need a back up already as know this will be a firm favourite for me.
Byredo – Mojave Ghost
I got this from Marc as a gift and have been DYING to own it for ages. The Byredo scents are my ultimate, honestly. They really do nail it. I initially fell in love with this one, Bal D'Afrique and Gypsy Water so plan on expanding my collection but Mojave Ghost was the perfect start. It's quite masculine which I love. The notes are ambrette, mamey sapote, violet, magnolia, sandalwood, chantilly musk, 'crisp' amber and cedarwood.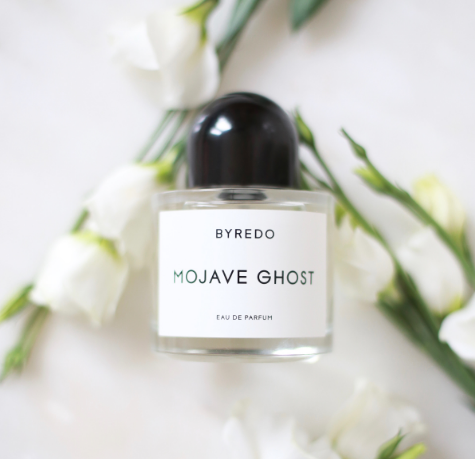 Price: 250 Euro's (R3900) Pro's: The actual scent, the packaging, the longevity and how unique the scent is. EVERYTHING! Cons: I guess, again, the price. But it's a luxury product and the whole purchasing experience and the scent makes it all worth it. I feel spoilt every time I use this fragrance, and that's what it's all about, right?
Urban Decay Chill Make Up Setting Mist
You all know what a facial mist fan I am. It is one of my best make up items to own but can often be quite ineffective – very much a product that feels great to use but can sometimes not do that much. I have owned a few bottles of the All-Nighter setting spray from UD, so was keen to try this one as I do have dry skin. Urban Decay have 3 setting sprays: All-Nighter: Set everything in place and helps with longevity Chill: Hydration De-Slick Oil Control: Mattifying and keeps oil at bay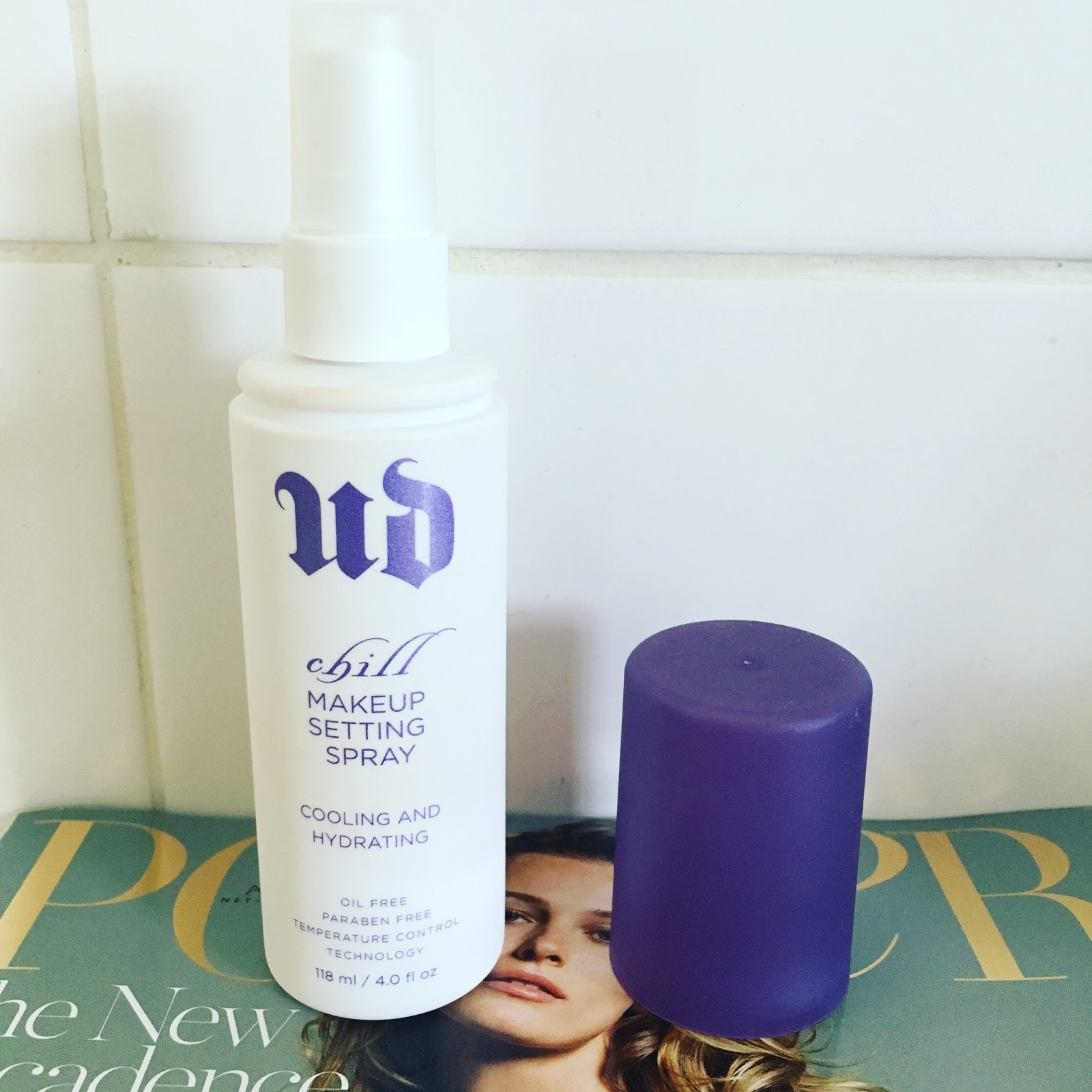 Price: R450 Pro's: Refreshing and a good mist. Cons: It feels lovely on the skin but I don't feel like it does all that much. I have other hydrating sprays that leave me looking so dewy and radiant so didn't see much of a glow or feel that much more hydrated when using this. The All-Nighter definitely does as it says, so going forward I will stick to that one.
Aēsep Rejuvenate Intensive Body Balm
I got a sample of this on my last Aēsep purchase and could not get enough of the scent, I knew I had to own the full size. This body cream has Vanille and Sandalwood which is the perfectly femimine yet masculine combo – nothing too sickly sweet but rather mature and sophisticated. I got the 120ml tube but it's also available in a 500ml pump bottle.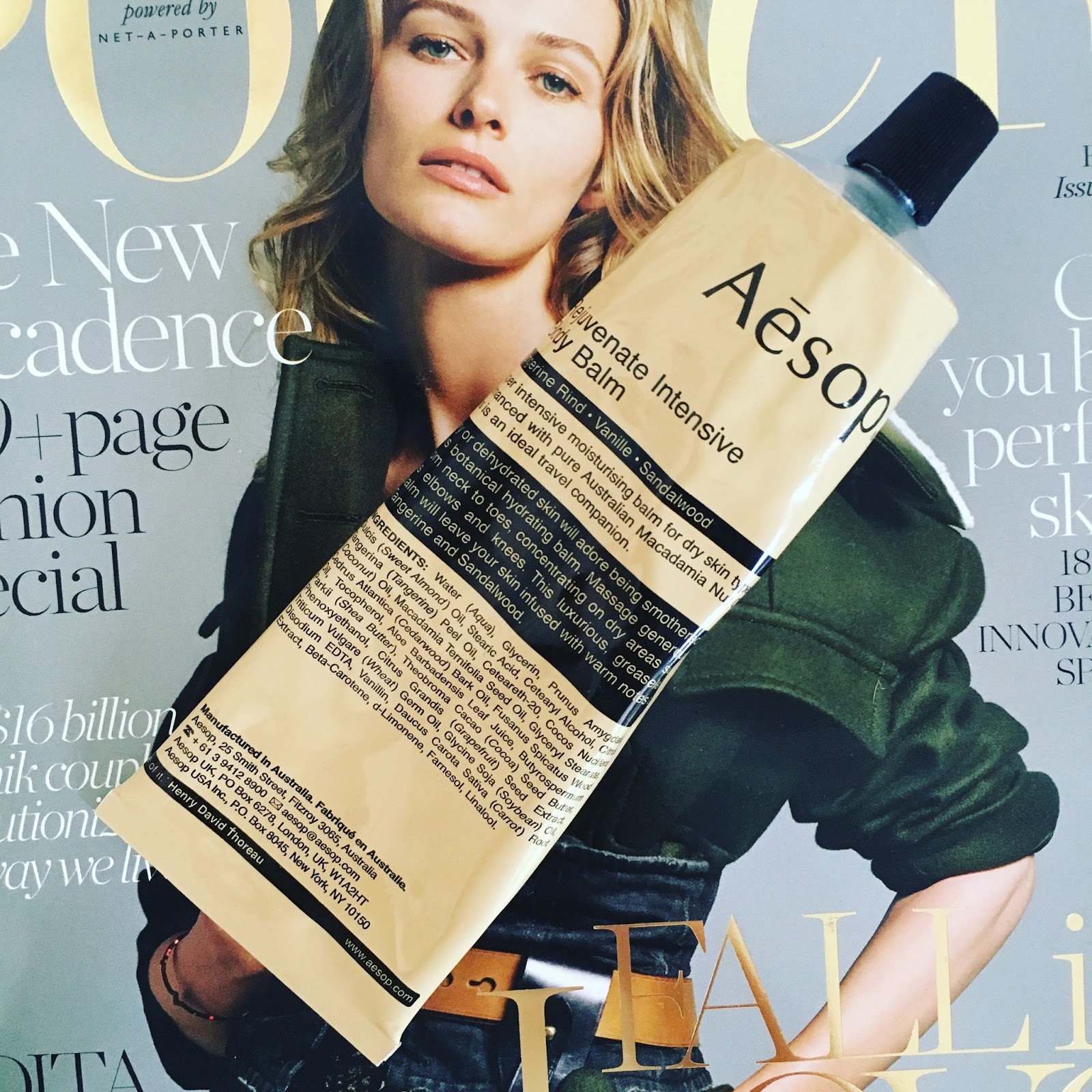 Price: R450 Pro's: The scent! It's gorgeous, like with all Aēsep products. I also like how light the formula is, not thick at all so sinks into the skin quickly. I hate the feeling of a greasy, thick balm so this works perfectly for me and can get dressed straight after applying this without feeling tacky. Cons: The packaging is obviously beautiful but the aluminium tube isn't the most practical and neither is the little lid that closes it. It gets battered up quite easily when in your toiletry bag, however, it does look so beautiful so is forgiven in my mind. I also wouldn't put this down as an 'intensive body balm' – it's super light-weight and most definitely wouldn't be the fix for super dehydrated skin.
Dior Addict Lip Glow Pomade
I got given this as a gift from a work collegue as she knows what a fan I am of the Lip Glow Balm which I have used and loved for years. This lip formula is plumping and is a colour reviver. It comes in a tube that allows for easy application. They call the formula an 'oil-gel' which is quite different to the thicker balm I have originally used.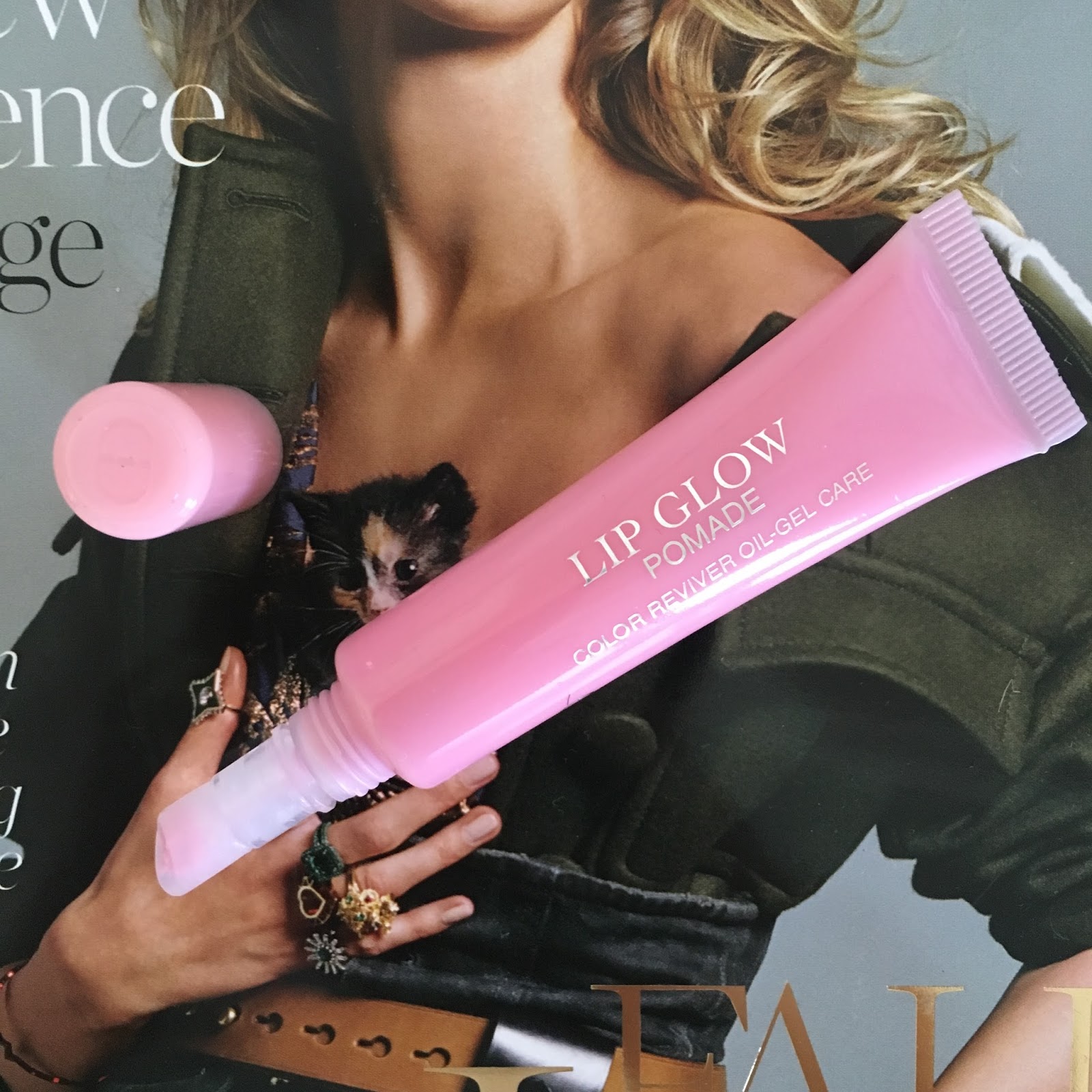 Price: R500 Pro's: I do love a good lip oil and this leaves the lips looking glossy with a subtle touch of pink, so pretty! The touch of pink is more subtle with this version than with the balm, which I like. Cons: I prefer the balm, that's for sure. The balm feels a lot more hydrating than this and the oil texture does feel quite 'thin' in this case. I prefer the Clarins Lip Oils which have a thicker formula. It's also super pricey for a lip product. Going forward I will buy the balm instead (pictured below).
My beloved Dior Lip Glow has finally come to an end and I NEED another one ASAP! My ultimate ?

A photo posted by KISS, BLUSH & TELL (@kissblushandtell) on Sep 22, 2016 at 12:07am PDT
https://kissblushandtell.co.za/wp-content/uploads/2016/10/IMG_9905.jpg
1600
1362
Victoria
/wp-content/uploads/2020/03/logo.png
Victoria
2016-10-07 12:28:00
2020-06-24 15:50:59
Is it worth the splurge? featuring Aēsep, IT Cosmetics, Charlotte Tilbury, Dior & Urban Decay