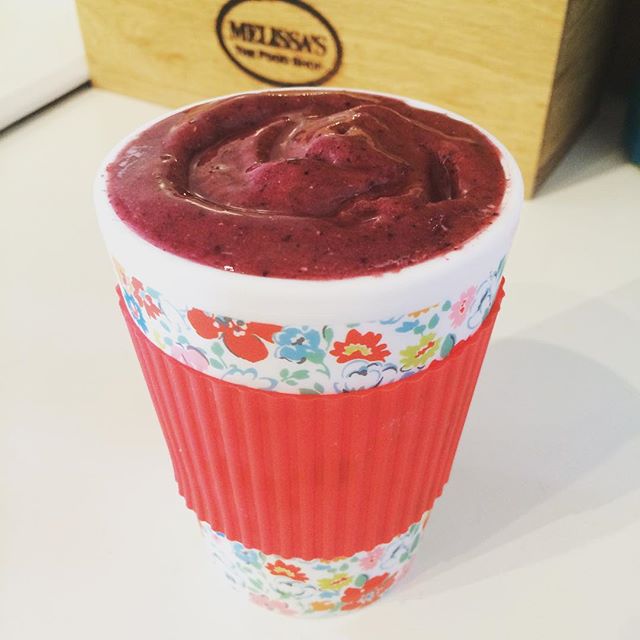 For those of you who follow me on Instagram, you may have noticed I am very into my smoothie making. I've always battled with breakfast – I cannot bear cereal and always feel rather ill at the thought of actually chewing on something any time before 10/11am. Therefore I have never ever eaten breakfast before then which is pretty bad. So this year I have started trying to find a way to get my breakfast in, and smoothies have been the best option for me.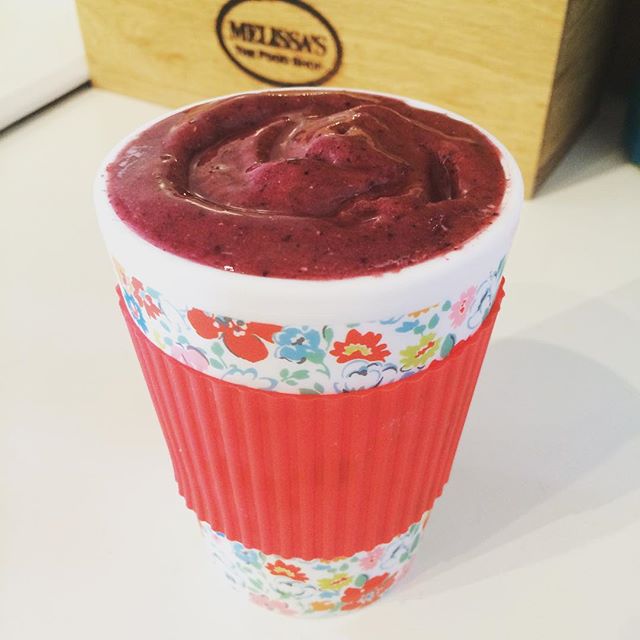 It keeps me full until lunch time and provides me with all the nutrients I could possibly need to start my day. I use my Nutribullet for them, it makes it so much easier, quicker and (for lack of a better word) smoother! I do have the KitchenAid blender, but prefer the Nutribulletas it's nifty, easier to clean and has the handy take-away cup you can quickly pop a lid onto. If you don't own the Nutribullet, your blender will work just fine. Ingredients wise, I choose to do my food shopping on a local online store called Faithful to Nature. I used to only go to Wellness Warehouse (as I live close by) but it's pretty ridiculously priced and Faithful to Nature's service has been amazing – efficient and such a wide variety. Below is my latest order – it's free delivery over R350 which when you do your monthly healthy foods shop is pretty standard.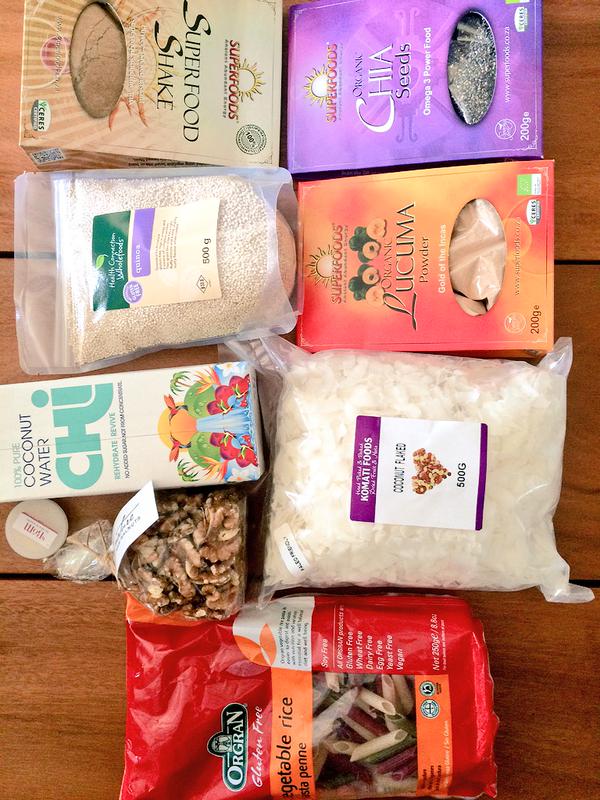 Below are the ingredients I used and on getting Nicola's tips, I should have cut back on a few things, but you can read her nutritional input below, very interesting on how we should be tweaking these 'healthy' smoothies:
Ingredients:
Handful blueberries Handful mixed berries Half cup coconut water 4 almonds Tbsp organic coconut flakes Tbsp protein powder Tbsp chia seeds 2 ice blocks Mint leaves
Here are Nicola's tips – follow her on Twitter @DelishDietitian: •Each smoothie should have no more than 2 Fruit servings. Each fruit serving contains the equivalent kilojoules of 1 slice of bread. For all berries ¾ cup is equivalent to 1 Fruit serving. •Blueberries are a rich source of anthocyanins and flavanols, which include quercetin. These aid in anti-oxidant defences against UV radiation and protect plasma DNA from radiation damage which is especially important as we head into summer. •Be sure to opt for a sugar-free coconut water – some contain up to 15g sugar per bottle which is equivalent to adding 3 tsp. sugar to your smoothie! •Coconut adds delicious flavour to any smoothie. Beware the portions as it is considered a Fat and does contain a higher concentration of the shorter chain Saturated Fatty acids which have been shown to increase LDL-cholesterol – the least desirable of the blood Cholesterols. 1 Tbs. is the correct serving size and is equivalent to 1 Fat serving. •Protein is an important addition to any smoothie. It provides essential amino acids for optimal Phase-II detoxification. Protein also brings down the glycaemic effect of the smoothie which can assist in better blood glucose control. •Chia seeds contain essential Omega-3 fatty acids. Unfortunately, the conversion rate of this plant source of Omega-3 is very low and as a result it does not have the same anti-inflammatory effects as the omega-3 fatty acids found in fatty fish such as Salmon and Pilchards. 1 Tbs. is the correct serving size and is equivalent to 1 Fat serving. •This smoothie has 3 Fat servings. The almonds contribute Mono-unsaturated fatty acids, the Chia seeds Polyunsaturated fatty acids and the Coconut predominantly saturated fatty acids. This is a balanced profile and all three add flavour and health boosting benefits. But, if you are aiming to lose weight, I would suggest dropping one of the Fat servings. These three alone, are equivalent in energy to 3 slices of bread! Together with the fruit & coconut water it can render this smoothie quite high in overall energy.
https://kissblushandtell.co.za/wp-content/uploads/2015/10/11856648_893806404041946_1576855449_n.jpg
640
640
Victoria
/wp-content/uploads/2020/03/logo.png
Victoria
2015-10-26 10:11:00
2020-06-27 19:41:20
My Mixed Berry, Coconut & Mint Smoothie Recipe