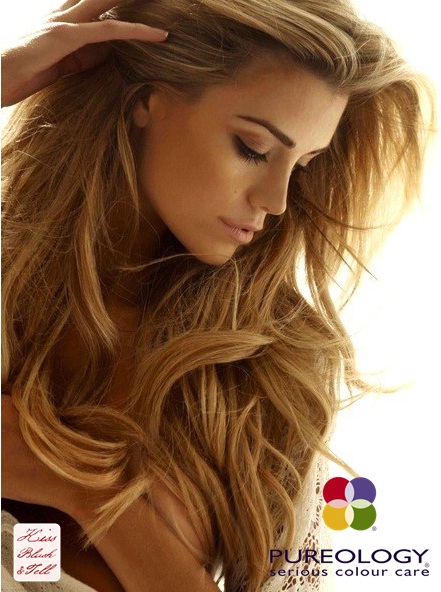 As you will know, I have been using the Hydrate shampoo and conditioner from Pureology for a while now (and recommended it to countless readers and friends). I don't have enough good things to say about it (see my review here).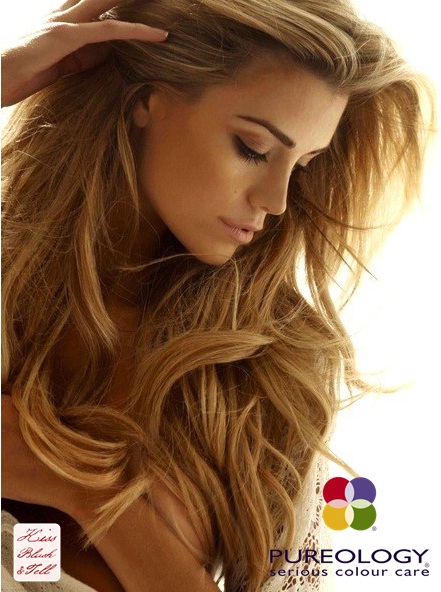 Hair pic found here + logo found here= my very own Purology ad 🙂
Since using this product I have been sent the additional products to this range as a treat; being the Hydrate HydraWhip Hair Masque and the Hydrate ShineMax serum. Now these both have similar properties to the shampoo and conditions; being that they are 'anti-fade' when it comes to coloured hair and, of course, hydrating and nourishing to dry and damaged hair.
The HydraWhip mask is super decadent, I kind of felt like I was putting a lump of caviar on my head. The pot is relatively small so you have to be a but stingey with the application, but I think this is a good thing as you really don't need much of this – it is really rich and full to the brim of everything that makes your hair look 'wow.'
On application they say you should use this post shampoo for 2-5 minutes, but I kind of made up my own rules here and applied it to my dry, in-need-of-a-wash hair and left it on for a good few hours. I like maximising it this way, plus I can do some work while it's working its magic. I recently got the 'ombre thang' done to my hair so my poor tips are crying out for every bit of TLC they can get.
On removal of the mask my hair was left feeling hydrated and rid of any fly-aways. I often find masks leave my looking a tad limp and 'weighed down' so I would recommend doing this a week before a special occasion rather than the day before.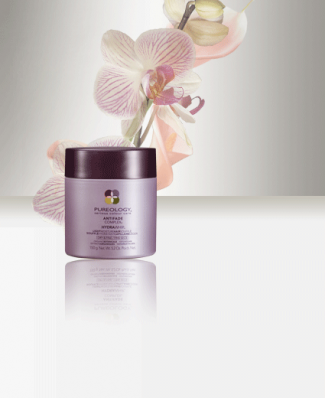 I then followed with the ShineMax serum which is also great, smells lovely and is lite which was a huge plus for me. My personal choice that I am currently using is the Moroccan Oil as it is more affordable quantity wise and does pretty much what most of these products do – tame fly-always and make your hair look silky and shiny, however, the ShineMax is definitely easier to use initially. I found Moroccan Oil tricky in terms of getting the quantity spot-on for my hair type, however, this one goes on like silk and it's pretty fool-proof – both smell lovely. In terms of being travel friendly this one certainly wins and is what I have with me on my travels at the moment. I have tried taking Moroccan Oil with me and it really doesn't travel well. This is also good with not being overly greasy like other shin products – amazing and silky!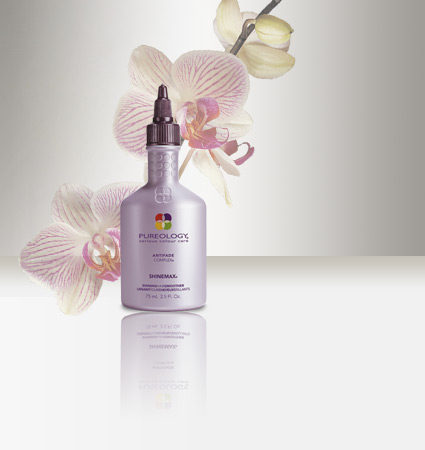 This range is so decadent, really happy I have finally found something that works for my hair.
For stockists call 0860 102 492.
https://kissblushandtell.co.za/wp-content/uploads/2012/10/hiairr.jpg
592
441
Victoria
/wp-content/uploads/2020/03/logo.png
Victoria
2012-10-10 09:55:00
2020-03-24 09:01:15
Pureology HydraWhip Masque + Pureology ShineMax